I promise that I have answered all of these questions sober. I would never answer these questions drunk. I understand that we're all responsible baseball-thinking adults, so it's important to take this kind of stuff very serious because baseball is a very serious matter in life. So, let's get to some of the mail in the bag and cut to the damn baseball chase, seriously!
***
Should Marcus Stroman be sent down to Buffalo?
Well, Bob, I guess the Jays technically could send him to Buffalo since he still has options, but do you really want that? C'mon, Bob, seriously? How much fun would it be to watch Joe Biagini come up and pitch in Stroman's spot? Not much fun at all, Bob – not that Stroman has been much fun lately. But, I'd take my chances on Stroman straightening out over Biagini man. Actually, now that I'm thinking about it – this whole Joe Biagini experiment has been pretty shitty so far, don't you think?
The Jays could certainly use an inning eater in the pen. And if they are going to see this Biagini experiment through, maybe Deck McGuire could become a decent long reliever – how great would that be – if he continues to have strong outings in Buffalo. Or maybe Biagini could just move back into the pen where he could actually be of some use, but something tells me that's not going to happen yet! This whole Biagini as a starter thing is sort of like pineapple on a pizza, it just doesn't seem to work.
I digress, Bob. And I will try to answer your question now. I think the organization is going to be patient with Stroman and we all hope to hell that he figures it out. Pete Walker told a local writer that Stroman's struggles seem to be more of a mental thing than a problem with location, velocity, and mechanics. And I'm not saying that is a good thing either. Let's hope he works it out. If the Jays are going to make things interesting in September, the HDMH Kid is going to have to be the misfit on the dirt hill that shimmy shakes and struts – that's a fact.
Will Solarte ever do the backpack kid dance?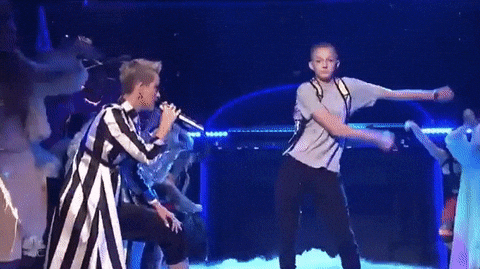 Doesn't he already, Jessica? Maybe? I dunno. But, you know he could.
Kendrys Morales sucks!
You mean you don't love a DH that hits in the bottom of the lineup and is slashing .143/.232/.262 with a .493 OPS? Fun fuckin' Ryan Goins times, eh!
What's happening to the outfield once everyone is healthy, and when will Travis come back up and who will he replace?
Jonah from somewhere in Canada
There are a whole lot of options in the outfield and that's a good thing, Jonah. The Pearce/Granderson platoon thing has worked out very well for the Jays, so that will continue once they're both ready to go. Kevin Pillar is leading the team offensively (I can't believe we're all typing these words) and doing what he does in center field. And Teoscar has been good in right field and much better at the plate. There is a whole hell of a lot of offence coming from all four of these players. And with Alford in the shadows everything is just fine. Am I missing anyone? Nope, I'm pretty sure that covers it…
I don't know what the hell is going on with Travis, but hopefully Corey Hart can help this kid remember how to hit. Travis was arguably the MVP for the Jays last spring when he finally turned it on and started mashing before his shitty injury. His numbers in Buffalo are dogshit right now and he's currently – as I type this – hitting .189 and has a dirty .405 OPS… woof. At this point in time, I'd take Solarte at second over Travis all day long. But, Travis needs to figure it out so that when it comes time for the Jays to trade him, they can actually get something of value in return.
Can Vlad anchor a rotation?
Josh from somewhere in Canada
100% Josh. Since anchors are designed to sink, Vladdy would do a great job at sinking the rotation. Hell, I could anchor the rotation, too. But, I appreciate the humour in this question and all things in 'Vlad we trust'. I can't wait for Vlad to sink all the rotations in the American League with his big bad Vlad bat, but we're going to have to wait a little longer for that and that's okay.
How the fuck do mirrors work?
Let me just copy and paste this screenshot for you here, Richard!
***
A big thanks and thumbs up to all you crazy humans who submitted questions through Twitter @thejaysnation and Cam's email – [email protected] You can also toss some questions my way @ [email protected] So, make sure to send some for next week for some more Friday fun. I will answer as many questions as I can before I start to get bored.