14 pitchers? A three-man bench? Let's project the Blue Jays' Opening Day roster!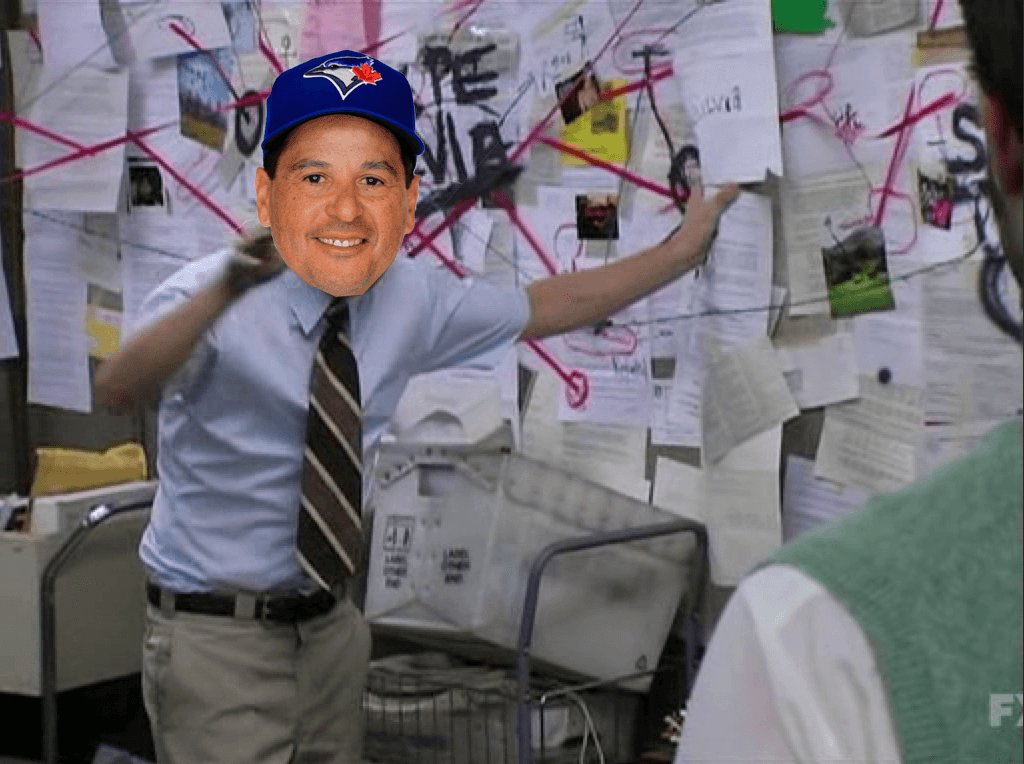 Spring is almost here.
Pitchers and catchers are reporting to Dunedin on Thursday and the Blue Jays will play their first game of 2021 exactly one weeks from today. We also got a list of non-roster invites to spring training, so that's how you know it's real.
Beyond the players on the 40-man roster, this collection of prospects and minor-league deal guys will be among the nearly 70 players heading to Dunedin over the next week. Most of these names are there to get experience and get up to speed at the team's facility ahead of minor-league spring training, which will happen after the big-league teams start rolling.
Anyways, with spring training about to start, let's take a look at the team the Blue Jays will send north (to Buffalo???) at the end of March.
Here's an interesting note from Dan Shulman from back on Thursday, in which he figures that the team will operate with a 14-man pitching staff and three-man bench in 2021 now that active rosters aren't limited to 13 arms. Given Toronto's ho-hum rotation, it would make sense to operate with more arms in the bullpen.
For starters, we can list off some names that are very obviously going to be on the roster…
George Springer, Teoscar Hernandez, Lourdes Gurriel, and Randal Grichuk will make up the outfield, Bo Bichette, Vlad Jr., Rowdy Tellez, Marcus Semien, and Cavan Biggio will be the infield, and Danny Jansen will be one of the catchers.
The rotation will feature Hyun Jin Ryu, Nate Pearson, Robbie Ray, and two of Tanner Roark, Steven Matz, and Ross Stripling figure to be the starting five pitchers, unless, of course, the team adds somebody like Taijuan Walker or James Paxton before the start of the season.
The bullpen is obviously more fluid, but we can expect Kirby Yates, Jordan Romano, Rafael Dolis, Tyler Chatwood, David Phelps, and Ryan Borucki to be a part of it, along with whoever of Roark, Matz, and Stripling isn't starting.
That's 22 names already, leaving the Blue Jays with four spots for other players to compete for.
If we go with what Shulman is suggesting and operate with a 14-man pitching staff, that would leave the team with a three-man bench. One of those spots is already occupied by Grichuk as the fourth outfielder and one of them will be a backup catcher.
Reese McGuire is out of options, so you have to figure that he's going to be the guy to start the season, while Alejandro Kirk can start off in Triple-A. As bad as McGuire was last season, it's hard to imagine that this asset-management-oriented front office would expose a big-league catcher to waivers.
Who would the last bench guy be? Santiago Espinal has a good glove, can play short, and is already on the 40-man roster. Veteran Joe Panik is also in camp, but he isn't on the roster, meaning somebody would have to be removed in order to add him. Jonathan Davis, who offers speed and a great outfield glove, could also be in the mix, especially with the versatility that Semien brings to the infield.
The other pitchers in the bullpen are difficult to predict at this point. There are plenty of names on the 40-man roster who could be strong bullpen options, like Julian Merryweather, T.J. Zeuch, Thomas Hatch, Anthony Kay, Patrick Murphy, and the newly-acquired Joel Payamps, but the team could opt to stretch them out in Triple-A.
Francisco Liriano and A.J. Cole are also in camp on minor-league deals and figure into the equation, too. The former is especially interesting given the fact that Borucki is the only name I've mentioned thus far as a lefty out of Toronto's 'pen.
Another challenge with projecting the opening day bullpen right now is the Taxi Squad. Teams are able to carry five players (one of which has to be a catcher) with them on the road so we'll surely see plenty of guys with options come on and off the active roster all season in order for the team to maintain fresh arms.
The interesting things to watch come spring will be… Kirk and McGuire for second catcher, Espinal, Panik, Davis, and possibly even Tyler White for bench roles, and whether pitchers like Kay, Merryweather, and Murphy are stretched out or used as relievers. And, of course, we'll also have our eye on the team adding another starting pitcher and/or a left-handed bat to the mix before the start of the season.
Otherwise, we already have a pretty good idea of what the opening day roster is going to look like, which is a good thing for a team with playoff aspirations.