A Fortnight on the Farm, Vol. 5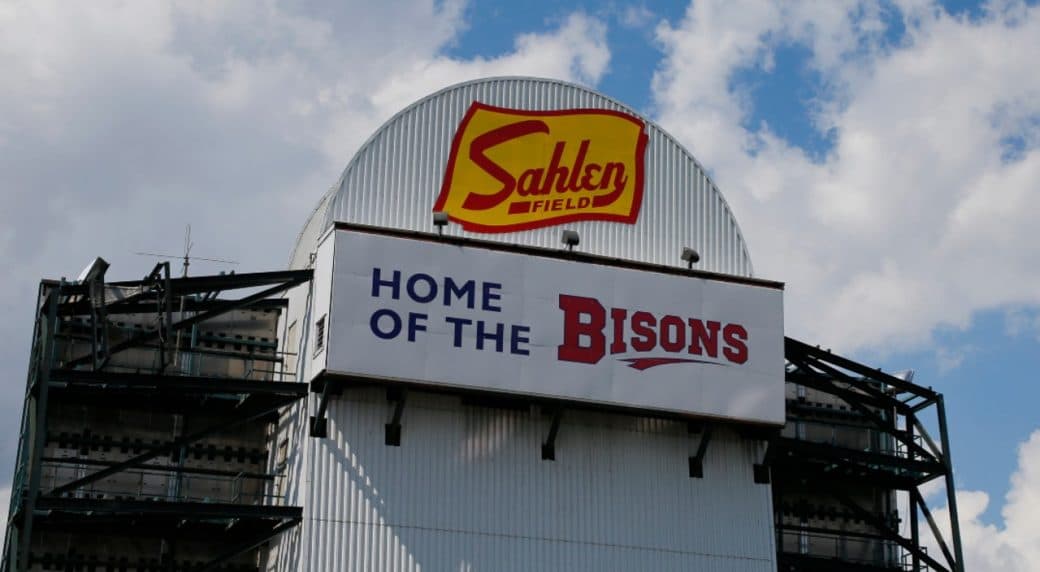 This weekend marks the end of the first half for full-season farm teams (even though they take their four-day break at the same time as the MLB teams) and it's only fitting for me to take note that the mighty Vancouver Canadians nailed down a first half championship this week and will be in post-season play come September. New Hampshire has been hanging around .500 most of the year and Dunedin was in good shape at the end of May but have struggled in June. Buffalo has yet to contend this season. Also, we have about three weeks of short-season play if you really want to obsess.
Triple-A Buffalo
Honestly, disappointing pitching has been the hallmark of this team. Between the veterans who proved unreliable and the well-regarded prospects taking their lumps, it was supposed to be a lot better than it is.  Here's a strange case in point: veteran Zach Thompson pitched so poorly that he was taken off the 40-man roster and no other team, even the crappy ones, claimed him. So he was outrighted to the Bisons again and…in four June starts since he has a 1.86 ERA. What am I supposed to do with that?
Anyway, to look at the most "buzzy" (back in the spring) prospects, Yosver Zulueta is still walking way too many, but in his last 11 appearances, he's got a 2.73 ERA in 13.2 IP, allowing 13 hits and 11 walks while striking out 14. There's progress here in every other way. Hagen Danner impressed in AA but gave up runs in his first three AAA outings. Since then he's taken the mound six times, thrown 8.2 innings and allowed just one run. Five hits, two walks, nine strikeouts. It's a small sample but he's back on the path to get some major league time this year if the opportunity arises.
It might be a stretch to consider lefty Brandon Eisert in the group of buzzy spring prospects but he was solid last year and seemed to have something going on. But he was brutal in April and the conversation, such as it was, moved on. Since then in 20 appearances, he has 22.1 IP, a 2.82 ERA, and 29 strikeouts against nine walks. On the other hand, lefty Jimmy Burnette drew attention to himself by getting an invite to Spring Training and showed well enough in AA (26K in 13.2 IP) to get promoted to Buffalo in late May and that started poorly. He gave up eight runs in his first 2.1 IP for the Bisons. Since then, in 10 IP he's allowed 4 runs and struck out 19 so maybe the rough treatment is passed.
Among the hitters, the names are familiar. Nathan Lukes has a .971 OPS in 11 games for the Bisons, 2B Davis Schneider sits at .914 and it's .988 in June. Rafael Lantigua on the other hand has slowed in June, hitting just .208 for the month going into Sunday.  Addison Barger is finally back from over a month on the IP but hasn't yet found his groove.
Double-A New Hampshire
Adam Kloffenstein seems ready for consideration for a promotion but he was hit on the hand/arm by a comebacker on Saturday and that may prove to be a problem. In any case, he's been incredibly consistent given his recent seasons and it does seem legit. He's got a 2.91 ERA in 13 starts with the best ratios he's had since 2019.
Speaking of legit, Chad Dallas is turning heads and creating a buzz with his relatively smooth transition to AA. Though two of his six outings were setbacks, the other four were so good that his overall line is quite comparable to Kloff's. His major improvement is keeping men off the basepaths. His WHIP in 2022 was 1.55, but this year it's a tidy 0.99 and almost as good after the promotion as before.
Sem Robersse, just selected along with Zuleta to the Futures Game, continues to have an uneven season, while last year's surprise Jimmy Robbins hasn't had a quality outing since opening day until June arrived. Three of his four starts this month resulted in zero or one run allowed. The two names that keep coming up among the relievers (in a broadly talented bullpen) are Connor Cooke, who took three outings to find his footing but in his last eight appearances (3.18 ERA) he's smoothed those small kinks and he's struck out 18 per 9 on the season and TJ Brock who had allowed 4 in his one-out appearance in his AA debut and only one in his 7.1 IP since (12 Ks).
Gotta start this part by checking in on Orelvis Martinez 2.0, how's the new era going? Slashing since May 10 in 134 at bats: .291/.399/.642 with 24 walks (against 29 strikeouts) over the revival period. In his shadow, another well-ranked prospect who's had some offensive disappointments (including injuries) is rebuilding his status. Leo Jimenez struggled through April but has been key since then with a line of .316/.377/.492 while staying healthy and consistent. I've noted Damiano Palmegiani in previous entries, so I'll just metaphorically tip a cap to him as he keeps chugging along with good but not superstar production.
High-A Vancouver
There's not so much to say about starters here. With Dallas and Wallace off to AA and Adam Macko not yet stringing success together that leaves us to review Dahian Santos (3.95 ERA, plenty of strikeouts and too many walks) and out-of-nowhere surprise RHP Devereaux Harrison. Last year's ninth-round choice, he wasn't even in the rotation when the season started. He had a 3.38 ERA when called upon to fill a rotation spot on May 21 he's done nothing but throw up a 1.16 ERA over the six starts since and gone five or more innings in all but one of them. He's either an ordinary guy on an impressive heater or they've uncovered a gem.
I noted last time that lefty-hitting RF Garrett Spain and IF Michael Turconi have well earned a promotion to AA and with the mid-season break here, it seems like an obvious time to pull that trigger. I've also noted that last year's third-round choice Alan Roden, a corner outfielder, is also impressive, though as an on-base guy with some speed rather than a slugger.
But the guy I have to put the spotlight on is Alex De Jesus. Before he came over from the Dodgers in the Mitch White deal, he showed exciting offensive results. but he struggled pretty hard (.631 OPS) for the Van C's after the deal. Following that a slow start this season was really diminishing my optimism. Through May 16 he was slashing .176/.250/.343 which… ugh. But a minim-Martinez turnaround took place. Since then his line is .321/.415/.604 in 106 at-bats. THAT, my friends, will play. Let's see if he can maintain success.
Low-A Dunedin
The remaining ace of this staff, after promotions and injuries, remains Kendry Rojas. In 47.1 IP he has a 3.42 ERA with a bit more than 9k/9IP and almost 3K/BB to go with a 1.25 WHIP.  Still, he's been touched up a couple of times in June so he's not banging down the door for a near-term promotion. Yet.
The other SP that has unexpectedly demanded some attention is 2022 undrafted free agent Alex Amalfi. The 22-year-old RHP has a 2.63 ERA through 24 IP and 32 strikeouts. The walks are too high but a closer look reveals 11 walks in his first three outings amounting to nine IP. He then spent a couple of weeks on the IL and since returning he's thrown 15 innings in six outings (all relief except for the most recent) and walked only three (22 strikeouts). The caveat is the return to starting pitching was a mixed bag, with five first-inning runs allowed followed by three shutout innings.
The offensive leader lately is 3B Ryan McCarty.  He was an undrafted free agent last year also and was good-but-not-great in 18 games for Dunedin last summer. He slogged through a lost April this year but since the first of May, the line is .284/.376/.526 in 116 at-bats. For more high-profile names, Manuel Beltre lost all his momentum after spending the latter half of April injured. From the beginning of May through the first week of June, he hit only .198 with a .544 OPS. Since then, his line is .298/.441/.596 so the slump is definitely over. Speaking of high profile, you like me may have been waiting for Tucker Toman to find his groove. Well, with the obvious sample-size caveat (71 AB) his most recent work looks like this: .268/.358/.493 so he might be poised for a big second half.
Short-Season Teams
All samples here are quite small, but I'll conclude with the observation that on the Florida Complex team OF Jean Joseph and C Edward Duran both have more walks than strikeouts which is a good sign for hitters at this level, and OF Victor Arias also has a comparatively high total of 10 walks. In the DSL there's CF David Guzman from this year's J2 class who has 13 walks against 8 strikeouts. Bonus Baby Emmanuel Bonilla has a .391 OPS but a more typically high number of strikeouts in the early going. There's no short-season pitcher yet standing out from the crowd but that means nothing, really.
This one fell a bit late because we had a long power outage, but since all the teams are off two days for their midseason break it doesn't matter. The next instalment will fall during the major league ASB and may not publish until after that game to avoid the ASB traffic.
---
Recent articles from Tammy Rainey