A Fortnight On The Farm: Volume Four
This edition has a bit of bonus content since it's the first day of the Florida Coast League (formerly the GCL) and the youngest of the baby Jays get into an official game for the first time.
I'll take a moment and review the just-released roster and point out anyone you might be hearing more of in the future (insofar as I can offer a guess). As for the rest, since they have completed exactly four weeks of play since the last day of May, it's only natural that we take a look at the best June performances across the system (yes, technically there are two more games in June but let's just go with them, okay?).
To be frank, there are few names here that any but the most intensive MiLB follower will recognize, and many of them haven't played in any official game at all due to last year's events. About the only way we can identify players to watch at this point are bigger signing bonuses, and/or appearances on prospect ranking lists. Notably, TSN's Scott Mitchell prepared a Top 50 list in the pre-season and this team features five players who caught his notice. It also includes two of the three highest signing bonuses in the 2019 June 2 class (and another player who's ended up listed in several places as the best prospect from that group) as well as the second and third highest (behind celebrated Orelvis Martinez) in the 2018 class — all of these are on the offensive side of the game. The fifth name is a more familiar one, the most celebrated pitcher on the team and, to be fair, almost certainly only here as a sort of injury rehab as he works his way back towards an assignment on one of the full season teams (probably Dunedin to start, to be close to the training staff. I speak of course of Eric Pardinho, whom prospect hounds have been impatiently waiting to see get back to the mound.
A few other pitchers have some familiarity. Michael Dominguez was a 15th round choice out of Jefferson HS in FL in 2019. In 24 IP in this league in 2019, he struck out 29, walked 10, and put up a 1.13 ERA. I'd expected him to make the Dunedin roster earlier in the year and I suspect, though obviously can't confirm, that he didn't because of some lingering injury. One of the older players on the staff is Elieser Medrano, who was signed in the 2016 J2 class and pitched 23 better than average innings in 2017 and hasn't gotten into a game that counted since. He was once thought of as a "watch this guy" back of the list prospect but that's a lot of idle time. Finally, I'll mention lefty Yaifer Perdomo who started today's opening game. He was a 2018 J2 signing, he started 13 games in the DSL in 2019 to a 2.89 ERA.
Offensively, those four guys I mentioned are the main attraction. Shortstops Rikelin De Castro and Estivan Machado – the former got the Jays' top bonus in 2019 and the latter in the same class and ranked by some, already, as a better prospect because of more offensive upside – catcher Javier D'Orazio, and third baseman Peniel Brito. Brito may end up in the OF eventually but brings a big power bat that will be worth watching for. De Castro is said to be a defensive wizard who ranked 16th on the consensus prospect list this spring. He could add some physicality and offensive results or he could be the next Kevin Vicuna. Machado was #12 on that consensus list, he's a switch hitter with a swing the team loves from both sides, and power potential maybe. Keith Law says he has the hands and arm for short as of now. One more name of interest to Jays fans – Quebec native JC Masson, a veteran of the Canadian national Juniors Team. An 18-year-old LH outfielder, he was drafted in the 26th round of the 2019 draft.
let me turn now to the full-season teams…
Dunedin
As always, the story here starts with O.
Orelvis Martinez had an .831 OPS in June, up from .772 in May. Some observers think he's on the cusp of breaking out big in the second half. Another SS by trade, Leo Jimenez who got here late and had a .545 OPS after a slow start in May, roared through June hitting .391, with an OPS of .971 – without yet having hit a home run. Highly ranked 3B Miguel Hiraldo didn't share in this success, with a .681 OPS in June, and the other infielder who's caused a buzz since the season began is Addison Barger. He's been pretty consistently hot all year and has a .901 OPS on the season. Beyond the more well-known names (three top 20 prospects and a dude who's been on fire all year) there are other names that deserve a mention. Last year's fifth (and final, alas) pick catcher Zach Britton is rocking a .446 OBP thanks to 33 walks in 33 games played. To other guys who may have been drafted in a longer draft, infielders Harry Ray and Zac Cook are doing well. Ray has a .402 OBP and an .883 OPS, Cook has an .814 OPS. Also worth noting, Top 20 CF prospect and local Toronto product Dasan Brown finally got healthy enough to be assigned to the D-Jays this weekend.
On the mound, both Adrian and Roither Hernandez got their well-earned promotions to Vancouver. Sem Robersse continues to impress despite a deceptively high ERA (his xFIP is 3.12) he has an 11.3 K/9, as well as an atypically high HR/FB rate which will probably normalize. High performer Lazaro Estrada and 2020 3rd rounder Nick Frasso are both on the IL.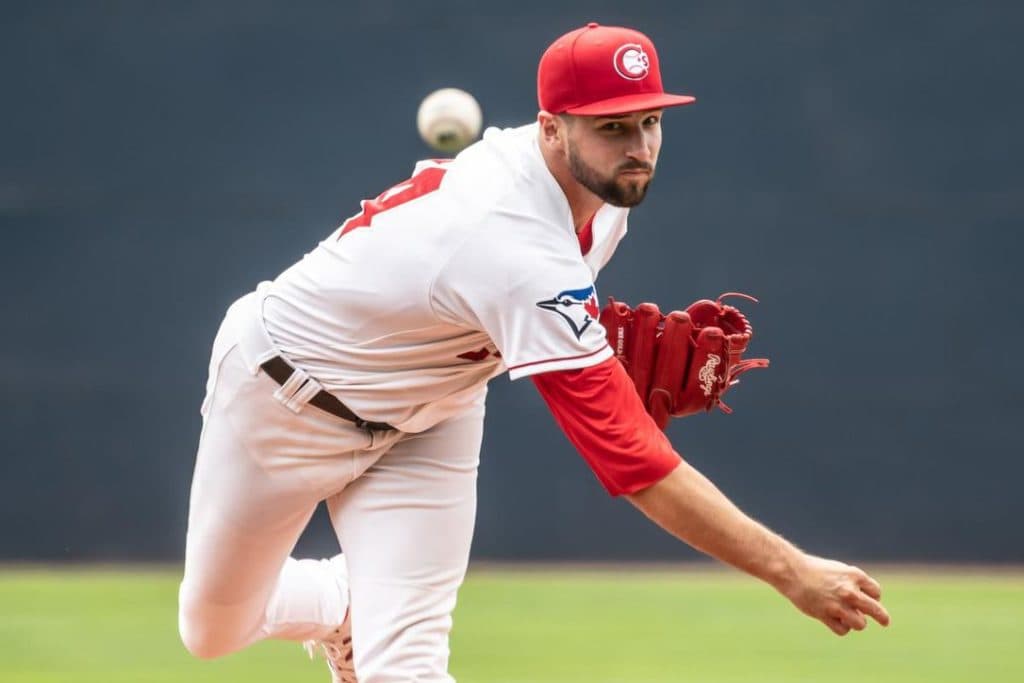 Vancouver
Season-long team leader, RF Tanner Kirwer got his promotion to New Hampshire. That leaves the spotlight to Rule 5 (minor-league portion) draftee Sebastian Espino. The 2B was drafted out of the Mets system and struggled through most of May, but he's hit .355 in June with a .953 OPS. One to watch to see if he sustains it. Most of the other offense here is pretty average, with a few players bouncing around in the mid-to-high .700s OPS.
Among pitchers, it was reported on some pod (I confess I can't remember which) last week that Adam Kloffenstein may seem to be struggling, statistically, but he is "working on some things" that the team wants him to prioritize and they aren't concerned. Still, over his career, he does need to bring the walks down at some point. Last year's #2 pick, CJ Van Eck has had a good month and continues to distance himself from the stumble in his first pro game.  Take out that 0.2 IP disaster and his era drops from 4.21 to 3.28 – I could imagine that he's on the shortlist to get promoted in a few more weeks (particularly given that the AA team keeps picking up random elderly (in MiLB terms) FA starting pitchers to plug into the rotations as, presumably, stopgaps.  Similarly, Paxton Schultz continues to impress and has 51K in 39.1 IP and, in my mind, has to be in the promotion discussion, and Luis Quinones is turning a ton of heads with his 2.38 ERA and only 9 hits along with 40k in 22.2 IP. But, in his case, the walk rate is much too high to be in the promotion discussion.
New Hampshire
The prospect-laden Fisher Cats suffered a blow last week when top prospect Austin Martin took a pitch to the brim of his helmet. Luckily it didn't catch him flush so hopefully he won't be affected for long. When he went down he had an .834 OPS in June driven by a .402 on-base percentage. Catcher Gabriel Moreno continues to claim the spotlight, having played his way into the MLB Pipeline Top 100 (belatedly!). His OPS is down slightly to 1.082 in June but after he struck out 16 times in May, he only struck out SIX times in June while walking eight times. The other Top 10 hitting prospect here is of course Jordan Groshans limped to a .673 OPS in May, but has begun to find his grove lately. His OPS in June is .803 but it's really only since the middle of the month that he's heated up. Since June 12 he has a .900 OPS which is hopefully not just a hot streak but real progress.
Speaking of progress, Otto Lopez who might be one of the most important trade chips next month (assuming the top 8 guys are likely not going anywhere) dialed up from his impressive May to hit even better in June. Hitting .351 with a .917 OPS has to be appealing and he has a better track record coming into this year than… Samad Taylor. Who just KEEPS shocking those of us who assumed he was never going to put it together. He has an insane 1.223 OPS in June with nine homers in 88 at-bats this month. I'm still skeptical enough to harbor some skepticism about how sustainable his performance is (not THIS performance, just legit prospect performance) but I'm also very curious how other teams see him. The Pirate, for example, have a lot of ex-pats from the Jays front office so they know his history well – would they be sold on all this? One other hitter that's overdue for a mention here (because the year was disrupted by a couple of weeks in the IL which reduced the sample sizes) is 3B/SS Vinnie Capra. He ended May with an .823 OPS, but then spent the whole first half of June injured. But since he's come back, in 11 games his slash lines look like this: .452/.477/.833 with 4 homers in 42 at-bats. I mean yeah, 75 at-bats in 25 games (out of 47) is a small sample and could be an illusion, he's never hit before in his pro career – but keep looking.
Top five pitching prospect Simeon Woods Richardson had his first serious setback since coming to the jays last week. He's walked 18 batters all year in 32.2 innings, seven of those came in 2.2 IP on Saturday. Hopefully, it was a fluke but I'm almost holding my breath that they announce he's going to the IL because that was just weird. Speaking of the IL, Elvis Luciano has had two turns in June since coming back from injury and has given up 2 hits in 4.2 shutout innings.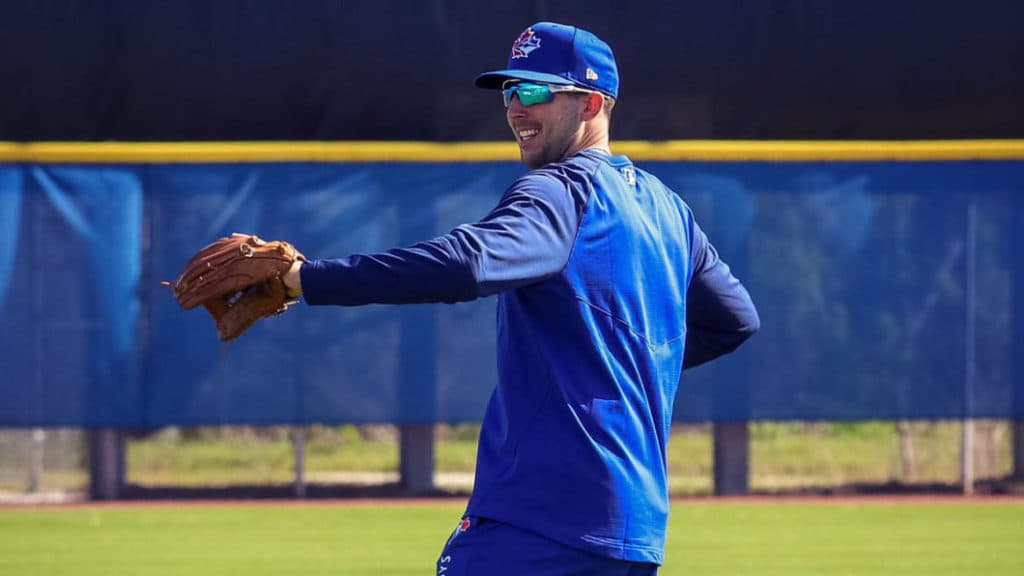 Buffalo at Trenton
When you lay aside the injured, and everyone here who's at least, say, 29 it remains true that there's only one actual hitting prospect on this squad – SS Kevin Smith. He's the second-youngest player on the offensive side (to utterly bat-less Kevin Vicuna). Smith finished May better than he began it, hitting .259 in the last eight games of that month, he's hit .313 in June was a 1.043 OPS. Notably, he sports a .441 OBP this month. ETA: Jamie Campbell points out something on Twitter-
Smith has six games all year at 3B – and three of those were in the Bisons' last three games, he hasn't played there in consecutive days before this season. With Joe Panik now traded away, this may be related – or not.
On the pitching side, there are more names to mention. Nate Pearson is back on the IL, as you know, Joey Murray still hasn't pitched which kind of makes him a forgotten man. Thomas Hatch is nearing the end of his rehab assignment but he's still building up his innings/pitch count. He has a 1.88 ERA over 14.1 IP in five starts. He's up to 4 IP now, and assuming the Jays remain committed to the starter agenda and don't feel pressured to stick him in the major league bullpen (albeit having a guy who can do 3-4 IP has certain uses) he's got room for 3 more starts before the ASB and should easily be clicking on 6 IP by then. Quietly in the shadow of all the star power, there's Jacob Waguespack putting up solid work. Not counting his first start this year, he's got a 2.61 ERA since, and has walked 11 and struck out 39 in 38 IP.  Like the relievers in the Bisons' 'pen who are performing well, his biggest failing is being off of the 40 man roster. Speaking of the bullpen, I'm going to take a moment to get back on my Kirby Snead soapbox.
I know there are all sorts of speculation about relievers to trade for, and I concede the team has internal info I do not, but just looking at the results, I'd DFA Bergen for Snead – and demote Kay to get him into the majors, basically yesterday. Sporting 29 K, 6 walks and only 10 IP in 21.2 IP with a 1.25 ERA … and a lefty? What's not to love? Hat tip to Conner Overton and Hobie Harris as well, though the number of bodies between them and the 40 man roster is considerable.
Next time, we'll be in the midst of the ASB and surely half a season is good sample size for drawing some conclusions.