Alek Manoah bounces back with seven scoreless frames as the Blue Jays beat the Royals 3-0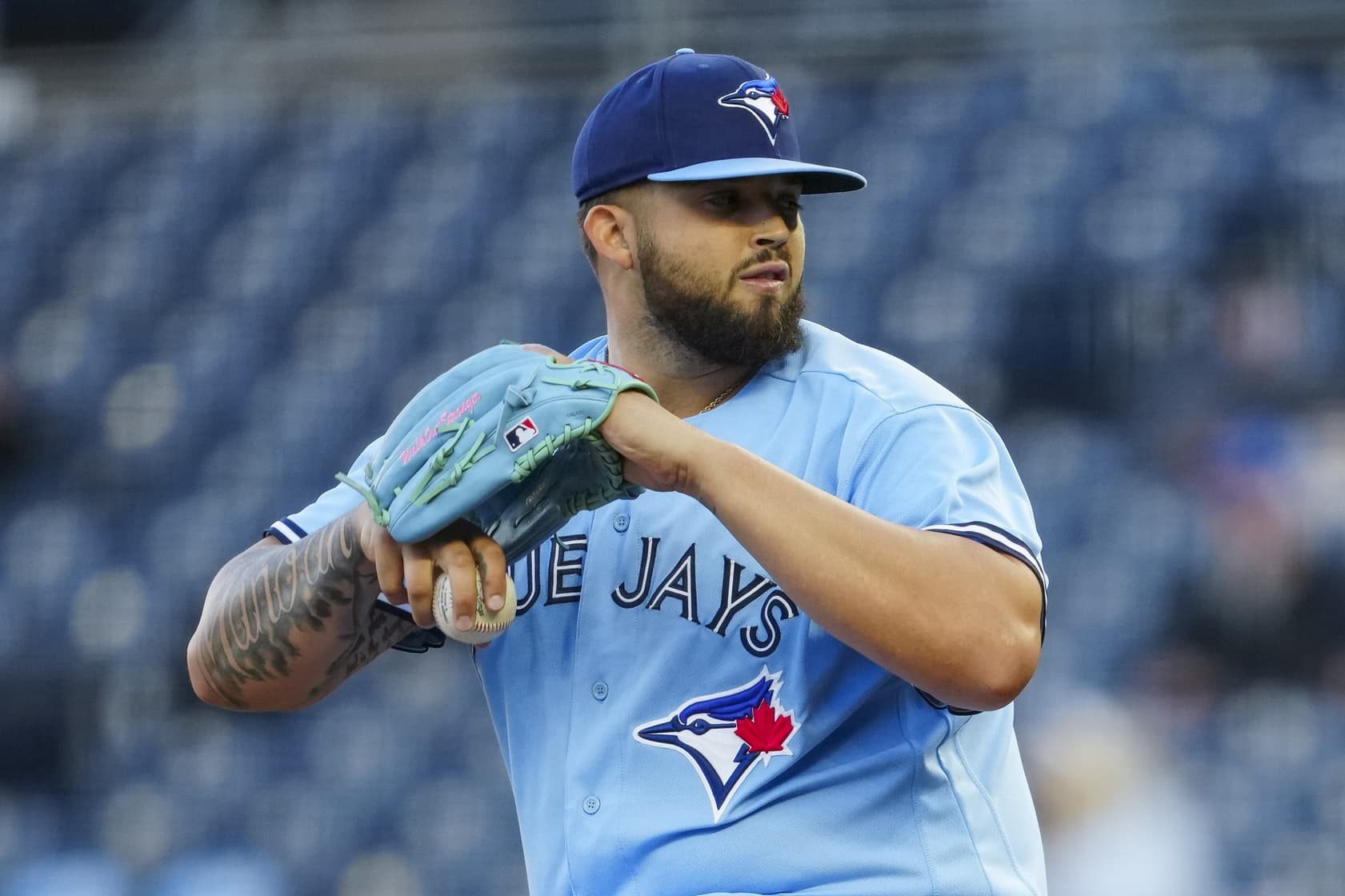 Photo credit:© Jay Biggerstaff-USA TODAY Sports
Poor outings from Alek Manoah are and have been few and far between. So, after his short outing last week in St. Louis, the stats said that Manoah was due for a quality start, especially if he would be facing a lineup like Kansas City's.
Manoah did just that, as he threw seven one-hit innings en route to a 3-0 victory over the Royals on Wednesday night. Due to the low-scoring nature of the game, tonight's battle lasted only 2 hours and 17 minutes.
Blue Jays Nation's Player of the Game: Alek Manoah
The Big Man rightfully earns the nod for Player of the Game – his final line stood at 7 IP, 1 H, 0 ER, 4 BB, and 5 K's. With the zeros he put up across the box score, Manoah's ERA dropped from 13.50 to 4.35. Although he did allow the leadoff man to reach a few times, Manoah hardly dealt with worrisome traffic on the base paths.
On paper, this was an outstanding start from Manoah, but there were a couple of underlying stats that show that the best of 2023 is yet to come for him. Manoah gave up a lot of hard contact, and that in turn led to several deep fly ball outs that may have been home runs in other parks. His four-seamer sat in the late-80s and lower 90s, with his hardest being 93 mph.
His slider and changeup, on the other hand, were absolutely disgusting. Of his five K's, he was able to use those pitches, as well as the fastball (even with the lower velocity) as strikeout pitches. All of that said, Manoah was exactly who he's always been: a workhorse that shoves quality innings. That all came to fruition as he retired the last eight batters he faced, a theme that we noticed quite a bit last year – he gets better as the game goes on.
Things worth mentioning
Manoah and Royals starter Zack Greinke were trading zeros for a lot of the game, with the Royals not getting their first hit until the 5th inning. The Blue Jays scored the first run of the game in the 6th inning on a near-double play ball hit by Matt Chapman. With runners on the corners and one out, Chapman grounded a hard-hit ball to Michael Massey at second base. Massey flipped to Bobby Witt Jr. for an out at second, but Witt rushed the throw to first and one-hopped Vinnie Pasquantino, resulting in a run for the Jays. Witt's throw was much to the disliking of Buck Martinez, who shared the same displeasure on that play as he usually does for catchers who catch one knee.
Vladimir Guerrero Jr. smoked his first home run of the season, finally. Vladdy lined a 94 mph fastball on the outer half of the zone 389 feet just over the wall in right field. With that home run, Guerrero has hit a home run every season at Kauffman Stadium since he has been in the league (with the exception of 2020, of course). While it took several games for Vladdy to get on the board with his first dinger, he has already shown how good of a hitter he is, going 3-for-4 tonight and upping his batting average to .364.
Daulton Varsho had another great night at the plate and in the outfield. Varsho was tonight's center fielder for most of the game, and he did exceptionally well with the amount of deep fly balls that Kansas City put in play. Like Guerrero, Varsho went 3-for-4 tonight, with his only out being a fly ball out his 108 mph off the bat. His double in the 8th inning was cashed in by Chapman, extending the lead to 3-0 and providing some much-needed insurance.
Jordan Romano earned his third save of the season in as many attempts, with the six hardest-thrown pitches of the game being credited to him. Last year, Romano had his number called early and often, as there were some concerns about him maybe being overworked. Even if the same happens to him this year, it is good to see him producing at a high level.
The Blue Jays have a chance to take 3 of 4 from Kansas City tomorrow, as Kevin Gausman takes the hill against a familiar foe in Jordan Lyles. Lyles spent last season with the Baltimore Orioles, and went 2-1 over three starts against Toronto last year with a 5.63 ERA in those outings.
---