Alek Manoah tosses a quality start against the Tigers in his return to the Major Leagues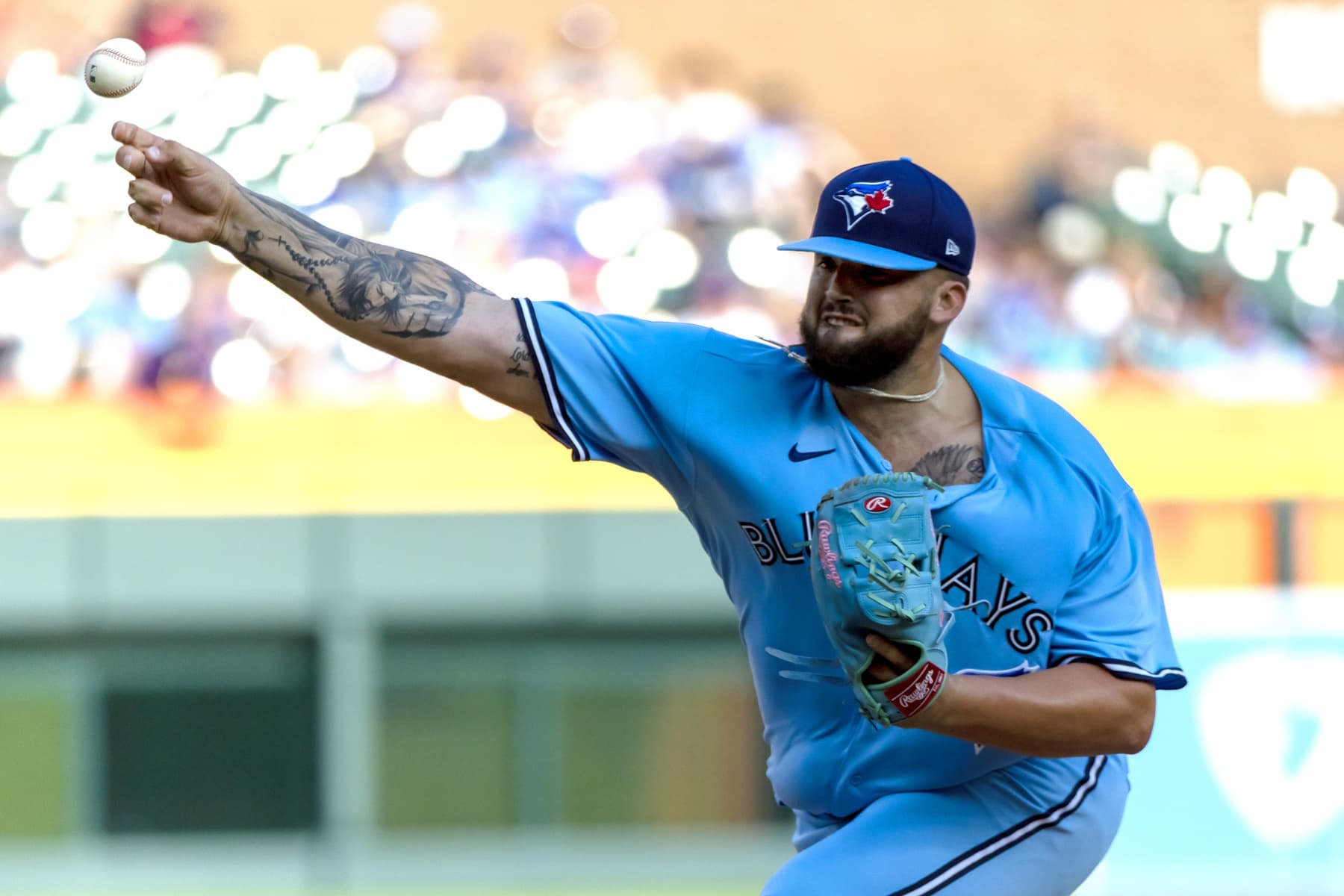 Photo credit:David Reginek-USA TODAY Sports
Alek Manoah has started in several big games during his young career. His first start was at Yankee Stadium. He's started Opening Day, a home opener, a playoff game, and even appeared in an All-Star Game. Tonight may be able to be included in that list, as it was Manoah's first start since being demoted to the Florida Complex League.
Manoah answered the call in a big way, tossing a quality start and earning his second win of the season in a 12-2 Blue Jays rout over the Detroit Tigers. As the score suggests, Manoah got a good bit of support from the offense early in the game. The Blue Jays have now won four games in a row, and are firmly in a playoff spot with New York's loss to Chicago tonight. They also gained yet another game on Tampa Bay who lost their sixth straight game.
Blue Jays Nation's Player of the Game: Alek Manoah
So yeah, the Big Man will obviously earn this honor. I can clearly see it now: "It was against the Tigers!" Very true. But, had this start gone south, Manoah would've been torn apart on social media. For the game, Manoah pitched six innings allowing five hits, one run, zero walks, and eight strikeouts. 64 of his 91 pitches were strikes, he threw first-pitch strikes to 18 of 23 batters faced, and he didn't allow a walk in an outing for the first time since July 23, 2022.  It was also the first time he pitched six innings since April 22nd of this year against the Yankees.
Whether it was the front door two-seamers for strikes, sliders that went from strike to ball (a.k.a. competitive pitches), his K struts, or his smiles, this was the Alek Manoah everyone missed.
Manoah never let some hits balloon into disaster innings. He allowed a single to Matt Vierling in the 1st inning and balked shortly after, but he stranded Vierling for a clean start. He gave up his only run of the night after two bloop singles to start the 3rd inning eventually led to an RBI single from Spencer Torkelson. Once again though, he limited the damage.
Manoah was noticeably dissecting film with Pete Walker, and I'm sure more film will be watched during the All-Star break, but this was just what the doctor ordered for his first start back.
Things worth mentioning
The Blue Jays roughed up Tigers starter Alex Faedo for seven runs tonight. In the top of the 3rd, the first hit of a four-hit night for Kevin Kiermaier set the table for an RBI double from George Springer. They tacked on six runs in the 4th inning; Whit Merrifield singled in a run with the bases loaded and Danny Jansen doubled in two more in the same situation.
After Kiermaier added a RBI groundout, Springer launched a two-run home run 417 feet to left field to complete Toronto's scoring for that frame. That was home run #13 for Springer, who is batting .310 to start the month of July.
Toronto scored another five runs in the 9th inning off of reliever Jose Cisnero. It was capped off by a three-run home run from Merrifield, his third in the last 24 hours. This offensive onslaught forced the Tigers to run through four relievers, and they even had to summon position player Zack Short to finish the 9th. The Blue Jays' 6 thru 9 hitters tonight were 7-for-19 with a double, a home run, and seven RBIs – a huge lift for Toronto's offense.
What's Next: Kevin Gausman gets the start tomorrow against Matt Manning. Gausman struck out 11 batters through 8 innings during an April start against Detroit, while Manning allowed four runs through six innings the game before.
---