All aboard the Nate Pearson hype train! Looking ahead to his 2023 and what he could offer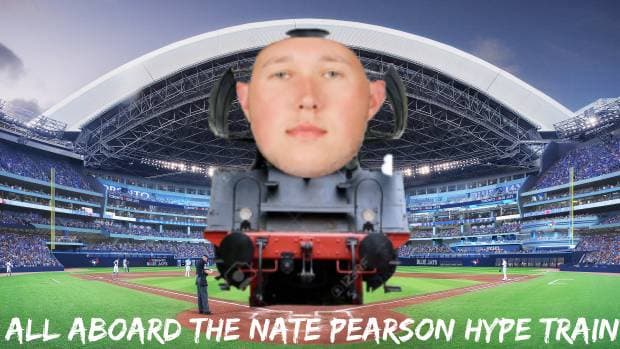 It's time to hop on the Nate Pearson hype train.
Nate Pearson is showing why he was once a top prospect in baseball. The 26-year-old right is pitching for Tigres del Licey in the Dominican Winter League; to put it bluntly, he has been dominant.
In eight appearances, the flamethrowing righty has a 0 earned run average (or as the LIDOM broadcast puts it, efectividad). Not just that, but he's only walked two batters while striking out ten in eight innings pitched. Facing 28 batters, Pearson has a 35.71 K% and 7.14 BB%.
The maximum confirmed velocity on one of his pitches thrown was 100 mph, but his secondary stuff has also been absolutely brilliant. The hard curveball has a massive vertical drop which has caused numerous swings and misses, while his slider's downward movement has been majestic.
All three of his pitches (I'm not sure if he still uses the changeup) have also been able to generate whiffs. His best fastball game ironically was in the only game he "blew" a save. All six of his whiffs (the most in a game thus far) came from the fastball. Hell, he literally hit the hand of a batter, but got the whiff anyway for the strikeout.
The 26-year-old missed most of the 2022 season, first with mononucleosis, before suffering a lat injury in a rehab appearance. All in all, Pearson pitched 15.1 innings between Low A Dunedin and Triple A Buffalo, posting a 3.52 ERA with a 31.67 K%. As for his numbers in Buffalo, he had a 3.55 ERA and 4.38 FIP with a 36 K% in 12.2 innings pitched, so the talent is obviously still there.
The key for Pearson is to remain healthy. It's clear the 26-year-old still has a ton of talent, and the Jays could really use him in 2023, speaking of which, what would his role be?
Looking ahead to Pearson's 2023:
The further he progresses in his career, the more I lean toward Pearson being a one-inning reliever. When looking in retrospect, it sucks that he wasn't able to hit his perceived ceiling (mainly due to injury.)
That doesn't mean that Nate Pearson still can't be a valuable part of the Jays. One thing we've always known about Pearson is that he gets strikeouts. Coincidentally, the Jays need swing and miss in their bullpen.
Furthermore, Pearson has been used as a high-leverage reliever with Licey. There have been two instances where Pearson has been brought in with Licey leading, but the other team had a runner on third with no outs. Realistically, Pearson could have an opportunity to fill that role next season for the Blue Jays.
The other option, which I am against, is using Pearson as a starter or a bulk reliever. Yes, his "value" is diminished, but looking at his development in hindsight will only ruin what you could have in the future.
Right now, you have a guy who throws absolute gas with excellent secondary stuff. Could he still be a starter? Perhaps, but at what point does the team realize it won't work? I think this could be the season that the Jays run him out strictly as a reliever, and his deployment with Licey could be a sign of things to come.
Either way, Pearson could be an impact player for the Jays in 2023, and I'm excited to see him continue to pitch for Licey.
As always, you can follow me on Twitter @Brennan_L_D. I hope you like the header picture, as it took me literally hours to create.
---