Analyzing the up-and-down start to Alek Manoah's big league career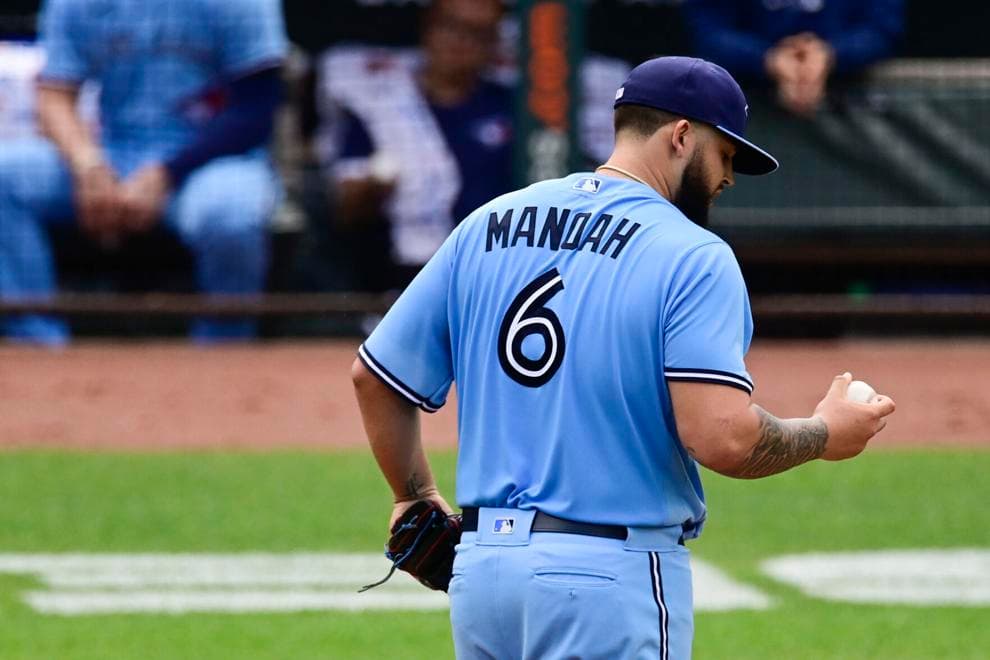 Photo credit:Tommy Gilligan-USA TODAY Sports
Alek Manoah has had an up and down start to his Major League career.
He's had very good outings in tough situations, pitching very well against the Yankees, White Sox, and Red Sox on the road, but he's also struggled against weak opponents in the Marlins and Orioles.
His season earned run average of 4.18 doesn't look great, especially when it comes with a 6.18 FIP and 4.52 xFIP, but prior to that Orioles start his ERA was a sparkling 2.66. He may not be the saviour of the rotation everyone expected but he has given the team quality innings and most importantly has taken the ball every turn through the rotation so the team doesn't have to worry about a bullpen game once a week.
With five starts under his belt, this is a good chance to evaluate how Manoah is doing, what his attack plan for hitters has been, and how hitters made adjustments now that they have some video on him.
We will begin with the fastball. Manoah has thrown his fastball 42.9% of the time. He typically throws the fastball up in the zone, as he did in his first three starts…
There is nothing there in the bottom third of the strike zone. Against the Red Sox however, Manoah started leaving the fastball out over the plate and down more…
This start in Boston was his first on regular four days' rest, so perhaps there was a little bit of fatigue at play here. This could have been a strategic decision, as Boston as a team has just a .285 wOBA on fastballs in the lower third of the strike zone, per
Baseball Savant
, one of the lowest rates in the league. The Yankees and White Sox both rank in the top 10 in terms of hitting low fastballs.
Against the Orioles, Manoah had trouble keeping the ball in the park allowing four home runs. When you look at his pitch chart from that game you can start to see why…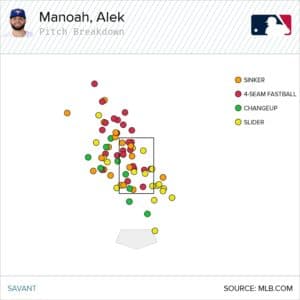 A few too many sliders up in the zone and a fastball down that DJ Stewart took deep. He only walked one (and hit another before being ejected), which is somewhat surprising given that so many of these pitches were off the plate. At this stage of his career, Manoah does not have pinpoint control. When he's struggled it has been because of that control, against both Baltimore and Miami, Manoah couldn't locate. Batters were able to lay off the balls and when they got a strike they hammered it.
Manoah's stuff is really good, he doesn't need to be on the edges, he just needs to be making more competitive pitches. He has only walked nine batters, which isn't many, he just spends far too much time pitching from behind in the count. For the season 30.9% of his pitches have come when he is behind in the count, above the league average of 27.1%. This stems from the fact that Manoah has only thrown a first-pitch strike 54.5% one of the lower rates among pitchers who have thrown at least 20 innings.
Manoah typically starts batters off with his fastball or his sinker…
His sinker has been his best pitch, limiting batters to just a single hit on 12 batted balls. It has a launch angle of -7 degrees and a 75% groundball rate. It's a contact-oriented pitch as Manoah has got just a single strikeout with it. It's his third pitch right now, but it's a pitch he could use more of instead of his fastball, particularly against good fastball hitting teams.
Manoah's primary off-speed pitch is his slider, which he throws 26.6% of the time. The location of his slider has raised some concerns. It hasn't hurt him yet; batters are hitting just .139 against the slider with a .265 wOBA, per
Baseball Savant
, but you can't be leaving sliders out over the plate like Manoah has and expect to get away with it for long…
Manoah's slider is nasty. It has 14.3 inches of break which is the 20th most break of any slider in baseball. That is a lot of horizontal movement which is why despite the sometimes poor location Manoah has only allowed a 26.1% hard hit rate and an exit velocity against of 84.9 mph on that pitch…
When you see it move like that you understand why that's his go-to put-away pitch and how 13 of his 27 strikeouts have come via the slider.
Manoah has been able to have success riding the fastball-and-slider combination as we saw him do against the Red Sox. In that start, Manoah threw 93 pitches and 80% of them were either a fastball or slider. That combination can work against right-handers as it has. Manoah has limited righties to a .157/.232/.373 line. Lefties however have hit .270/.372/.622. The culprit for this is Manoah's change-up which many said was a work in progress when he was brought up, is still a work in progress.
He is only throwing his change-up 11.1% of the time, well below the rate of his other three pitches. He made Rougned Odor look silly on a change-up in his debut but to date that is the only strikeout, Manoah has with that pitch. In his second start against the Marlins, Manoah threw just six change-ups two of which were hit out of the park. He's allowed five hits on the change-up and all five have been hit at over 100 mph. He has been moving away from the pitch throwing it 14.8% in his first start to just 8.1% in his last start. He is going to have to continue to work on that pitch as he will need it if he faces a team like the Rays who can load their lineup with lefties.
We don't know when Manoah will make his next start as he
received a five game suspension
for hitting Mikael Franco on Saturday. Manoah is appealing the suspension but it seems unlikely he will make his next scheduled start in the upcoming series with Baltimore. Manoah had the worst start of his young career against the Orioles so it would have been nice to see him get a chance to face them again. Regardless whomever Manoah faces next we will see if he leans on the sinker more to help keep the ball on the ground and if he can get his change-up right to help him against left-handed batters.