Another outfield platoon option is off the market for the Blue Jays, as Adam Duvall has signed with the Red Sox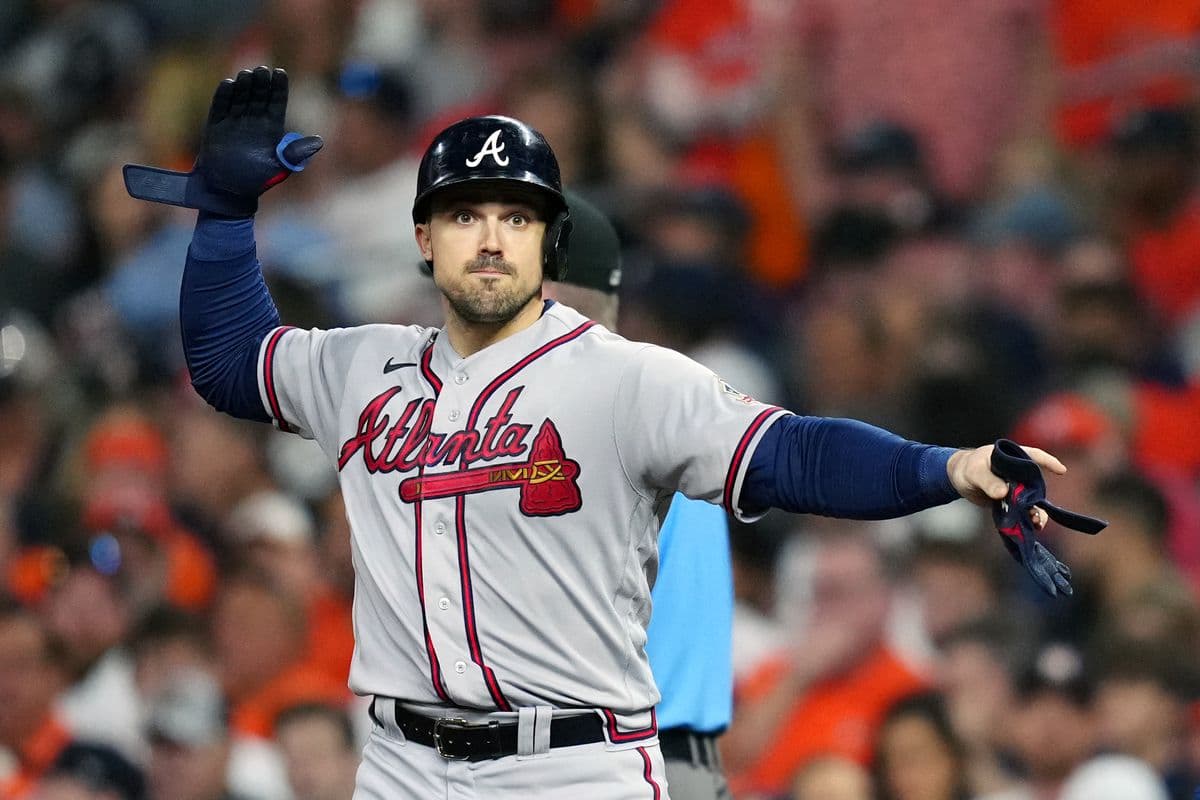 Photo credit:Daniel Shirey/MLB Photos
Another potential fourth outfield candidate has signed elsewhere.
Per Jon Heyman, the Boston Red Sox have signed Adam Duvall, as they have an "agreement" in place.
Per Craig Mish, it is a one-year deal worth a base of $7 million, but could reach as high as $10 million.
Last season, the 34-year-old slashed .213/.276/.401 with 12 homers in 315 plate appearances, for an 87 wRC+. He had a relatively low 6.7 BB%, and a below-average 32.1 K%.
In all honestly, Duvall just didn't fit the Blue Jays' need for a right-handed outfielder that mashes left-handed pitching. Duvall did have a great 129 wRC+ last season against left-handed pitching, but it appears to be more of an anomaly than anything (as he had a 63 wRC+ against left-handed pitching in 2021) 
In fact, he has a career 101 wRC+, and a .230/.303/.468 slash line with 42 home runs. So very slightly above average, but not by much.
The one area where Duvall excels is at defense. He had a -3 Defensive Runs Saved in 2022 but had a pretty solid 4 Outs Above Average with Atlanta. Moreover, he had an insane 19 DRS in 2021, as well as a 4 OAA. For his career, Duvall has a 58 DRS and a 28 OAA since he started playing the outfield in 2015.
Duvall's signing with the Red Sox takes away potential options for the Blue Jays, with only a handful remaining reasonable options.
Who's left?
The second option is the Minnesota Twins' Kyle Garlick was designated for assignment on January 11th.  He went unclaimed after being DFA'ed, but could still be an option via trade. While he hasn't had a great career in terms of hitting (or defense), the one area he's stood out was hitting left-handed pitching. Moreover, he has options remaining, meaning that he could be sent to Buffalo. I wrote about him more in this News and Notes here.
Either way, time is running out for the Blue Jays to fill a pretty crucial need. Could they trade for a player to fill that need, or is a guy like Robbie Grossman an option? I guess we'll see!
As always, you can follow me on Twitter and Instagram @Brennan_L_D.
---