As summer nears, Matt Chapman's power should soon re-emerge
Photo credit:Kevin Sousa-USA TODAY Sports
This season, offence is alarming down across Major League Baseball and unfortunately, third baseman Matt Chapman has been affected like so many others. But as the warmer months arrive, there's hope he'll enjoy improved success down the road.
Since arriving to the Toronto Blue Jays this past spring, though, everyone's been waiting patiently for Chapman's offence to showcase itself, but that's yet to happen early on. He's provided excellent defence at the hot corner, which was to be expected, although his bat hasn't caught up to his glove thus far.
In 36 games, the 29-year-old is hitting .185/.266/.371 along with six home runs and 16 RBIs through 139 plate appearances. These certainly aren't the offensive results Toronto's front office had envisioned when they acquired the 2019 All-Star from the Oakland Athletics back in March.
What's worse is that Chapman's slugging has been essentially non-existent up to this point. After finishing with career-worsts in slugging percentage (.403) and isolated power (.193) last season, he's currently carrying a problematic .371 SLG and a .185 ISO in 2022.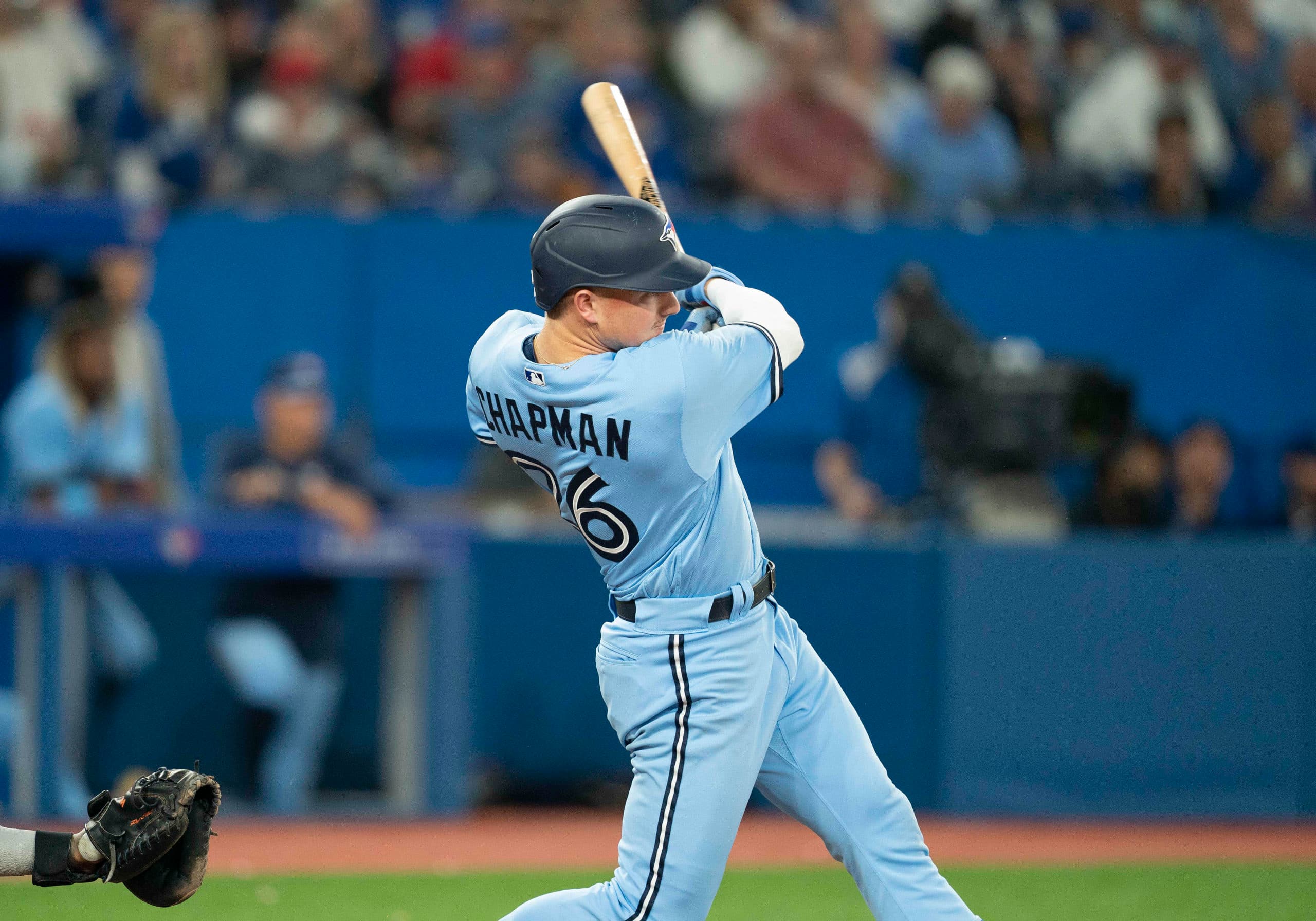 Credit: Nick Turchiaro-USA TODAY Sports
During his tenure in Oakland, however, the right-hander was widely known for his power and served as a prominent threat within the middle of his former club's batting order. Despite struggling to do so in his final season with the organization, he had been one of the top slugging third basemen in the sport from 2018-2020.
In that span, Chapman recorded the fifth-highest ISO (.251) and wRC+ score (130), the seventh-highest SLG (.510) and the seventh-most home runs (70) among all qualified third basemen, according to
FanGraphs.com
. Paired with his award-winning defence, this placed him as one of the elite performers in the majors at the time.
Since then, the former first-round selection has struggled mightily to replicate those stellar results. Or at least, that's what his traditional results are showing. In actuality, some of his underlying metrics suggest he should be performing much better than he is.
While Chapman's SLG currently resides at .371 – which is only .005 points below the major league average (.376) – his xSLG is placed .128 points higher at .499. That's a pretty sizeable gap. It's the
second largest on the Blue Jays
behind outfielder Raimel Tapia, whose xSLG (.422) is .132 points higher than his SLG (.290).
One of the reasons Chapman's xSLG sits much higher than his SLG is due to the amount of hard contact he's creating – it's a lot. More than half of the balls he's putting in play are coming off the bat at 95 m.p.h. or higher, earning him a career-best 53.4 per cent hard-hit rate. That ranks in the 96th percentile of the majors.
Better yet, the veteran infielder possesses a 92.1 m.p.h. average exit velocity across 88 batted-ball events, placing it in the 90th percentile. Paired with his 51.1 per cent fly ball percentage, he should definitely own more than just 11 extra-base hits on the season.
More impressively, this is an area where Chapman struggled through the 2021 season, as he performed to a 41.7 per cent hard-hit rate and an 89.7 m.p.h. average exit velocity. Granted, coming off season-ending hip surgery likely played a major factor in that regard. Now, one season later, the balls coming off his bat are making very loud sounds once again.
As a result, Chapman has improved his hard-hit rate by 11.7 per cent since last season. That's the fifth-highest differential among qualified big-league hitters.
For comparison purposes, there are only four other batters – Martin Maldonado, Jean Segura, Gleyber Torres and Cody Bellinger – in the majors that have experienced a higher year-to-year increase involving their respective hard-hit rates than the Blue Jays' third baseman.
Toronto's offence was already loaded with hitters who generate tons of hard contact prior to Chapman's arrival, and he's only added to that group in '22. Having said that, he's not being rewarded for his impressive quality of contact and has largely been hitting into outs that should be falling for hits.
More often than not, the majority of his unluckiness has transpired on breaking balls, which he's generated the highest hard-hit rate (62.5 per cent) against this season.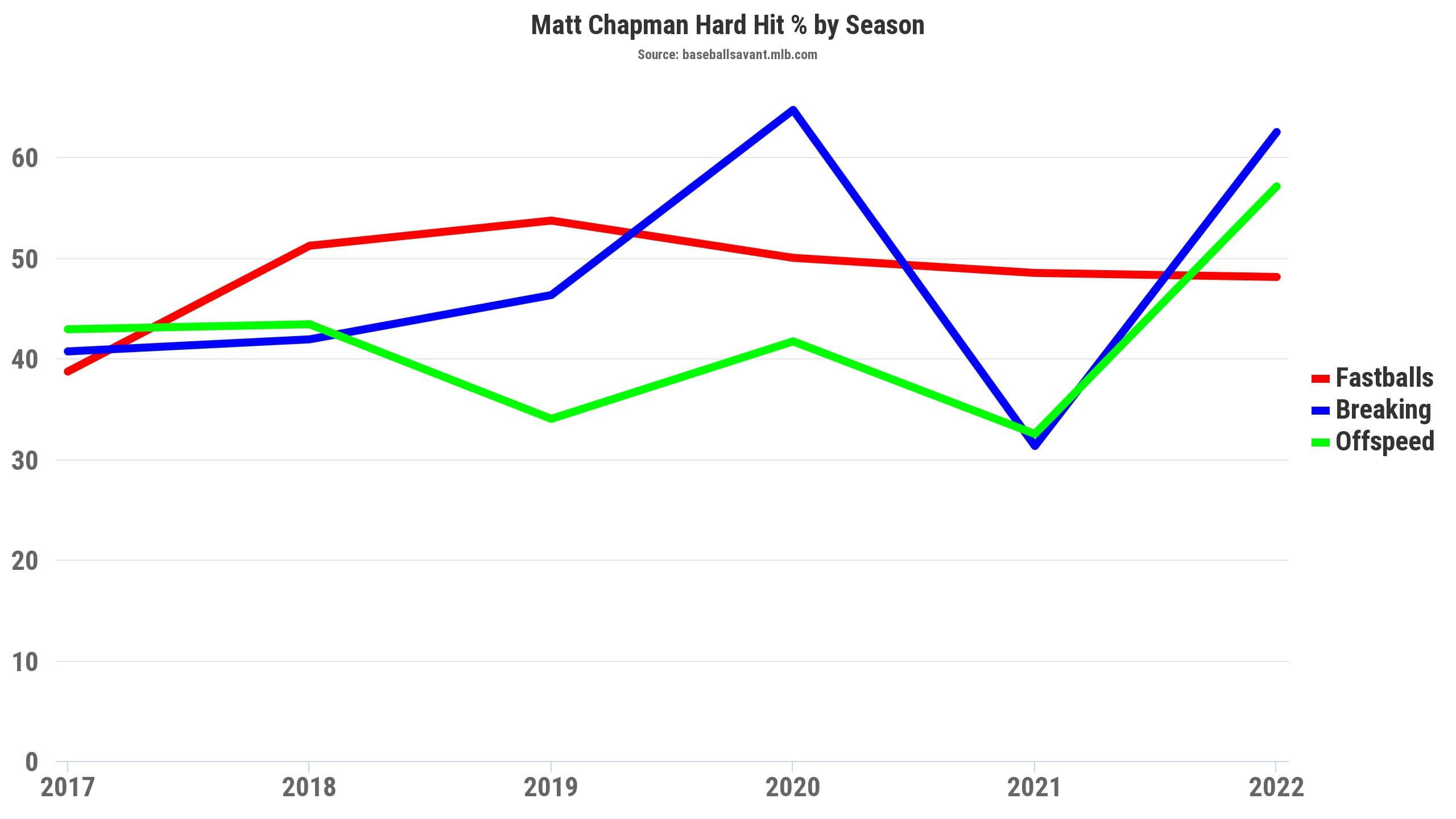 In total, Chapman has posted a measly .098 AVG and a .171 SLG versus sliders and curveballs through 42 plate appearances. On the other hand, however, he also carries a .222 xAVG and a .346 xSLG, suggesting his traditional results should normalize as the season continues.
The Victorville, California, native should also be poised for a considerable improvement regarding his slugging against fastballs, as well. At the moment, his xSLG (.595) currently rests .102 points higher than his SLG (.493). That's by far the largest differential of his career.
Whether it's been a combination of multiple factors – including a difference in the baseballs, the cool temperatures or something else entirely – not much has gone right offensively for Chapman this season. Still, his luck is bound to change eventually. It's only a matter of time.
And we might have gotten a glimpse of a potential power surge in Monday's 6-2 victory over the Seattle Mariners. In his first of three at-bats, Chapman destroyed a 91.9-m.p.h. four-seamer to centre field for his sixth home run of 2022, which came off the bat at 107.6 m.p.h. and travelled 431 feet.
Interestingly enough, all six of Chapman's round-trippers in '22 have come at Rogers Centre, where he features a career .229/.342/.552 slash line through 31 games. Perhaps spending half the season in Toronto (81 home games) – most of which with the dome open – will do him some good.
That was certainly the case on Monday. No longer was he forced to watch another potential home run suddenly perish at the warning track just like so many others have.
Hopefully, this is just the beginning of Chapman's offensive breakout. With a lethal four-headed horse atop of the Blue Jays' line-up – featuring George Springer, Bo Bichette, Vladimir Guerrero Jr. and Teoscar Hernandez – the batting order will become even deeper if Chapman starts slugging consistently, too.
If his latest performance is a sign of what's to follow, the team could be in store for a very high-scoring month of May, and that'd certainly be a welcomed occurrence.
---