Assessing the bullpen, realistic June trade targets, and some names still around in free agency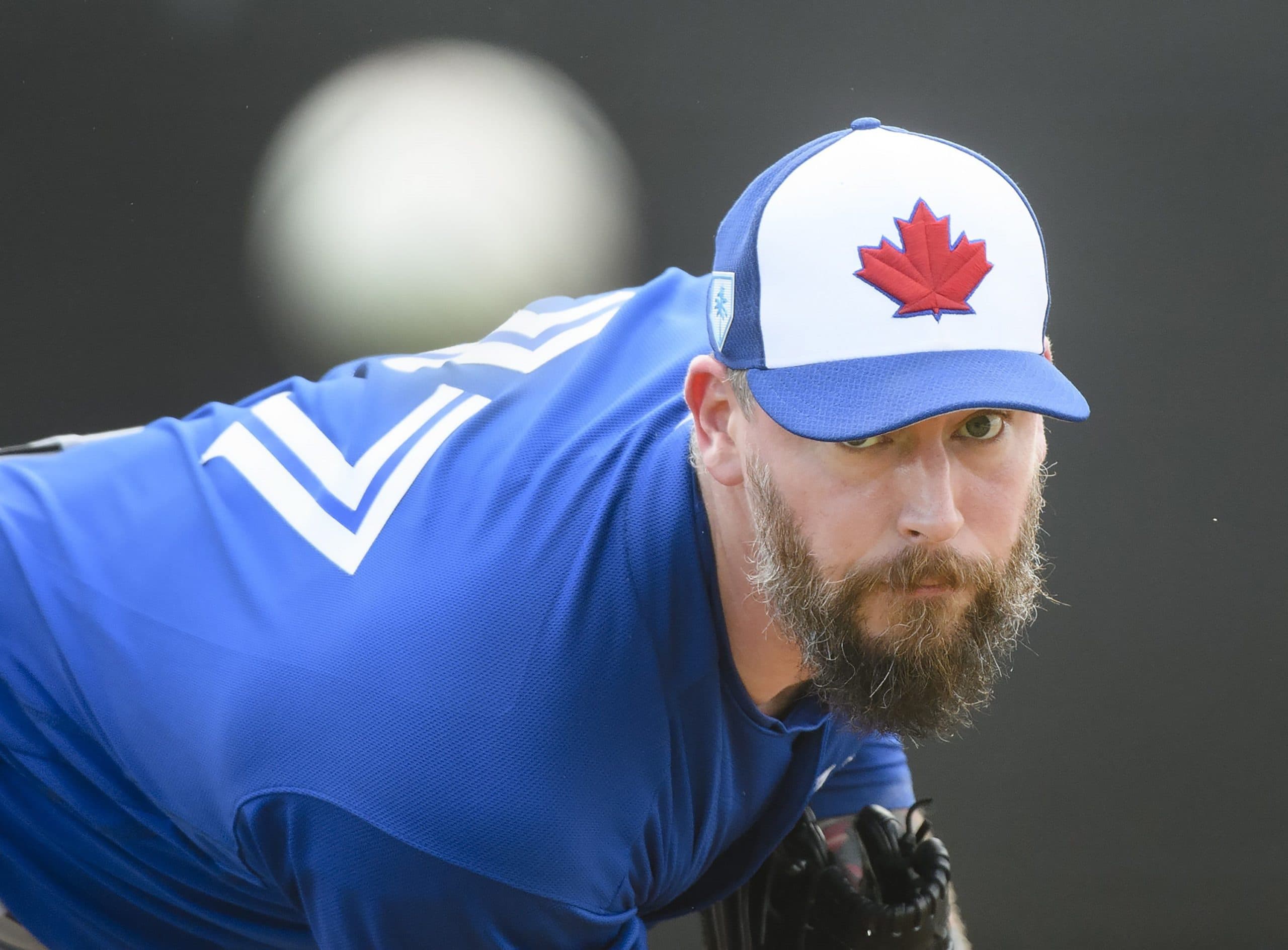 Yes, Vladdy is apparently the best hitter in baseball right now, and yes George Springer seems on the cusp of finally coming back from injury, but all that Jays fandom can really talk about right now boils down to "The Bullpen – WTF?!"
Opinions run the gamut from "This happens in baseball, calm down" to "these guys suck" to "What was Charlie thinking?" to "Ross DO SOMETHING!!" To be frank, there's some truth in all of those, some less so than others. I could spend the next 500 words just linking you to the various published opinions (there are MANY, not least on this
very site
) but I trust that if you're reading this you've seen or passed on all of that. In order to bring something different to this discussion, it's my intention to first get a relatively objective take on the extent of the problem before discussing what that implies for solutions. Of necessity (given the subject matter and my tendency towards verbosity) this will be fairly long.
The hinge point is coincidentally 30 days ago. On the morning of May 19, the Blue Jays had played basically a quarter of their season and were 23-17, on pace for 93 wins. Basically, no one was particularly worried about the bullpen, other than the return of Julian Merryweather and Ryan Borucki to make a solid crew even stronger. There are nine guys who had as many as four IP in that first quarter of the season (plus Jeremy Beasley had 1.2 IP) and were on the active roster, the collective ERA of these 10 guys was 2.50 and struck out almost a hitter per inning. They were good, and if you don't count Mayza's having lost the thread in mid-May (nine runs in 2 IP from May 7 to May 16) that ERA comes down to 1.84 so at this point, coming into game #41, you had one guy basically you were trying to sort out.  All our discussion of "OMG the bullpen!" panic is specific to the last 30 days.
Over this period, they've played in 27 games (including a couple of doubleheaders) and they lost the first six of those and have played roughly .500 ball since. Among those 27 games, they've won 10, there were seven games in which the bullpen wasn't a significant factor in the loss, and eleven which are relevant to the bullpen distress discussion. Maybe the main reason fans are so stressed is that five of these happened consecutively during that six-game losing streak. Let's look first at those games, and at the personnel involved.
.On May 20, the second game in our sample, Rafael Dolis came into the game after Tyler Chatwood and Jordan Romano had each recorded a scoreless inning, and just blew up. He gave up three runs and the Jays lost but he came into the game as one of the guys Charlie trusted and at the time you shrug and go "it happens."
The next night, AJ Cole gave up a game-tying homer in the 6th but then the heart of the 'pen gives you five scoreless innings to take it to extras and you're feeling pretty good about the bullpen. Of course, now you're down to your literal last man – Beasley – and he gets rocked for four runs. But he's your last option for a reason. Again, this is a "stuff happens" game and on the whole, the bullpen did fine. May 22, Anthony Castro – back from the DL (he was unscored upon before getting hurt) gave up his first run in the sixth, and Trent Thornton who'd been reliable but not perfect in the first quarter gave up another run to lose it in the ninth. That's three bullpen losses in a row and it's kinda frustrating but still, not panic-inducing. Just baseball.
Then the next day, May 23, the real problem arrives – Tyler Chatwood loses his feel entirely. After Dolis had given them 1.1 scoreless innings, Chatwood, and his 0.53 ERA entered the ninth, bringing with him a stunningly low walk rate and 24 K's in 17 IP and got rocked. Two walks, two hits, a run scored and two runners on base and two out when he was pulled clinging to a one-run lead. Then comes Travis Bergen and his 1.74 ERA … and he walked in three runs! Then hit the IL. I mean, we don't know whether the walks that night were related to the injury and he was trying to play through it but other than that, we can't really file this one under "that's baseball" and maybe this is where the panic starts growing. So now it's May 24, did I mention they were playing the maddening Rays who seem to have some sort of curse on our boys? Anyway, this one too heads to extras, Romero pitched a shutout ninth, then Castro allows two in the tenth (the Jays also scored two in the tenth) before Joel Payamps, who'd been fine, and Mayza, who had seemed to come out of his wilderness, got knocked around for seven in the 12th and with that, nothing is on our mind more than relief pitching.
Basically, a week from hell. But yet a lot of it is just a confluence of mostly unrelated "normal baseball" events. True there were two "what the hell just happened?" games in a row but I'd argue that had they not been part of a five-game series of losing leads it wouldn't have had the same shock effect. It's the psychological effects of watching five games in a row slip away. Almost a week, the weird weather week in which the Jays go 4-1 and the thought is "maybe we're through the rough patch, everyone's rested and it  should get better." The next relevant game was on May 30, in the second game of a double-header, and for the second appearance, Chatwood was a mess, coming in for the 6th inning and walking FIVE  in an inning and a third including walking in the tying run and leaving the bases loaded. But this is kind of isolated. By the time we get to the next relevant game another mostly uneventful (as concerns the pen) week goes by and it's June 8. Remember, at this point, there's only been one really bad bullpen night in two weeks and the team had gone 7-4 during that time. It's fine, everything's fine, right? Um…no.
Thornton came into that game with a 2.54 ERA and took his turn at blowing up. Recently promoted Carl Edwards Jr followed and failed to stop the bleeding. On the 11th they tried again with Chatwood in the sixth and he was even worse, but left clinging to a one-run lead. Edwards gives up a homer in the 8th and Dolis allows an unearned run to cross in the ninth and there's another loss. After two wins last weekend, the curse returns on Monday, but it's Dolis, specifically, not a whole bullpen failure – Payamps pitched two scoreless before the 9th. The next night Castro again failed giving up the lead in the 7th in a game they would go on to lose.
This brings us to last night. Rookie Tyler Saucedo made his first appearance and was fine, ahead of him Payamps was fine, they combined for 2.2 scoreless innings – then Castro came in and did his Chatwood impression. A ten-game stretch, five bullpen failures and a 3-7 record, against the teams you presume to be competitive with. Now we're desperate again.
So in summation, concerning those 11 bullpen failures, of the core guys for the first quarter of the season, Dolis blew three opportunities, Chatwood melted down three times, Castro (who wouldn't have been in such leverage if others were not failing) lost the lead 4 times, and Thornton blew up once.
Additionally, Beasley and Edwards were awful in small samples but if you get down to them, in a leverage situation, things are already awful. It's reasonable to argue that Chatwood and Castro carry the most guilt in this dark period. Between them, they threw 17.1 IP and allowed 21 runs. Dolis, who's been called the worst pitcher that people somehow think is good, has maybe been trusted too much and failed but Charlie didn't have as much liberty to dial it back on him given the ongoing dumpster fire. So there's Romano, trustworthy when available, Thornton, Mayza and Payamps usually good but a sure step down, and …ugh. Of course the core problem here is missing Merryweather and Borucki. You have much less pressure to go to Dolis and, Chatwood when they are available and Castro is down to maybe your 8th or 9th option (and I like what Castro was doing before but he's clearly lost right now). Pitchers like Beasley and Edwards need not apply.
So, what to do…?
There are basically three possibilities. Go add someone who's available, promote from within, or find a trade at a time when trades are seldom ever made. On the first option, Mike Wilner made an interesting suggestion…
Robertson was a beast right up through 2018. if he's out there unsigned and money is the only object – how can he not be better than Edwards or Beasley? Axford is two years older than Robertson but, as they say, there's no such thing as a bad minor league deal. Brad Peacock, who had a good run in Houston was to hold a showcase last Friday, so we were told, but there's no reporting on how much of an impression he made. There are others but in most cases, they are unsigned for a reason (as was Edwards) so it's really picking through the ashes to turn up actual help this way.
The Blue Jays did add the aforementioned Saucedo who looked really good in AAA and didn't flub his debut, but it took literally his seventh game in the majors to get in. They also added Patrick Murphy on Wednesday as Edwards hit the IL, which was a theoretical boost, but that inning that went to Castro last night would have been the ideal place to see what he had. Charlie has perhaps too much invested in the idea of getting his struggling guys untracked.  In fact, most of the Buffalo/Trenton bullpen is actually doing really well, as I mentioned earlier in the week. Several of them have the stats to make you speculate on whether they would translate to the majors. Kirby Snead, in particular, has a 1.04 ERA and has allowed a tidy 9 hits and 4 walks against 25 strikeouts in his 17.1 IP which is pretty tempting.  The big failing of them all though, is they are not on the 40 man roster. I mean, I personally would probably DFA Beasley and recall Snead today but the point is every addition constricts the flexibility.
Two lefties who are on the 40-man roster (and not locked into a starting routine) are Travis Bergen, who just came off the IL and presumably needs some game action, and Nick Allgeyer who was promoted for a few days earlier in the year but didn't get into a game. The latter stumbled a bit when he returned to AAA but has pitched well in June. He can also go multiple innings which they maybe need some length.
But for every addition, there's a trade-off. To be frank, though, Allgeyer is a great example of the roster inflexibility issue. his addition to the 40 earlier in the season tied up a roster spot and he never even pitched for Toronto, then last weekend when an arm was needed they chose to add yet another guy (Saucedo) rather than the rookie they already had on the 40 man roster. I can't guess what the team is thinking but none of us, as fans, would miss Beasley and Castro isn't the kind of guy you can't send down to work out his groove. There's little downside in giving Allgeyer a look given the strain this pen is under (apart from his having pitched 4 innings for the Bisons last night). If you are cramped about adding other guys to the 40, at least see what he and Saucedo (and Murphy) are going to give you.
But beyond the guys on the fringes of the 26 man roster, what all this means is that there's an under-discussed (particularly in the context of trades) roster crunch, with the 40 as well as the 26. Let's say Borucki and Bergen get healthy and displace Saucedo and Beasley. Merryweather comes back and needs a 40 man roster spot. I'm not sure you can do that with an injured player like Edwards so that points to Beasley I guess.  We can't guess who will be struggling at that point but for the sake of illustration, let's say he bumps Castro off of the major league roster to AAA.
The Jays' 'pen is certainly improved, on paper at least, but the roster is even tighter. When Dolis is healthy (if, presumably) then Murphy or Payamps gets demoted. But if during this time you have acquired one or more guys via trade, and didn't include anyone off of the 40 man roster in the deal, then you're at risk of losing a player you like as they did Ty Tice. Plus, if you presume all these guys healthy at once (I know, but it's not impossible) then the new guys should be better than the guy who loses out. Romero, Merryweather, Borucki, Chatwood, Mayza, Dolis, and Thornton are basically core guys, for this year at least, the others can be stashed in AAA. As fans we tend to not think very deeply about this sort of thing, we want wins, but a front office is always measuring the trade-offs of every move.
Alas, though, if you can you probably should because the bleeding continues, they are now a game under .500, and you can't say "wait until the end of July" when there's more than a fifth of the season to be played before the trade deadline. The problem with that idea, however, is that the sellers have all the leverage and they have no incentive to sell early when multiple teams will potentially be in the market after the ASB. So that lust you might be feeling for, say, Brad Hand? Yeah, that's unlikely because you'd pay steeply to get someone like that this early. The best pitching acquisition between mid-June and the Fourth of July in the last five full seasons? Jason Grilli. Adjust your expectations accordingly.
I'm already well past 2,000 words so let's be brief on this part. Many others have tossed out interesting names and this list will repeat some of them, and while I may mention higher-profile names, most will be the sort of piece a team would be willing to make an early deal for at the right price – and that be a price the Jays can live with. I make it at nine teams right now that can afford to look ahead. I'll start with two that seem most promising – Colorado and Pittsburgh. The former because, well, they're a mess, and the latter because of the presence of Ben Cherington and some other veterans of the Blue Jays player development crew. For the Rockies, Daniel Bard and Mychel Givens are veterans who are pitching well and you could probably make a deal without touching your Top 20 prospects. In Pittsburgh, there are five or six guys that are doing good work. Closer Rich Rodriguez likely won't move this early, but Chris Stratton, David Bednar and some others are doing solid if unspectacular work, and are not the sort of pieces the Pirates would consider building blocks. Just a matter if, for example, Leo Jimenez is a guy the Cherington crew remembers fondly and would be tempted by. Plus you can always offer them hometown boy TJ Zuech. Chasen Shreve is hanging around here too, if a familiar name interests anyone.
I'm not going to name them all but there are no less than eight guys in Miami (including old friend Anthony Bass) who could help out, six of them 30 or older (thus not building block pieces). Surely with that much depth, an early deal might not be as hard. Bass and, say, lefty Richard Blier who walks very few batters (1 so far this year in 24.2 IP) would be a helpful deal. Paul Fry and Cole Sluser are guys that the Orioles might listen on, I expect the Rangers will hold out on Ian Kennedy until next month and there's not too much beyond him. Michael Fulmer and Jose Cisnero in Detroit should draw some attention from Atkins and others seeking to make a deal, Taylor Rogers in Minnesota may be having too much success to be available this early short of an overpay.
Like most other observers, I tend to think the team is sort of trapped by circumstances. They could have weathered that first "week from hell" but we're now in the midst of a second with no end in sight and we may have reached the point where "we have to do SOMETHING" becomes what's best for the team psychologically, even if on paper you don't like the price. Stay tuned.