Baseball Savant's Spin Mirroring Tool and the Blue Jays' pitchers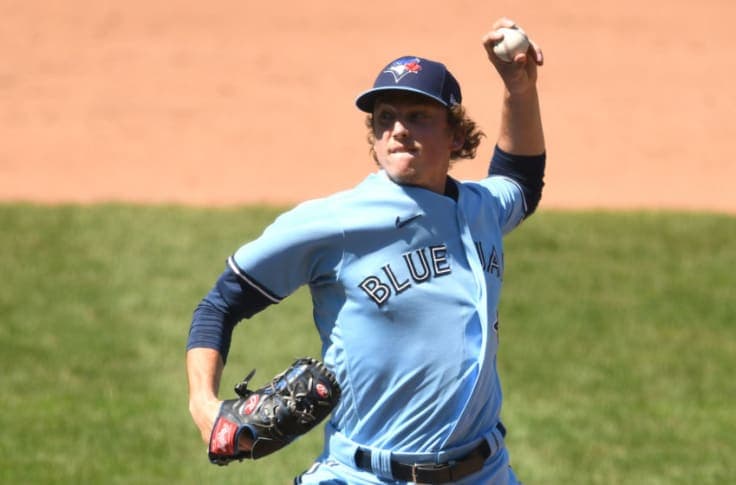 Baseball Savant
unveiled a new tool last week, spin mirroring. With Hawk-Eye cameras installed they are able to measure the direction of pitch spin. With this information we are able to see how pitches play off of each other or "mirror." Mike Petriello at MLB.com
wrote an introductory piece on this
, explaining what this is and how it works. I would highly recommended reading that if you haven't already.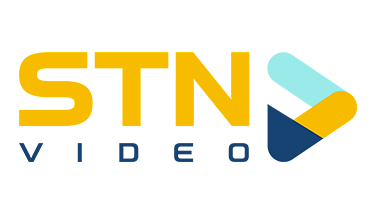 With this tool, I took a look at few Blue Jays pitchers who jumped out to me.
Who needs Velocity?
Hyun-Jin Ryu's first season with the Blue Jays went about as well as anyone could have hoped. He made 12 starts, had a 2.69 ERA, finished third in the AL Cy Young Voting and helped the team reach the postseason for the first time since 2016. Ryu keeps hitters off balance with a five different pitches, which he can throw anytime in any count. With spin mirroring we can further see how those pitches move and why they are so difficult for hitters to pick up.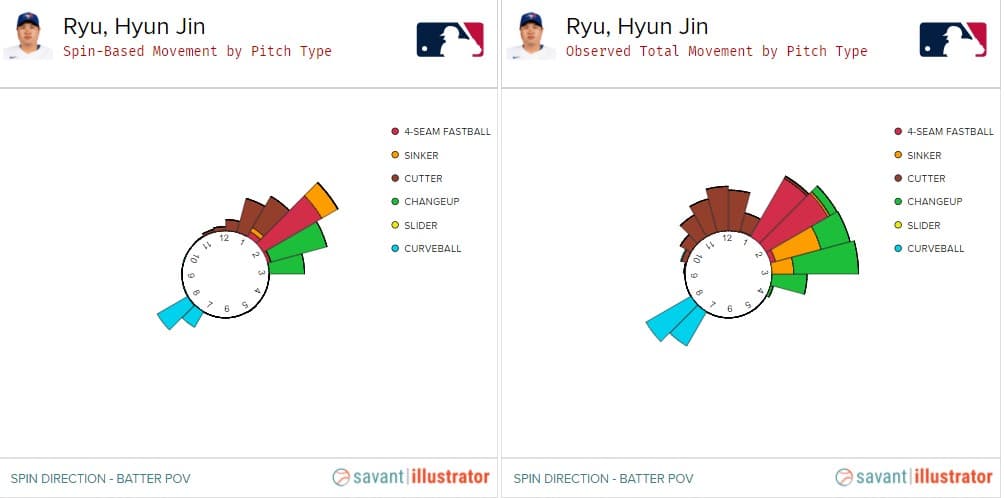 On the left we have the spin-based movement by pitch type, which is the spin of the ball coming out of the pitchers hand. It's set up to look like a clock, so the spin of Ryu's cutter in brown when he releases the ball spins between 12:00 and 1:30. It has some overlap with his fastball, and mirrors the spin of his curve, which spins between 7:00 and 8:00. On the right we see the observed total movement by pitch type, which is the spin of the ball at the plate.
For Ryu's four-seamer in red, it doesn't change that much. He releases the ball at 2:00 and it crosses the plate between 1:00 and 2:00. His cutter however moves a lot. It's predominately spins out of the hand between 1:00 and 2:00 but at the plate it can be anywhere from 10:00 to 1:00. That averages out to a deviation of 1 hour 15 minutes, which is fairly high.
Visually it looks something like this.
This is why Ryu's cutter which is only thrown at 85.5 mph, without elite movement, can be his most valuable pitch, which was worth a run value of -8. That was one of the five most valuable cutters last season. When you combine that with an elite change-up and a curveball that has 66.5 inches of drop, it's clear how Ryu has so much success with limited velocity.
New Home in the Bullpen
Ryan Borucki was moved to the bullpen for the 2020 season and that looks to be the best spot for him moving forward. He added close to three miles per hour on his sinker, averaging 94.8 and can run it up to 97. Lefties who can throw a sinker that hard can be very valuable at the backend of a bullpen. Borucki's 2.70 ERA was good but it was helped by the fact that he only allowed 0.54 home runs per nine. That masked the 6.48 batters he walked per nine. His 3.61 FIP and 4.91 xFIP were more in tune to how he pitched. One thing he does have going for him on top of velocity is his slider.
Borucki's slider was his best pitch last year. He threw it 37.9% of the time and it had a run value of -4. It had a 50% whiff rate and batters hit just .077 against it. In other words it was filthy.
Much like Ryu's cutter Borucki's slider doesn't have a lot of movement when compared to similar sliders. The deviation Borucki gets on his slider is substantial.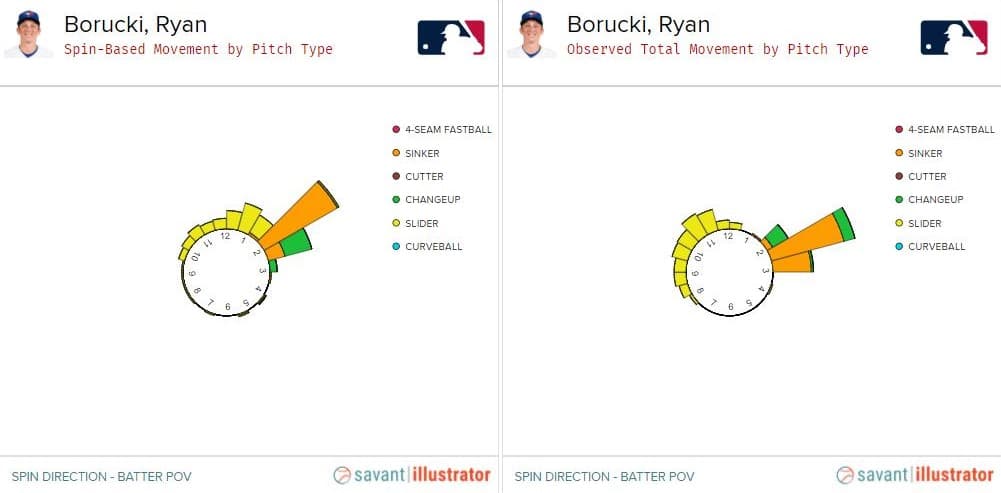 The spin-based movement on Borucki's slider is anywhere from 10:00 to 2:00, averaging at 11:45, and the observed movement ranges from 8:30 to 12:30, averaging at 10:00. That deviation of 1H 45M is significant and one of the larger ranges among sliders. You can see that in the above gif. None of those three sliders look the same.
It will be interesting to see what the Blue Jays do with Borucki, now that he is a fulltime reliever. Does he abandon his change-up which was hit hard 60% of the time last season, and just be a sinker slider pitcher? Or will he be able to improve the change-up giving him a third weapon that would really help him against right-handed batters?
Room for Improvement
Much like Borucki, Anthony Kay was shifted to the bullpen for 2020. And like Borucki, Kay had control issues, walking 6.00 batters per nine. Kay however did not have the home run luck that Borucki did, allowing 1.29 homers per nine. Kay in 21.0 innings had a 5.14 ERA which is right in line with his 4.95 FIP and 5.48 xFIP.
Kay throws a curveball that will surprise you.
Kay's curveball spin based movement is 7:30 and it mirrors perfectly with his fastball.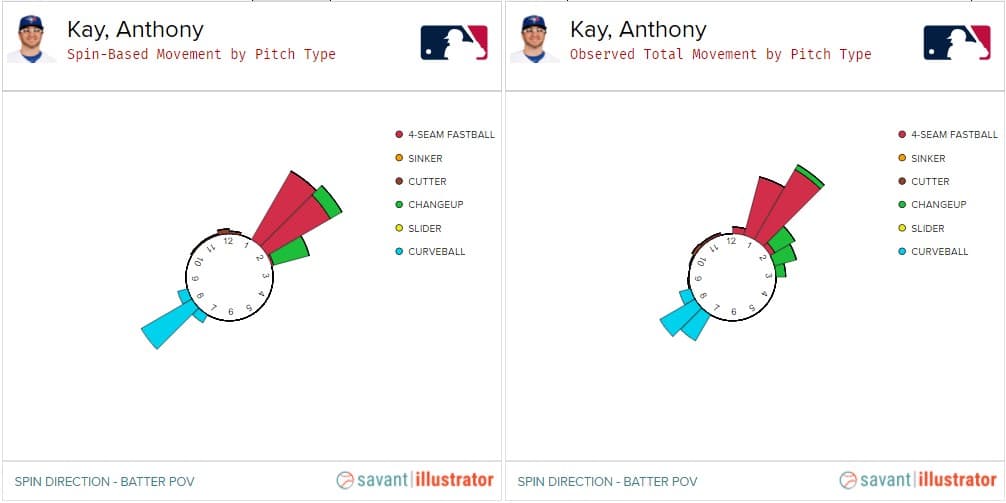 Looking at that image you can see that Kay doesn't get much deviation with his pitches the way Ryu and Borucki do. This causes issues for Kay because it simplifies things for hitters in the box. If the spin out of the hand and at the plate is going to be the same, a hitter just needs to focus on the velocity. Kay found the zone with his curveball 38.9% of the time and 44.6% with his change, per
Fangraphs
. Batters were able to lay off those pitches only only chasing 13.8% and 14.6% of the time respectively. Hitters could lay off because they knew eventually they were going to see a fastball as Kay threw his four-seamer 56.5% of the time.
The book isn't shut on Kay being a starter. He needs to add either some ride to his fastball or some depth to his change-up, something to keep hitters off-balance and keep them guessing.