Batted Ball Distribution is crucial for Vladimir Guerrero Jr. to take the next step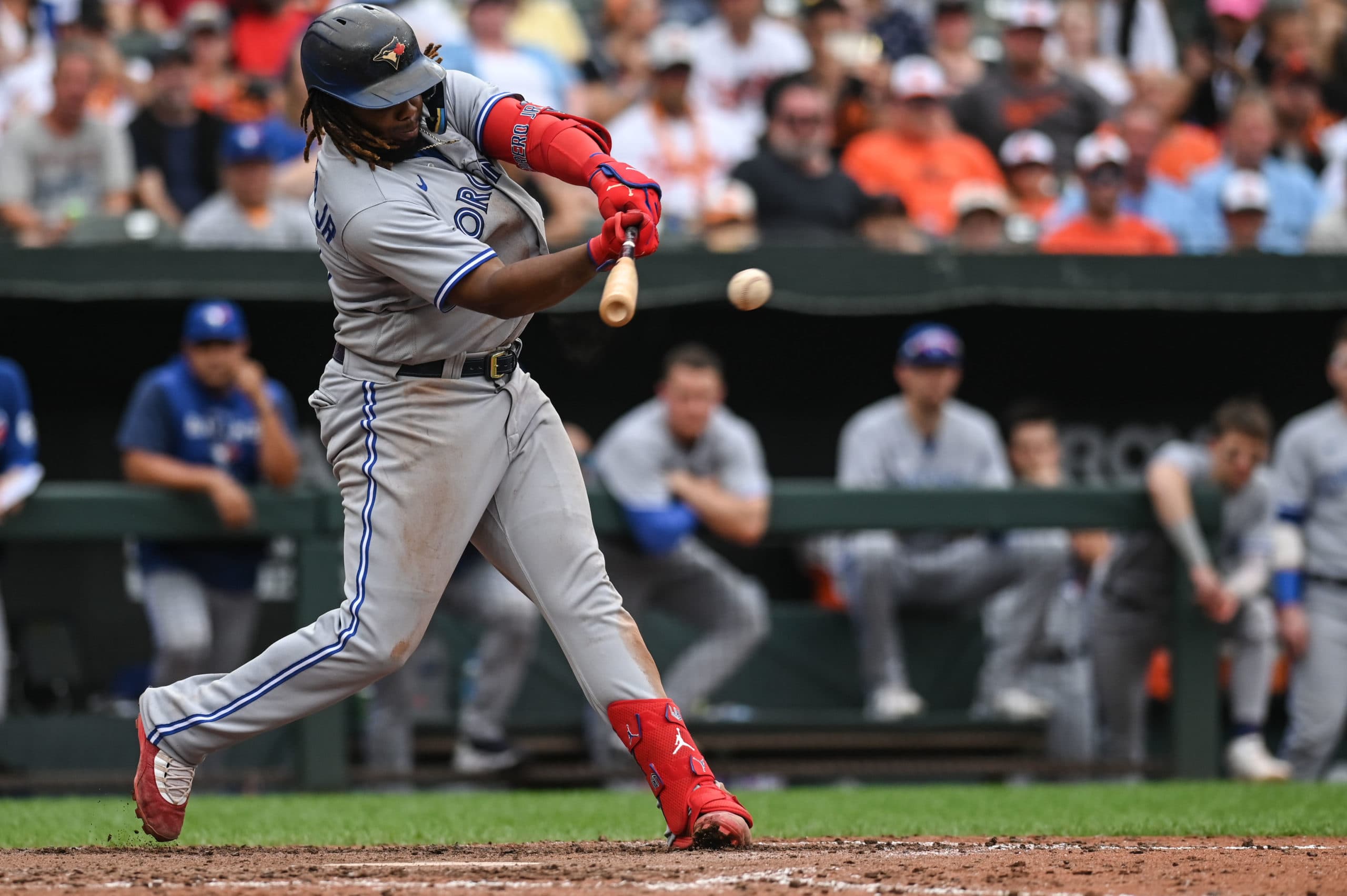 Photo credit:Credit: Tommy Gilligan-USA TODAY Sports
Baseball is hard.
But it's a lot harder when you hit the ball on the ground every time, something that the Blue Jays, as a team, do more than anyone else in the American League. At this point, it's an undeniable problem. The correlation between Vladimir Guerrero's groundball rate and his overall hitting ability couldn't be more blatantly obvious…
We can see, that aside from a weird little run in the middle of his season, Vlad's wRC+ seems to be the opposite of his GB%, suggesting that it could be at fault when he's not doing well. Now, in fairness, correlation = causation is the oldest fallacy in the book. So let's start by proving that the groundball issues are DIRECTLY responsible for the first baseman's struggles this season.
What's the best kind of batted ball? Let's see…
This chart breaks down league average wRC+ based on what type of batted ball is entered. As you can see, the best specific type of batted ball is a pulled flyball. However, in general, line drives are significantly better than flyballs, which are significantly better than groundballs.
Groundballs are very significantly the worst type of batted ball, and the Blue Jays hit them more than any other American League in 2022. This is a problem that needs to be addressed. It hurt several of their biggest stars, not just Vladdy. It definitely hurt the first baseman, who saw his groundball rate jump 7% in 2021, as his wRC+ tanked more than 30 points. But it's not just him. George Springer had a ridiculous 2021, as his groundball rate was only 32.6%. In 2022, it jumped up to 44.5%, and his wRC+ dropped 8 points.
But, let's not kid ourselves. Vlad Jr. is a very good hitter. I'm not here to tell you about why a bad hitter could be a good one if he stopped hitting groundballs. He finished 2022 with a 132 wRC+. Nonetheless, there is so much room for improvement. Vladimir Guerrero is among the most talented hitters that the league has seen in decades. George Springer, Bo Bichette, Matt Chapman and Teoscar Hernandez are no slouches of their own. How can Vladdy unlock the (hashtag) next level?
Well, it would take fundamental change. Nothing is simple when you're facing major league pitching.
However, let's take Vladimir Guerrero Jr. as our example once again. This frame is from a game in Texas, during an at-bat that is just about to end, with a pulled groundball resulting in an out.
You can see that Vladdy is making contact with the baseball at the lowest point of his swing, the region circled in red. After the fact, he begins to swing up on the ball, but it's too late. The ball has already left his bat, and swinging up isn't doing anything at that point. He pulls the ball because he's strong and is trying to do so. He really should be making contact with the ball when his bat is in the green zone. At that point, his swing has begun a rise and thus, he'll give the ball lift when he hits it, rather than smashing it into the ground.
Generally, Vlad's problem is his rotation. He's not fully rotated when he makes contact with the ball, so he's late on it and hits it into the ground. If he gets his top half further out in front, he's going to make contact at a more optimal point to generate lift.
Vladdy's never going to be a bad hitter, even if he continues to hit grounders more than 50% of the time. His bat is too fast, he's too strong, and in general, he's too gifted as a hitter. However, in the only year his groundball rate was below 45%, his OPS was over 1.000. Pulling the ball in the air is the only thing standing between Guerrero and routine MVP-calibre seasons.
2023 will be a big year for Vlad. It's his 4th year of service time, and you'd expect the Blue Jays to start serious extension talks when the campaign is over, if not sooner. Guerrero's 2022 was a rough sign. A first baseman putting up less than 3.0 WAR is not going to get the kind of money that Rafael Devers just did…
However, a first baseman putting up more than 6.0 WAR, like Vladdy did in 2021, can and will. The risk that teams take on by signing Devers and Guerrero are very similar. Both are players who, based on historical data, will not age well. The older they get, the less volume the accumulate, and the less of a defensive home they'll have. Neither one will probably age particularly well at all, and so Boston and Toronto are going to want to get as much as they can out of the years before the player turns 30. If Vlad stalls and doesn't take a jump back forward from 2022, the Jays will not be getting enough value out of those years to make a 10+ year commitment worth it whatsoever.
There's not much to say about what kind of player Guerrero could be should he get the groundballs under control. He did a good enough job of it in 2021, and was outshone only by the greatest individual season a single player might have ever had. He's never going to be elite at limiting grounders, it's just not who he is. But he doesn't need to be. What he does need to do, however, is re-establish his brilliance in 2023. Not only will it put the Blue Jays in a great position, with first base locked up for the next decade, but it will set Vlad up as a Jay for life.
Thanks for reading! All stats via Baseball Savant and FanGraphs. Special thanks to @WillSugeStats for some help with this one!
---