Blue Jays broadcast points out Aaron Judge looking toward Yankees dugout shortly before hitting home run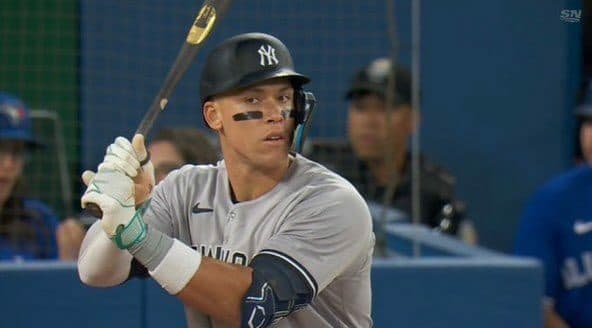 Aaron Judge launched a pitch from Jay Jackson to deep centre field for a 462-foot home run during the Yankees' 7-4 win over the Blue Jays in Toronto on Monday.
It was Judge's second homer of the game, as he also launched a solo bomb off of Alek Manoah in the first inning, but the home run off of Jackson in the eighth inning was noteworthy because of something that Buck Martinez and Dan Shulman pointed out on the television broadcast.
A couple of pitches before hitting the home run, Martinez and Shulman noted Judge was glancing toward New York's bench while Jackson was getting set. After the homer, the replay showed that Judge again glanced off in the same direction as Jackson was winding up.
Martinez: "That's the third time this season that Aaron Judge has hit two home runs in a game. And once again, he's looking at something and then the next move is that powerful swing and he blasts one to centre field. I haven't seen that before with him."

Shulman: "Do you think he's trying to see if Alejandro Kirk is set up away? You know, it's more likely to be a slider if Kirk's in, and if he can't see Kirk it's more likely to be a fastball?"

Martinez: "But the way his head was, I'm not sure he could see the catcher or anything like that."
The pitch that Jackson threw was a slider and Judge smashed it 114.9 miles per hour, which was the hardest-hit ball of the game. For Jackson, it was the first earned run that he had surrendered in three outings since being called up from the Triple-A Buffalo Bisons earlier this month.
Following the game, Blue Jays manager John Schneider said that Judge was looking off to the side for a reason and that the team will take a closer look at it.
Both Judge and Jackson were asked about the situation after the game.
Judge said
that he was looking into New York's dugout because there had been chirping and, given the 6-0 score, he had been encouraging his teammates to be quiet.
Jackson said
that he hadn't seen a hitter do that before and that they'll have a different game plan the next time there's a head-to-head.
---