Blue Jays' bullpen facing unsustainable workload amid scoring, starting rotation woes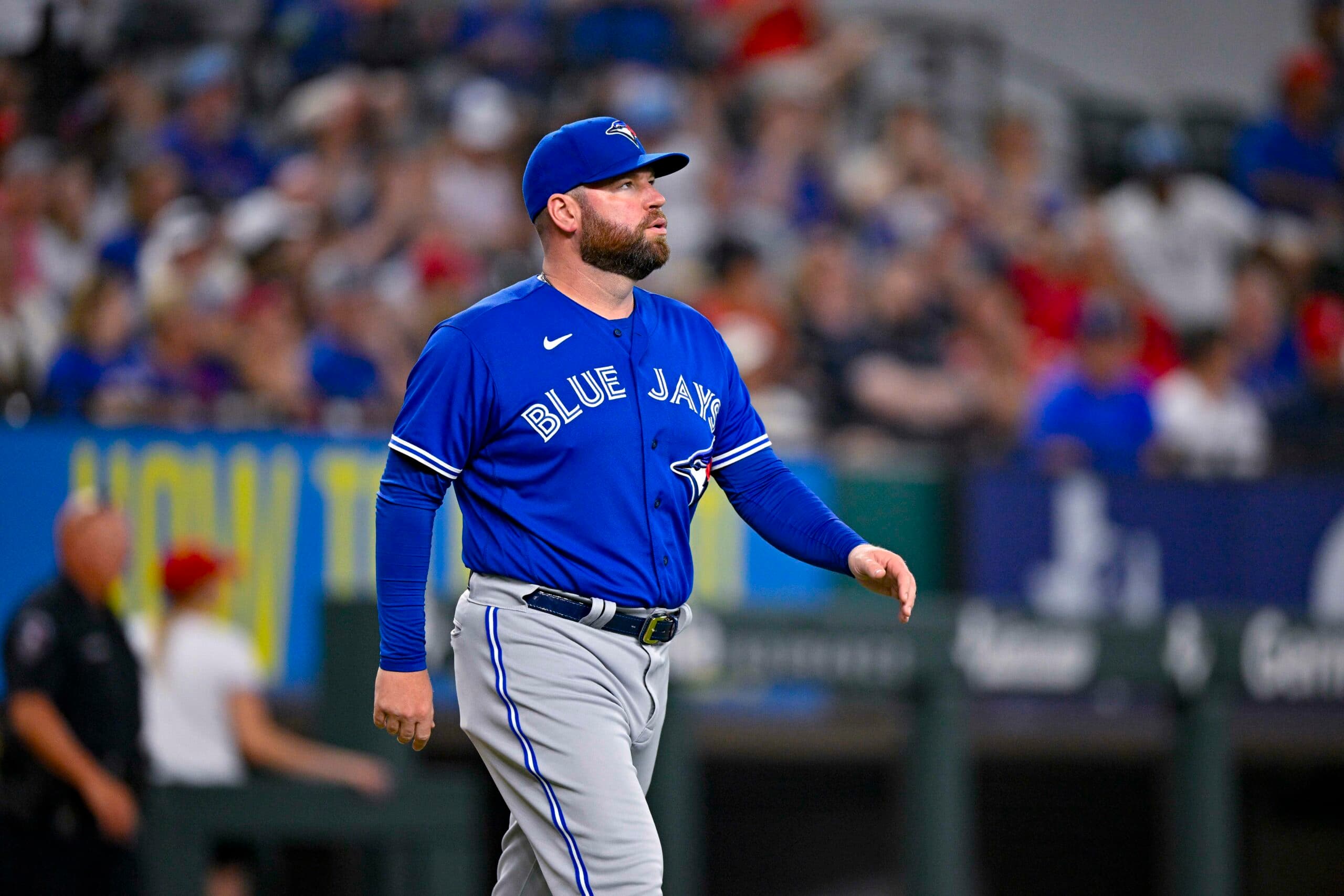 Photo credit:Jerome Miron-USA TODAY Sports
The Toronto Blue Jays are asking a lot from their bullpen these days, and understandably so, but the usage they are currently enduring this month probably can't be sustained for much longer.
It has been exactly two weeks since right-hander Alek Manoah was optioned to the organization's Florida Coast League affiliate, where he has made positive strides while pitching in simulated games, per Blue Jays manager John Schneider. But the 2022 All-Star's departure has placed a larger burden on the starting rotation – one they've struggled to carry.
Without a dependable starter at triple-A Buffalo, the Blue Jays have shifted to a four-man unit, juggled their rotation and utilized a pair of bullpen days on consecutive Saturdays since Manoah's demotion. This plan was supposed to keep the team afloat through the end of June, especially considering how much length they had received from Kevin Gausman, Chris Bassitt and José Berríos up to that point.
Preparation, however, is only half the battle. And even the most well-thought-out plans can implode if there's a lack of execution, a fate the Blue Jays have learned quickly over these last few weeks.
That realization likely started on June 11, one day after Trevor Richards dominated the Minnesota Twins over three innings as an opener in a losing effort that used five different Blue Jays pitchers. On paper, though, they should've been OK with Gausman pitching the next day. Instead, the bullpen endured another hefty workload after he compiled just 4.2 innings.
What's worse is Toronto's plan has continued to fall apart during its current three-city road trip – including stops in Baltimore, Texas and Miami – with the starting rotation struggling to provide length and quality, two areas it excelled at heading into Richards' opener start on Jun. 10.
But since then, the Blue Jays starting pitchers have been among the least effective staffs in all of baseball.
| | | | | | |
| --- | --- | --- | --- | --- | --- |
| | Innings Pitched (MLB Rank) | ERA | FIP | K-BB% | fWAR |
| Mar. 30 – Jun. 9 | 365.2 (Most) | 3.89 (7th) | 4.48 (18th) | 15.2% (1oth) | 4.2 (T-15th) |
| Since Jun. 10 | 39.2 (26th-Fewest) | 6.35 (25th) | 5.65 (26th) | 12.8% (19th) | -0.1 (26th) |
Toronto's starting rotation carried this team across the first two-plus months of the season and is responsible for most of their 39 wins. The scales, however, have tipped in opposite directions recently as they've faltered with limiting runs and walks while inducing fewer swings and misses amid their current 3-7 slide.
A byproduct of these early exits from the starting rotation has meant increased labour for an already overused bullpen, causing their innings totals to increase dramatically this month. And the timing of these poor starts hasn't made things any easier, either.
First, it was Gausman's shockingly poor outing against the Twins on Jun. 11, although that was followed by a much-needed off day. Even so, it wasn't much of a break, as Bassitt lasted just three innings in last week's series opener against the Orioles, forcing the bullpen to cover the remaining five innings.
Bassitt, who had been sensational leading up to his recent skid, put the team's relievers in a tough spot again this past Sunday when he accounted for just 11 of the 27 outs one day after Richards' second – and less successful – opener start. Berríos also didn't provide much support, failing to pitch deeper than four innings a night ago.
What usually happens when relievers are forced to pitch on little-to-no rest? They typically become less effective, which is precisely the case with Toronto's bullpen since Jun. 10.
| | | | | | |
| --- | --- | --- | --- | --- | --- |
| | Innings Pitched (MLB Rank) | ERA | FIP | K-BB% | fWAR |
| Mar. 30 – Jun. 9 | 213.0 (5th-Fewest) | 3.55 (8th) | 4.02 (15th) | 18.8% (1st) | 1.6 (T-17th) |
| Since Jun. 10 | 32.1 (T-19th-Most) | 6.12 (28th) | 5.10 (T-25th) | 19.3% (4th) | -0.2 (T-27th) |
The more innings a bullpen has to cover, the more damage it usually surrenders. With the Blue Jays' starting rotation struggling to provide length lately, they have become increasingly more reliant on their relievers, which, as most fans have witnessed, isn't a recipe for success.
Since this team is also without a traditional fifth starter, there have been multiple occasions where the bullpen has been stretched so thin that management has needed to call up a fresh arm from Buffalo. The problem, however, is the Bisons' pitching staff isn't in much better shape. Thus, castoffs like Thomas Hatch and Trent Thornton have each returned to the majors.
Pitchers could soon start dropping like flies if this trend doesn't change, though. The Blue Jays have been extremely fortunate at avoiding injuries thus far, particularly on the pitching front, but they are seemingly testing fate with how much their bullpen has been leaned on over this last week and a half.
Scoring bunches of runs, of course, could solve many of these issues. And Toronto's lineup has the potential to ease the pressure off its exhausted pitching staff. But as we sit here, less than a month away from the 2023 All-Star Game, this offence still has yet to live up to expectations.
Most things look
pretty solid on the surface
, as the Blue Jays sit sixth in wRC+ (109), tied for sixth in AVG (.262), tied for eighth in OBP (.330) and ninth in wOBA (.327) across the majors this season. In terms of slugging (.417) and home runs (83), though, they rank much closer to the middle of the pack, placing 12th and 14th, respectively.
Those two factors, in particular, have negatively impacted this club's ability to score, as they're positioned 12th in total runs (330) and 15th in runs per game (4.46).
Toronto's struggles while hitting with runners-in-scoring-position are well documented by now, and they have become so prominent due to the team's season-long power outage. More recently, though, they have morphed into an enormous focal point, with the starting rotation and bullpen taking on gallons of water.
It also hasn't helped that these offensive woes have worsened in June, as the Blue Jays rank 28th in AVG (.197), OBP (.285) and SLG (.292) and 30th in wRC+ (63) during these crucial situations since the start of the month.
Everything came to a head on Monday in Miami at LoanDepot Park, where the franchise's 91-game shutout-less streak ended – leaving the Arizona Diamondbacks as the only team that hasn't been shutout this season – as they were routed 11-0 by the Marlins. That, of course, likely means Toronto's bullpen will be a bit shorthanded ahead of Yusei Kikuchi's start on Tuesday.
If there's one starter you should desire to have a full complement of relievers for, it's when Kikuchi takes the hill, as he has completed five innings or less in each of his previous seven starts. The left-hander will, however, be followed by Gausman in Wednesday's afternoon affair.
But given how things have played out recently, Thursday's off day likely can't arrive soon enough for the Blue Jays' bullpen.
---