Blue Jays must consider all options regarding Teoscar Hernández's future
Photo credit:John E. Sokolowski-USA TODAY Sports
What should the Toronto Blue Jays do with Teoscar Hernández this off-season?
The 30-year-old outfielder has been a vital part of the roster since 2020, winning two consecutive Silver Sluggers and hoping for a third in '22. The organization is likely nearing a crossroads with the right-handed slugger, though, and deciding how to move forward could prove extremely difficult.
This dilemma, of course, is sparked by the fact that Hernández is eligible for free agency after next season. Re-signing him will be challenging if he reaches the open market. So with just one year of team control remaining, planning out these next steps will be crucial for the Blue Jays. But what might those be?
The timing of these circumstances isn't ideal, as Hernández is coming off an injury-plagued 2022 season, which caused most of his offensive results to decline. In total, the veteran righty slashed .267/.316/.491 with a 129 wRC+ across 131 games – all of which were the lowest of his career since 2020. He also blasted just 25 home runs and drove in 77 runs, down from his career-best 32 round-trippers and 116 RBIs in '21.
For context, the 2021 All-Star posted 48 home runs, 150 RBIs, a 134 wRC+ and a .295/.345/.538 slash line over 193 contests from 2020-21. Can Toronto expect him to bounce back in 2023? Or are his nagging oblique and foot injuries a sign of things to come as he crosses the age-30 threshold?
Those are two questions the front office will need to answer this winter. And once that occurs, a plan can be constructed regarding Hernández's future, likely beginning with his 2023 salary.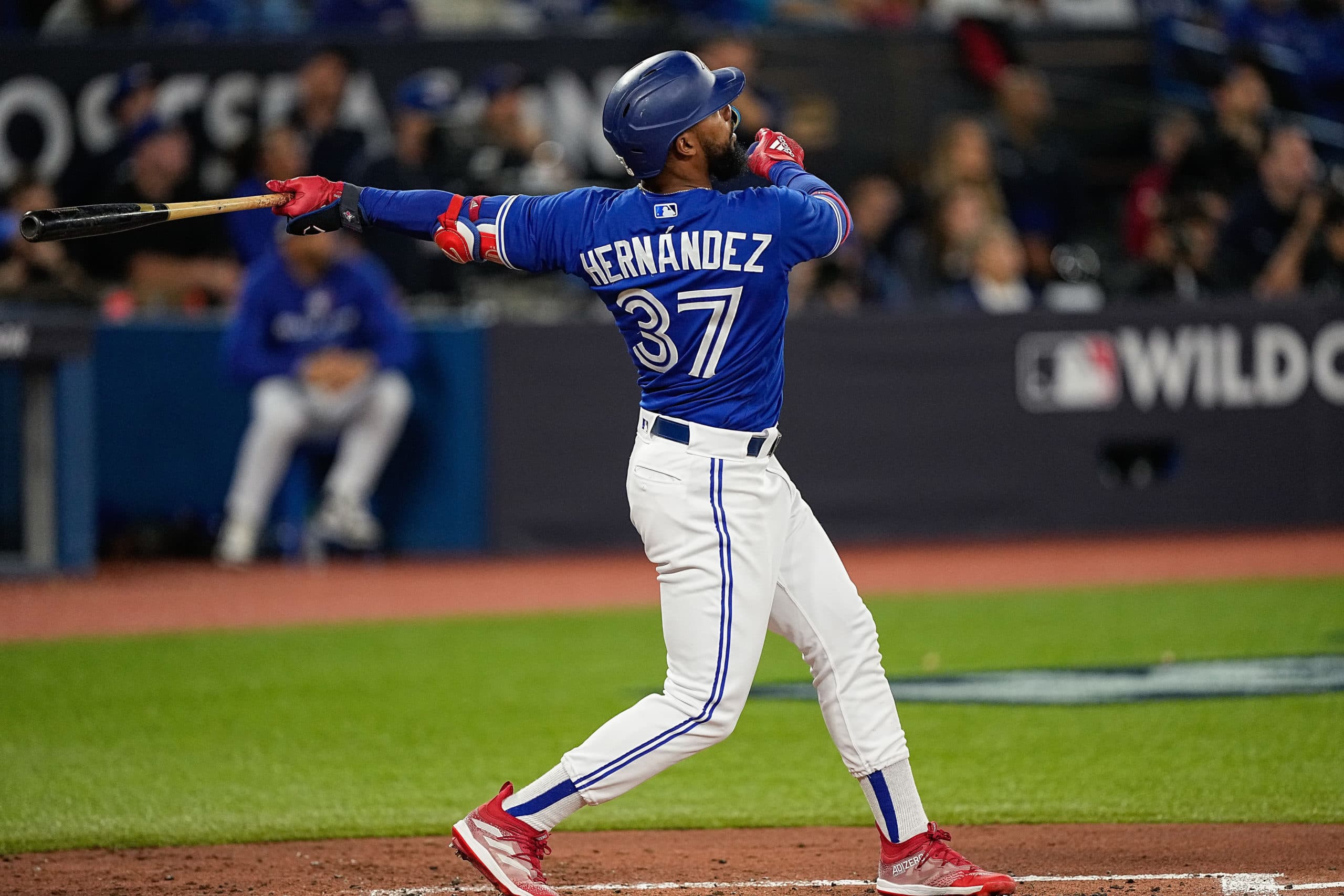 Credit: John E. Sokolowski-USA TODAY Sports
Financially, the Blue Jays will likely encounter a payroll crunch in the coming months as core pieces of their roster start becoming more expensive, including Hernández. After earning $10.65 million this past season, the 6-foot-2 outfielder is projected to command $14.1 million in his final season of arbitration eligibility, according to 
MLB Trade Rumors
.
That's a fairly notable jump, especially for a franchise that won't feature much financial flexibility this winter. Can they afford to hand out raises to Hernández and others while also needing to address other concerns? Perhaps, but that's probably not a guarantee anymore, at least not like it was previously.
General manager Ross Atkins must consider every possible option involving the team's everyday right fielder ahead of a pivotal off-season. At the moment, however, there are likely three potential scenarios on the table: a contract extension, postponing discussions to a later date or resolving this issue via trade.
In all likelihood, choosing one of these three paths won't be easy as any of them could dictate the organization's immediate future.
Contract Extension 
The Blue Jays have previously attempted to extend Hernández, with their efforts dating back to the 2020 season when they reportedly "undervalued" him in negotiations, according to ESPN's 
Jeff Passan
. But all those attempts have proved unsuccessful thus far.
Could a breakthrough occur this time around? Possibly, but for that to happen, both sides must locate common ground this off-season. That has been challenging previously. Though if there were ever a time to accomplish that feat, now would be the ideal time to do so.
From a team perspective, the main priority will undoubtedly be lowering Hernández's price point from his projected arbitration salary, allocating the remaining resources elsewhere. That would provide short-term relief, however, his free-agent years would become more expensive in this scenario. And with 
roughly $77 million already committed to just six players for 2024
, management will need to be extra mindful when adding to that figure.
Hernández, who'll be entering his age-30 season in 2023, is determined to maximize his current value, as he should. The former Houston Astro has been worth 8.2 fWAR over the last three seasons, placing him 
11th among big-league outfielders
. And he'd be ranked even higher if not for his injury-riddled 2022 performance.
The right-hander's recent injury history could make the Blue Jays hesitant about extending him into his late-30s, though. Ideally, they'd probably prefer to ink him to a five or six-year extension, buying out at least four free-agent years.
Play Out 2023 Season
If contract negotiations aren't successful, both sides could avoid arbitration by agreeing to another one-year deal, kicking the can down the road once again. That would allow Hernández to bet on himself during his final year of team control, but as the New York Yankees learned with Aaron Judge, that approach doesn't always work. 
Granted, it is extremely unlikely that Hernández enjoys an MVP-calibre performance next season, although if his 2021 form reappears, he'll significantly increase his value ahead of next winter. As a result, he could potentially play himself out of a return with Toronto, just as Ross Stripling has likely done with his stellar 2022 showing. 
This route could also backfire if the Dominican native's injury concerns return in 2023. While he was largely injury-free prior to this past season, his health status is worth monitoring now that he's on the other side of 30. Historically, that's when injury bugs tend to start popping up consistently, particularly for outfielders. 
So even though recent history suggests it's wise to bet on yourself, that sentiment doesn't always apply to everyone. Time will tell if it does for Hernández. 
Blockbuster Trade 
This outcome is probably the least desirable one for everyone involved. But as the franchise looks to reach that next level, some tough decisions are likely to follow, which could mean utilizing Hernández as a valuable trade chip.
Starting pitching will be the Blue Jays' biggest weakness this off-season, and with a financial crunch looming, management likely can't address that void strictly through free-agent signings. The trade market may need to be explored, as well. Though the organization features several intriguing young pieces, centring a trade around Hernández could "kill two birds with one stone," so to speak. 
The hard-hitting slugger would likely be in high demand across the majors if made available, particularly from those looking to improve their offences this winter. And those who possess impact starting pitchers – like the Miami Marlins, Milwaukee Brewers and Cleveland Guardians – could serve as perfect trade matches. 
Miami, in particular, is expected to be very aggressive in its search for an impact batter. After their outfielders 
ranked 29th in the majors in wRC+
 (85) this past season, they'd greatly benefit from beefing up that group over the winter. If Hernández became part of the conversation, Pablo López could potentially be sent the other way, or perhaps even Sandy Alcántara. 
Along those same lines, the Blue Jays could also express interest in Brandon Woodruff, who is eligible for free agency after the 2024 season. With the Brewers in desperate need of another middle-of-the-order bat, they might be willing to sacrifice an impact starter for some much-needed support in that regard. After all, general managers Matt Arnold and Atkins share a prior relationship dating back to the 2021 Trevor Richards-Rowdy Tellez trade. 
The Guardians could also look to exchange a pitcher or two – potentially Cal Quantrill, Aaron Civale or Zach Plesac – to help strengthen their already impressive lineup. It does, however, lean more toward a contact-oriented approach as currently constructed. But if Hernández were added to the mix, though, he'd insert additional slugging while being paired with José Ramírez. 
A potential list of suitors could extend beyond these three franchises, as well, as players who generate consistently high exit velocities are traditionally valued very well across the industry. So if a satisfying offer presents itself, it might be too tempting for the Blue Jays not to accept it. 
---