Blue Jays may have a Hyun Jin Ryu problem
Photo credit:Nathan Ray Seebeck-USA TODAY Sports
It might be time for the Toronto Blue Jays to start worrying about starter Hyun Jin Ryu, who's endured a miserable start to the 2022 season.
First, the owner-imposed lockout took place, causing Ryu to begin his ramp-up activities at home in South Korea. Making matters worse, he ultimately caught COVID-19 and was forced to quarantine, putting a temporary halt on his throwing program.
Now, a few months later, the 35-year-old currently finds himself on the 10-day injured list with left forearm inflammation, which the team hopes isn't a serious ailment. But before hitting the IL, some alarming signs flared up regarding the veteran left-hander.
Among them was Ryu's inability to control the strike zone as he's largely struggled with his command out of the gate. As someone who relies on stuff and control, not having the feel for your pitches usually leads to poor performance. And that's exactly what's transpired thus far.
Failing to perform effectively, the 6-foot-3, 255-pound hurler has allowed 11 earned runs on 11 hits – including a pair of home runs – across 7 1/3 innings. As a result, he currently possesses a whopping 13.50 ERA and a .333 OPP AVG through two starts.
Digging deeper into his woes, opposing batters have generated plenty of hard contact against Ryu early on, which has been caused by his pitches finishing within the heart of the plate.
Of his 28 batted-ball events, 12 of them have come off the bat at 95 m.p.h. or higher, earning him a 42.9 per cent hard-hit rate against and a 91.7 m.p.h. average exit velocity. Both of which rank near the bottom of the majors, with his hard-hit rate placing in the 35th percentile and his average exit velocity in the 22nd, according to
BaseballSavant.com
.
Credit: Nick Turchiaro-USA TODAY Sports
Most of you are probably wondering, "Why are we making such a big deal over just two outings? This sample size is far too small." Well, that's the thing. Ryu's struggles span beyond this season.
After enjoying a remarkable 2.69 ERA through 67.0 innings during the COVID-shortened 2020 campaign, the former Los Angeles Dodger endured a rollercoaster-type showing in '21, one that saw him at his best and his worst.
In the beginning, Ryu's ineffective performances were far and few between as he surrendered more than four earned runs just once during his first 21 starts of the year. In turn, the lefty registered a 3.22 ERA, 3.63 FIP, .241 OPP AVG, 47.4 per cent GB rate, 11.4 per cent HR/FB ratio and a 39.9 per cent hard-hit rate against during this span.
But as the calendar shifted to August, so too did his promising results. In a flash, the 2019 All-Star's impressive first half was quickly forgotten.
Over Ryu's final 10 starts, he performed to a disappointing 7.43 ERA, a 5.06 FIP and a.296 OPP AVG through 46.0 innings of work. Adding to his dreadful second half, the veteran also finished with a 45.2 per cent GB rate, a 21.3 per cent HR/FB ratio and a 45.9 per cent hard-hit rate against.
Unfortunately, these concerning results have since bled over into the 2022 season. So instead of dealing with just a pair of awful starts, this sample size features 12 cases of similar instances where Toronto's veteran hurler has struggled mightily on the mound.
For the most part, the biggest issue for Ryu has been the command  – or lack thereof – regarding both his low-80s changeup and low-90s fastball. When these two pitches aren't working, he usually stands to surrender a ton of damage and as you'd expect, neither of them has been quite effective lately.
Historically, Ryu is most productive when locating his off-speed weapon low and away from right-handed hitters. This location helps him induce the majority of his soft contact. But when it's left up in the zone, it becomes much easier to generate hard contact against.
Though he's only thrown 26 changeups in '22, most of them have either been located in hitter-friendly parts of the zone or off the plate completely as non-competitive pitches.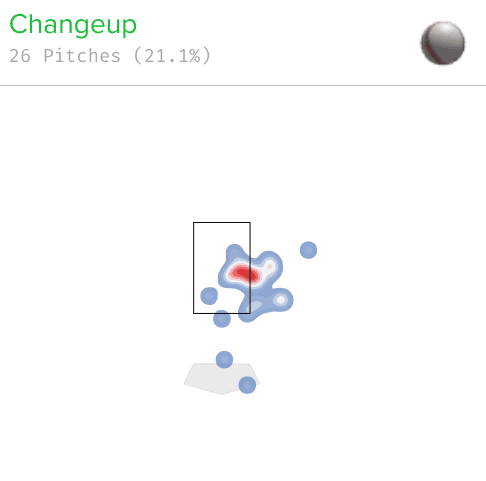 With batters unphased by Ryu's changeup, it's allowed a .300 AVG, .400 SLG, .345 wOBA and an 86.4 m.p.h. average exit velocity across eight batted-ball events. Furthermore, his most important offering has posted a measly 23.5 per cent whiff rate, which would be a career-worst.
As a result, he's utilized this pitch just 21.1 per cent of the time. If that percentage holds up through the rest of the way, it'd be the lowest usage of his career since 2018, when it featured an 18.6 per cent clip.
In most cases, the soft-throwing lefty is only as good as his changeup and dating back to August 2021, he hasn't been able to pinpoint its location. That's a pretty long stretch without having your most effective offering.
Without being set up by his changeup, the command issues involving Ryu's fastball have been exploited even more than they would have if he wasn't already struggling with his off-speed pitch. Still, leaving his four-seamer – that doesn't feature overpowering velocity – in the middle of the zone isn't a recipe for success, either.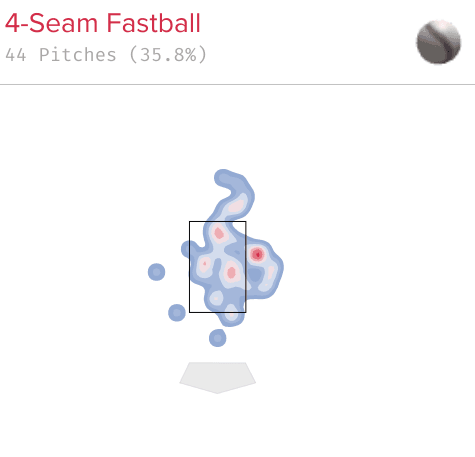 Source: BaseballSavant.com
When your fastball averages just 89.5 m.p.h., keeping it away from the heart of the zone becomes crucial. But for Ryu, he hasn't been successful at positioning his heater on the outer parts of the plate.
Because of that, his four-seamer has surrendered both of his home runs along with a .375 AVG, 1.250 SLG, .696 wOBA and a 95.8 m.p.h. average exit velocity over seven batted-ball events. This just isn't good enough for a pitcher of his calibre.
Considering Ryu is utilizing his fastball 35.8 per cent of the time in '22 – the highest usage among all of his pitches – his woes around destined to continue if he's unable to correct his command issues.
At 35, an eventual decline was expected for a pitcher of this age, especially since Ryu isn't known for his velocity. Though, when the Blue Jays signed him to a four-year, $80-million deal back in 2019, they likely didn't envision he'd fall off so rapidly.
Perhaps some time off is the best thing for him right now. This way, he can gather himself and regroup while attempting to make some mechanical adjustments. It wouldn't be the first time he's benefited from an in-season breather.
In the meantime, however, pitcher Ross Stripling will remain in Toronto's starting rotation and fill in as Ryu's replacement until he returns from injury. If Stripling performs well enough over this next stretch, he might push the envelope on sticking as a starter moving forward, potentially pushing Ryu to the bullpen.
Either way, this situation is worth keeping a close eye on as the 2022 season continues.
---