Blue Jays kick off series in Minnesota with 3-1 win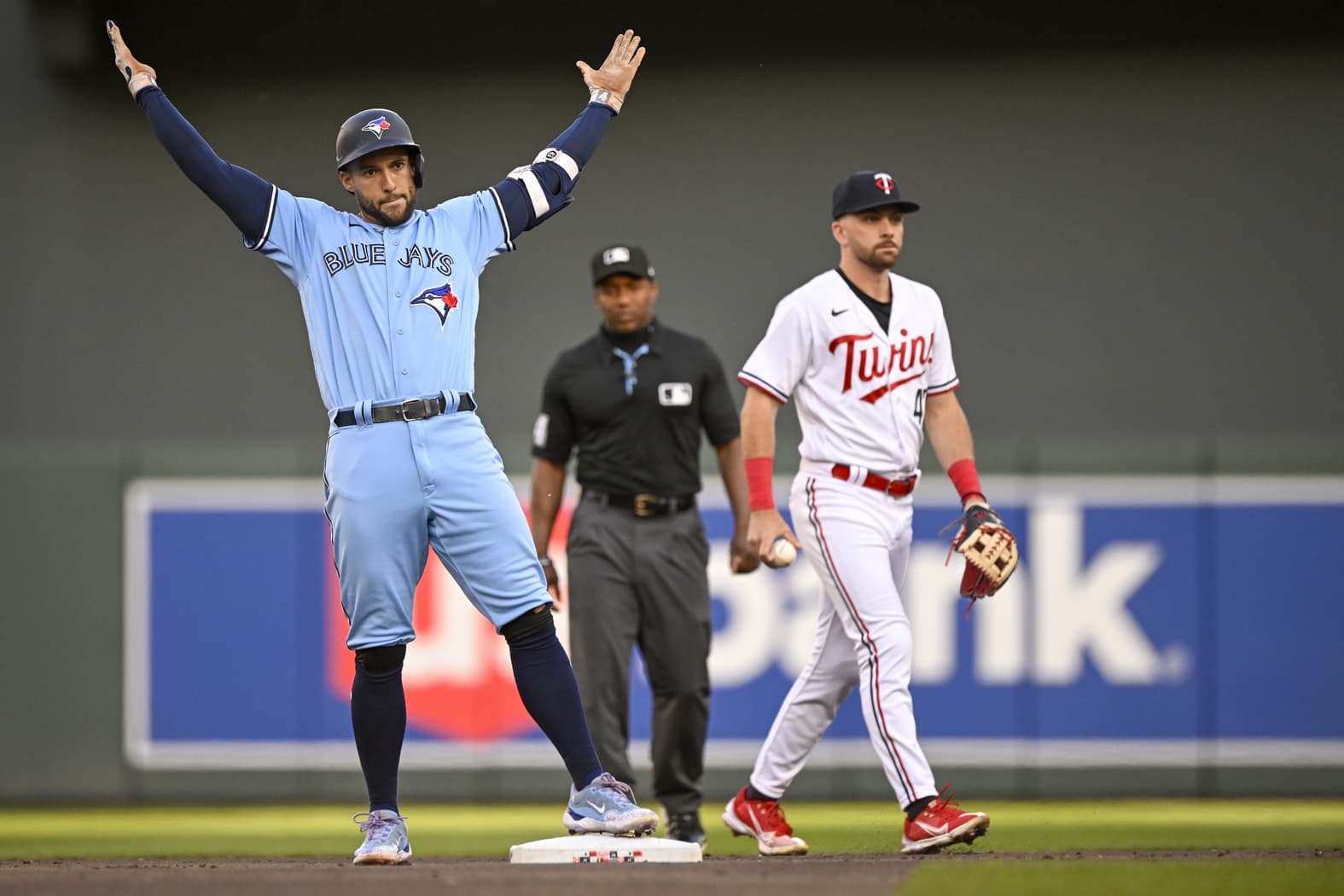 Photo credit:Nick Wosika-USA TODAY Sports
Sure is nice to have a break from the AL East.
Bo Bichette and Kevin Kiermaier homered in the third inning, and Kevin Gausman and the bullpen got the job done collectively as the Blue Jays defeated the Twins in the first game of the weekend series 3-1.
The Jays were 1-for-7 with RISP, but the Twins were almost equally as bad going 1-for-9 themselves. Gausman didn't have his best start, but even his OK starts are valuable enough to contribute to a win.
Blue Jays Nation's Player of the Game: Bo Bichette
The MLB leader in hits added two more on to his total tonight, going 2-for-4 with a two-run home run and a single. Bichette is the first Blue Jay to reach 10 home runs, and he was the only Blue Jay tonight to have a hit with a runner in scoring position.
Things worth mentioning
Winning is a good feeling and I don't want to stray away from the team's success tonight, but there were a couple of costly base running mistakes that, thankfully, did not bite them in the behind tonight. One of them came right off the bat. George Springer hit a leadoff double in the opening frame, and was moved over to third on a Bichette flyout. Vladimir Guerrero Jr. grounded a ball to Carlos Correa at short, Springer took off for home, but hesitated after a couple of steps, and ended up running into an out. Furthermore, Guerrero had strayed too far off of first, and was tagged out trying to retreat back to the bag. A leadoff double was stranded, and the inning ended in an unbelievable manner.
We don't know the Blue Jays' signs or when they prefer to run the contact play, but there had to be some sort of miscommunication on this. Springer hesitating halfway through is either a big-time mistake or the result of mixed signals between Springer and Luis Rivera (or whichever coach makes those calls). Again, I don't know what the signal was or the play. But what I do know is that a play like that could be the difference between winning and losing.
The next victim was Kevin Kiermaier, who tripled with one out in the 5th. Springer grounded to Correa once again, and it was almost a carbon copy of Springer's debacle. This ruined a potential RBI opportunity, as Bichette stepped up to the plate and knocked a single to right field.
The broadcast showed John Schneider speaking to both Springer and Kiermaier individually. Unfortunately, this has been par for the course of what we've seen over the past couple of weeks. I'm sure Schneider was a little surprised that he had to have those talks with a couple of veterans.
It was one of Kevin Gausman's shorter outings of the season. While the eight strikeouts and one earned run were Gausman-esque stats, his five walks were a season-high, and the most he's thrown in a game since June 29th , 2021 back when he was a member of the Giants. The walks were a contributor to his pitch count being elevated quickly, as he tossed 106 pitches through 5.1 innings.
Gausman has recently fallen victim to not receiving much run support. To his credit, his pitching has been superb enough to keep the team afloat. After tonight, the Blue Jays offence averages 3.09 runs in 11 Gausman starts.
With Gausman lasting only a little over five innings, the bullpen had their work cut for them. Erik Swanson, Tim Mayza, Nate Pearson, and Jordan Romano all pitched scoreless innings, although they did have to sweat out some innings and strand runners on base. Through their 3.2 innings of work, that group abandoned seven Twins runners on base. Romano earned the save – his first save since May 13th against the Braves.
Game 2 of the series will feature Chris Bassitt against Pablo Lopez. Lopez was acquired over the offseason from the Marlins in exchange for Luis Arraez, and he's had a solid start to the year. Bassitt will look to start another scoreless innings streak after his last outing against the Rays.
---