Blue Jays lose ground in playoff race after dropping extra-innings finale to Cleveland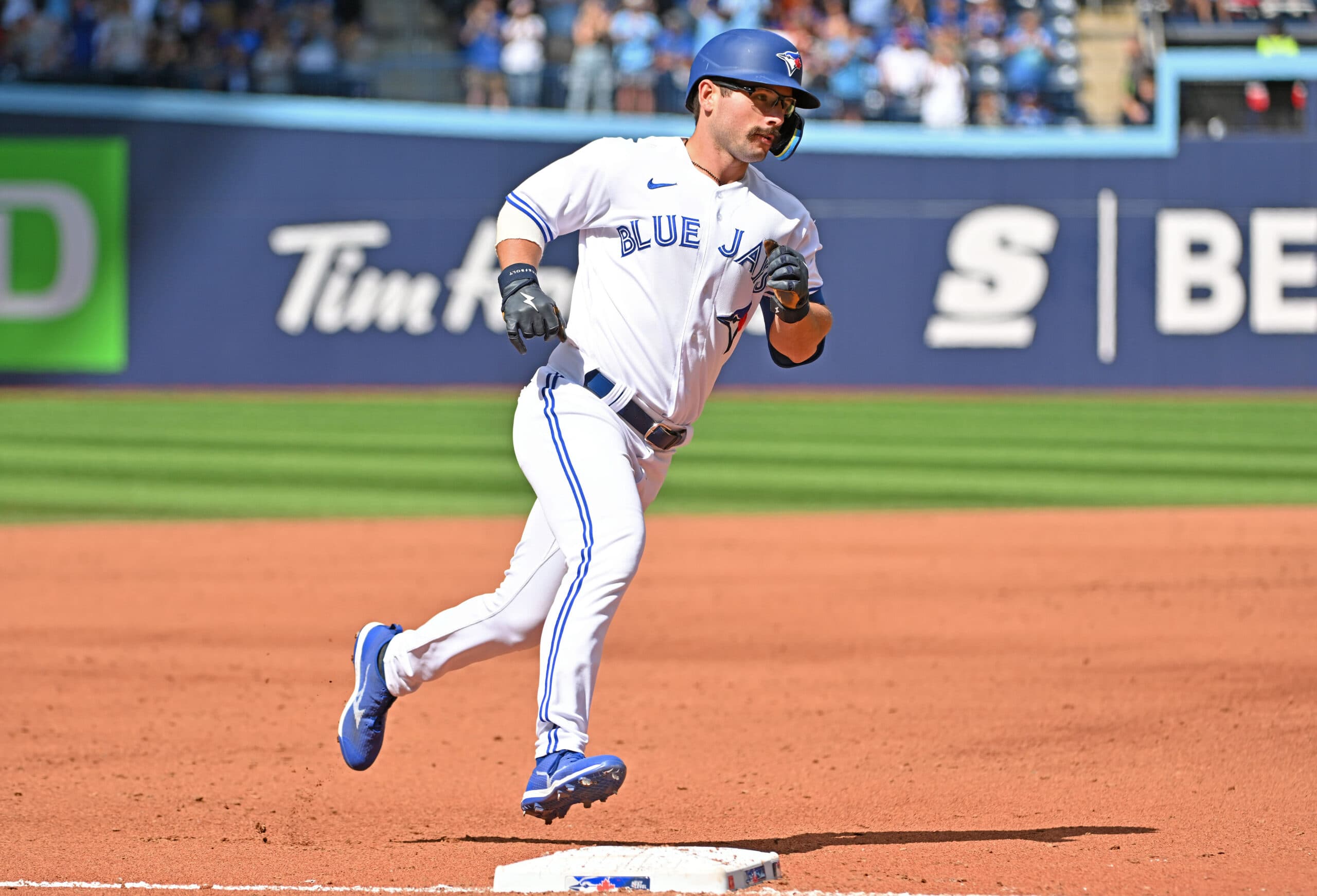 Photo credit:Dan Hamilton/USA Today
Why does anyone watch baseball?
It was a teeter totter game for the first 10 innings, before the Cleveland Guardians broke it open in the 11th. Let's look at what happened on Sunday's game.
Blue Jays Nation's Player of The Game: Davis Schneider
Babe Schneider keeps on raking. He's now hit a home run in three straight games, and once again had a multi-hit day on Sunday.
Schneider hasn't been in the league for long
, but the 24-year-old rookie is slashing .432/.523/.919 with five homers in 44 plate appearances, along with a 13.6 BB% and a 29.5 K%.
It's hard to believe he hit a home run in the August 19th game, and then sat for an entire week, before hitting another homer (and a double and single) on Saturday. I don't foresee him being out of the lineup for a while.
Things worth mentioning…
The home plate umpire
was not good. The job is hard, but the home plate umpire missed several calls that then led to runs. First it was one against Yusei Kikuchi that led to a home run to tie the game 2-2. The second one actually benefited the Jays, as what should have been strike three was called a ball, and George Springer hit a home run on the next pitch. Be better, umps.
Vladimir Guerrero Jr.
is the first Blue Jays player in 2023 to hit 20 home runs. The decline of the Jays power is shocking to say the least, as the Blue Jays had five players with 24 or more home runs in 2022, and had seven with 20 or more in 2021. As it stands, Bo Bichette, has 18, George Springer has 17, Daulton Varsho has 16, Matt Chapman, Brandon Belt, and Danny Jansen all have 15, and Whit Merrifield has 11. Unless the bats go on a serious heater, we may only see three or four players with 20+ homers this season.
Matt Chapman and Bo Bichette
were pulled from the game due to injury. Bichette had right quad tightness, which may be linked to the knee injury, while Matt Chapman had right middle finger inflammation, the same injury he missed time with. Losing these two guys for an extended period of time would be devastating. Read more on that here.
The Blue Jays failed to score
with a runner at second with no outs in the ninth and the tenth. First off, Danny Jansen hit a double to lead off the ninth inning, but was thrown out at third after a poorly executed sac bunt for Cavan Biggio (stop sac bunting, please). Furthermore, Santiago Espinal had the green light on a 3-0 pitch which would've been ball four, and he hit into a double play. They had much less of a chance after Brandon Belt struck out to start the 10th inning as Emmanuel Clase came in, but that was just painful.
Yimi García and Jordan Romano
were great. The latter finished with a line of
1.2 IP, 1 H, 0 ER, 2 BB, 2 K
, and came into the game to bail out Tim Mayza, who had a rare off-game. García was fantastic, finishing with a line of
1.1 IP, 0 H, 0 ER, 0 BB, 3 K
, all with a runner in scoring position. The bullpen remains a strength of the Jays, even with Erik Swanson on the 15-day injured list.
That series sucked, and with a loss, Toronto's record now sits at 71-59. Houston smashed Detroit 17-4, while Seattle and Texas has yet to finish their games. Toronto is now 1.5 games back of the final Wild Card spot.
Furthermore, the Blue Jays will host the surging Washington Nationals starting on Monday for four games. They need to win at least three.
---
As always, you can follow me on Twitter, Instagram, and Threads @Brennan_L_D.
---