Blue Jays Minor League Report: Addison Barger goes deep, call Bowden Francis up, and more as the Bisons win their opening series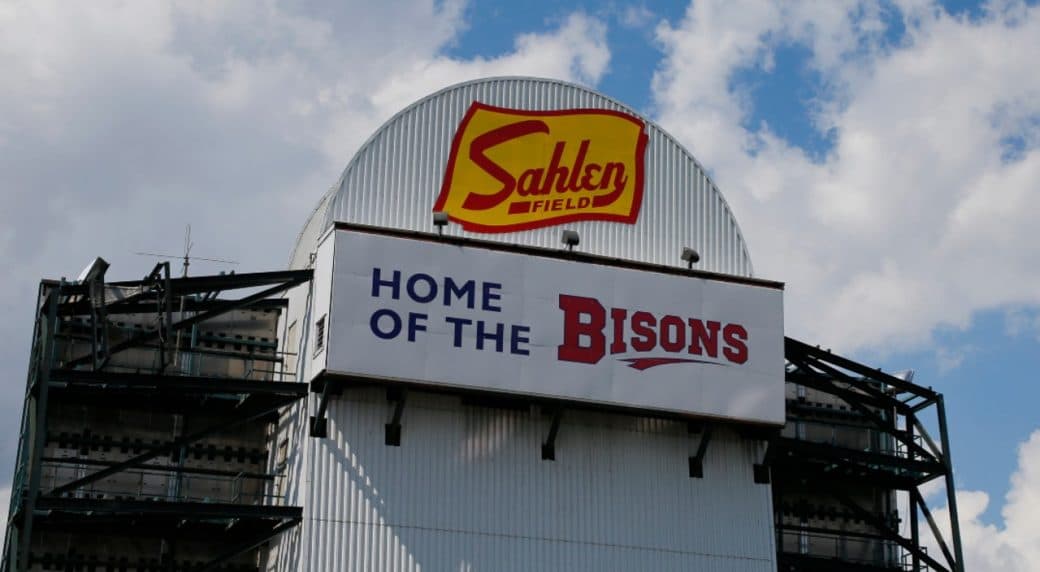 The end of March/beginning of April is always the best time of year.
Not only are the National Hockey League and National Basketball Association wrapping up (go Oilers and Raptors!), but Major League Baseball has recently kicked off as well.
Not just that, but minor league baseball, specifically Triple-A, has kicked off as well!
The Buffalo Bisons visited the fictitious city of Scranton/Wilkes-Barre, home of the Dunder Mifflin paper company on the weekend. Let's see how they did in the three-game series.
Game one – Buffalo fall 2-1:
The Bisons' bats were cold in the first game, only registering three hits all game.
Otto López, Spencer Horwitz, and Ernie Clement accounted for the three hits, with the latter hitting a double that drove in Buffalo's only run.
Moreover, the Bisons' walked five times in this game, with López, Vinny Capra, Rob Brantly all walking once, with Addison Barger walking twice.
Pitching was the name of the game in the season opener, as Casey Lawrence had a line of
5 IP, 3 H, 2 ER, 0 BB, 8 K, 2 HR
, giving him a 3.60 ERA for the season. Thomas Hatch had a mixed outing, walking two, but also striking out two in his 0.2 innings of work. Brandon Eisert pitched 1.1 innings, generating weak contact and walking a batter without giving up a hit.
If I had to attribute a player of the game, it'd have to go to Nate Pearson. The former top prospect pitched an inning, allowing a hit, but striking out three of the four batters he faced. His fastball touched 99.9 mph, and he generated four swings and misses on eight total swings.
Game two – Bisons win 6-4:
Every Buffalo Bisons that had an at-bat registered a hit in this game.
López, Capra, LJ Talley, Rafael Lantigua, Cam Eden, and Tanner Morris all had a single hit, with Capra's and Lantigua's being a double.
Three players also registered two or more hits, Horwitz, Barger, and Brantly, with the former reaching base all five times (three hits). All three players had an extra base hit. The most impressive of which was Barger's, as he hit a certified nuke in this game, sending the ball 456 feet with an exit velocity of 108.1 mph.
In terms of pitching, Zach Thompson started the game and had a line of
4 IP, 6 H, 3 ER, 0 BB, 3 K, 2 HR
. Hayden Juenger picked up the win with a line of
2 IP, 1 H, 1 ER, 1 BB, 3 K,
striking out the side in his second inning of work. Junior Fernández struck out a batter in his inning of work, Matt Peacock walked a batter but got out of a jam with a double play. Jackson Rees picked up the save, striking out a batter in his inning of work.
The player of the game belongs to Rob Brantly. Anytime you reach base five times against your former team, it's safe to say you were the player of the game.
Game three – Bisons win 3-2 for the series win:
On Sunday afternoon, the Bisons registered seven hits and eight walks, only striking out three times. Davis Schneider, Barger, and Wynton Bernard all had multi-hit games, while Lantigua had his second double in as many games.
Bowden Francis pitched a fantastic game, with a line of
4 IP, 4 H, 0 ER, 0 BB, 7 K,
he's looking to build off an excellent winter league, and an impressive spring training. Paul Fry followed him up, allowing an earned run in his inning of work, but striking out a batter. Luke Bard struck out a batter in his inning of work, and Trent Thornton allowed a base hit but pitched a scoreless inning. 
Nate Pearson also pitched an inning, generating four whiffs, while allowing a walk and striking out a batter. Brandon Eisert had a clutch inning, striking out two and picking up the save. Hatch pitched the save, allowing the ghost runner to score, but striking out a batter with a nasty changeup.
The player of the game for this game is either Wynton Bernard and Bowden Francis. Wynton Bernard had all three of the Bisons' RBIs, including a clutch double in the top of the 10th. Francis generated 12 whiffs on 28 total swings and worked out of trouble multiple times. Toss-up, as far as I'm concerned.
What's next:
Starting on Tuesday, April 4th, there will be a nightly recap of minor league games on Blue Jays Nation. On the 4th and the 5th, only the Bisons play, before the Double-A and Low-A seasons start on April 6th. High-A begins on April 7th.
As for Tuesday, Yosver Zulueta will get the start, while Casey Lawrence gets the start on Wednesday.
As always, you can follow me on Twitter and Instagram @Brennan_L_D.