Blue Jays Minor League Report: Damiano Palmegiani hit two home runs, the Jays pull off an organization sweep, and more!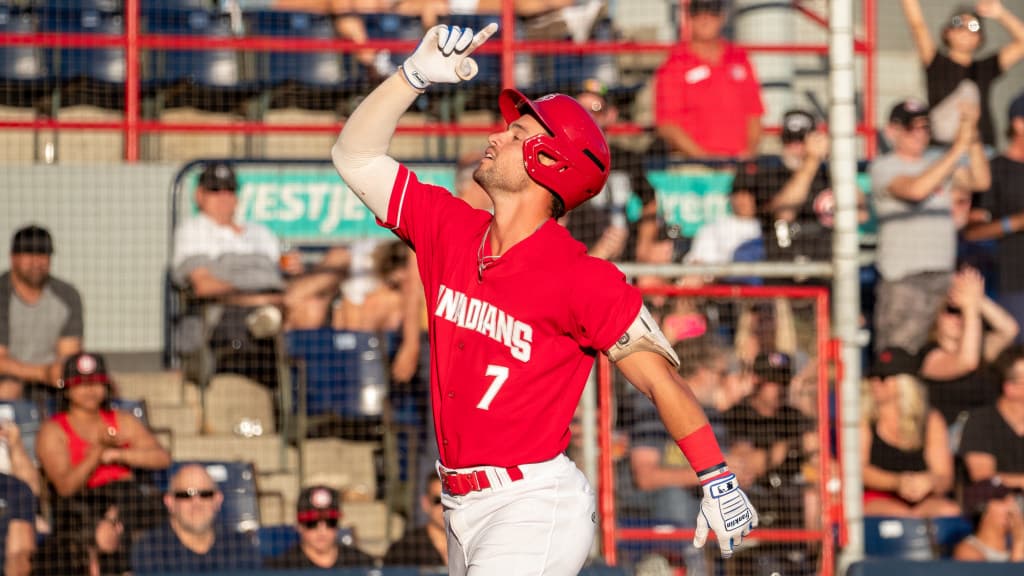 Photo credit:(Mark Steffens - Fotoguy)
We're approaching the last month of minor league baseball.
So that begs the question, what went down on Sunday in the Blue Jays organization? Well, that's what this article will look to answer.
Blue Jays organization sweep:
All four season affiliates were in action, and all four of the teams won. Add in the fact that the big league Blue Jays won on Sunday as well, and you have an organizational sweep.
The Buffalo Bisons won 5-1, bringing their full-season record to 58-60 and their second half record to 24-19. They sit 3.5 games out of first in the Interntional League, with six teams to jump. It doesn't look likely that they'll make the IL playoffs, but they're a bunch of fun to watch right now.
The New Hampshire Fisher Cats beat the Hartford Yard Goats 7-6, bringing their full-season record to 53-58. Unlike the Buffalo Bisons, the Fisher Cats are not in the hunt for a playoff spot, as they sit last in the Eastern League North East division with a second half record of 18-25, six games behind the leaders.
Going from one affiliate team that has no shot to make the playoffs to one of the most dominant minor league teams, the Vancouver Canadians won… again. They beat the Eugene Emeralds 8-1 in just five innings, as they were smoked out from the fires in Western Canada. The Canadians already won the first half, but they are already six games ahead of the next placed team with a 33-15 record. They were the third minor league team to hit 70 wins this season.
The Single-A Dunedin Blue Jays also sit in last place of the Florida State League, with a second half record of 21-27. That didn't stop the Baby Jays from beating the Clearwater Threshers 10-5 in seven innings. Trenton Wallace made a rehab appearance in this game, going
1.1 IP, 0 H, 0 ER, 3 BB, 3 K
.
Damiano Palmegiani goes yard twice:
Palmegiani has consistently been one of the best hitters in the Blue Jays system this season, slashing .252/.355/.463 with 17 homers in 425 plate appearances in Double-A. On Sunday, he hit his 16th and 17th homers.
His 17 homers rank third in the organization, behind Davis Schneider's 21 homers and Orelvis Martinez's 22 home runs. Since the start of the 2022 season, Palmegiani's 41 homers rank second in the organization, behind Martinez's 52 home runs.
Palmegiani should start to get some consideration to become a top 10 Blue Jays prospect, because the power tool is legit.
Ernie Clement deserves another call-up:
Coming into this season, the 27-year-old utility player had 1,340 minor league plate appearances since 2017. In those 1,340 plate appearances, he only hit eight homers. If you want to include his three home runs in 322 major league plate appearances, that's just 11 home runs in 1,662 plate appearances.
Well, on Sunday Clement hit his 11th homer of season in just 274 plate appearances. Where'd this power come from? I have no idea, but he definitely deserves a shot at the major league level, because he's clearly found something.
It's worth mentioning he just won his second straight player of the week for the International League as well.
Peyton Williams is heating up:
The 22-year-old first baseman is making his mark in High-A, as he hit his fifth home run at the level in just 82 plate appearances. For the season, Williams is slashing .271/.360/.479 with 12 homers in 278 plate appearances, along with a 10.1 BB% and a 23.7 K%.
Williams has some of the best raw power in the organization, and it'll be interesting to see how he does against more experienced pitching when he makes the upper minors.
---
As always, you can follow me on Twitter, Instagram, and Threads @Brennan_L_D.
---