Blue Jays Minor League Report: Orelvis Martinez has another strong performance, Ernie Clement could earn a MLB call-up soon, and more!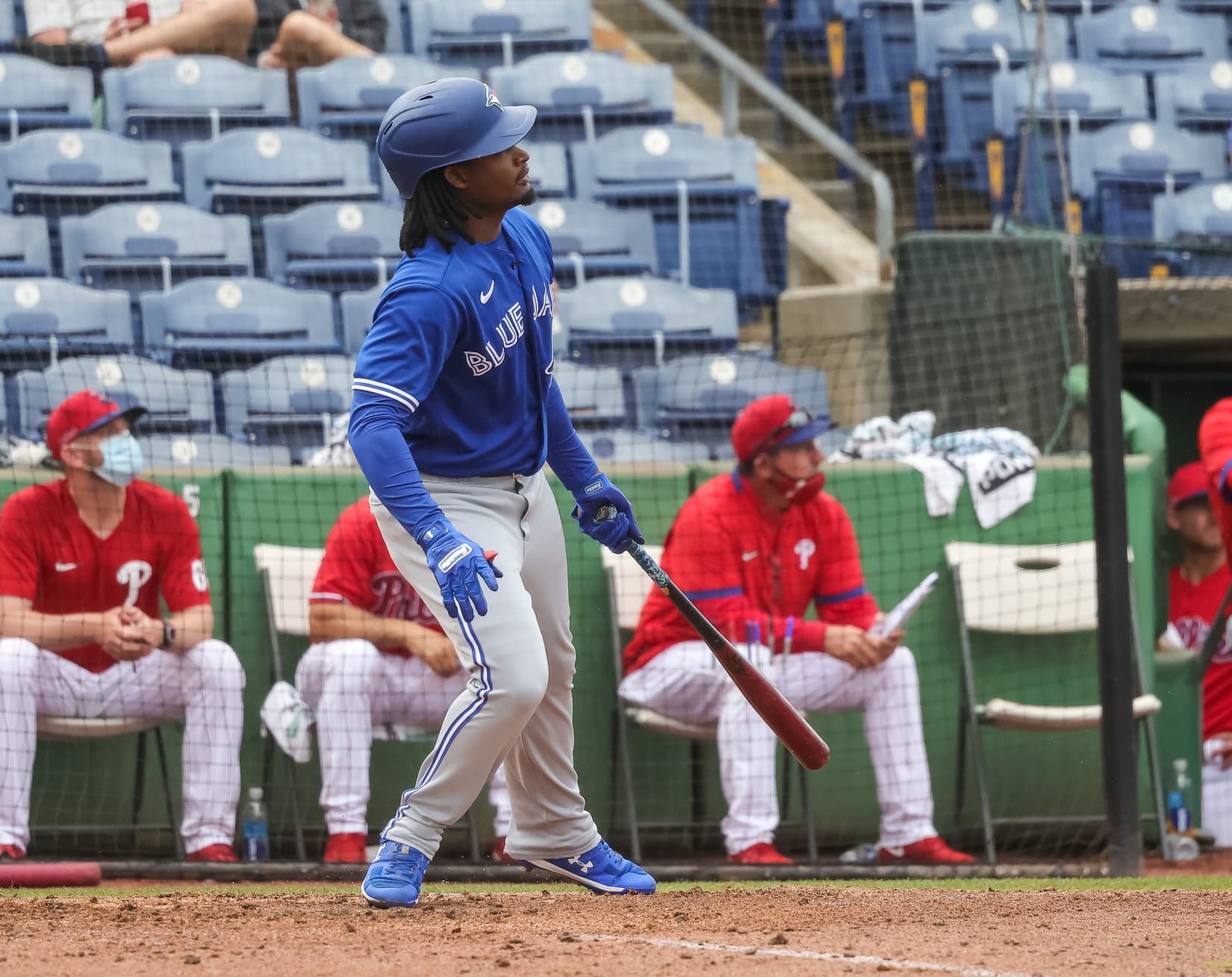 Photo credit:© Mike Watters-USA TODAY Sports
The Blue Jays had an organizational split on Friday evening.
All though all three of the organization's losses (one includes the big leagues) were close games, they weren't able to pull it out. It looked for a bit that the Blue Jays would have completed the daunting organization sweep, but it wasn't meant to be.
However, we'll look at each minor game individually to highlight the Player of the Game, as well as 1-3 players worth mentioning.
Keep in mind, Vancouver's game was rained out, and will be made up on Saturday. In fact, there'll also be a double header on Saturday for the Fisher Cats as well.
Triple-A:
The Buffalo Bisons won their third game in four tries against the Toledo Mud Hens by the score of 4-3. Their season record now sits at 28-33.
The Blue Jays Nation Player of the Game: Ernie Clement
Ernie Clement hit his sixth homer of the season, and added a single and a double in Friday's game.
In 1,340 plate appearances in the minors prior to joining the Buffalo Bisons, Clement had eight homers. In just 160 plate appearances with the Bisons, he has six. I don't know how to explain it, that's some weird stuff.
He's slashing .331/.408/.525 with those six homers in 160 plate appearances, but he also has an 11.3 BB% and a 3.8 BB%. Just having a really good season.
Players worth mentioning:
Hayden Juenger
had a line of
2 IP, 3 H, 2 ER, 0 BB, 4 K.
In this outing, he showed what he's good at (striking out batters), and what he still struggles with (the long ball). Regardless, Juenger has some nasty pure stuff, and displayed it on Friday evening.
Danny Jansen
returned to action on a rehab assignment, and hit a nuke in just his second plate appearance. Save some power for Toronto, Danny!
Cam Eden
has shown this season why the Jays invited him to the big league camp in spring training. He went 2-4 with a strikeout on Friday, but hits the ball hard, has some pop and can get on base, and is 25/26 in stolen base attempts. There's a chance he gets some action with the Jays next season.
Double-A:
Down to their last out, their Player of the Game looped one onto the grass to keep the Fisher Cats alive for a few more innings. They eventually fell 4-3 in extras,
The Blue Jays Nation Player of the Game: Orelvis Martinez
If not for Martinez, the Fisher Cats would have fallen 3-2 in the top of the ninth.
He was hit by the pitch in his first at bat, hit a single, and then hit a clutch double which brought in the tying run with only one out remaining.
As of June 10th, prior to the games on Saturday, Orelvis is slashing .265/.376/.664 in 133 plate appearances, along with 12 homers, a 13.5 BB% and a 20.3 K% for a 167 wRC+.
Did someone say "time for Triple-A soon?"
Players worth mentioning:
Trenton Wallace
made his Double-A debut on Friday, pitching a line of
4.1 IP, 6 H, 3 ER, 1 BB, 1 K.
He can and will do a lot better than this as he adjusts to the new level.
Adrián Hernández
has only pitched in Double-A this season, which is a little bit odd to me. On Friday, he had a line of
2.2 IP, 0 H, 0 ER, 0 BB, 2 K.
For the season, the 23-year-old changeup artist has a 6.35 ERA and a 6.40 FIP in 17 innings pitched, along with a career high 18.5 K% and a rather low 23.5 BB%.
Sebastian Espino
has some pop, yet he only hit his third homer of the season on Friday night. The good news is that he's hitting a little bit better than last season, up to a .206/.295/.340 slash line, while his K% dropped from 43.7% to 31.6%.
Single-A:
The Dunedin Blue Jays fell to the Bradenton Marauders 6-4 on Friday evening, bringing their season record to 27-28.
The Blue Jays Nation Player of the Game: C.J. Van Eyk
This was the first time I was able to watch the 24-year-old since 2021, and he won't be in the lower minors for long.
The 2020 second round pick finished with a line of
3 IP, 0 H, 0 ER, 0 BB, 3 K,
showcasing an absolutely disgusting curveball, and a fastball that touched 94 mph.
After his rehab assignment is done, we'll see how long he sticks with the High-A Canadians, if he even does.
Players worth mentioning:
Kendry Rojas
had a mixed game Friday evening. Statistically, it was pretty rough for the 20-year-old lefty, as he had a line of
4 IP, 5 H, 4 ER, 2 BB, 6 K
while picking up the loss. On the other hand, the sinker/changeup/slider mix is absolutely disgusting, and prior to his last inning of work, he was flying. This season, he has a 2.97 ERA and 3.40 FIP in 39.1 innings pitched, a long with a 27.8 K% and a 7.4 BB%.
Jaden Rudd
is here again, so you know he had another good game on Friday evening. The 20-year-old outfielder went 2-4 with 2 RBIs, half of the Blue Jays runs. One of which was a double, so that's good.
Glenn Santiago
hit the only homer for the Dunedin Blue Jays last night. It was an oppo-taco to extend their lead to 2-0. After spending 126 plate appearances in High-A last season, he is slashing .234/.347/.347 with three homers in 147 plate appearances with Dunedin.
Florida Complex League:
The Florida Complex League Blue Jays picked up their first win of the season on Friday afternoon, bringing their record to 1-3.
The Blue Jays Nation Player of the Game: Cristian Feliz
The 20-year-old first baseman went 2-3 on Friday, while also hitting his second homer of the season.
He had a successful professional debut in the Dominican Summer League in 2021, slashing .291/.393/.417 with four homers in 178 plate appearances. However, he struggled in 2022, slashing just .167/.291/.333 with four homers in 141 plate appearances in the FCL. 
Hopefully as he repeats the level, he can figure out how to hit like 2021 instead of 2022.
Players worth mentioning:
Alfred Pesto
signed a minor league deal on June 3rd, and made his debut on Friday afternoon. He had a line of
1 IP, 0 H, 0 ER, 0 BB, 1 K
. He's a 26-year-old righty who gets the ball up to 99 mph, so don't expect him to be in the FCL for long.
Jiorgeny Casimiri
is the other Dutch player the Blue Jays signed during the 2019 international free agency period. He picked up the save on Friday afternoon, finishing with a line of
1.1 IP, 0 H, 0 ER, 0 BB, 3 K.
The 21-year-old only pitched 12.1 innings last season between the FCL and Single-A.
Yeuni Munoz
had a good day on Friday, hitting a double in his three plate appearances. The 19-year-old slashed .318/.464/.545 in just 28 plate appearances last season for a 178 wRC+ in the FCL las tseason. In the DSL in 2021, he slashed .260/.363/.387 with a homer in 182 plate appearances.
Dominican Summer League:
The DSL Blue Jays walked off the DSL Padres Gold on Friday afternoon, bringing their record to 2-2.
The Blue Jays Nation Player of the Game: David Guzmán
The 17-year-old centre fielder hit his first career home run on Friday afternoon, while also hitting a single.
From what I've watched of him around his signing, he may have a small 5'7, 160 lb frame, but he has some good raw power.
Players worth mentioning:
Eminen Flores
is a 2022 international free agency signing who made his season debut as a starter on Friday. He had a line of
4 IP, 5 H, 2 ER, 0 BB, 7 K.
He had a 2.10 ERA and a 5.18 FIP in 25.2 innings pitched (17.2 K%, 7.1 BB%) with the DSL Jays last season.
Jarold Montealto
also hit his first professional homer on Friday afternoon. He went 1-3, driving in two and striking out two. He was born in Nicaragua, so that's pretty cool.
Enmanuel Bonilla
finished the game with his first professional hit, a single. It's important to not let DSL and FCL stats impair our judgement, especially this early in the season. He'll come around.
Setting up the Minor League report for Sunday:
This article is a late one, so quite a few games have already finished, and all but one game will have started by the time this article is posted.
Tomorrow, we'll cover the two rookie league games, as well as the four affiliate games, and the two extra double-header games.
As always, you can follow me on Twitter and Instagram @Brennan_L_D.
---