Blue Jays Minor League Report: Ricky Tiedemann is close to returning, Brandon Barriera is back on the injured list, and more!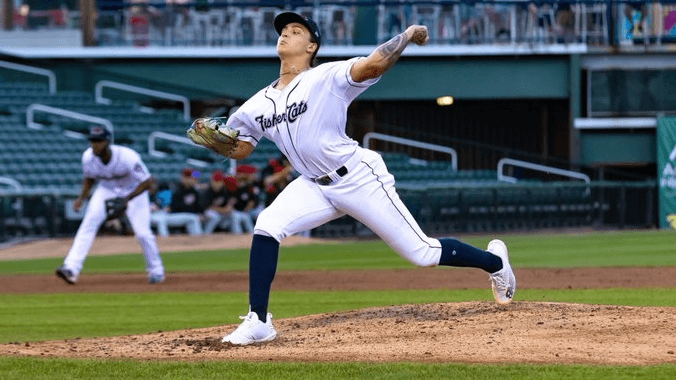 Photo credit:Fisher Cats PR
There may be no games to cover, but that doesn't mean there isn't minor league news to talk about!
A left-handed pitcher returns to action, while another left-handed pitcher goes down with injury. Moreover, the Blue Jays signed an interest right-handed pitcher.
Tiedemann returns:
The Blue Jays best prospect went down with an injury in early May, and has been working his way back for the past month. Well, it's reported that the 20-year-old left-handed pitcher will return to New Hampshire this week at some point.
This is season in Double-A, Tiedemann has a 4.97 ERA and a 1.51 FIP. Walks were an issue with New Hampshire, as he had a 13 BB% (the highest at any level), but his K% of 42.6% is off the charts.
With the rehab starts included, Tiedemann has a 3.05 ERA and a 0.81 FIP in 20.2 innings pitched, along with a 51.2 K% and a 10 BB%. Just bonkers stats.
Brandon Barriera shut-down again:
From good news to bad news. The Blue Jays first rounder from 2022 has been shutdown once again with an injury.
It's been a tough debut season for the 19-year-old left-handed pitcher, as he has a 4.42 ERA and a 3.24 FIP In 18.1 innings pitched with the Single-A Dunedin Blue Jays. The first injury was due to an elbow injury this time, it's due to bicep soreness, similar to Tiedemann's shutdown in May.
Barriera has done a great job striking out batters in his first season, as he has a 31.5 K% at the lowest full-season level. His BB% of 11% is high, but when he's been healthy, he's been good.
Blue Jays sign Carson Pierce:
The Blue Jays signed University of Oklahoma reliever Carson Pierce to a non-drafted free agent deal.
Last season with U of O, the 21-year-old had a 3.94 ERA in 29.2 innings pitched, along with a 15.3 K% and a 10.2 BB%.
His community college strikeout stats are a bit more encouraging, as he had a 12.63 K/9 in 41.1 innings pitched with the Cowley Tigers in 2021-22. However, his ERA sat at 5.01.
---
As always, you can follow me on Twitter, Instagram, and Threads @Brennan_L_D.
---