Blue Jays Nation Roundtable — What should we expect from the team at the trade deadline?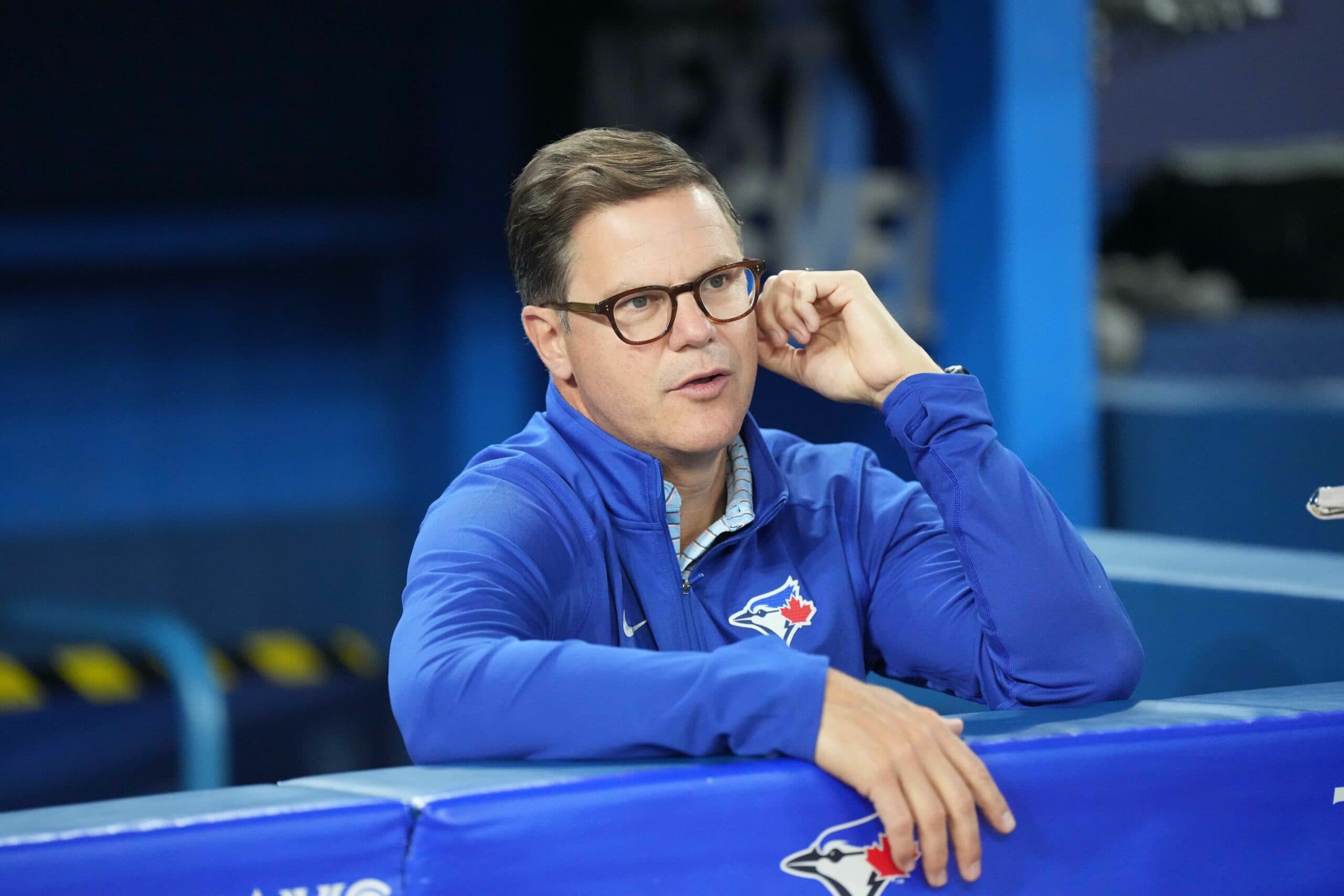 Photo credit:Nick Turchiaro-USA TODAY Sports
The Toronto Blue Jays are an exciting club this season, with the squad competing in a tough AL East division that has the Jays currently sitting in the third Wild Card spot with the Boston Red Sox and the New York Yankees narrowly behind them in the standings.
With the trade deadline just days away and the drama surrounding the Angels and what they plan to do with Shohei Ohtani, I reached out to numerous journalists, podcasters, Twitter personalities, and overall Jays fans to see what they think the Blue Jays will do at this year's trade deadline.
Here are their stories…
For a Blue Jays bat, I am thinking Lane Thomas on the Nationals makes a lot of sense. He hits left-handers very well and has years of control and that is what the club is really looking for in the lineup. It has been one of the major weaknesses. If the club goes the pitching route, me and Nick both agree that an arm like Jordan Montgomery makes sense, even though he will be a rental piece. But he is a good piece that provides security in the rotation and depth-wise especially with question marks surrounding Manoah and Ryu, with Montgomery right there being depth. Those are my two predictions.
– Blue Jays Today
---
I think we'll see a "Raise The Floor" style trade deadline for the Blue Jays. They've made big trades in back-to-back off-seasons and don't have a lot of prospect capital right now. This team is very reminiscent of the 2016 team, so a similar patchwork approach to the deadline is what I would expect. – Cam Lewis (Blue Jays Nation)
---
Even with the impending arrival of Chad Green, we're beginning to slowly see the high-leverage arms tire due to being overused a ton this season. Because of that, my top deadline acquisition would be yet another high-leverage reliever. Jordan Hicks, Scott Barlow, and Brent Suter are a few names that would fit the bill. Suter is extra intriguing because he's a lefty to go along with Tim Mayza. I would also like the Blue Jays to add a bat that hits lefties.
The casual fan may not get excited at this but a reunion with Randal Grichuk would be a perfect fit with his .850 OPS in 59 games this season. When it comes to the offense, for the 2nd year in a row it still doesn't feel like this team is living up to his potential despite an AL-best record at 30-20 in the last 50 games. To me, regardless of the additions the Blue Jays may or may not make to the offence, they need their stars to hit more home runs. At the end of the day, I feel the Blue Jays will follow a similar pattern to the last several deadlines with smaller yet potentially hugely impactful additions. If you give me one reliever and one bat that hits lefties, I'd be happy with the deadline.
– Brendan Panikkar (@Panikkar37) – Former Host of Jay Bird Watching Podcast
It's an interesting spot they're in! I think on one hand it's fairly easy to look at the strengths and weaknesses as currently constructed and say "They will approach filling those spots" like a RHH bat, a fourth OF, or extra pitching help in any form. I can safely say I think at least two of those will be addressed.
I think it's instructive to look at the most recent deadlines for this management group to see what level of move we can expect, and I think from there it's a simple deduction that they will be betting on bounce-back candidates with proven track records that fit multiple holes like Merrifield in '22, or guys with individual skills they believe they can maximize in the short term like Ray or Walker in '21. Bullpens, being as fungible as they are, are a little more straight-up "Who is playing well right now", but I also don't think there's going to be an appetite from them to spend their limited trade capital in the pen.
So to drill into specifics, I think Tim Anderson is the first name that pops to mind for me. He's a guy with a great track record that even in his massive struggle he has had success against LHP this year. He gives some insurance against the struggles that Espinal has had, and Merrifield's flexibility in the outfield allows them to spell the three outfielders that have miraculously all stayed healthy when needed and matchup dependent. As a rule, I don't learn anything about relievers but I think the Génesis Cabrera move both checks a box already and signals the level of move they will be seeking there. Guys with specific tools that they think they can hone in on.
That being said, I have a weird suspicion that there might be something bigger cooking, and when I think about that I think they might be in the market for a bigger name than we are expecting, akin to the 2015 deadline when nobody expected a SS upgrade and they went ahead and made a big move because at that stage of the roster, any upgrade is an important upgrade. I think they're in a similar spot now, because the timeline to win is right now, and any upgrade would be a meaningful one.
Does that mean a bigger name pitcher (Snell? Stro? Giolito?) or an outfielder (or 1B?) from a team that doesn't seem to be shopping one (Colorado? Teoscar back?) the nature of it being unexpected makes it hard to predict, but there has been just enough smoke in the air to make me think they are poking around somewhere at a position we may already assume they have shored up.
– Andrew "Zubes" Zuber (@theZubes) – Less Than Jays Podcast
---
The Blue Jays may look to add to second base. Tim Anderson seems like a viable option, especially if he can find his 2019-2022 form. They may also look to add an outfielder who mashes left-handed pitching. Another depth add to the starting rotation could be an option as well.
– Brennan Delaney (@Brennan_L_D) – Contributor at Blue Jays Nation
---
The Blue Jays' roster is in a fairly good position leading up to the Aug. 1 trade deadline. Thus, Ross Atkins will probably be looking to fill in around the edges, with an emphasis on depth. Toronto's biggest priority should be adding a right-handed slugger to its lineup, preferably one that can play the outfield. Beyond that, management would benefit from targeting a few controllable arms for the rotation and bullpen that can be optioned to triple-A if needed.
– Thomas Hall (@ThomasHall85) – Freelance Contributor at Blue Jays Nation / Yahoo Sports / Dynes Sports
---
I doubt that even Ross Atkins knows exactly what his team will do at the deadline, so trying to get too specific about this stuff is a bit of a fool's errand. But I think there are some pretty clear things they'll try to accomplish. They need some additional offence, to take Jordan Luplow's spot on the roster. Ideally, that's in the form of an impact bat from the right side who is good enough to be more than just a lefty-masher.
Teoscar Hernández checks those boxes, but we've seen at past deadlines that Atkins likes to use the opportunity to alleviate some of the work he'll need to do in the coming winter, and with Matt Chapman, Kevin Kiermaier, Whit Merrifield, and Brandon Belt due to be free agents in the winter they certainly could look at players who could help in 2024. (Tim Anderson is one name that might make sense here — there are signs he might be turning around an awful season, the $14 million club option for next season in his contract would look close to reasonable for the Anderson of old, and the Jays may see the appeal of a buy-low guy they can work with for a few months before deciding on the option).
Like everyone else, they could use another reliever, and though it's a bit of a luxury, some starting pitching depth couldn't hurt. They also could use trimming the 40-man roster a little bit, with Hyun Jin Ryu and Chad Green still in need of spots, along with whoever else the might bring in, and farther down the line a couple of Rule-5-eligible guys they might want to protect. Guys on the fringes of the 40-man who are out of options or will be next year will be the pool talent the Jays will be most excited to trade from, I suspect. Though obviously there's not a ton of talent there in the form of Luplow, Mitch White, Ernie Clement, Otto Lopez, Thomas Hatch, and the recently DFA'd Trent Thornton.
They'll have to sweeten their offers if they're going to get anything of value for that group, and because their prospect pool is thin they have a bit of a needle to thread — and my guess is that a lot of their energy will be spent trying to do that, rather than taking big swings with sparkling prospect packages. They might! There's certainly an argument to be made that they should, given where they are on the win curve. But it's going to be hard for them to win a big bidding war, and they probably won't move more highly-regarded youngsters for anything but elite talent, probably with term.
An exception to that could be if there are some players in their system who have lost some shine, but that other teams may value more closely to the way they did at the time they were drafted. Jordan Groshans and Nick Frasso appear to have been examples of that last year — or at least I hope that's why Frasso ended up in the Mitch White deal! We've heard rumblings from Keith Law about the Jays not being thrilled with the conditioning of last year's top draft pick, Brandon Barriera, when he came to camp this spring, so maybe something could happen there, but that's purely speculation. However it unfolds, I'm expecting a bat and a reliever at minimum. Anything less and I think it would be hard to call it a successful deadline (and, no, Génesis Cabrera doesn't count).
– Andrew Stoeten (@AndrewStoeten) – Covering the Toronto Blue Jays at The Batflip
---
What I don't want at the trade deadline is a reclamation project. I want the Blue Jays to get a player who can hit 15 home runs in the final stretch.
– Lesley Mak (@Lesley_NOPE)
---
Despite this front office's constant lip service of building a perennial winner, I think it's safe to say that they have entered a closing window of contention. If there's ever been a time for this team to go all in at the deadline, it is now.
The team's biggest area of need is a right-handed bat that mashes lefties but upgrades at second base, left field, and catcher could all be short-term goals of this front office. A Teoscar Hernández reunion would make for a good fit. Speaking of reunions, Randal Grichuk is a free agent this upcoming offseason and has a .989 OPS vs lefties and could make for an interesting bench piece (plus they are still paying part of his salary). This front office, however, may be hesitant to spend big on a rental player.
They could give up some major prospect capital with everyone but Tiedemann being available if it comes to acquiring someone with control. There are some interesting options out there in St. Louis, with the club recently stating that they are going to trade players, and if Ross Atkins decided to go big, there is a hole at third base starting next year. Perhaps you could pry Nolan Arenado away from the cards which would be about as big a bat as you could add to the middle of this order. The catcher position is another outside-the-box move they could upgrade with the year Kirk has had (although he has been better lately). Willson Contreras of the Cardinals and Big Sal in Kansas City or high-end options that would force the Jays to take on money. As well, Yasmani Grandal of the Chicago White Sox is a rental option the Jays could consider that would help insulate the Jays from disaster if Danny Jansen were to get injured.
– Scott Belford (

@Walkoffpodcast

) – Host of The Walkoff Podcast
---
To me, the theme of this season for the Blue Jays is something like "We're on the cusp of a breakout". Despite being in a playoff spot and being one of the American League's top teams over the last 50 games or so, you'll be hard-pressed to find any fans that will tell you this team has met their potential.
So what do they need to reach that potential? The biggest thing that stands out to me is they need the players on their current 26 and 40-man rosters to play to their potential, or at least close to it. Beyond that, a complementary piece like a right-hand-hitting outfielder makes a lot of sense to me. There should be some veterans available on the trade market, such as Mark Canha, Tommy Pham, Hunter Renfroe, Ramon Laureano, or maybe even former Blue Jays' slugger Teoscar Hernández. If Ross Atkins and company can raise the floor of their starting rotation or the bullpen I'm sure they'll look at it, but I expect a fairly modest trade deadline for the Blue Jays this time around, despite being firmly in win-now mode.
– Chris Henderson (@Baseball4Brains) – Former Editor of Jays Journal
---