Blue Jays Nation's 2023 Preseason Top 50: #21 Leo Jimenez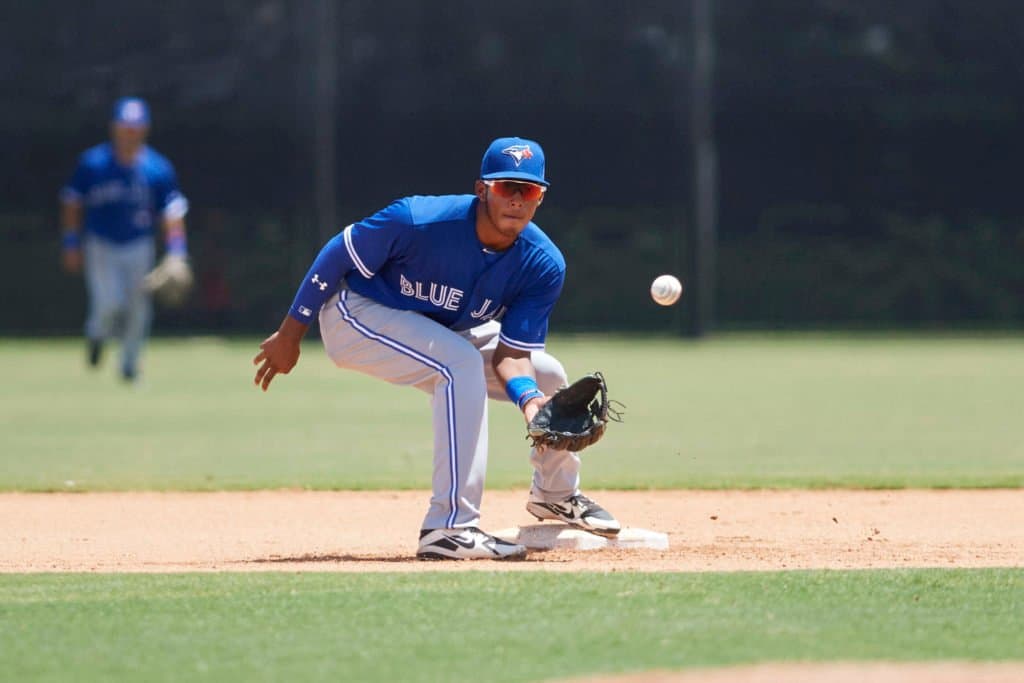 Photo credit:Mike Janes, Associated Press
Today's prospect is Leo Jimenez, a prospect on the 40-man roster and one of the most intriguing prospects in the Jays organization.
Prior to the 2023 Preseason list, he had ranked relatively higher but had a tough season with injuries. That isn't to say he didn't have a great season.
Here is the scouting criteria before looking at his prior seasons.
Brennan's criteria:
Instead of writing this out every time I did for the mid-season Top 60, I'll copy and paste my criteria for how I rank and scout these players.
There are many factors that determine a top prospect. The eye test is the biggest driver in determining a top prospect, but proximity to the majors, ceiling, and floor is also important. Moreover, statistics are another key ingredient, as everything works together to give you numbers.
As for the grades, it's important to remember that they are relative to the league in which they play. A kid from Dunedin will not have a 50-grade hit tool if he were placed in the big leagues. But relative to the league in which he plays, a .300 hitter is eligible to have that grade.
For these prospects, I'll be reviewing their background, numbers in the minors, pitch mix (if they're a pitcher), and giving a scouting report (if feasible, rookie league guys are difficult).
Leo Jimenez's career so far:
The Panamanian shortstop was signed by the Blue Jays in the 2017 international free agency period.
He started his professional career in rookie ball in 2018, slashing .250/.333/.341 with no homers in 150 plate appearances. His prowess for hitting the ball was on full display, as he had a 10.7 BB% and 11.3 K%.
He spent 2019 mainly with the rookie advanced Jays, slashing .298/.377/.377 with no homers and an 8.6 BB% and 17.1 K% in 245 plate appearances. Despite the lack of home runs, he still posted a 115 wRC+.
Jimenez didn't play again until 2021 with the Dunedin Blue Jays, when he slashed an insane .315/.517/.381 with a crazy 21.1 BB% (and a 14.5 K%) in 242 plate appearances. Moreover, he hit his first professional home run and was hit by an insane 21 pitches (he is a ball magnet.)
While he regressed to the mean in 2022, he did show some important improvements to his game. With the High-A Vancouver Canadians. He slashed .230/.340/.385, but hit
six
homers, by far a career-high. Moreover, he improved his Isolated Power (ISO) to 1.56, besting his career-high .091 in his debut season.  His BB% regressed to 9.2%, while he had a career-high 19.7 K%.
Scouting report:
Short but muscular build, with powerful legs and a filled out upper half. Jimenez is a plus hitter who's able to take a significant amount of walks with elite bat-to-ball skills. Jimenez tapped into his raw power in 2022, but it's still below average. He's an athletic shortstop with quick hands and feet and great instincts. Strong arm and is an average runner.
Grades:
Hit: 55
Power: 40
Run: 50
Arm: 50
Field: 55
Overall: 45
Where he'll start in 2023:
It's likely that Jimenez will start the 2023 season with the Double-A New Hampshire Fisher Cats. It's important that he continues to hit for game power, but getting back to walking as much as he did in 2021 would also be beneficial.
What's next:
Wednesday's article will feature one of the newest Blue Jays prospects, so stay tuned!
In case you missed it:
As always, you can follow me on Twitter and Instagram @Brennan_L_D.
---