Blue Jays Nation's 2023 Preseason Top 50: Prospects #30-26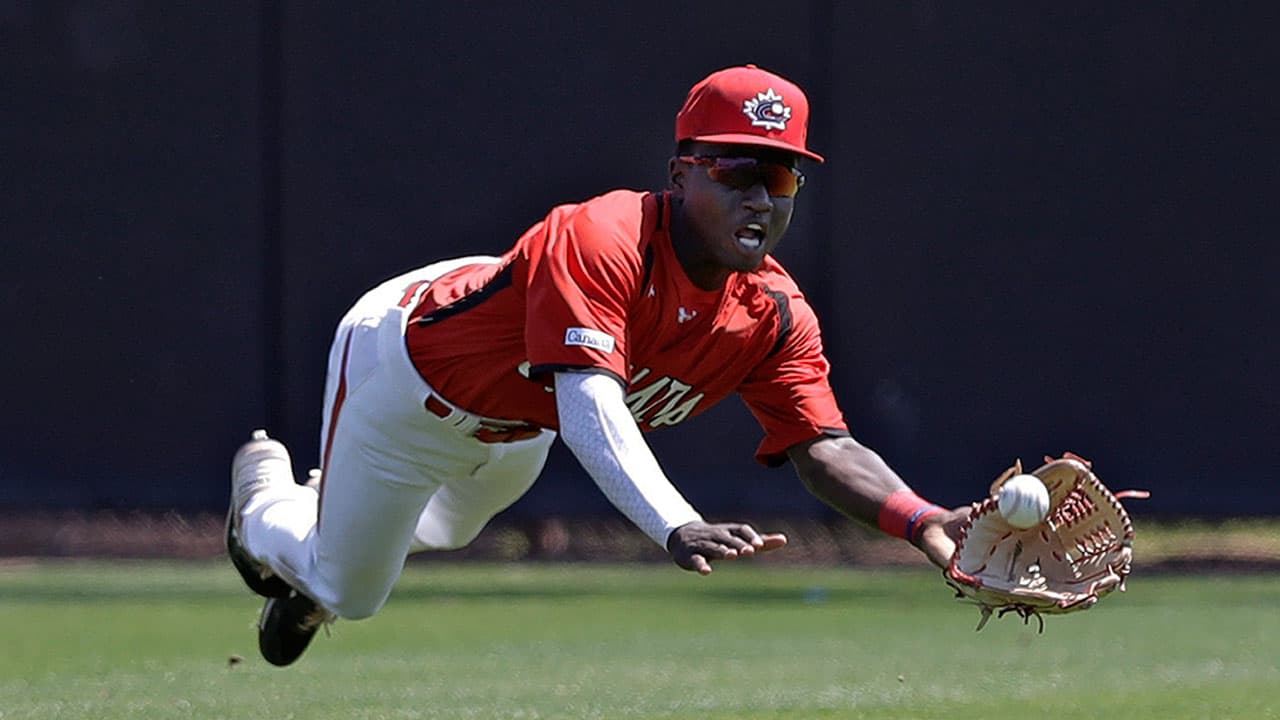 Photo credit:Chris O'Meara/AP
The last of the multi-prospect articles, today we have prospects ranked 30th to 26th!
If you missed the article for prospects 50-46, 45-41, 40-36, or 35-31 you can read the articles in the link below.
Let's look at my criteria for ranking and scouting before we look at prospects 30-26.
Brennan's criteria:
Instead of writing this out every time I did for the mid-season Top 60, I'll copy and paste my criteria for how I rank and scout these players.
There are many factors that determine a top prospect. The eye test is the biggest driver in determining a top prospect, but proximity to the majors, ceiling, and floor is also important. Moreover, statistics are another key ingredient, as everything works together to give you numbers.
As for the grades, it's important to remember that these grades are relative to the league in which they play at. A kid from Dunedin is not going to have a 50-grade hit tool if he were placed in the big leagues. But relative to the league in which he plays, a .300 hitter is eligible to have that grade.
For these prospects, I'll be reviewing their background, numbers in the minors, pitch mix (if they're a pitcher), and giving a scouting report (if feasible, rookie league guys are difficult).
#30 Alan Roden:
The 23-year-old left-handed outfielder/first baseman was selected in the third round of the 2022 draft, and spent his first half-season with the Low-A Dunedin Blue Jays.
In 115 plate appearances, he posted a .233/.374/.311 slash line with a homer and an incredible 14.8 BB%/11.3 K% split. Interestingly, he only struck out eight times in 242 plate appearances in his final season at university, which is a 3.3 K% (compared to a 12 K%.)
Scouting report:
Compact body with thick legs and a muscular upper half. Roden has a fluid swing with good mechanics, rotating his hips and turning on the ball. He has a great eye at the plate and can lay off tough pitches, while also making consistent contact. Roden has some pop, but may need to rely on his hit tool to progress through the minors. In the outfield, he is an average defender with a strong arm. Average runner.
Grades:
Hit: 55
Power: 40
Run: 45
Field: 50
Arm: 50
Overall: 40
Where he'll start in 2023:
It's possible that Roden starts in Low-A Dunedin to begin the 2023 season, but it seems more likely that he'll start in High-A Vancouver, given his age and ability. 
#29 Trent Palmer:
The 23-year-old right-handed pitcher was selected in the third round of the 2020 draft, and spent 2022 with the High-A Vancouver Canadians and the Double-A New Hampshire Fisher Cats.
Altogether, Palmer had a 3.90 ERA at the two levels to go along with a 27.9 K% and a 9.3 BB%, a drop from his 15.8 BB% in 2021 with the Low-A Dunedin Blue Jays. However, his BB% increased to 11% prior to his season-ending injury in early July.
Palmer sits in the low 90s with his fastball but has touched 95 mph. His slider sits in the low 80s, while his changeup does as well.
Scouting report:
Stocky build with powerful legs and a wide frame. Easygoing delivery with a unique sidearm delivery, bulldog personality. Palmer's changeup is his best pitch, as it has great shape and can be used on both sides of the plate, plus pitch. The fastball has sinking action and sits in the low 90s. The slider has a nice sweeping motion and  is an above average pitch. He showed improvement with command and control in 2022, will miss all of 2023 with Tommy John surgery.
Grades:
Fastball: 50
Changeup: 65
Slider: 55
Control: 40
Overall: 40
Palmer's 2023:
As mentioned in his scouting report, Palmer got Tommy John surgery in August 2022, meaning he likely won't pitch until 2024. When he returns, expect him to put himself in a position to contend for a roster spot, perhaps as a reliever.
#28 Irv Carter:
Selected in the fifth round of the 2021 draft out of high school, the 20-year-old righty spent his first professional season with the Florida Complex League Blue Jays and the Low-A Dunedin Blue Jays.
Overall, he posted a 5.48 ERA between the two levels in 47.2 innings pitched., where he had a 26 K% and a 7.3 BB%, but gave up 10 homers in that time.
Carter features a fastball that sits 91-94 mph, but has touched 96 mph. He also has a pretty impressive slider with sits in the low 80s, as well as a changeup in the mid-80s.
What the scouts say:
Although Carter made a start with the Dunedin Blue Jays on MiLB.tv, it's not posted due to external circumstances, so we'll have to use MLB Pipeline here.
Carter is athletic with a ton of arm strength with projectability. He is also compared to Marcus Stroman and Johnny Cueto due to hesitations in his delivery, which messes with the timing of batters. He has a bulldog mentality pitcher on the mound, but a caring human off of it, as you can read in this article.
MLB Pipeline Grades:
Fastball: 55
Slider: 55
Changeup: 45
Control: 50
Overall: 40
Where he'll start in 2023:
Carter is likely to start in Low-A Dunedin, where he'll have a chance to increase his strikeout rate (18.3% in 14 innings.) To improve to the next level, Carter will have to mitigate the long ball.
#27 Adrián Hernández:
The 22-year-old right-hander was signed out of Mexico in the 2017 international free agency period. He pitched at four levels in 2022, the FCL, Low-A, Double-A, and Triple-A, the latter is what we're going to focus on.
With the Triple-A Buffalo Bisons, Hernández posted a 4.96 ERA and a 4.76 FIP in 32.2 innings pitched, along with a 32.1 K% and an 11.7 BB%. Prior to a shoulder injury, he had a 1.88 ERA and a 3.66 FIP to go along with a 36.6 K% and 10.8 BB% in 24 innings pitched. After returning, he struggled to finish the season, but has looked good pitching in the Mexican Winterleague.
Hernández features a nasty changeup which has been defined as a screwball that sits 83-86 mph. His fastball sits in the low 90s, touching 93 mph, but has some carry on it, which means it's not an awful pitch. He also has a high 70s curveball which has developed nicely over the seasons.
Scouting report:
Short, slim build, medium arm circle arm action, with a high 3/4 release point.

Hernández features the best changeup in the Blue Jays organization and could develop into one of the best in the majors as it has a ton of unusual movement, generating whiffs. The fastball sits low 90s, toughing 94 mph with run. Curveball is sneakily good, generating the occasional whiff due to its heavy horizontal drop. Control and command lose him from time to time, and is hit hard if he can't locate pitches. Missed time in 2022 due to a shoulder injury.
Grades:
Fastball: 45
Changeup: 75
Curveball: 45
Control: 40
Overall: 40
Where he'll start in 2023:
Like with all prospects that have hit Triple-A, it's likely that
Hernández will start the 2023 season with the Buffalo Bisons. There is a slight chance he'll make it to the big league club out of spring training, as he was primed for a promotion to Toronto before the injury. If he can fix his control and command, he compares well to Eli Morgan.
#26 Dasan Brown:
The 21-year-old centre fielder was selected in the third round of the 2019 draft, and spent 2022 with the Low-A Dunedin Blue Jays and the High-A Vancouver Canadians.
Between the two levels, Brown slashed .283/.383/.420 with a 28.3 K% and a 9.2 BB%, along with six home runs in 360 plate appearances. However, Baseball-Reference, MiLB.com, and Fangraphs don't count his three home runs in the High-A playoffs in just three games.
Brown had a combined 131 wRC+ between the two levels, which ranks as the ninth highest in the Blue Jays organization (minimum 100 plate appearances).
Scouting report:
Slim build with long legs and a short frame, Brown has some projection remaining. A very toolsy player, Brown tapped into his power and hit tool in 2022. Fantastic range in centre field due to his 80-grade speed, and he has a strong arm. There's some swing and miss in his game that he'll have to iron out to progress to the next level.
Grades:
Hit: 45
Power: 45
Run: 80
Field: 55
Arm: 50
Overall: 40
Where he'll start in 2023:
It's hard to peg where Brown will start his 2023 season. On one hand, he could repeat High-A as he only has 176 plate appearances at the level. However, he showed the ability to thrive in the league, posting a 130 wRC+ along with five homers once accounting for the three game playoff series. 
It's likely he starts in Vancouver, but there's definitely a chance he'll be fast-tracked to Double-A New Hampshire as he was able to tap into both his hit tool and his power tool in 2023.
What's next:
This was the last multi-prospect article in the countdown! So on Friday morning, we'll be looking at just one prospect (likely his career totals, 2022 totals, scouting report, what's next). Stay tuned, because I think you'll like the next prospect on the Blue Jays Nation's 2023 Preseason Top 50!
As always, you can follow me on Twitter and Instagram @Brennan_L_D!
---