Blue Jays Nation's Mid-Season Prospect Countdown – No. 8: Leo Jimenez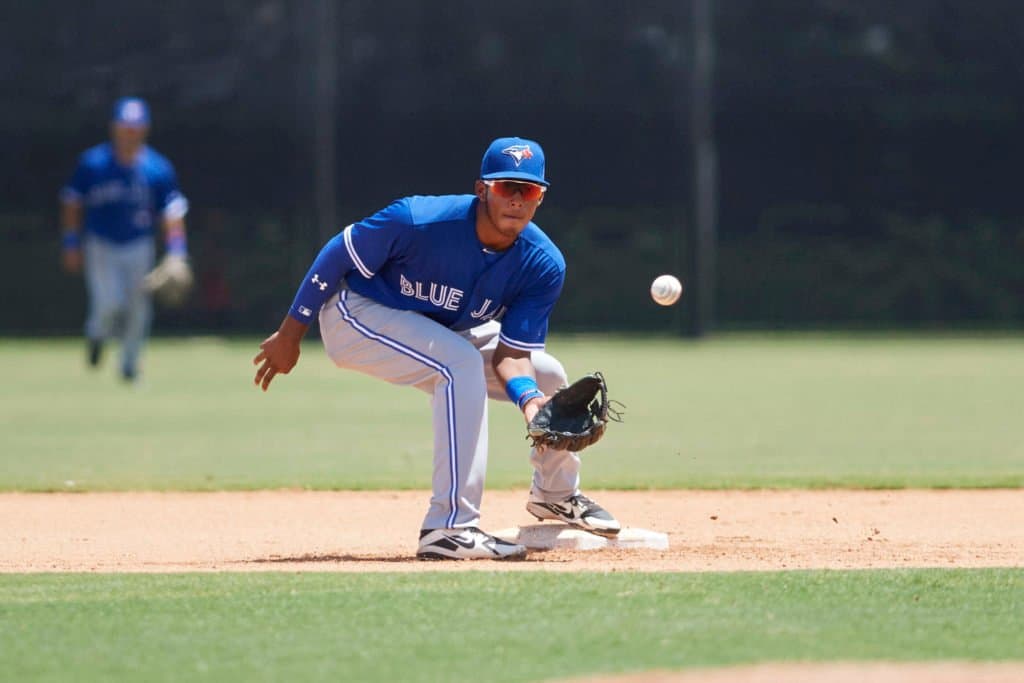 Photo credit:Mike Janes, Associated Press
Leo Jimenez has had one of the biggest breakout seasons in the Jays organization in 2023.
Just a quick recap of the mid-season list: We'll look at the player's stats, my observations, and finally other publications (Prospects Live, MLB Pipeline, Baseball America)' scouting reports.
Let's take a look at the shortstop on the 40-man roster.
Getting to know Leo Jimenez…
Position: Shortstop/Second base
Bats: Right
Born: May 17, 2001
Acquired: 2017 International Free Agency
Current Team: Triple-A Buffalo
Previous Ranking: 21
After a great season in 2021 that saw him have an on-base percentage of .517 in 242 plate appearances, Jimenez tapered off in 2022 and landed as my 21st-best Blue Jays prospect. Fast forward a year, and he could be looking at making the major leagues as soon as 2024 if he can hit well in Buffalo.
The 22-year-old middle infielder started his season with the Double-A New Hampshire Fisher Cats, where he slashed .287/.372/.436 with a career-high eight home runs in 333 plate appearances. Moreover, Jimenez had a 9.6 BB% and a 15.9 K%, giving him a 124 wRC+.
Jimenez's most noticeable improvement he's made the past two seasons was the increase in his power stroke. Prior to the start of the 2022 season, he had only hit one home run in the three years in the Blue Jays organization. In the past two seasons, he has now hit 14 homers.
Despite that, Jimenez is definitely a hit-over-power profile, consistently hitting for a somewhat high average (.274 career hitter), while avoiding strikeouts and drawing walks. Another way he gets on base is he gets hit by pitches… like a lot. A side from Zac Cook, who is no longer in the organization, Jimenez's 56 hit-by-pitches is the most in the organization since 2021, with 18 more hit-by-pitches than Dasan Brown.
The Blue Jays added Jimenez to their 40-man roster in 2021 mainly because of his defence. The Panaminan-born shortstop has great instincts with a strong arm and good range to stick at shortstop. If he can hit, he definitely has the chance to be a backup shortstop, and potentially even more if he can hit for even more power.
Having already reached Triple-A, it's likely that Jimenez will start the 2024 season with the Buffalo Bisons. It's worth mentioning that he'll only have one option year remaining, meaning that the Blue Jays will have to designate him for assignment if they want him to start in the minors come the 2025 season.
Next up:
In the next article, we'll look at a pitcher who made his professional debut during the 2023 season.
---
In case you missed it…
---
As always, you can follow me on Twitter, Instagram, and Threads @Brennan_L_D.
---