Blue Jays overcome The Ump Show to win their series against the Oakland A's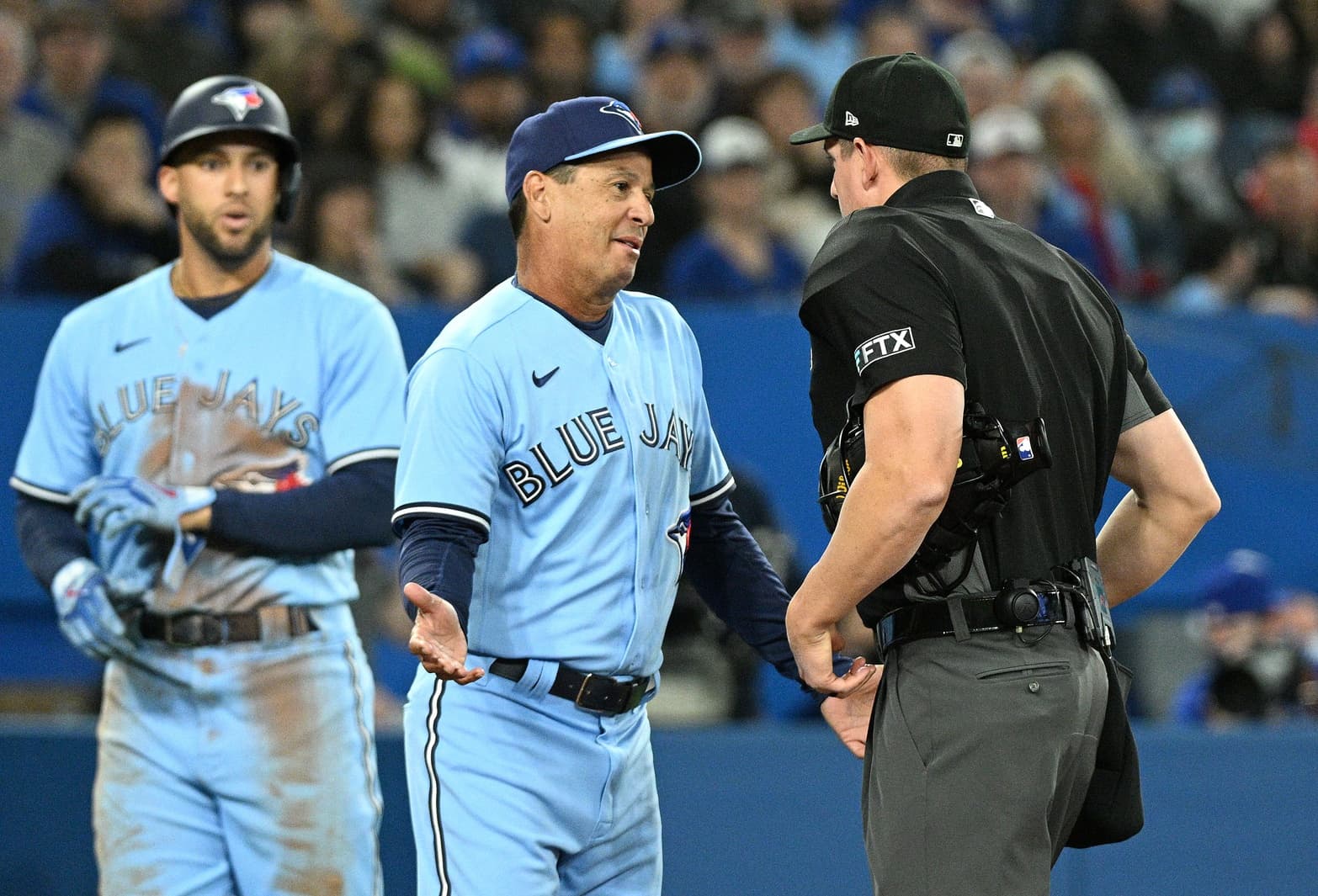 Photo credit:© Dan Hamilton-USA TODAY Sports
The Blue Jays took care of business this weekend, taking two of three games against the rebuilding Oakland A's.
They cruised to a victory on Friday night, nearly pulled off a comeback on Saturday but wound up losing after they caught up, and then edged out a win on Sunday afternoon. The loss in the middle was perhaps the most frustrating loss of the young season so far, but I'll touch more on that later.
Through 10 games, the Blue Jays are 6-4, alone in first place in the American League East. It hasn't been pretty, but the fact the team is doing well despite being far from hitting its stride is a positive thing.
Things worth mentioning…
One of the big bright spots this weekend was Zack Collins going nuclear. He went 2-for-4 with an RBI double on Friday, 3-for-4 with a game-tying bomb in Saturday's comeback, and 1-for-3 with a double in Sunday's finale. When the Blue Jays traded for him, the thought was pretty much that the team was interested in him largely because he had options, whereas Reese McGuire would have needed waivers to go down to Triple-A. But Collins has hit incredibly well in the minors in the past, so maybe there's a bat there. Even if this is just a flash in the pan, Collins getting hot while Teoscar Hernandez and Danny Jansen are injured is huge. The team needs depth players to step up, and Collins is doing exactly that.
Speaking of the Saturday comeback that wasn't, let's talk a bit about the absolute mess that was going on behind the plate. The Blue Jays went down by a score of 5-1 early as Hyun Jin Ryu got lit up, but they came back with a two-out rally in the sixth inning, as Matt Chapman hit a two-run bomb off of his former team and Collins smashed the solo shot that's displayed above. It really looked like we were in store for another wild comeback, much like the one the Blue Jays pulled off on Opening Day against the Rangers. But Julian Merryweather allowed a bomb in the top of the ninth and the bats weren't able to get anything going. I'm not a fan of pinning a loss on the umpire, but Jeff Nelson certainly made life very difficult on Toronto's hitters. You may or may not recognize the game, but Nelson was the guy who made the infamous strike call on Ben Revere during Game 6 of the 2015 ALCS.
Alek Manoah came out on Sunday and gave the Blue Jays something they needed very badly, which was a good start in which the starting pitcher goes six innings deep. Manoah didn't seem to have his best on Sunday, as his velocity was sitting a couple of ticks below where it was in his season debut in New York last week, but he still carved Oakland's lineup. Manoah went six innings, allowing two earned runs on four hits and two walks while striking out six.
Outside of the 10 runs they put up in their comeback win on Opening Day, it feels as though Toronto's bats haven't really woken up just yet. The comeback over Texas included, all of the Blue Jays' wins so far this season have featured save situations. As good as Jordan Romano and the high-leverage guys have been early on, the bats are going to have to get rolling so that these arms aren't worn into the ground come July.
---