Blue Jays right-hander José Berríos struggles in outing against Venezuela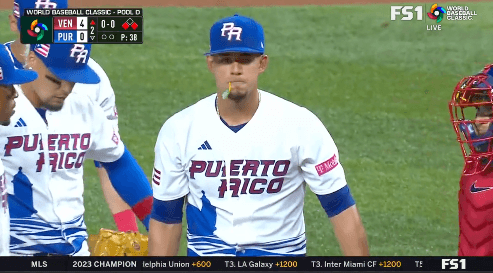 Reliever
Yimi García is with the Dominican Republic
and had a solid outing yesterday in the loss to Venezuela, pitching a clean inning against the top of the order while Jays starter
José Berríos
is on Puerto Rico's roster, joining former Blue Jays right-hander Marcus Stroman in the rotation. Vladimir Guerrero Jr. (Dominican) and Alejandro Kirk (Mexico) were both slated to suit up in the tournament but Guerrero withdrew after a minor knee injury while Kirk's spring warmup was delayed due to the birth of his daughter, with the club and player deciding to forego the tournament.
The Jays' farm system is also heavily active across the World Baseball Classic including Luis Quiñones (Puerto Rico), Jaden Rudd (Great Britain), Spencer Horwitz (Israel), Jesús López (Nicaragua), Jiorgeny Casimiri (Netherlands), Otto Lopez (Canada), Damiano Palmegiani (Canada), and Dasan Brown (Canada).
Berríos Gets the Start for Game #2 Against Venezuela
Stroman made the start for Puerto Rico against Nicaragua yesterday, going 4.2 innings and allowing just one earned run in the contest. Puerto Rico would win the contest 9-1, collecting 11 hits with four players collecting two or more in the contest.
In a stacked Pool D that is made up of the Dominican Republic, Puerto Rico, Nicaragua, Israel, and Venezuela, Berríos got the ball for Puerto Rico's second game against a strong Venezuelan squad that pulled out a huge win the night before against the Dominican Republic, beating one of the tournament favourites by a score of 5-1
Berríos is coming off a disappointing 2022 season that saw him rack up a 5.23 ERA, the highest ERA among qualified starters, while also giving up an AL-leading 199 home runs and 100 earned runs. Through 32 starts, Berríos amassed a 4.55 FIP with a 1.419 WHIP while striking out batters at a 7.8 K/9 rate, earning a 74 ERA+ on the season (the lowest mark since his rookie season). While healthy, Berríos struggled to find consistency, allowing two or fewer earned runs in 16 outings last year compared to nine outings where he allowed five or more runs. Simply put, when he was on, he was on, and when he was off, he got hit around and hard. With a clean slate heading into the 2023 season, Berríos has made two starts this spring and has allowed just seven hits through 5.0 innings with just two earned runs compared to four strikeouts.
Unfortunately for Berríos, shades of his Opening Day start crept back into view for his outing against Venezuela, with the Jays starter only going one inning and allowing five hits and five earned runs in the contest, including a loud home run to Anthony Santander to right field that left the bat at 102.4 MPH.
Berríos night did not get off to a good start as a throwing error from Javier Baez allowed leadoff hitter Jose Altuve to reach base. While he was able to get Luis Arraez to groundout (no double play, Altuve went to second), a walk to Acuna and a single Salvador Perez set the stage for Santander, who cracked a low breaking ball for a home run that just reached over the outfield wall, giving Venezuela a quick 4-0 lead. Although Berríos allowed another single and a walk, he was able to get Miguel Cabrera to strike out on an 85 MPH changeup and ended the inning via a forceout to third base.
Altuve would lead off the second inning and Berríos quickly gave up a double and then a single to Luis Arraez, with Berríos getting pulled in the top of the second with two runners on and no outs. Replaced by reliever Fernando Cruz, the right-hander gave up a home run to Salvador Perez to tack on a few more runs and give Venezuela a 7-0 lead.
Considering Berríos did face a tough Venezuelan squad that is coming off the momentum of knocking off the Dominican Republic last night, it is worth noting that the former Twins starter struggled to find the strike zone, throwing just 22 pitches out of 38 pitches (57.8%). Out of the nine batters he faced, three of them generated hard contact including the Santander home run that came off a low slurve from Berríos. This was something he struggled with last year, sitting below the 15th percentile mark in Barrel% (15th), Average Exit Velocity (13th), HardHit% (11th), xBA (8th), and xSLG (5th).
The Puerto Rican product is eligible to pitch again in short succession given the WBC pitching rules (one day rest) but it will be interesting to see if manager Yadier Molina will use him again in the round-robin tournament play. For Blue Jays fans, seeing Berríos struggle against Venezuela is likely going to be cause for concern heading into the regular season given the struggles he endured last year.
Should Puerto Rico fail to advance out of Pool D, Berríos will likely be able to get into a few additional Spring Training games with the Jays before Opening Day rolls around on March 30th against St. Louis, which may be beneficial for the right-hander given his outing earlier today. While I wouldn't necessarily be too concerned about this outing when thinking about the 2023 season altogether, it will be interesting to see how the Jays choose to use the right-hander to start the season, whether it's against a strong St. Louis Cardinals squad (as the third starter) or at Kauffman Stadium against the Royals as the fourth starter, and how he will look to bounce back in his next outing.
---