Blue Jays' Teoscar Hernandez is aging like fine wine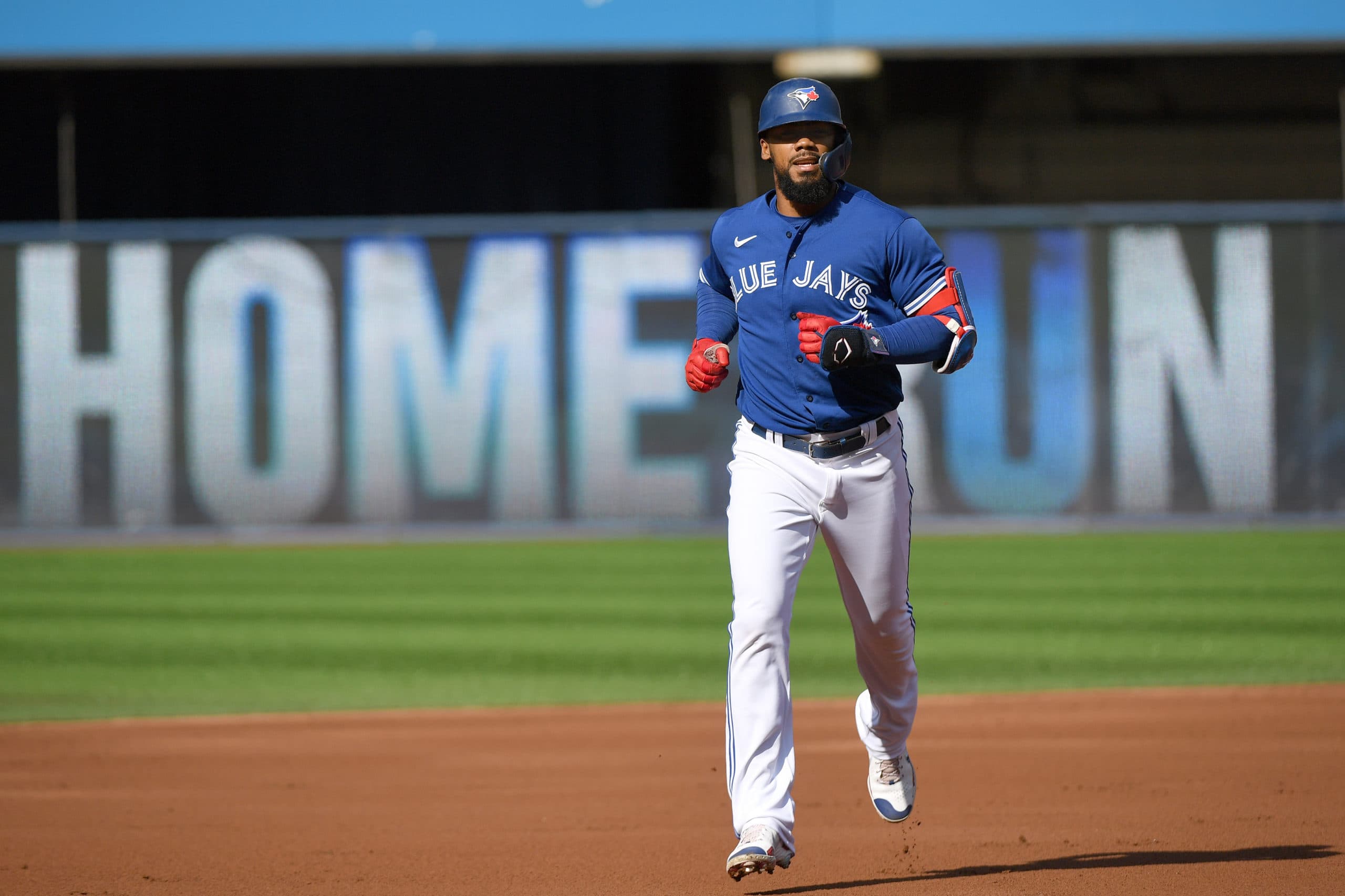 Photo credit:Dan Hamilton-USA TODAY Sports
Just like the world's greatest wines, outfielder Teoscar Hernandez has only improved with age over his six seasons in Major League Baseball, which has seen him grow substantially since joining the Toronto Blue Jays' organization.
Coming up through the Houston Astros' minor-league system, Hernandez was always considered an offensive-first prospect – one that featured a considerable amount of extra-base power. Once the 6'2″ outfielder surpassed the double-digit mark in home runs across three different levels from 2013-2015, it became evident he could make an impact in the majors.
Receiving his first opportunity to showcase his skills during the following season, the 29-year-old made his major league debut in 2016, where he appeared in 41 games through the second half of the schedule. Unfortunately, his first stint at the highest level of competition didn't prove to be all that impressive.
Despite posting seven doubles and four home runs over his 112 plate appearances, Hernandez struggled to put balls in play consistently, largely due to his lack of plate discipline, resulting in a measly .230/.304/.420 slashing line.
Since the Astros possessed plenty of depth in the outfield in 2017, both in the majors and minors, they felt comfortable making some of that capital expendable and ultimately traded Hernandez along with former player Nori Aoki to the Blue Jays. In return, they bolstered their bullpen by acquiring veteran Francisco Liriano, who made five post-season appearances as his team captured the World Series.
Luckily for Toronto, this deal has since become one of the most notable transactions ever made by the Mark Shapiro/Ross Atkins regime – which didn't seem possible at the time – as this franchise gained a cornerstone piece that has developed into one of their top offensive weapons.
Having said that, the Hernandez-Liriano trade didn't immediately emerge as an obvious steal for the Blue Jays and has required plenty of hard work over these last four campaigns to transform into just that – a winner.
Credit: Dan Hamilton-USA TODAY Sports
Granted, the right-hander's first session north of the border went pretty smoothly, as he finished the 2017 season with six doubles, eight home runs, 20 RBIs and slashed .261/.305/.602 through 95 plate appearances. Digging deeper, however, his performance could've gone even better if not for his troubling 37.9 per-cent strikeout rate.
Over the next two seasons (2018-2019), Hernandez continued to display his impressive slugging abilities, where he posted a combined 48 home runs, a .470 SLG percentage and a .235 ISO during that span. But similar to his past performances, issues regarding his bat-to-ball skills and plate discipline prevented him from acting as more than just a slightly above-average run producer.
Accompanied by his defensive woes, in both left and right field, the Blue Jays decided it was best to assign the Dominican native to triple-A Buffalo in 2019 and were hoping it'd allow him to correct these concerning issues.
After just a 19-game stint in the minors, the former amateur free-agent returned to the majors with a vengeance of sorts, recording 23 of those 48 home runs over the final four months of the 2019 season. Despite all this success, unfortunately, his swing and miss woes remained a concern as he produced a 34.4 per-cent strikeout rate.
Then came the shortened 2020 campaign, and while it was far from ordinary, for Hernandez, it saw him begin to put everything together at the plate. Sure, strikeouts were still a huge part of his craft (30.4% strikeout rate), however, they weren't anywhere near as large of a concern compared to previous seasons.
Thanks to his improved plate discipline, not only did his power results benefit from this occurrence but so too did his contact metrics, as he created career-highs in AVG (.289) and BABIP (.348). Capping off this stellar showing, the right-handed slugger was rewarded with his first career Silver Slugger Award as he was considered one of the top-performing outfielders in the majors.
Expanding on his new-founded success in 2021, Hernandez's offensive abilities grew even stronger during his age-28 season, resulting in 32 home runs, 116 RBIs and a slashing line of .296/.346/.524 over his 595 plate appearances (career-high) – earning him a second Silver Slugger Award.
Similar to 2020, the biggest factor that directly impacted the 2021 American League All-Star's run-producing ability revolved around his swing and miss totals, which reached the best marks of his career last season.
| | | |
| --- | --- | --- |
| | SO% | Whiff% |
| 2018 | 31.2 | 38.5 |
| 2019 | 33.0 | 34.8 |
| 2020 | 30.4 | 34.9 |
| 2021 | 24.9 | 31.8 |
Unlike in 2018 or 2019, Hernandez wasn't plagued by high amounts of strikeouts in 2021, and though his chase rate still hovered around 30 per-cent, it didn't have a massive impact on his performance because of his career-best 79.5 per-cent zone contact rate.
Putting his improved plate discipline into perspective, his 33.0 per-cent strikeout rate in 2019
ranked in the second percentile among all major league hitters
. In 2020, his 30.4 per-cent clip sat a little higher than the year before, finishing in the 12th percentile. Continuing this positive trend, his 24.9 per-cent strikeout rate from last season ranked in the 26th percentile, making for a considerable improvement.
Taking this a step further, no longer is the Blue Jays' outfielder viewed as someone who can't put balls in play consistently, like he was previously. Now, thanks to the increased amount of contact he's made inside the strike zone, his bat-to-ball metrics aren't seen as something that requires improvement as they've climbed dramatically since 2020.
| | | | |
| --- | --- | --- | --- |
| | AVG | BABIP | Contact% |
| 2018 | .239 | .313 | 64.1 |
| 2019 | .230 | .293 | 68.9 |
| 2020 | .289 | .348 | 66.2 |
| 2021 | .296 | .352 | 70.3 |
In just two seasons – or a season and a half, considering the 2020 campaign only consisted of 60 games – Hernandez has transformed into a much more well-rounded contributor, rather than serving as just a power-hitting threat.
While he's largely been considered a productive hitter against fastballs in the past, the same couldn't be said about his performance when facing breaking balls, at least, that was the case before the 2021 season.
Prior to this past season, Hernandez struggled mightily against sliders and curveballs, posting a miserable .197 AVG, .186 xAVG, .394 SLG, .360 xSLG, .197 ISO, .297 BABIP and a 41.3% strikeout rate over 421 plate appearances from 2016-2020. But thanks to the growth of his plate discipline, these types of pitches didn't compromise his overall results in 2021, as they had previously.
Overall, the two-time Silver Slugger Award winner excelled against breaking balls, registering a remarkable .285 AVG, .255 xAVG, .505 SLG, .482 xSLG, .220 ISO, .362 BABIP and a 30.8% strikeout rate through 195 plate appearances.
Similar to Hernandez's overall chase rate from 2021, his percentage against breaking balls (31.9%) is also an area that likely requires attending to in future seasons. If it were to improve below the 30 per-cent line, chances are his swing-and-miss totals would drop even further as he inches closer to the age-30 threshold.
As things currently stand, based on how his tenure in Toronto started, there's no question the veteran outfielder is on the right path to sustaining his offensive production for many years to come. While some people may become concerned about his age in future seasons, as he's set to turn 30-years-old in October of 2022, there aren't any current signs suggesting a potential decline is on the horizon.
Since Hernandez will be eligible for free agency after 2023, paired with his recent success over the last two seasons, most experts are predicting the slugging outfielder to receive a lucrative contract extension at some point this off-season. Of course, that can't happen until MLB's lockout concludes.
Assuming the 2022 campaign begins without delay, which isn't a guarantee, the Blue Jays will be aiming to surge back into the playoffs after finishing just shy of the second wild card seed last season. With the late-blooming slugger slotted into the middle of their line-up, he'll be expected to carry this momentum that he's generated over into next season.
As Hernandez has proven since 2020, some things in life tend to improve with age, particularly when it comes to baseball.