Blue Jays' top prospect Ricky Tiedemann drops in Baseball America's Top 100, Nick Frasso makes his first appearance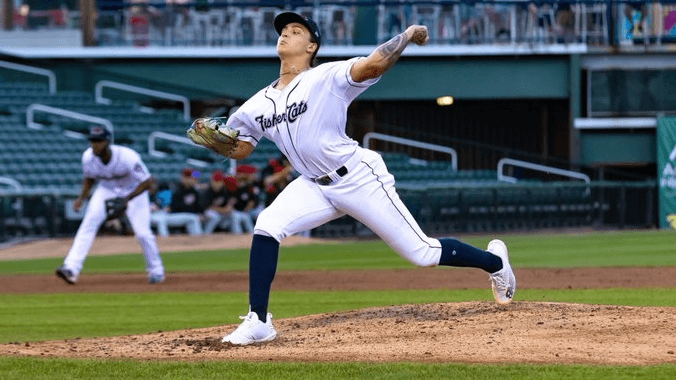 Photo credit:Fisher Cats PR
Baseball America has updated their Top 100 list. Shall we take a gander?
Ricky Tiedemann hasn't pitched since May 4th due to a left bicep injury.In the four games of good health, he posted a 4.97 ERA and a 1.59 FIP in 12.2 innings pitched. He's struggled a bit with the walk rate, as it sits at a career-high 13%. However, he is striking out batters left and right with a 42.6 K%.
Tiedemann suffered quite a drop on their list, as he ranked as their 31st best prospect in preseason.
The not so good news:
Remember when Nick Frasso was traded to the Dodgers for Mitch White? Well, that's come back to bite the Jays in the butt for numerous reasons. One of these reasons is because Nick Frasso now ranks 69th on Baseball America's list. Not so nice.
The 24-year-old right-handed pitcher has been dominant with the Dodgers' Double-A team, posting a 1.69 ERA and a 2.04 FIP in 32 innings pitched. More impressively is his 34.9 K% and a relatively low 7 BB%.
It's only a matter of time before he's is tested at the Triple-A level, and while it's to be seen if he transitions to the bullpen, this trade doesn't look great at all.
As always, you can follow me on Twitter and Instagram @Brennan_L_D.
---