Blue Jays win a pitcher duel (and the series)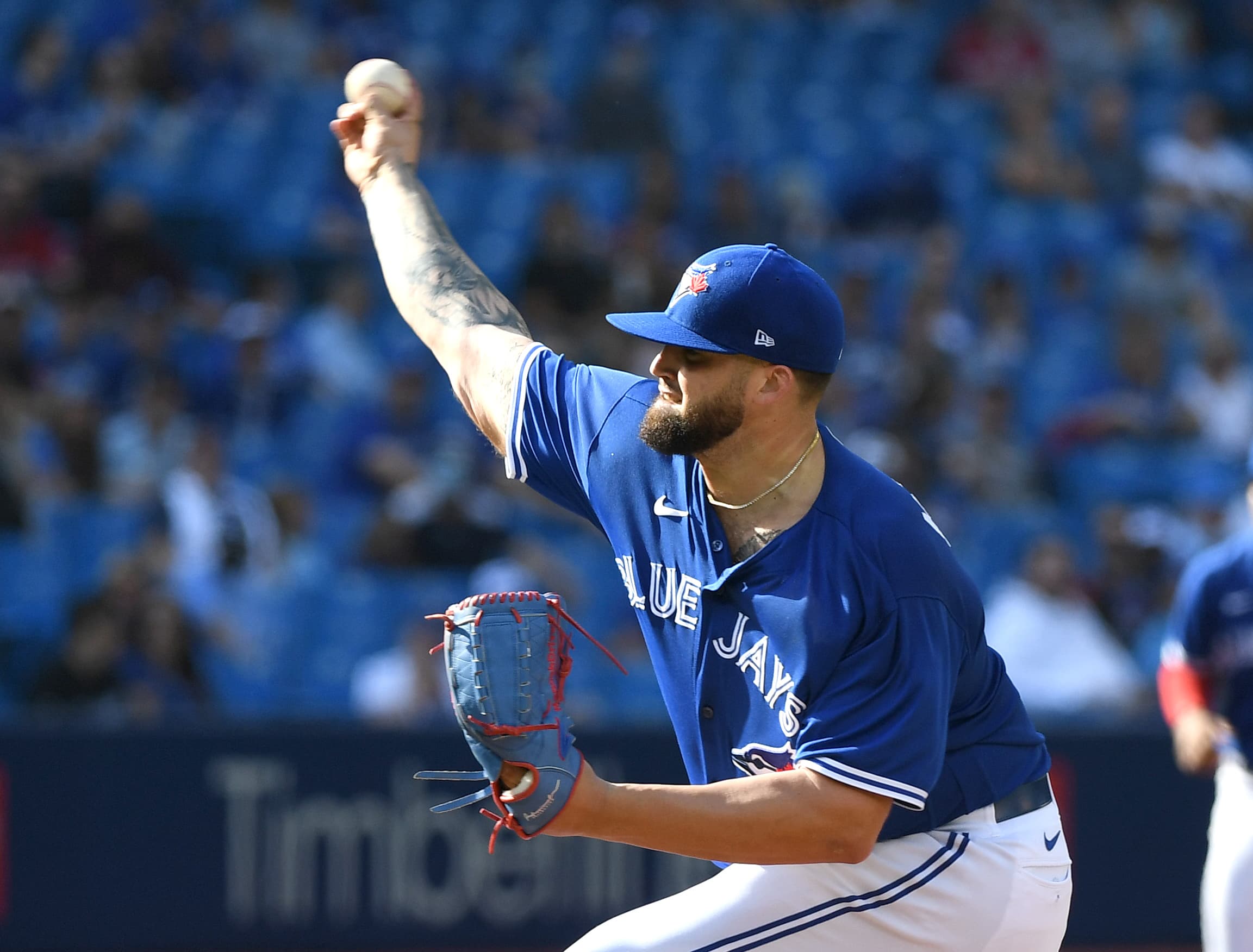 Photo credit:Dan Hamilton-USA TODAY Sports
The Blue Jays won a pitcher's duel, 1-0. If I'm being honest, Alek Manoah is about to win the Cy Young award in late April.
Alek "The Big Man" Manoah, ace:
In his last outing, I said that Manoah "bullied" the Astros, as he had a line of
6 IP, 7 H, 2 ER, 0 BB, 5 K.
Big Puma didn't just bully the Boston Red Sox, he beat the living crap out of them with a line of
7 IP, 3 H, 0 ER, 1 BB, 7 K.
Although pitcher wins don't matter, he now has four wins in all four games that he's started. Moreover, this win is the 12th straight win when Manoah has pitched.
A more important stat however, is earned run average. Through 25 innings pitched this season, Manoah has an incredibly low ERA of 1.44. He also brings his K/9 up to 9, while his BB/9 sits at 2.52, a significant decline from his 3.22 BB/9 last season.
With Alek Manoah and Kevin Gausman fronting the rotation, this team will do damage. Add in Jose Berrios as their #3 and wow, this team is going places.
Blue Jays are now 13-7:
The Jays have also not lost a game back to back dating back to late September last season. In fact, they haven't lost a series this year. Out of their six series this season, they've one five and drawn one. This was also their seventh win that they've only won by one run, I'm losing my hair already!
Bats went cold:
Kirk also hit what I think was his FIFTH infield single. I'm telling you, he's in the 99th percentile for sprint speed. All 14 of Kirk's hits have been singles, but he's starting to pick it up as he's slashing .265/.362/.265.
Except for a few singles and one Chapman double, there was no offense from the Jays. In fact, the only run scored in this game was due to an error.  While the lineup was a bit thin today with Vlad, their offense needs to pick it up so the bullpen's arms don't fall off.
Speaking about the bullpen…
Bullpen:
Adam Cimber and Romano closed it out. The former got two ground balls and a liner to end the 8th. Romano finished it off with a ground ball, a line out and a strikeout.
Jordan Romano recorded his 10th try in 11 attempts. He has pitched in more than half of the Blue Jays games. This is unsustainable, meaning the bats need to get going as soon as possible.
Figure it out, MLB:
There were 14 fly balls in this game. None went for homers. Major League Baseball needs to figure out what the hell they are doing, because juiced balls one year to weighted balls the next year is just stupid.
Also the home plate struggled behind the plate for both teams. The league needs to find some way to avoid human error, because it truly ruins games.
Setting up for tomorrow:
The Jays take on the Houston Astros for a three game set at home. Kikchui will start tomorrow while Berrios and Gausman take the weekend.
Let's make it 6 series wins in 7 tries!
As always, you can follow me on Twitter @Brennan_L_D. This was the second time this season I started the post game recap BEFORE the game ended. Both times they've won.
---