Bo Bichette's three-RBI performance leads Blue Jays to 4-1 victory over Pirates
Photo credit:Charles LeClaire-USA TODAY Sports
The Toronto Blue Jays are a much deeper team when Bo Bichette is at his best. Everyone was reminded of that Saturday night at PNC Park.
After shutting out the Pirates 4-0 a night ago, the Blue Jays desperately needed to replicate that success during the second game of this three-game set. The only problem, though, is that they were held in check by right-hander Roansy Contreras, who was making just his 14th career major-league start.
Contreras completed six innings of one-run ball, allowing four hits and two walks while striking out five batters. His only blemish came in the fourth inning when Lourdes Gurriel Jr. delivered an RBI double, driving home Bichette, tying the contest at one run apiece.
Things almost immediately unravelled once the 22-year-old departed, however, as Duane Underwood Jr. surrendered one hit and two walks to load the bases with two outs for Bichette. But, if not for Vladimir Guerrero Jr. and Matt Chapman's patient approaches, Toronto's shortstop wouldn't have come to the plate in the seventh inning.
And thankfully, Bichette made sure to capitalize on that opportunity, sending a 108.7-m.p.h. laser down into the left field corner, clearing the bases for three much-needed runs.
As you might expect, Bichette was pretty fired up after handing his team a three-run advantage late in the game, as were his teammates.
Amid what's been an underwhelming stretch for the Blue Jays' offence as of late, Bichette provided the spark his team badly needed, and did so with one of his most impressive – if not his best – at-bats of the season. It was something truly mesmerizing.
The 24-year-old put up quite the battle, fouling off six pitches before concluding the 10-pitch marathon with his team-leading 34th double of the season. In doing so, he fought off several tough pitches – including three well-placed sinkers on the inside corner, all of which reached north of 95 m.p.h.
It was one of the more impressive feats Bichette has accomplished in his young professional career.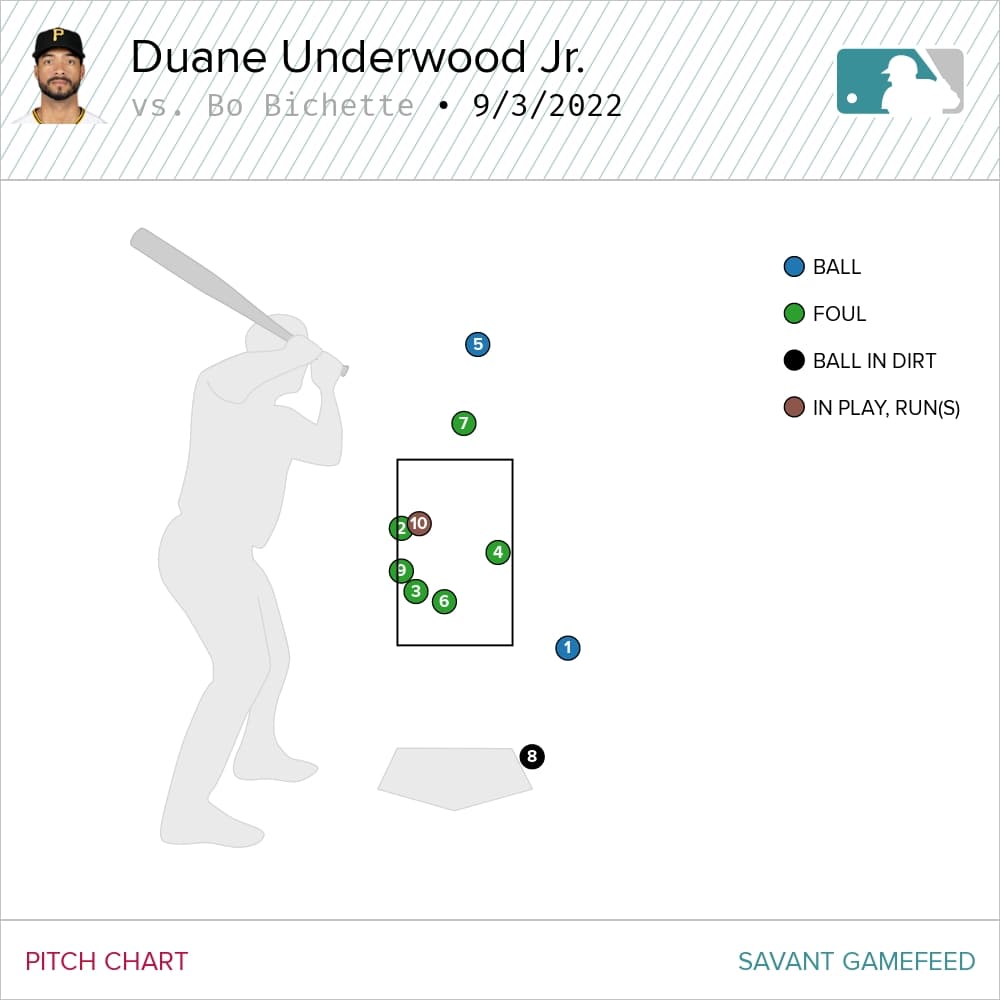 If that wasn't enough, Bichette also turned in an impressive defensive gem in the bottom half of the seventh inning, stealing a hit away from Josh VanMeter. While ranging towards the hole between shortstop and third base, the 6-foot infielder made a strong throw over to Guerrero at first base to record the final out, making a difficult play look easy.
Bo knew the spotlight was on him, you could say.
Thanks to yet another brilliant performance from the bullpen – which has been the case numerous times recently – the Blue Jays captured a 4-1 victory over the Pirates, winning their first series of September. That's a trend they'll hope to continue next week against the Baltimore Orioles.
But that will have to wait for now.
In the meantime, Toronto improves to 72-59, and while no ground was gained in the wild-card race as Tampa Bay, Seattle and Baltimore were also victorious, the team did inch closer to the struggling New York Yankees, moving just 6.0 games behind first place. However, the Rays remain in second place and are 4.0 games back of top spot in the AL East.
This is what meaningful September baseball feels like, so get used to it. But for the Blue Jays, they'll attempt to focus on what's currently in front of them, which is a potential three-game sweep of the Pirates. With everyone winning around them, there's little room for error, meaning it'll be crucial to take care of business against a rebuilding franchise.
To do so in Sunday's finale, they'll need another quality showing from Ross Stripling, who's been dominant since taking over for the injured Hyun Jin Ryu.
---