Bottom of the order contributions are powering Blue Jays' surging offence
Photo credit:Nick Turchiaro-USA TODAY Sports
More often than not, the Toronto Blue Jays' offence has been led by the top half of their batting order this season, as it should be. Lately, however, they've received quality production one through nine, resulting in a very productive September.
Of course, shortstop Bo Bichette has carried the freight this month, hitting .440/.481/.867 with seven home runs and a 283 wRC+ score in 81 plate appearances. He's a major reason why the Blue Jays have won 13 of their last 18 games. But there have been other factors at play, too.
The bottom-third of the club's batting order has been particularly effective since the calendar flipped to September, which has dramatically lengthened the entire lineup. That group isn't hitting for much contact or power, although that hasn't prevented them from making an impact as they sit tied for eighth in RBIs (23) among all 30 MLB franchises, according to
FanGraphs
.
Toronto's Nos. seven, eight and nine hitters have also executed quality efforts to reach base safely, ranking them seventh in on-base percentage (.319). They're also tied for 12th in wRC+ (90), 10 per cent lower than league average but still higher than 15 other teams.
These results are even more impressive if they are refined to just three hitters: Danny Jansen, Santiago Espinal and Cavan Biggio. While none of them receive much recognition on a roster stacked with all-stars, each of them has done their part recently to help turn over the batting order to the club's top hitters.
Together, this trio is hitting .274/.380/.427 with four round-trippers and a .359 wOBA. Their plate discipline has also been on full display, resulting in very respectable strikeout (14.6 per cent) and walk (12.4 per cent) rates. That's exactly the type of production you want from the bottom of your lineup.
Jansen, in particular, has been scorching hot at the plate over the last few weeks. Aside from Bichette, no other Blue Jay hitter has posted better offensive numbers in September than the 27-year-old catcher.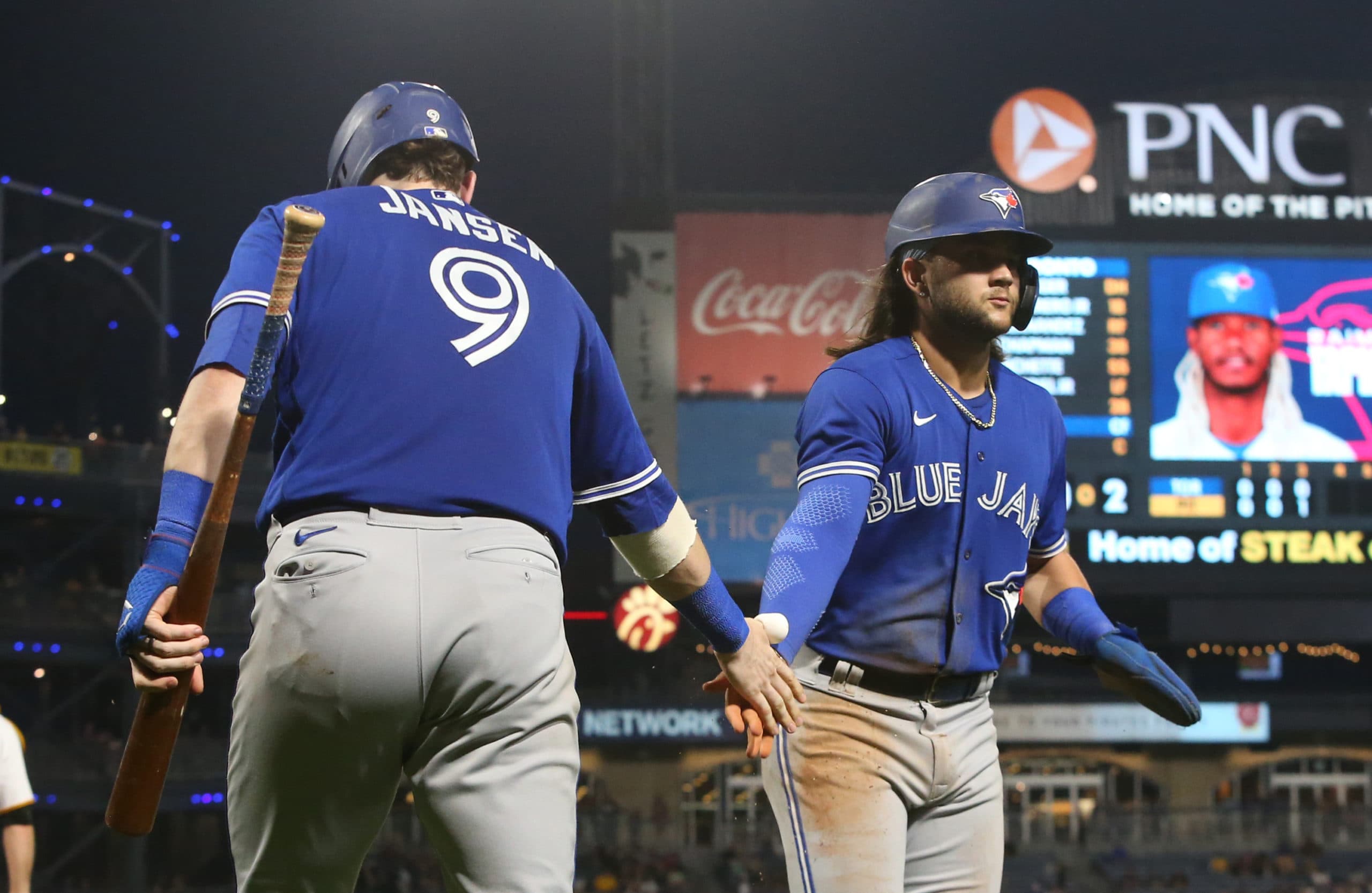 Credit: Charles LeClaire-USA TODAY Sports
The right-hander currently ranks second on the team in AVG (.368), OBP (.455), SLG (.605), wOBA (.449), ISO (.237), BABIP (.387), wRC+ (201), OFF WAR (5.1) and fWAR (0.8) since Sep. 1. He's also walked more than he's struck out, resulting in a 13.6 per cent walk rate and 11.4 per cent strikeout rate.
Granted, Jansen has logged just 44 plate appearances this month – that's nearly half as many as Bichette (81) – as he's shared catching duties with teammate Alejandro Kirk. Nevertheless, the 6-foot-2 backstop has been impactful almost every time he's stepped into the batter's box.
Espinal has also taken his performance up another level during this stretch run, awakening from his post-All-Star-break hitting slump. Following a quality first-half showing, where he hit .271/.320/.391 with six home runs and a 103 wRC+, the 27-year-old struggled to replicate that success out of the mid-season break but has since turned things around in September.
In total, the right-handed second baseman has slashed .286/.375/.333 while also producing a 112 wRC+ through 48 plate appearances. He also owns a .323 wOBA and .308 BABIP. So while his modest power results haven't returned, the young infielder is finding different ways to be effective as he's now strictly hitting for contact.
Similar to Jansen, Espinal has also remained patient and hasn't tried to force anything in his at-bats, earning him a higher walk rate (10.4 per cent) than strikeout rate (6.3 per cent). And that hasn't always been the case for him this season as he featured a 15.9 per cent strikeout rate and a 6.8 per cent walk rate pre-All-Star break.
Paired with his Gold-Glove calibre defence, Espinal's improved offensive performance has helped keep him in the lineup on a somewhat regular basis down the stretch, especially against left-handed pitching, where he's hitting .295/.370/.446 with a 134 wRC+ this season.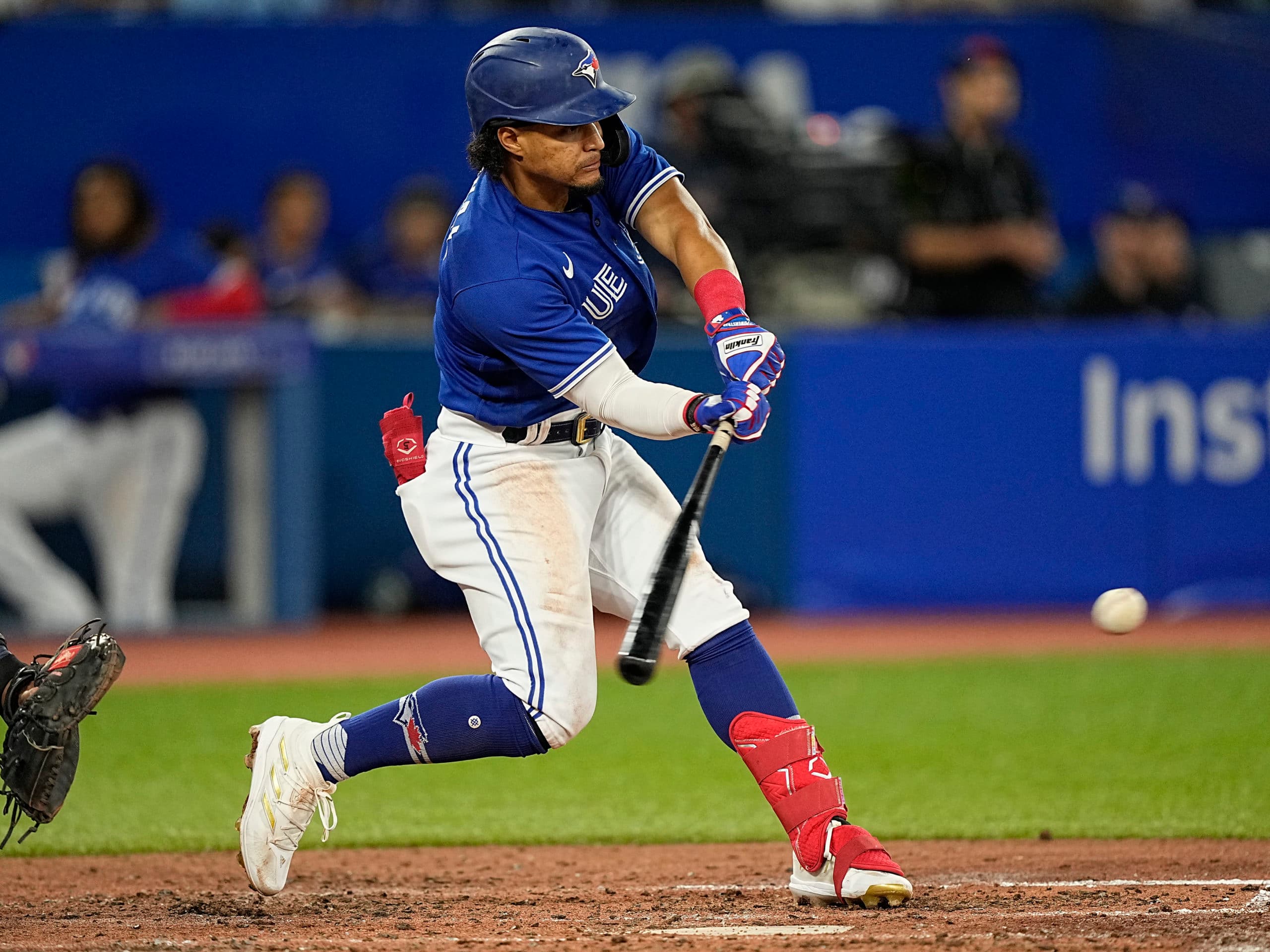 Credit: John E. Sokolowski-USA TODAY Sports
Despite carrying a measly .162 AVG in September, Biggio has also enjoyed his fair share of productive moments as of late, albeit brief ones, as he's performed to a 103 wRC+. The 27-year-old has blasted a pair of home runs, both of which occurred during the Blue Jays' most recent road trip (one in Pittsburgh, the other in Baltimore).
Biggio's on-base metrics (.326 OBP, .311 wOBA) don't jump off the page, though he's made a strong impact on the scoreboard when he's reached base safely. The left-hander has crossed home plate at least once in six of the 16 games he's played this month, with a pair occurring over the last two contests.
In a perfect world, the 6-foot-2 versatile defender is driving in more runs by himself, raising his wRC+ even higher. And perhaps that's his next goal. But for now, you can't complain about his ability to get on base in front of the team's top run producers.
Along with Jansen, Espinal and Biggio, the Blue Jays have also received some timely hitting from outfielder Raimel Tapia, who's hitting just .238/.289/.333 with a 79 wRC+. The 28-year-old won't be pleased with his overall results in September, however, six of his eight RBIs have come in bunches.
Tapia helped his team earn a much-needed victory over the Baltimore Orioles on Sep. 17, crushing a three-run double in the fifth inning, ultimately resulting in a 6-3 win.
Then on Sep. 10, Tapia made a similar impact as he delivered a three-run home run versus the Texas Rangers, putting Toronto ahead 8-3. His 428-foot blast, which became the hardest-hit home run (108 m.p.h.) of his career, ultimately served as the game-winner as the Blue Jays came away with an 11-7 result.
The Whit Merrifield trade hasn't worked out like the Blue Jays hoped it would thus far, although he too is someone that has displayed encouraging signs recently. Merrifield is just 3-for-20 (.150 AVG) this month, but his lone extra-base hit was easily his brightest moment since being acquired from the Kansas City Royals.
With his club trailing 2-1 to the Tampa Bay Rays in the nightcap of a doubleheader on Sep. 13, the 33-year-old entered the game in the seventh inning as a pinch hitter and came to the plate with runners on the corners and just one out. On the first pitch of the at-bat, the veteran right-hander smacked a 91.1 m.p.h. fastball down the third-base foul line for a two-run double, putting Toronto ahead 3-2.
Merrifield's double – his first with the Blue Jays – provided a much-needed spark for the offence, which tacked on four additional runs en route to a 7-2 victory.
Toronto's lineup isn't perfect, that's no secret. It's extremely right-handed, but with Biggio and Tapia – two lefties – delivering in key moments down the stretch, that's helped address some of the imbalance within this current group. Not to mention, it's also helped create additional run-scoring opportunities for George Springer, Vladimir Guerrero Jr. and Bichette.
The key, however, is continuing to have the bottom of the order getting on base consistently in front of those key bats. That'll become especially important during the playoffs, too, when this offence faces some of the top pitchers in the American League.
There'll be plenty of pressure on the top half of the lineup to contribute, of course, but it'll be just as crucial for the bottom third to remain as productive as they've been moving forward.
---