Breaking Down Alek Manoah's Debut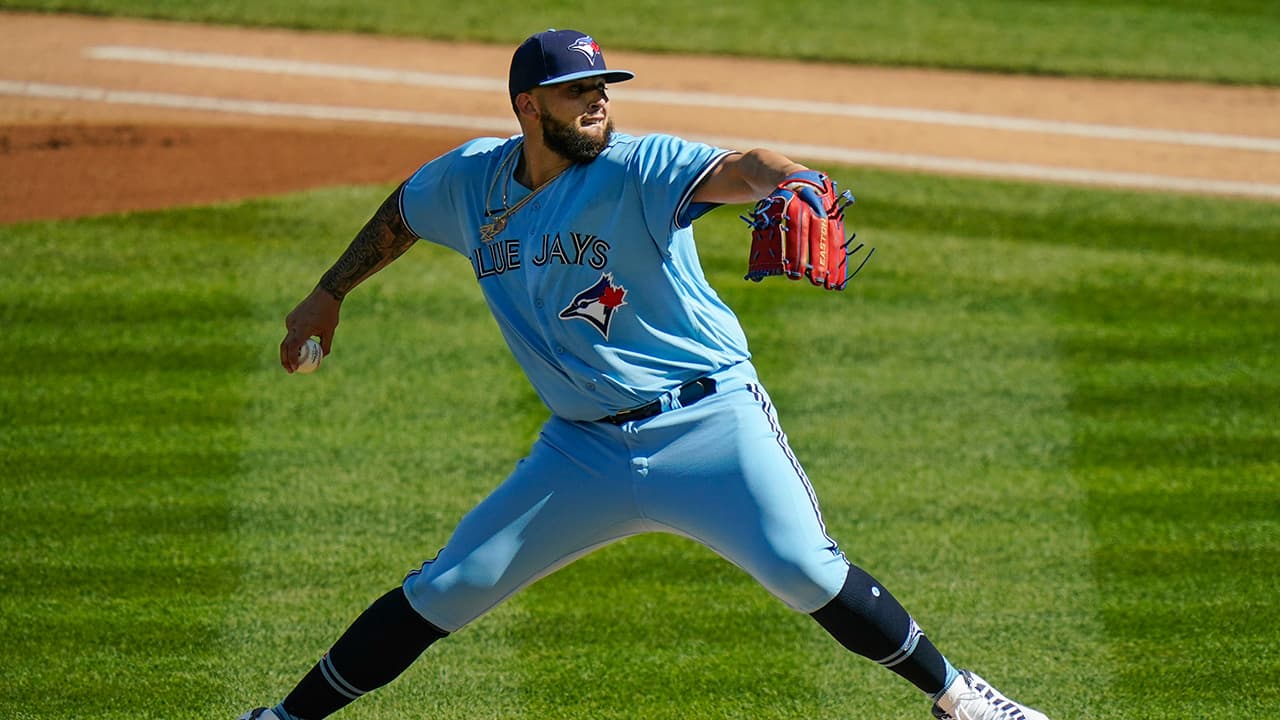 Photo credit:AP Photo/Frank Franklin II
What a debut that was. Six innings, no runs, two hits, seven strikeouts.
The game didn't quite start as planned, as Manoah walked Yankees lead-off hitter DJ LeMahieu on four pitches. Manoah settled in after that striking out the next hitter then getting Aaron Judge to strikeout with a 97 mile an hour heater right down the middle, which I am sure you have all seen but is too good to not show again.
That was the hardest pitch Manoah threw on the day. He averaged 94.9 mph with his fastball which is right in line with his minor league velocity. He threw 30 fastballs generating 14 swings and six whiffs. The fastball can be tough on hitters because of the spin rate on the pitch. Per
Baseball Savant
, Manoah's four-seamer had a spin rate of 2475 revolutions per minute, which places it among the top 100 spiniest fastballs in the league. With a fastball with that type of spin, you throw it up in the zone and that is exactly what Manoah did.
That fastball pairs very well with his slider and is going to cause nightmares for opposing hitters.
Manoah threw just about as many sliders as fastballs in this game. He got three strikeouts with the slider, though just two whiffs. Manoah averaged 82.4 mph on the pitch but that was with a max of 86 mph and a low of 79.2 mph. With that type of velocity difference, it's almost like it's two different pitches. Manoah left a few too many sliders out over the middle of the plate but that velocity gap helped him get away with those mistakes.
That slider just hangs up there and it could have easily been clobbered to tie the game. Thankfully Judge missed it and it ended up a fly out. With that being said the slider is a very good pitch and is a weapon for Manoah. The way it moves, and the way it moves with the fastball is a deadly combination.
With a fastball-slider combo as strong as that, it's no wonder how Manoah was able to dominate Triple-A the way that he did. Manoah carved up Triple-A with just two pitches which raised some questions about his third pitch and whether his change-up can be an effective offering in the big leagues. It's just one start but that change-up seems to play against a big-league hitter. Just ask Rougned Odor.
Manoah throws a hard change-up at 89.3 mph. As Odor learned he gets some wicked movement on that pitch. He threw 13 change-ups, primarily throwing it to lefties attacking that outside corner of the plate.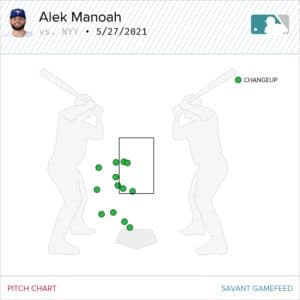 Manoah threw three change-ups to righties and it will be interesting to see how often he goes to that pitch against right-handed batters. It's a good pitch to keep hitters off balance and keep them away from just sitting fastball or slider. As far as the question marks about this pitch, I think Manoah answered them. This is a pitch that can get big league hitters out.
Manoah also throws a two-seam fastball which Baseball Savant is classifying as a sinker. He throws the sinker as hard as his four-seamer averaged 94.5 mph. He threw 19 sinkers; just three were put in play, two groundouts, one by Judge and Gleyber Torres in the fourth and a soft single by Miguel Andujar in the fifth. Like the change-up, this might be pitch he goes to a little more against lefties as it moves in the opposite direction of his slider.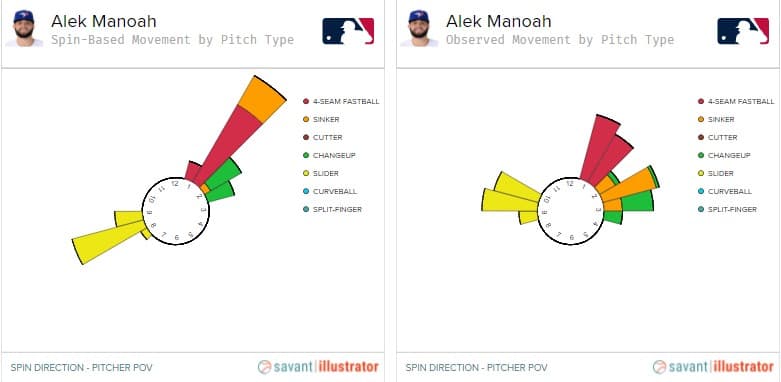 Spin deviation shows how Manoah's pitches are mirroring together and why they are difficult for hitters to pick up. As a reminder, the graph on the left shows the spin of Manoah's pitches out of his hand, and on the right is the observed spin of the pitch at the plate. We can see that Manoah releases his four-seam, sinker, and change-up with a similar amount of spin; between 1:00 and 1:45.
However, when the ball gets to the plate, the four-seamer is at 12:45, the sinker at 2:00 and the change-up at 2:30. That is a lot of moving parts and will help Manoah not only get swing and misses but help him keep the ball off the barrel of the bat. As we saw in the Judge at-bat from above that little bit of movement can be the difference between a home run and a fly out.
Overall this was a tremendous debut by Alek Manoah. He displayed all four of his pitches, throwing each pitch at least 15% of the time, something I am sure the Blue Jays love to see. He showed he is more than just a fastball-slider pitcher and has a change-up that he can use to get left-handed hitters out. It was about as close to a perfect outing as you could get and it came at the perfect time for the Blue Jays.
They need the pitching badly right now and while it's far too early to say Manoah is the answer to the team's problems, he certainly passed this first test. Now let's see how teams scout him and what adjustment hitters make. His next start should come against the Marlins in Buffalo.