Breaking down the evolution of Kevin Gausman's elite splitter
Photo credit:Neville E. Guard-USA TODAY Sports
After falling short in each of the last two off-seasons, the Toronto Blue Jays finally landed their prized possession earlier this winter when they acquired starter Kevin Gausman, who featured one of the top pitches in the sport during the 2021 campaign.
Coming off the best statistical performance of his career, where he posted career bests in innings pitched (192.0), ERA (2.81), xERA (3.55), FIP (3.00), OPP AVG (.208) and fWAR (4.8), Gausman – who accepted his qualifying offer last winter –  reached free agency and ultimately agreed to a five-year, $110-million contract with the Blue Jays.
Putting his all-star showing into perspective with the rest of the majors, though the 6'2″ hurler finished sixth in voting for the 2021 National League Cy Young Award, he still proved to be one of the top-performing starters amongst the competition. In turn, the 30-year-old's 4.8 fWAR rating finished eighth highest among all qualified starting pitchers, according to
FanGraphs.com
.
One of the biggest factors that led to Gausman's remarkable 2021 season was the success of his mid-80s splitter, which dominated opposing batters on both sides of the dish all year long.
It didn't matter if a left-hander or right-hander was at the plate, his devasting off-speed offering was extremely effective against both types of hitters – something Jurickson Profar and Manny Machado discovered the hard way. (Video courtesy of Rob Friedman/Pitching Ninja)
Paired with his mid-90s four-seamer, which he consistently located in the upper half of the strike zone, Gausman's splitter proved to be virtually untouchable throughout the majority of the summer and served as his primary strikeout weapon. Based on most advanced analytic metrics, it was considered one of – if not the most – elusive pitch in the majors last season.
According to
Baseball Savant's run value metric
, the right-hander's off-speed pitch finished tied for second-highest (-23) against all other offerings in that department, among all qualified hurlers who compiled at least 200 plate appearances with their respective pitches.
In addition, the former first-round selection also registered the second-highest strikeout rate (45.8%) and whiff rate (45.9%) amongst those same qualifications.
What's even more mystifying is that Gausman's splitter was productive at times in the past, however, it certainly didn't reach elite status as it did during his two seasons with the San Francisco Giants. In fact, it wasn't anywhere near as effective at inducing swings and misses while also limiting extra-base power before the shortened 2020 campaign.
| | | | | | | | |
| --- | --- | --- | --- | --- | --- | --- | --- |
| | AVG | xAVG | SLG | xSLG | wOBA | xwOBA | SO% |
| 2013-2019 | .197 | .183 | .313 | .274 | .244 | .228 | 36.5 |
| 2020-Present | .126 | .143 | .207 | .210 | .163 | .175 | 47.6 |
Since then, as shown above, the former Giant's splitter has become far more effective at generating high strikeout totals and limiting the amount of damage it surrenders, especially when it comes to slugging percentage.
What changed for Gausman during his time in California? Multiple factors, actually. Most notably, the usage of his primary off-speed pitch has altered dramatically since his extended tenure with the Baltimore Orioles, where he was only able to scratch the surface of his potential.
Throughout the last decade or so, the Orioles have struggled mightily to develop starting pitchers and, unfortunately, the 2021 NL All-Star also fell into that category during his five and a half seasons at Camden Yards.
From 2013-2017, and half of 2018, Gausman's splitter was utilized in the mid-teens and rarely exceed 20 per-cent, which saw him relying on his fastball over 60 per-cent of the time. But soon after he was traded to the Atlanta Braves in 2018, he started to gradually increase its usage, albeit, during just a two-month span.
Once the 2019 season rolled around, the right-hander continued down this same path as his splitter's usage surpassed the 30 per-cent mark from April-June. Sadly, this increased workload didn't translate into immediate success, particularly in June, where it allowed a .400 AVG, .320 xAVG, .533 SLG and a .385 xSLG over 16 plate appearances.
Credit: Neville E. Guard-USA TODAY Sports
Following this disappointing performance, the Braves ultimately placed Gausman on waivers and he was eventually claimed by the Cincinnati Reds, who primarily utilized him as a multi-inning reliever down the stretch.
Over those final two months, the veteran hurler enjoyed a considerable amount of success with his off-speed weapon, throwing it over 40 per-cent of the time and generating a 44.9 per-cent whiff rate.
Granted, his overall results with the Reds weren't impressive, as he recorded a 4.03 ERA, 3.17 FIP, 2.49 xFIP, .247 OPP AVG and a 0.4 fWAR rating through 22 1/3 innings. Having said that, his encouraging 31.9 per-cent strikeout rate, which was largely made possible because of his splitter, was one of the key reasons why the Giants felt confident about pursuing him in free agency.
Even though the 2020 campaign only lasted a little over two months, limiting him to just 59 2/3 innings of work, Gausman started to form a strong connection with San Francisco's coaching staff and began to identify how his splitter could improve during that span.
While its usage ranged below 30 per-cent in his first go-around, however, that wasn't the case this past season as it was utilized 35.3 per-cent of the time – the second-highest usage of his career. Along with significantly increasing its workload, the Colorado native also adjusted his pitch mechanics regarding all four of his pitches, although it's had the biggest impact on his off-speed offering.
Prior to the 2020 season, Gausman's average extension – the distance between his release point and the mound – rarely ever exceeded six feet. But with the Giants, it climbed to 6.4 feet in 2020 and an inch beyond that mark during the following year.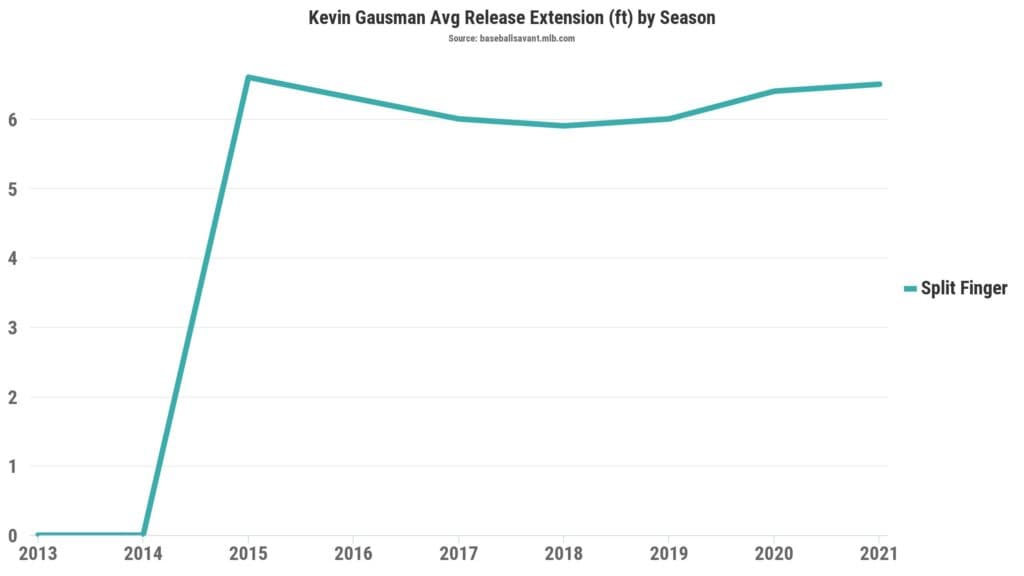 The difference of four or five inches may not seem like much, but when it comes to pitching, every little detail tends to make a huge difference. In this case, with Gausman releasing his splitter slightly farther away from the mound, opposing hitters have been afforded less time to observe each pitch than in previous seasons.
Combining his increased extension along with his repeatable pitching delivery, the Louisiana State standout has greatly improved his tunnelling ability regarding his top two weapons, preventing the opposition from excelling at pitch recognition.
Pitch location has also been an area of focus for Gausman over the last two seasons, where he's made some subtle changes involving his splitter. Unlike before, he's recently been commanding his off-speed pitch towards the middle of the plate, rather than having it break at the edge of it.
Here's the location of Gausman's splitter from 2013-2019:
Over his first seven seasons in the majors, Gausman's splitter tended to break down and in to right-handed batters, low and away to left-handers, which allowed them to give up on it at times.
But with his swing-and-miss offering largely finishing below the middle of the zone since 2020, those same hitters endured a much tougher time laying off pitches beyond the 17″ quadrant, forcing them to chase outside far more often than previously.
And here's the location of Gausman's splitter from 2020-present:
Assuming Gausman can transfer these mechanics over to the Blue Jays' organization, which certainly seems attainable, his splitter shouldn't encounter any issues sustaining its impressive production level from the last few seasons. If anything, with pitching coach Pete Walker at the helm, perhaps these two could enhance it even further.
While some fans may be concerned with the right-hander's fly ball rate involving his four-seamer, as it reached a career-high 34.6 per-cent clip in 2021, given that his splitter induced a 59.7 per-cent ground ball rate, those two metrics should continue counteracting each other moving forward.
Considering his strikeout rate has exceeded 29 per-cent in each of the last two seasons, even if his home run totals increase while moving back to the American League East Division, similar to Robbie Ray's case, most of the damage would likely be limited to just solo shots.
Even with one vacancy remaining in Toronto's starting rotation, this franchise's pitching staff – that currently features Gausman, Jose Berrios, Hyun Jin Ryu and Alek Manoah – already competes as one of the top units in the majors.