Digging into Bo Bichette's potential arbitration case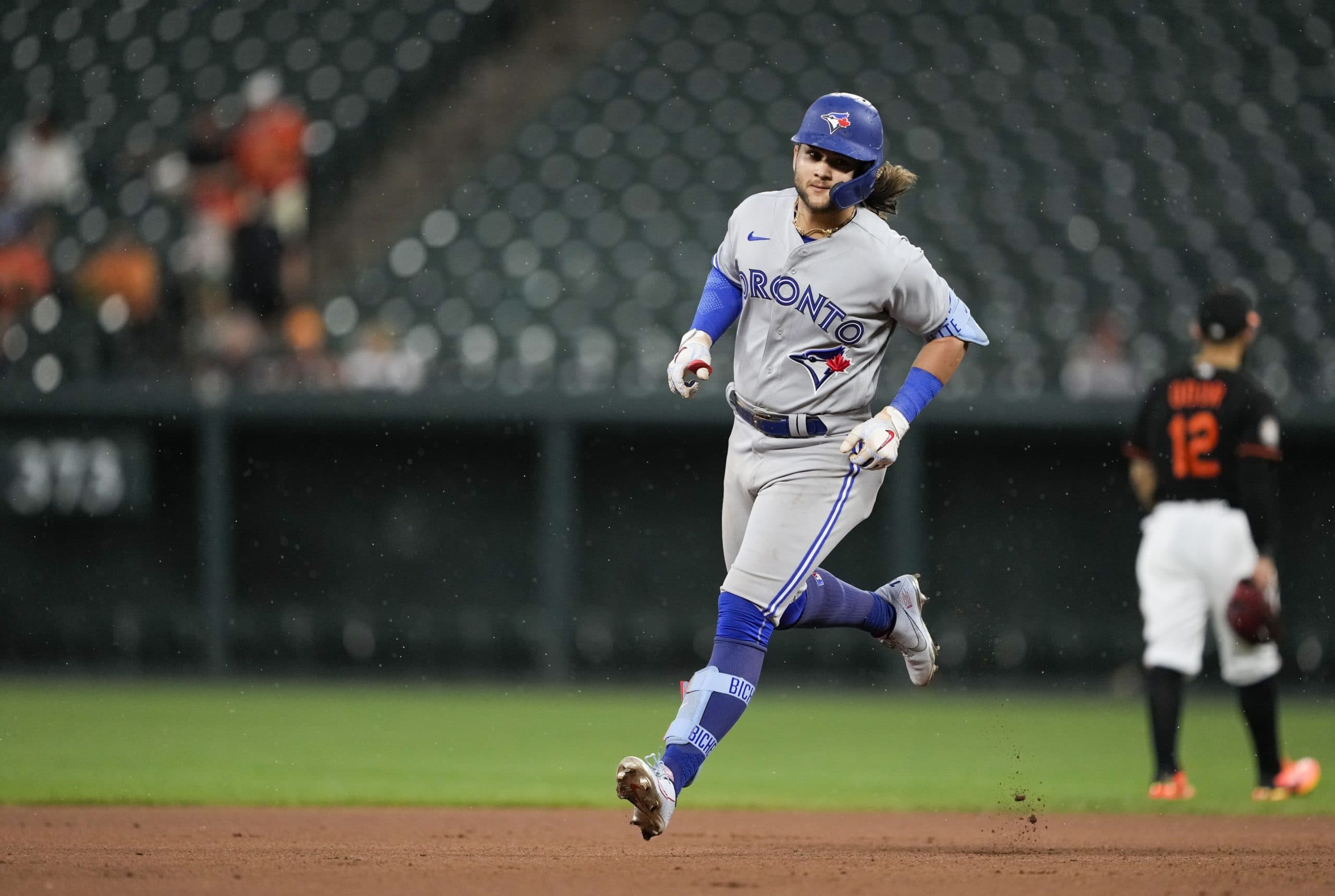 Photo credit:© Brent Skeen-USA TODAY Sports
For the first time in his career, Bo Bichette will be eligible for salary arbitration.
The arbitration process can be incredibly brutal. Just a few years ago,
Marcus Stroman revealed
that he lost his arbitration case with the Blue Jays, saying "the negative things that were said against me, by my team, will never leave my mind."
After an up-and-down season that had fans both celebrate and cringe, what kind of contract could be settled? In this article, we will look at it from two perspectives:
Bichette and his hopes and the club's view.
Bo Bichette's Arbitration Case
Often compared to the best young shortstops in the game, Bichette has certainly produced like one in his short career.
He has a career average wRC+ of 127, a plus runner on the base paths (BsR = 2.9) all the while running less due to the overall Blue Jays scheme.
As for this season, it was a tale of two halves for Bo as he did much better once Montoyo was fired than when he was the manager. The difference between the halves was a fairly significant 44 points when looking at wRC+.
With Montoyo as manager… 

After Montoyo was fired… 

While his crazy good September played a part, Bichette improved dramatically across the board from the middle of July onwards.
His K% decreased by around 5% while not losing much on his power numbers indicating that he was making proper adjustments at the plate.
He cut down on his K% and basically improved in every meaningful category. He had a hard-hit% in the 94th percentile, a hard-hit percentage% of 50% (highest of his career), an xBA in the 92nd percentile, all while sporting a 3.6 WAR this season, which is just under all-star level.
His overall offensive production is elite and worthy of playing shortstop. He had the highest wOBA for min 750 pitches of a SS under 25.
wOBA is .348, and Jeremy Pena is second with .310.
For all his criticism from fans and media, Bichette should be recognized for his elite productivity at such a young age, and for a player who has not hit his prime yet, these numbers should be sustainable for years to come, even in an "off-year."
Vladdy settled for $7.5 million last summer out of arbitration, I would expect that number to be similar to what Bichette will get.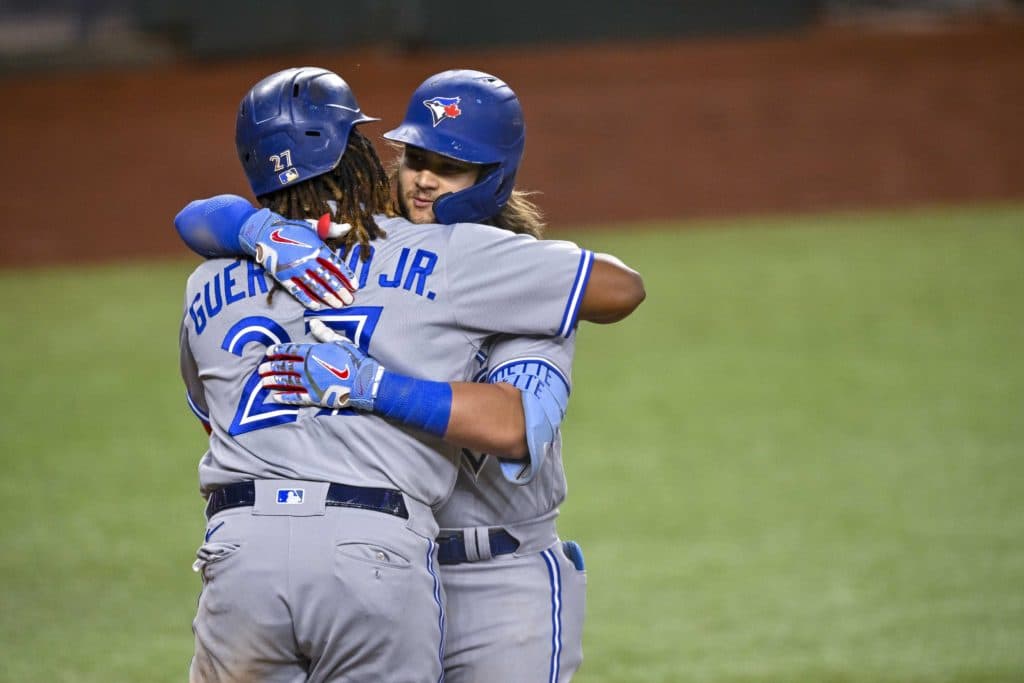 Mandatory Credit: Jerome Miron-USA TODAY Sports
The Front Office's Arbitration Case
While yes, he is viewed by many as "the next up," he still has a way to go to be consistently paid like one on a multi-year contract. And why should we pay him like a star if he is under team control until 2026?
One of the quickest ways to poke holes in Bichette's game would be his defense. OAA is a defensive stat that is considered one of the best ways to analyze a fielder. It does this by determining how many outs a fielder saved by analyzing a player's distance to the ball and distance to the bag, amongst other things. At the end of the 2022 season, Bo ranked in the sixth percentile.
Looking at any significant defensive metric or statistic, Bo is either neutral or clearly a negative at shortstop. So, this brings down his value significantly, especially if his bat is not producing at an all-star level.
While Bichette has the potential to make incredible plays and is certainly athletic enough to play shortstop, the team may be more confident not having to use his arm, which struggles with making deep plays at SS. He may be better suited to long-term at a less intensive position like second base (after all, Bo's arm strength went from the 70th percentile in 2021 to the 47th percentile in 2022).
Bo's bat, while inconsistent, had a lot to do with trying to be a little too perfect, always chasing the big hit. When he is hitting the ball it's no issue, but for most of this season, it felt like he would take one step forward and two steps backward.
What is probably the biggest grievance against Bo at the plate is his chase rate. This has to do with swinging at 47% of the first pitch and being hyper-aggressive in virtually all of his at-bats.
Some might say, that's just how Bo is as a hitter, and to be as good as he is, he needs to hack. However, the front office might argue that his approach was a detriment to the team and that they were forced to slide him back multiple times in the order to correct his swing/approach.
Conclusion
Arbitration is a messy, messy business. I wouldn't be shocked if both sides prefer a long-term solution eventually, but I doubt either party would want to sign the contract right now.
For Bo, this is considered a down year, so he's much more likely to want to bet on himself this upcoming season and continue with the positive adjustments he made in the last half. For the Jays, they want to know which version of Bichette is the real one. Will he swing at every pitch again, or will he develop a more consistent eye at the plate?
That being said, I think it's in the best interests of both parties to keep it civil, give the man a worthwhile raise, and see how 2023 goes. As for what he might get for this contract, if it's settled out of arbitration, look for it to be close to what Vladdy made this year.
$
6.5 million dollars seems fair for Bo Bichette given where he's at in his career.
---