Digging into José Berríos' struggles this season and what changed during his gem against the Twins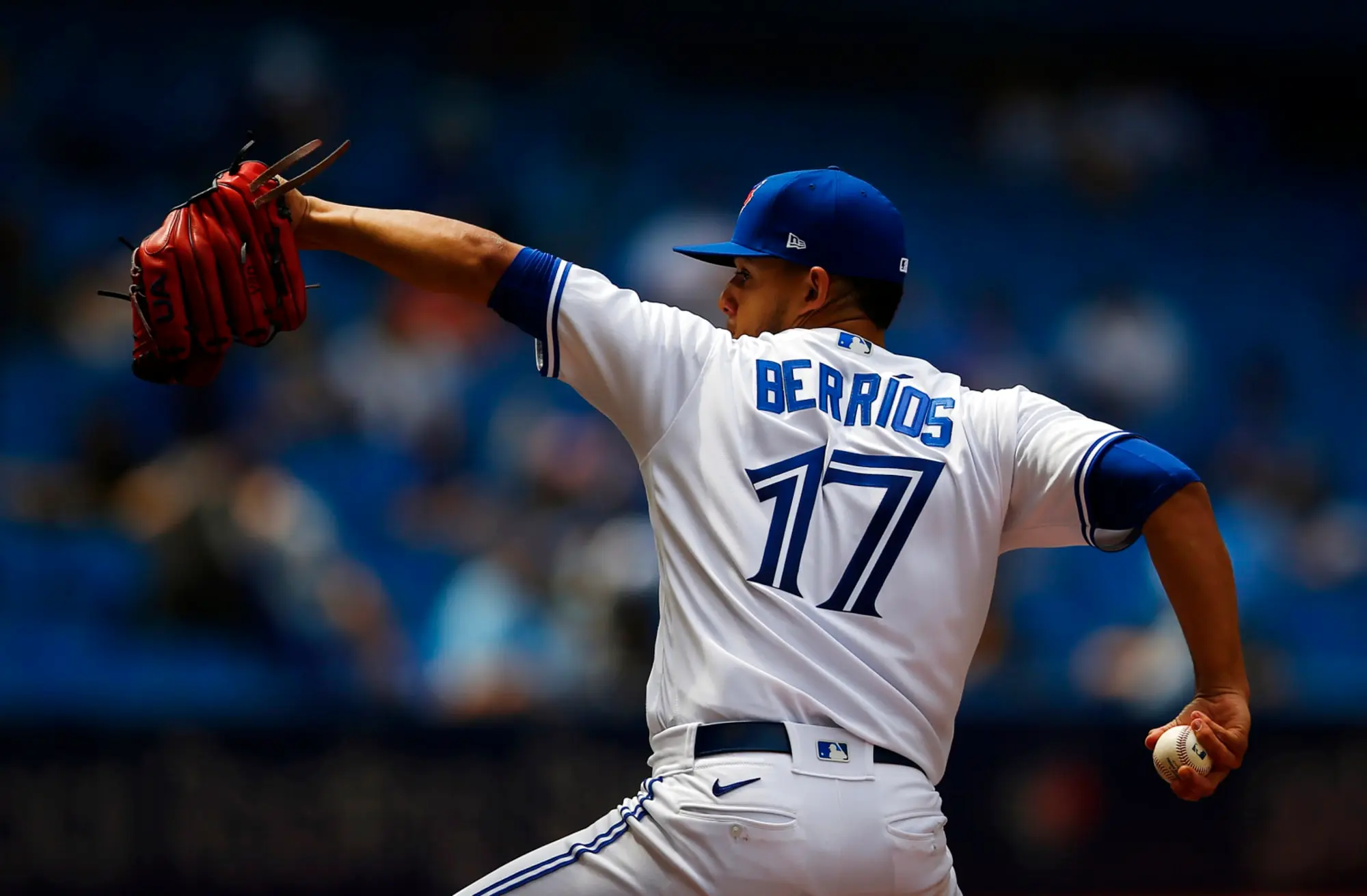 On July 30th, 2021, the Blue Jays acquired José Berríos from the Minnesota Twins in exchange for Austin Martin and Simeon Woods-Richardson. The trade has both been much maligned and much heralded by Blue Jays fans at different times. But now, in the season immediately succeeding a seven year contract extension, many Blue Jays fans are ready to make up their minds. Here's why Berríos' judgement day isn't going so well. Yet.
To begin the season, José Berríos was handed the ball for the Blue Jays first home opener at Rogers Centre since 2019. He promptly allowed 4 runs and only managed one out. Unfortunately for the Jays, this has not appeared to be a blip on an otherwise squeaky clean radar. Berríos' xERA sits at a gaudy 7.16, more than a full run higher than the second worst pitcher in the category (Zach Plesac). His ERA and FIP, while better, are both over 5.00. Point is, Berríos was supposed to be the ace of the staff. Through the first 2 months of the season however, he wasn't pitching like it. But yesterday, he posted a career high 13 strikeouts in 7 innings, allowing only 2 runs. So what's caused Berríos' struggles, and what changed yesterday?
Struggles
Fastballs:
To start, Berríos is simply throwing too many fastballs. He's throwing his four seamer more often than he's ever thrown any pitch in his career thus far, as he goes to the heater 36.5% of the time, which is a shocking 9.8% more often than last year. This is despite the absolutely horrific .456 wOBA that hitters have maintained vs. the 4SFB. Though he's not exactly posting a low wOBA with any of his pitches, it's by far the worst. The second poorest pitch of his is the sinker, which is currently sitting at .343. According to xRV (housed at Cameron Grove's
Pitching App
), Berríos' 4SFB is his second worst pitch, with only his changeup grading out worse. According to the basic RV, it's straight up his worst pitch (and has been ever since 2020). Additionally, he's throwing both his sinker and four-seamer inside the strike zone more than ever, leading to a huge spike in the barrel rates of both pitches. Berríos' 4-seamer is not a good pitch, and yet he's throwing it more than ever. This needs to change.

Launch Angle and GB%:
An absolutely huge issue for José Berríos this season has been home runs. He's allowing homers at a rate of 1.63 per nine innings, which is the highest rate he's posted since his rookie year in 2016. His groundball rate has absolutely plummeted since last year, dropping nearly a dozen percent to 31.4%, 9th lowest in baseball among pitchers with 40 IP. He's allowing the second highest line drive rate among that same group of pitchers, and his fly ball rate is 23rd. This contributes to the jump in BABIP that Berríos has seen this year, up from .277 to .323. The issue for José is that his BABIP won't come down when his batted ball distribution is very line drive heavy. The issue for Berríos here is pitch location. He's allowing an average launch angle of 12.2 when he keeps the ball down, but that average jumps to 21.6 degrees when the pitch is located anywhere else.

The Connection:
Four-seam fastballs are the pitch most conducive to high launch angles. They've allowed an average launch angle of 18.7 degrees this season, while all other pitches combined are only at 9.8 degrees. Berrios has seen a massive jump in his 4SFB usage, and to go along with that, he's seen a massive jump in LA. To corroborate that, his four seamer has had the largest jump in launch angle of any of his pitches. His curve has also taken a rather large leap, although it took a big drop last season, so the change is likely just a regression back to the mean. This is highly indicative of the fact that Berríos' jump in fastball usage is leading to higher launch angles, which in turn, is leading to more fly balls and line drives.
Mound Positioning:
This is a really weird one. Upon a trip to the film room, it's clear Berríos has inexplicably changed his positioning on the mound, moving significantly towards the first base side of the mound. He initially made this change for his start against Seattle, but has continued since. It's unclear why, I haven't heard any mention of it, from Sportsnet or otherwise (Note: Dan Shulman did mention it yesterday against Minnesota). Theoretically, he made the change to prevent arm-side misses, something he has indeed done significantly less since making the change. Regardless, I'm actually a big fan of the change by Berríos, and I hope to see him continue to do it moving forward. Berríos has seen absolutely horrid results when he leaves pitches arm-side, as opponents are knocking a .441 xwOBA against those pitches. Meanwhile, when he's able to drive the pitch glove-side, that xwOBA falls to a much more respectable .345. Additionally, he's just simply seen better results since making the change. His FIP and xFIP have both improved since making the change. They'd have improved even further if an inexplicable drop in spin rate and velocity hadn't made him easy pickings against the Angels. He's really pitched a lot better since making that change (his numbers were also hurt when Montoyo left him in too long against the Cardinals), and he should continue with it until the results say otherwise. Here's a before and after of Berríos' mound positioning, for reference. You can see how he's completely over on the third-base side of the rubber against New York, but is way over towards first against the Angels.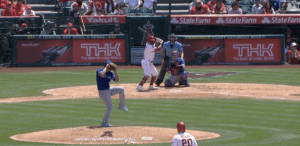 Successes
Yesterday, Berríos got his opportunity to rebound from an absolutely devastating start against the Angels. His outing was not without scares, as he allowed an absolute tank to Jorge Polanco in the first inning, to put the Twins up 2-0. However, he ultimately rebounded for what easily was the best start of his young season.
Berrios made many great changes during this outing, but he also stuck with some things that worked. He continued to pitch from the first base side of the rubber, as previously mentioned. He also evened out his pitch usage, throwing 34% curveballs, 29% 4-seamers, 24% sinkers, and 12% changeups. This is a huge improvement, but Berríos could do with still throwing less four seamers. Two of his three hits came off the straight fastball, and both of his earned runs did too. However, he attacked hitters brilliantly. He kept the ball down all game, throwing his sinkers arm-side and his curveballs glove-side to excellent effect.
Though Alek Manoah and Berríos are very similar pitchers on the surface, Manoah has exceptional success pitching up and down, whereas Berríos excels when pitching left and right. His sinker was absolutely deadly and he averaged an extra 3.0 inches of horizontal movement as opposed to his yearly average. This allowed him to keep hitters off balance, as the late movement is what's exceptionally deadly on fastballs. His spin rates were up across the board as well, which definitely contributed to the big boost in strikeouts. Overall, Berríos had an absolutely terrific start, with room still for improvement.
Conclusions
There's no doubt José Berríos has struggled to begin his season. There's also no doubt he's pitched better of late, apart from what I'm going to chalk up to a blip against the Angels. However, there's still some changes to be made. Berríos has thrown what is simply too many four seam fastballs thus far. There's an argument to be made that it's not his best fastball, but even if you subscribe to the "sinkers aren't as effective" line of thinking, there's no doubt he needs to dial back the four-seamers. He is also throwing high in the zone far too frequently, which is contributing to the higher launch angles. In order to sustain his recent success, Berríos should continue with the change he's made to his mound positioning, while also throwing more sinkers down in the zone. Sinkers are ground ball machines, and more frequent usage of his sinker will allow Berríos to bring his launch angle down, allow fewer homers, and get some more efficient outs. Berríos' 4-seamer is his 3rd best pitch (at best), and his usage needs to reflect that.
Additionally, Blue Jays fans that are quick to make statements on the trade should reserve judgement for now. Every pitcher has ups and downs, and while he's had a down to begin the season, there's no telling what kind of up Berríos may be starting now. Beyond that, Austin Martin and Simeon Woods-Richardson are yet to play a big league inning, and there's no telling if they ever will. Let's see what the rest of this season holds for José Berríos.
---