Erik Swanson brings swing-and-miss element to Blue Jays' bullpen
Photo credit:Joe Nicholson-USA TODAY Sports
The Toronto Blue Jays entered this off-season featuring a talented but flawed bullpen, particularly in the swing-and-miss department. Though, that's not as much of a concern following the Teoscar Hernández trade.
With Hernández traded to the Seattle Mariners, the Blue Jays received a pair of hurlers in return, right-hander Erik Swanson and left-hander Adam Macko. While both pitchers were likely unknown to most of the fan base, each carries plenty of potential upside, especially Swanson, who was one of the premier strikeout relievers in the majors last season.
Enjoying a breakout performance, the 29-year-old registered 70 punchouts across 53.2 innings, resulting in a career-best 34.0 per cent strikeout rate. The 6-foot-3 hurler was also effective at limiting walks, producing a 4.9 per cent walk rate. That earned him a 29.1 per cent strikeout-to-walk rate difference, good for fifth among qualified big-league relievers, according to
FanGraphs
.
Swanson also graded extremely well in whiffs and chases, ranking in the
75th and 93rd percentiles
, respectively. His impressive strikeout rate also ranked in the 96th percentile, with his walk rate ranking in the 89th.
All those swings and misses helped Swanson post career bests in ERA (1.68) and FIP (1.85) during his fourth – and final – season with the Mariners. The veteran righty also produced a quality xERA (2.30) thanks to his ability to limit hard contact as his hard-hit (30.4 per cent) and barrel rates against (6.4 per cent) placed in the 96th and 68th percentiles, respectively.
The former Mariner didn't pitch in many high-leverage situations in 2022, evidenced by his 1.1 average leverage index, but still proved to be a valuable arm in a bullpen headlined by Andrés Muñoz. As a result, he finished tied for 10th in fWAR (1.7) among major-league relievers.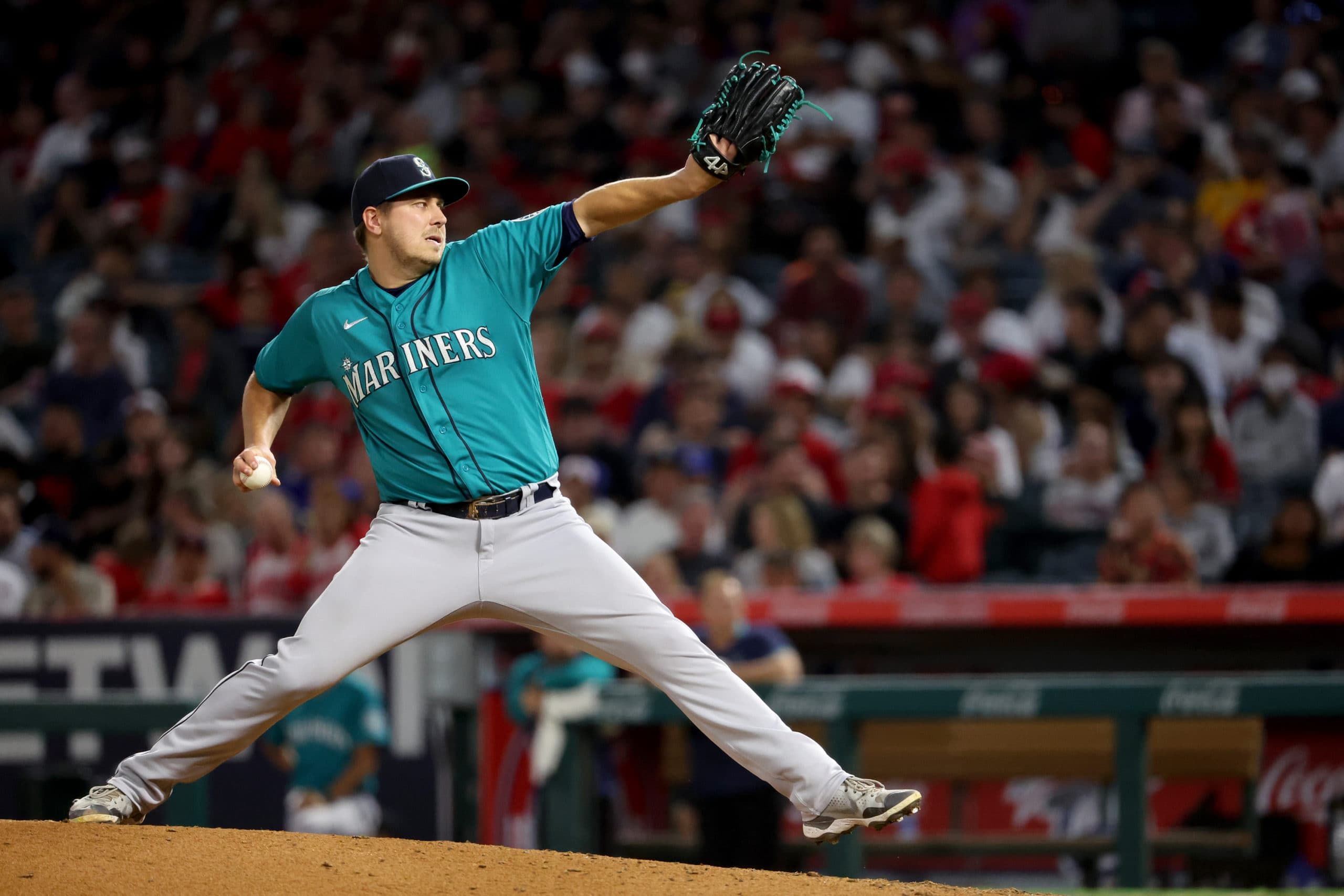 Credit: Kiyoshi Mio-USA TODAY Sports
In a perfect world, of course, the Blue Jays are developing pitchers like Swanson themselves rather than trading one of their best power hitters for one. And they are making progress in the minors with the likes of Nate Pearson, Yosver Zulueta, Hagen Danner, Hayden Juenger and others on the way.
So the narrative around the organization's inability to develop impact relievers will soon begin to change. When those players arrive, the club can further complement its bullpen as it'll already possess multiple swing-and-miss arms at the major-league level, starting with Swanson.
What's more impressive is that the eighth-round selection from 2014 doesn't require high velocity to be successful. Rather than blowing away the opposition with pure stuff, the Iowa Western Community College product relies on heavy doses of spin for all three of his pitches (fastball, splitter, slider) to be effective.
Swanson's fastball, which averaged 93.6 m.p.h. in 2022, serves as his primary offering versus right-handed and left-handed hitters, as it's utilized north of 50 per cent against both types. On the surface, you wouldn't expect it to fare overly well with that high usage, though opponents hit just .185 AVG and .228 SLG against it. His heater also posted a 36.3 per cent strikeout rate and a 29.3 per cent whiff rate.
How does the soft-throwing righty's four-seamer generate high amounts of swing and misses? Simple, it defies gravity. Ok, maybe it doesn't, but it certainly provides the illusion that it does.
With an average spin rate of 2,291 RPMs, ranking in the 63rd percentile, Swanson's fastball generates plenty of backspin and forces the opposition to think it's rising when it's not. Each pitch that any pitcher throws will decline upon release, but those capable of manipulating their heater can limit its vertical movements, which applies to the newest Blue Jays hurler.
Last season, Swanson's four-seamer averaged 12.5 inches of drop, 1.7 inches better than other big-league fastballs at a similar velocity. It also helps that it averaged 10.0 inches of horizontal movement, 3.9 inches more under those same qualifications.
The Fargo, North Dakota, native also maximized almost all of the spin on his fastball, resulting in a 99 per cent active spin percentage. That means all but one per cent of the spin his four-seamer generated was contributing to its movements.
Another reason Swanson's heater was effective is because of its location in the upper half of the strike zone. Thanks to its deceiving movements, it avoided barrels and caused batters to either swing through it or give up on it, leading to several called strikes above the belt.
His splitter's vertical (34.2 inches) and horizontal movements (12.0 inches) aren't as elite as his four-seamer's, though they still grade above average, along with its 94 per cent active spin percentage.
Like Kevin Gausman, Swanson uses his fastball at the top of the zone to help set up his splitter in the lower half, effectively disguising his top two weapons. And when both are tunnelled effectively, it's tough to determine which is being thrown, providing him with a potent one-two combination.
Thanks to that pairing, the talented right-hander's splitter induced a career-best 34.9 per cent strikeout rate and a 28.8 per cent whiff rate. It also recorded a 38.4 per cent chase rate, the highest among all three of his pitches.
Swanson's mid-80s slider, meanwhile, doesn't compare as well analytically as his other two offerings, but it still serves a purpose in his repertoire. And he likely wouldn't be as effective without it.
It is mainly utilized versus righties, featuring a 37.2 per cent usage in 2022, as a weapon to prevent opposing hitters from sitting on either his fastball or splitter. His breaking ball got hit hard at times, allowing two home runs and a .500 OPP SLG, though it also created a 31.1 per cent whiff rate. Still, it could benefit from a slightly lower usage.
Considering Swanson only threw his off-speed pitch 9.7 per cent of the time against right-handers, it'd probably be wise to increase that figure in 2023, especially since it didn't allow a hit. By making these adjustments, he could improve his overall results versus righties, including his swing-and-miss totals.
The former Texas Rangers prospect already features an effective game plan versus left-handers, leaning heavily on his fastball and splitter while occasionally mixing in his slider. That strategy led to a .200 OPP AVG and a 36.7 per cent K-BB rate difference this past season, providing him with quality reverse splits.
Of course, there is usually some level of risk involved with acquiring relievers, as volatility is a common trait at that position. Based on Swanson's 2022 results and pitch arsenal, though, chances are he'll be successful in replicating his production next season and beyond. The key, however, will be maintaining the movements involving both his primary and secondary weapons.
But assuming that occurs, Swanson projects to be a welcomed addition to the Blue Jays' bullpen. He joins a talented group that includes Yimi Garcia and Anthony Bass, who'll be tasked with bridging the gap to closer Jordan Romano. That trio may also be called upon during save situations, too.
Plenty of work still lies ahead for Toronto's front office, though management's first notable off-season transaction has addressed one of the club's most glaring weaknesses from the 2022 campaign. It has also opened additional opportunities to improve a roster that won 92 games last season.
---