Even Before It's Over, the Lessons From This Blue Jays Season Are Clear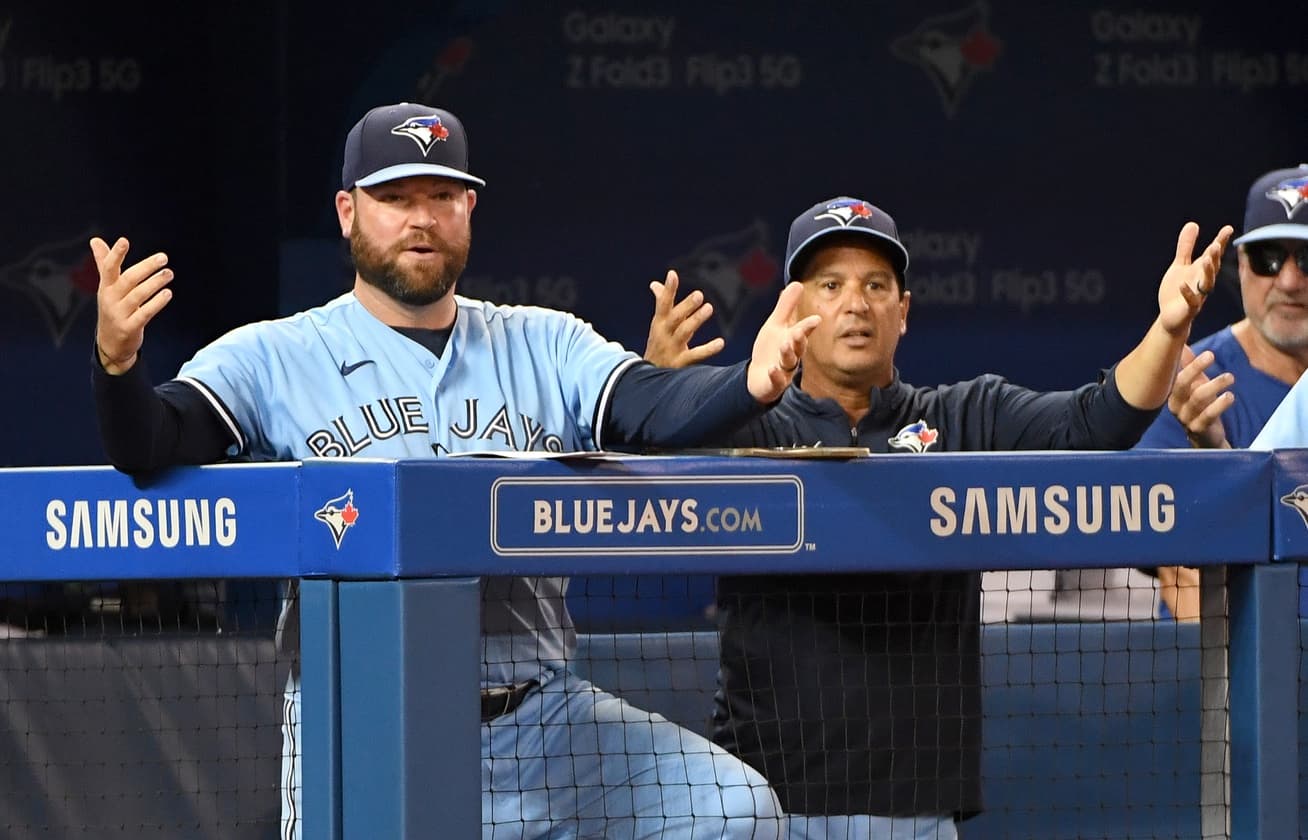 Photo credit:© Dan Hamilton-USA TODAY Sports
Somehow, despite trying their
best
worst over the past two weeks, the Blue Jays are still in the playoff race. Entering Monday's games, they are 5.5 games back of the 2nd wild card spot. Normally that might seem insurmountable with only one month of games remaining, but due to some lucky scheduling, it appears it might not be impossible to overcome with some well-timed wins and fortuitous opponent losses in the next stretch of games.
Even so, it's clear to anybody who has watched even a handful of Toronto's games that there is no need for them to be in this place right now. Their run differential is so much better than those of their wild card competition because, in truth, this Blue Jays team is one of the most talented teams in baseball, yet also one with glaring holes. They've outscored their opponents by 114 runs. Clearly this team
should
have more wins. Yet, they don't, and even if they manage to sneak into the playoffs in September, it'll be in spite of a few factors that I believe are easily correctable over the off-season.
The aforementioned glaring holes are actually a blessing in disguise. If this team was talented but underperformed and it wasn't clear what the issue was, fixing the issue would be tough. You can't fix what isn't obviously broken. But this team is different, and so Ross Atkins' job over the winter isn't so daunting as it may seem right away.
Most obviously, the bullpen needs addressing. 10 months ago, I wrote an article for this website
clamoring for the Blue Jays to spend big on relievers
. They are notoriously difficult to predict, but the big guys always get results. Stuff doesn't disappear overnight, and when targeting the best relievers on the market, that is important and why a GM can sleep easy giving a lot of money to a top reliever. Instead of doing that last year, the Blue Jays wound up with a few players that had the potential to make a very good bullpen, but not players that were guaranteeing a good bullpen. Kirby Yates is incredible when healthy, but the Blue Jays were able to get him cheap because he hasn't been healthy in a while. David Phelps and Tyler Chatwood were savvy pickups that could have worked out if everything went perfectly. It didn't.
So instead of trying this "sign a bunch of players and throw them against the wall to see who sticks" business again next year, this front office needs to play at the top of the market for relievers. It's the only way to come close to guaranteeing that the results will match. There is plenty of payroll to go around, and the downside, both statistically and financially, of not spending big money on the best relievers was evident this year.
 It shouldn't take much 
convincing of Rogers to open the books to acquire a difference-maker.
The lack of bullpen options leads to my second point nicely, and that is everybody's favourite subject, Charlie Montoyo. I don't care if the Blue Jays bring back Montoyo or if they fire him, but what they need to do regardless is have a manager next year that manages games in the early part of the season just the same as he would after the trade deadline. A win in April counts just as much as a win in September, and an aspect of Montoyo's managing that has been subpar is his complete lack of desire to win ballgames early on in the year. His post-game comments aside, what truly matters is how he approaches winning. His problem is that he has shown himself to be afraid to push. Maybe that's coming from the high-performance department, but then this same point can be made about them. Whoever the culprit is, it doesn't matter. What needs to change is that if the Blue Jays are in a close game next May 7th, they don't bring in the reliever who hasn't pitched in a few days because he is free. They need to rely on their top arms, which hopefully they will have more of, and use them heavily.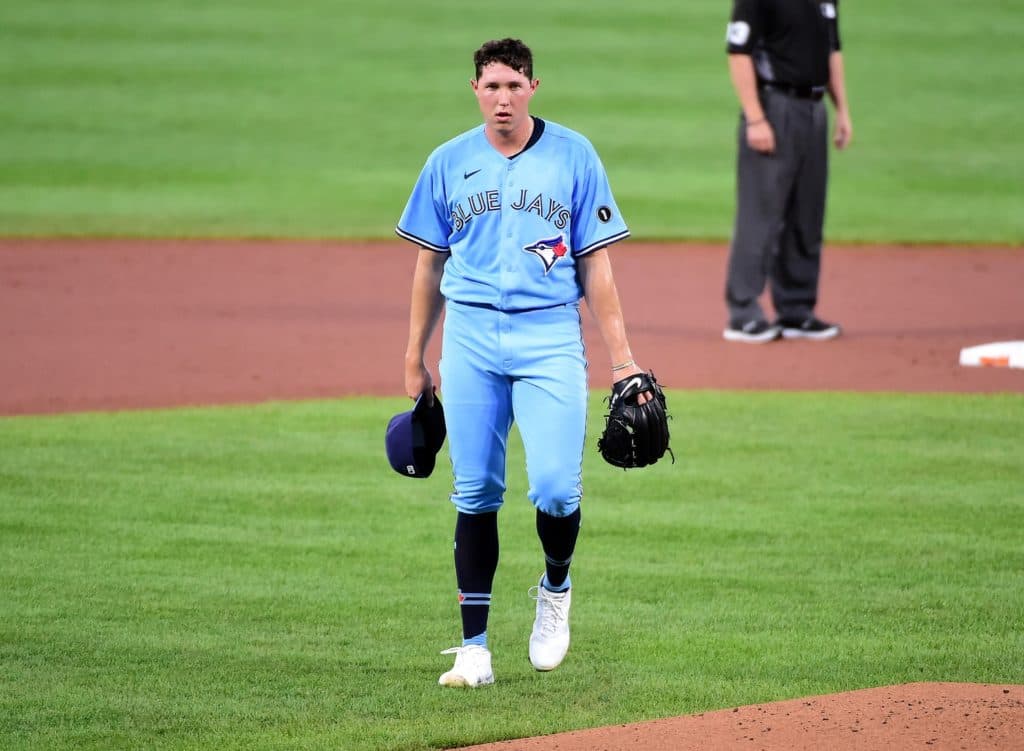 Aug 18, 2020; Baltimore, Maryland, USA; Toronto Blue Jays pitcher Nate Pearson (24) reacts after giving up a home run in the first inning against the Baltimore Orioles at Oriole Park at Camden Yards. Mandatory Credit: Evan Habeeb-USA TODAY Sports
The counterargument to this is that you can't use the same relievers over and over again without them getting hurt, and I'd argue right back saying that you can, or if they do get hurt, the point of building a deep bullpen is that you can withstand those injuries. The Tampa Bay Rays use their bullpen more than any other team in the American League, and, not coincidentally, have
an absurd number of pitchers
on the IL. But they also have the lowest bullpen ERA in MLB, because they came into the season with a plan, and built their organization around it. The front office needs to provide a roster of pitchers that can work often and successfully, and the manager in charge of controlling that group, be it Montoyo or somebody else, needs to use them like every day is a playoff game.
We've seen too many games this season where the Blue Jays starter gets in trouble, and rather than bringing in the team's best relievers, Montoyo goes with a mop-up guy. The game promptly gets out of hand, and despite the Blue Jays offense doing their best to come back, it's impossible to come back from large deficits every day. Saving your good pitchers to protect a lead that may never come is a waste of their limited bullets, and the front office needs to communicate to the manager that leverage exists not only in the seventh through ninth innings, but also earlier on if the situation calls for it. Managing with urgency is not just for the late season, it is for the entire season.
Lastly, the offense needs fixing. It's funny to say that because even right now, after a massive slump, the Blue Jays offense still ranks 2nd in wRC+ among the 30 MLB teams. But their flaws are well known. This is a boom or bust offense, one that draws walks in only 7.9% of their plate appearances, 6th worst in baseball. When Ross Atkins acquires players this winter, he needs to diversify the lineup and add high on-base players. This will also help the Achilles heel of the team, which is hitting in late and close games. It's much easier to stay true to an approach against a fresh reliever throwing 100 MPH when it involves patience and not just swinging out of your shoes every time a player gets up to bat. Having 9 nearly identical players makes it easy for a manager to pick apart this lineup once it is late, and diversifying the approaches of the hitters will make a huge difference when the offense is trying to come back in a close game, or when trying to score an added insurance run here or there.
In reality, all three of these lessons from this failed season actually run together. If the front office builds a deep bullpen, it'll make the manager's decisions less impactful and allow for more wiggle room. If the manager takes what he is given and uses it effectively, there will be less pressure on the offense to score a bunch of runs late in games against some of the best relievers available, and their struggles in late and close games, which are clearly mental at this point, should subside. Finally, if the offense can avoid the groupthink and show a variety of talents, then it will be able to score more runs, allowing once again for those managerial decisions about the bullpen to matter a lot less than they did in 2021.
This season wasn't all bad. The playoffs chances are not dead yet, and it's not out of the realm of possibility that this team can get hot, go on an extended run, and really make noise deep into October. But even if they do, that won't change the fact that for the past 5 months a few things have really been missing, and fixes for the 2022 season need to happen.