Ex-Blue Jays pitcher Ross Stripling knows what it means to call Rogers Centre home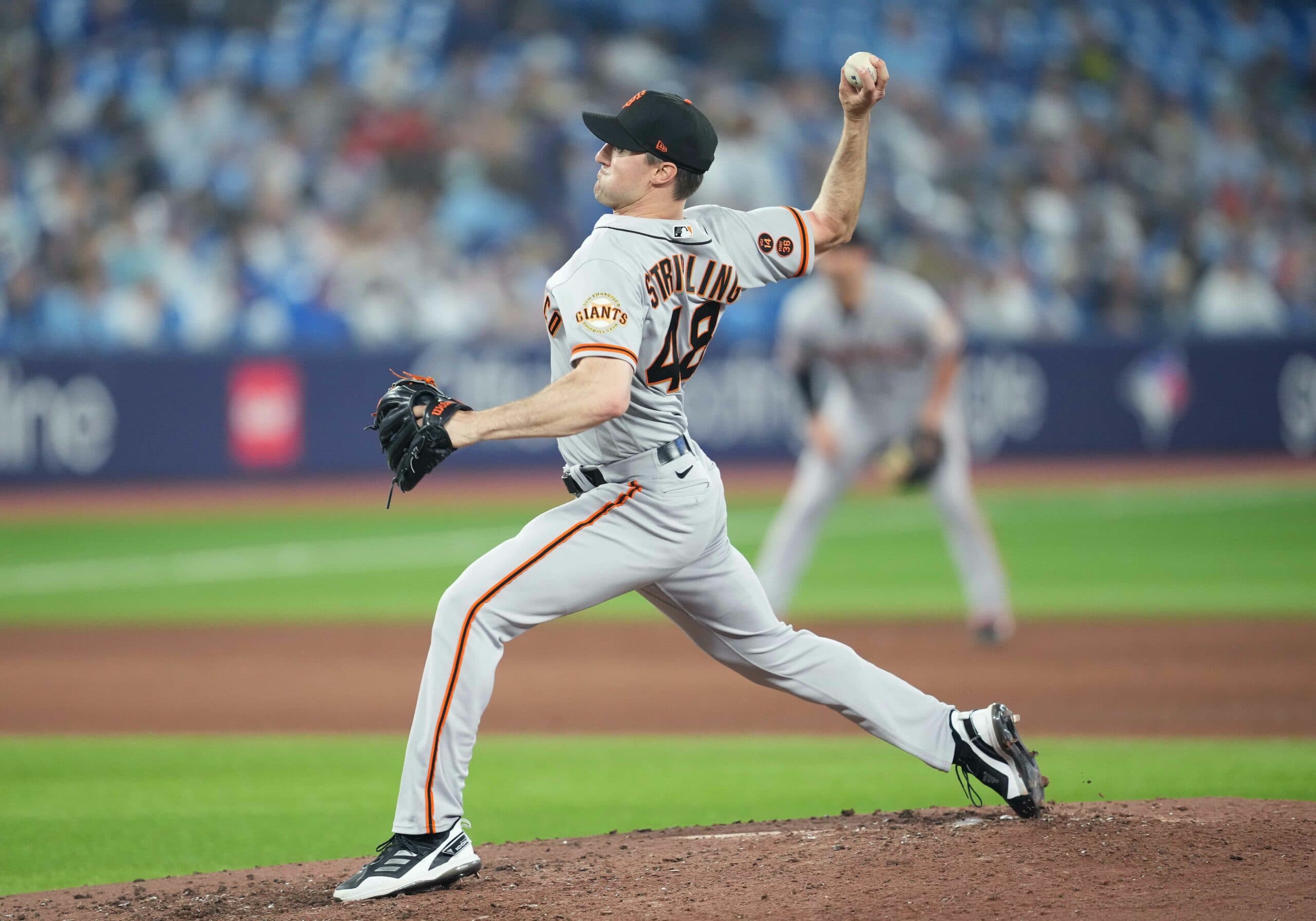 Photo credit:Nick Turchiaro-USA TODAY Sports
Pitching in front of an entire nation is a special honour, one former Toronto Blue Jays pitcher Ross Stripling doesn't take lightly.
Stripling, now a member of the San Francisco Giants after signing a two-year deal worth $25 million – including an opt-out after this season – last off-season, still fondly remembers his two-and-a-half seasons with Toronto's organization. But one moment in particular during the club's three-city 2021 season stood out by far.
The now-33-year-old will likely never forget the team meeting in Buffalo, where players and coaches debated whether they should return to Toronto for the final two months of the regular season after COVID-19 restrictions in Canada were reduced. As you might expect, not everyone was on the same page, at least initially.
A few who had never visited Canada, like Stripling, considered if it was worth leaving their family behind during a global pandemic. But then Bo Bichette spoke up, helping to convince his teammates about the importance of playing meaningful games at Rogers Centre.
"A lot of guys weren't going to be able to bring their family," Stripling said recently in an interview with the
Toronto Star's Mike Wilner
. "I had a newborn son. I wasn't going to bring him to Toronto, so I was going to not see him for two-plus months. And I was kind of in the camp of, 'Should we stay in Buffalo?' There were some other guys in that camp as well. And then there was Bo (Bichette) and some in (the other) camp who were like 'No. Just wait. We've got to get to Toronto. You don't understand.' He was spot on and I didn't know any better. If I did, I would never have been in the camp that I was in."
The Blue Jays would miss the playoffs by a single game, but, in the end, Bichette was right. It was crucial to make a triumphant and emotional return on July 30, 2021 – 670 days after the final home game of the 2019 campaign. After spending all of 2020 and opening the 2021 season in Dunedin, and then moving midseason to Buffalo, there was no better feeling than coming to Toronto ahead of a stretch run.
Emotions were running high for everyone. You could tell by looking at the players' faces as they entered from centre field during a pre-game celebration. It was like a scene from a Hollywood movie, as the main characters returned home from their gruelling journey.
Stripling, in particular, felt the weight of Toronto's fan base when he took the bump against the Kansas City Royals in the series opener, tossing 5.1 innings in a much-needed 6-4 victory in front of a playoff-esque environment.
"I was warming up to pitch, so I was kind of in the stands, kind of on the field," Stripling said. "Got to see it from the players' perspective, but also really got to see how emotional it was for the fans, tears everywhere. It's something you don't really think about.
"At the end of the day, you're just like, 'Eh, we're just playing baseball,' but sometimes you really see how important it is to a fan base, to an entire country. At the time I didn't understand — I'd never been to Canada, I didn't really understand what it was to be Canadian and the pride that is up here. Now (almost) two years removed from that and understanding how amazing this place is, it makes me feel the importance of that day even more and how cool that really was. It will be a top-three memory for my career."
The 6-foot-1 hurler found himself in a similar mindset on Wednesday, tasked with facing his former teammates for the first time since departing via free agency over the winter. It also marked his first appearance off the IL, tossing three innings of one-run ball in his return to Toronto.
Stripling has struggled mightily in his inaugural season with the Giants, performing to a miserable 6.88 ERA, 6.38 xERA and 6.25 FIP across 35.1 innings in 10 appearances (five starts), worth minus-0.4 fWAR. His strikeout rate (18.2 per cent) has dropped by over two per cent, whereas his walk rate (6.3 per cent) has increased by almost three.
A back injury sidelined the former Blue Jay for over a month prior to his return earlier this week.
---