Examining Blue Jays' latest playoff-clinching scenarios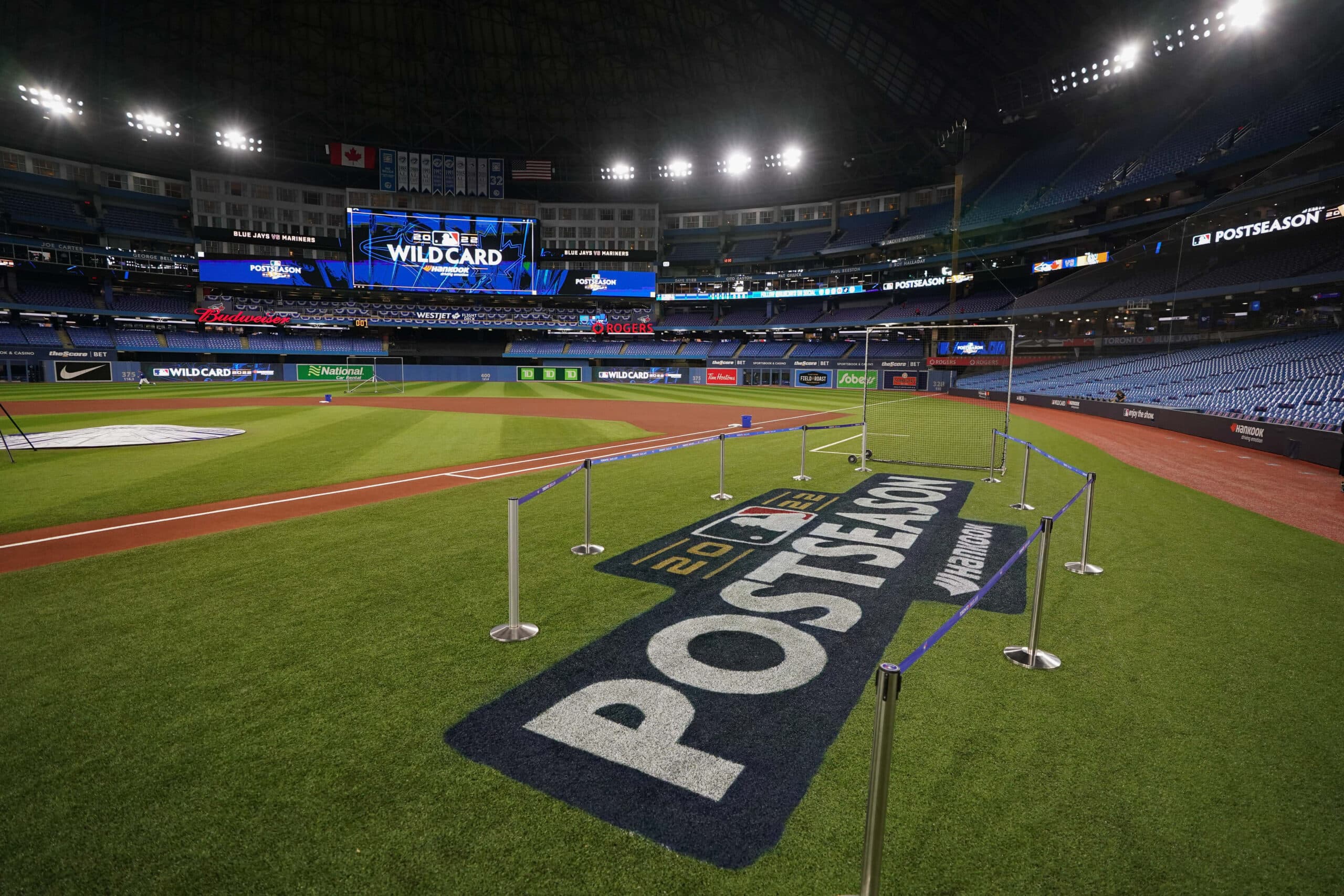 Photo credit:Nick Turchiaro-USA TODAY Sports
The Toronto Blue Jays, losers of two straight to the New York Yankees, are certainly keeping things interesting in the American League wild-card chase. But, at 87-71 and with only four games remaining, they're still in a favourable position to make the playoffs.
Don't just take my word for it, though. Let's use some calculations to support that theory and determine when would be the earliest this team could secure a post-season berth.
For starters, it's probably best to begin with the easy math. Since the Blue Jays' magic number remains at three, reaching 90 wins will guarantee a playoff position no matter what happens with the Seattle Mariners (85-73), Houston Astros (87-72) and Texas Rangers (89-69).
How would that work? Well, it's simple. The Mariners have just four games left in the regular season. Thus, even if they sweep the Rangers, they can't finish with more than 89 wins.
So, if Toronto avoids the sweep against New York and takes the first two versus Tampa Bay, the franchise will be popping champagne bottles following Saturday's game. But – and here's where things start to become a tad complicated – they could clinch even earlier than that.
There are a few potential scenarios where the Blue Jays could punch their ticket to the playoffs as soon as Friday. And here's what would need to happen:
Toronto wins Thursday & Friday + Texas defeats Seattle Thursday or Friday
Or
Toronto wins Thursday or Friday + Texas defeats Seattle Thursday & Friday
The common denominator (sorry, this probably feels like high school math class all over again) in both scenarios is the Mariners finishing behind the Blue Jays in the standings.
In the first one, Seattle would reach 86 wins by Friday but only have two games remaining. Even if they won out, the most wins they could finish with would be 88. Since Toronto would be at 89 wins, they'd claim at least the final wild-card seed.
As for option No. 2, the Blue Jays could earn a playoff berth with as few as 88 wins because the Mariners would still be stuck at 85 with only two games left. In turn, their win total wouldn't be able to reach higher than 87.
For those wondering about the Astros' part in all this, well, they don't exactly have one. For now, at least. Houston has essentially already done its part by taking two out of three over Seattle earlier this week.
The Astros are like the innocent bystander heading into the regular season's final weekend. With an off day on Thursday, they'll have three games remaining when play resumes Friday – all against the Arizona Diamondbacks, who're also vying for a playoff position. But the outcome of that contest won't directly impact the Blue Jays' ability to clinch.
If Houston wins, they'll be tied or one game ahead or behind Toronto. A loss, meanwhile, would put the Astros in danger of being unable to catch the Blue Jays, who could seal that fate with wins on Thursday and Friday as they own the tiebreaker. However, they'd still need the Rangers to take at least one of the first two versus the Mariners to clinch in either scenario.
Why is that? It all comes down to
tiebreakers
. Seattle and Texas own them over Toronto, whereas Houston has it over its cross-state rival. So, if the Mariners win on Thursday and Friday, they could tie and pass the Blue Jays with 89 wins. That'd also mean the Rangers would remain at 89 wins. Even if the Astros lose this weekend's series opener, they'd still be able to overtake them with a win total of 89.
Toronto will miss the playoffs if it ends this season in a four-way tie with Seattle, Texas and Houston. The AL West title would be decided by the team with the best combined winning percentage against the other two, which would be the Mariners.
Since the Astros possess a better combined winning percentage versus the Blue Jays and Rangers, they'd take the second wild-card seed, with the final one won determined by head-to-head record. With Texas winning the season series over Toronto, they'd secure the final playoff spot.
Finishing in a four-way tie is the less likely outcome of all these potential scenarios. At the same time, though, it's another reminder of how the Blue Jays' margin for error is becoming razor-thin yet again. And there aren't enough games remaining to resolve any additional miscues.
In saying that, all Toronto can focus on is taking this one game at a time, beginning with finding a way to earn a much-needed victory against New York on Thursday.
---