Examining the Shapiro Era Trades, Part one: The Wins
Photo credit:Dan Hamilton-USA TODAY Sports
Have you ever wondered how the Jays fared on the 105 trades they've made since the Mark Shapiro and Ross Atkins regime took over?
Well, I ran a Twitter thread detailing every single trade from November 20th, 2015 to the most recent trade on August 31st, 2022. Here are the interesting results.
This will be a three-part series, and we'll focus on the trades which were voted as wins, per voters. Just a note, I didn't include super minor trades, like Gio Urshela for cash.
Jason Grilli trade (2016):
The Jays traded prospect Sean Ratcliffe for 39-year-old reliever Jason Grilli. Seems like a minor trade, no? Well, Grilli was absolute nails for the Jays in the postseason push, posting a 3.64 ERA and a 4.29 FIP in 42 innings pitched.
Used primarily as their setup man, Grilli, who again, was 39 years old, exceeded expectations and delivered for the Jays. Ratcliffe, a Canadian, never reached above short season A ball and has been out of affiliate ball since 2016.
The Jays traded Grilli to Texas in 2017 after struggling to start the year. Grilli retired at the end of the season, while Eduard Pinto never played an MLB game.
Toronto robs Pittsburgh blind (2016):
The Jays traded struggling sixth starter Drew Hutchison to Pittsburgh for Francisco Liriano, Reese McGuire, and Harold Ramirez.
Hutchison has only pitched in 169.1 innings since the 2016 season, posting a 4.78 ERA and 5.23 FIP. Thankfully, he spent the bulk of the season with the Detroit Tigers, where he posted a 4.53 ERA and 4.93 FIP in 105.1 innings pitched. Hopefully, he continues to get chances.
That doesn't mean that Toronto committed a near-illegal robbery. Liriano posted a 5.46 ERA and 5.28 in 113.2 innings pitched prior to the trade, but once coming to Toronto, he had a 2.92 ERA and 3.98 FIP in his 49.1 innings. He was a key piece to bolster their starting rotation. He was later traded, but we'll get into that soon.
Reese McGuire is at best, an average hitting catcher. In 2022 with Chicago and Detroit, he slashed .269/.307/.369 with three homers and a wRC+ of 90. McGuire excels behind the plate though, posting a 2.3 Catcher Defensive Adjustment and a 2 Defensive Runs Saved. McGuire figures to be a defensive backup catcher, and a good one at that. He was traded to the Chicago White Sox for Zack Collins before the 2022 season.
Lastly, we have Harold Ramirez. Although he had never played for the Jays, he has a career slash line .281/.320/.405 slash with 24 homers in 1253 plate appearances. He has a career 0.9 fWAR, and had a 1.2 fWAR in 2022, along with a 119 wRC+ with the Rays. H-Ram elected free agency after the 2018 season, but he has become an average player in the MLB.
Pretty good trade for Drew Hutchison, but it will get even better, I promise.
The Jays solidify their bullpen, (2016) edition:
If Grilli was absolute nails down the stretch, what does that make Joaquin Benoit? The Jays traded Drew Storen for the 38-year-old. Benoit posted a 0.38 ERA and 2.81 FIP in 23.2 innings pitched with the Jays.
He, unfortunately, tore his calf in a bench-clearing brawl, days before the 2016 playoffs were to start. He signed with Philadelphia in 2017, his final season.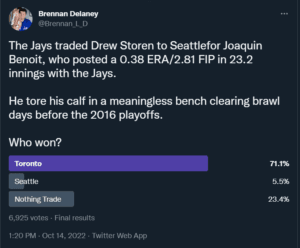 Thanks, Houston! (2017):
Francisco Liriano had a rough 2017 season with the Jays, posting a 5.88 ERA and 4.73 FIP in 82.2 innings. Before the trade deadline, the Jays traded Liriano for Nori Aoki, and a prospect named Teoscar Hernandez.
Since 2020, Hernandez hasn't posted a wRC+ below 129, so yeah, what a trade.
The Jays trade with St. Louis, part one (2017):
At the end of the 2017 season, Toronto traded former  57th overall pick J.B Woodman for Aledmys Diaz, a 2016 all-star. Woodman hasn't played affiliated baseball since 2018, while Diaz posted a .263/.303/.453 slash line in 452 plate appearances as a Blue Jay.
Diaz was traded after the season for Trent Thornton, which we'll get to.
The Jays trade with St. Louis, part two (2018):
I thought people disliked this trade, 90.2% of voters believed that the Jays won this trade, and there were 2,639 people that voted. As a Jay, Grichuk slashed .249/.289/.461 and hit 90 homers in 1866 plate appearances. When he put the ball in the air, he had the raw power to add a lot of runs instantly.
The Jays traded reliever Dominic Leon, who had a career 3.69 ERA and 3.91 FIP in 356 innings, along with Conner Greene, who has only pitched 25.1 innings in the bigs.
Definitely a trade where the Jays won.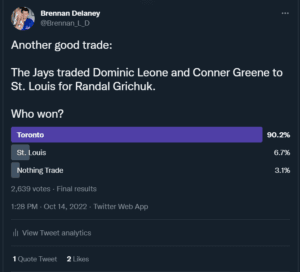 The Jays get an all-star, Boston gets a World Series MVP (2018):
This to me is a great example of where two teams BOTH win a trade. Pearce was in the last year of his contract and was slashing .291/.349/.519 with four homers in 86 plate appearances with the Jays. They traded him to Boston for Santiago Espinal.
Espinal would become a future all-star, with a plus hitting tool and plus plus defense, but Pearce went on to win the World Series MVP in 2018 with the Sox. Throughout their run, Pearce posted a .289/.426/.658 slash line in 47 plate appearances.
I don't think either team is unhappy with the outcome.
The Jays get Giles and prospects (2018):
So, you know who the disgraced closer is, and as good as he was, his name will not be mentioned. The Jays had to trade him, and they found a partner in Houston. No matter who they got, this trade was a win.
However, the return was also pretty good, as the Jays got Ken Giles (a fellow, non-piece of shit closer), David Paulino, and Hector Perez.
Giles posted a 1.87 ERA and 2.27 FIP in 53 innings pitched with the Jays in 2019, which saw an outstanding K% of 39.9%. In my opinion, the time to trade him (along with Smoak) was at the 2019 deadline, something which the Jays did not do. 
However, Giles was a dominant closer, while the former Jays closer who shall not be named, has been out of the league since 2020, despite putting up great career numbers, the 27-year-old has been blackballed from the league. May it stay that way.
Paulino, who was once a top Astros prospect, had a 1.35 ERA and 4.21 FIP in 6.2 innings with the Jays in 2018. He last pitched in the bigs with the Phillies in 2021.
Perez pitched 1.2 innings with the Jays in 2020 but hasn't gotten the call-up since. He is currently in the Orioles system.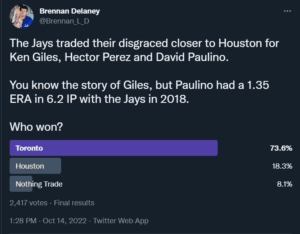 David Phelps' first stint (2019):
The only reason why I believe people considered this a win is because they later re-signed him. The Jays traded Phelps for pitcher Thomas Hatch. There may still be something with Hatch, while Phelps posted a 2.83 ERA and 3.16 FIP in 63.2 innings with the Jays in 2022.
All around, a great trade, even if Phelps didn't return. He was a pending free agent, and Hatch provides some depth in the minors.
Taijuan Walker trade (2020):
Out of any of the 19 trades that were considered "wins", this is the one that may not be the case.
This isn't to say that Walker is a poor pitcher, not by any means. With Toronto in 2020, he posted a 1.37 ERA and 4.14 FIP in 26.1 innings and was a big help to make it to the playoffs.
However, like with any of the trades listed above, the prospect the Jays traded, Alberto Rodriguez, is still young. Ranked as Seattle's 14th-best prospect by Pipeline, the then 21-year-old posted a .261/.336/.396 slash line, with 10 homers in 527 plate appearances in High A.
If he hits his ceiling, which the Mariners believe he can (he's on their 40-man roster), this trade may bite the Jays in the ass. Especially considering that the Jays didn't use Walker in the 2020 playoffs.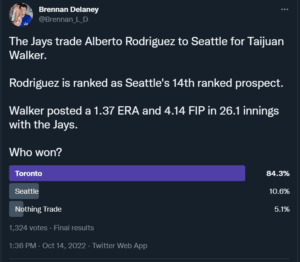 The Jays get their MVP of the 2022 season (2020):
We'll get into it in the "losses" article, but the hate for the Mitch White deal is quite extreme at the moment. However, do you remember the Ross Stripling deal, and how universally hated that one was as well?
Sometimes, trades need time to breathe, like this one. The Jays traded the 52nd overall pick in the 2019 draft, Kendall Williams, and Ryan Noda for Ross Stripling. Since the trade, Williams has fallen out of most Dodgers' top prospect lists, as he had a 4.15 ERA and 5.20 FIP in 93.1 innings in High A.  He just turned 22 years old, and there's a ton of time for Williams to turn it around, but Williams
was
their 11th best prospect according to Pipeline.
In 2022, Ross Stripling posted a 3.01 ERA and 3.11 FIP in 134.1 innings pitched. If the Jays didn't have Stripling after Ryu was down, they would have either overpaid for a "meh" starter before the deadline, or they wouldn't have made the playoffs. It's a real possibility that Stripling will receive a qualifying offer, meaning the Jays would get a compensation pick if he signs elsewhere.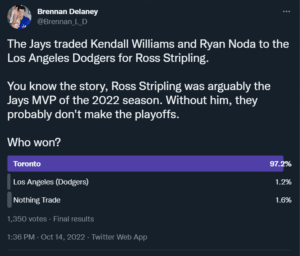 A prospect for a Cy Young Winner (2020):
This one is pretty simple. The Jays traded a prospect for the 2021 American League Cy Young winner. The Jays sent Travis Bergen to the Arizona Diamondbacks for Robbie Ray, who had a 2.84 ERA and 3.69 FIP in 193.1 innings pitched in 2021. Ray also had a 32.1 K% and 6.7 BB% that season.
The Jays later reacquired Bergen, moving literally $0 to Arizona. The Jays gave Ray a qualifying offer, allowing him to leave for Seattle, where his numbers regressed. They replaced him with Kevin Gausman (the superior pitcher), and the Jays also received a compensation pick, drafting Cade Doughty.
So yeah, next to maybe the Teoscar trade, this was probably their best. The only reason it's not is that Ray could've technically signed elsewhere after the 2020 season.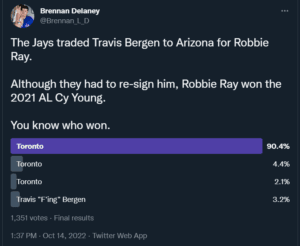 The Jays got a 5th starter (2021):
Steven Matz's 2021 as a fifth starter would've been nice in 2022, eh? The Jays traded three pitching prospects, Josh Winckowkski, Sean Reid-Foley, and Yennsy Diaz for the lefty.
Winckowski ended up in the Red Sox organization after an absolute cluster fluff of a Benetendi trade. He posted a 5.89 ERA and 4.95 FIP in 70.1 innings pitched in the big leagues in 2022.
Sean Reid-Foley throws absolute heat, but he's spent much of the past two seasons injured. He had a 5.40 ERA and a 5.21 FIP in 10 innings with the Mets this season. For his career, he has a 4.66 ERA and 5.21 FIP in 102.1 innings. The jury is still out on him, perhaps the 27-year-old can break out as a hard-throwing reliever?
Diaz is still with the Mets. He posted a 6.75 ERA and 5.58 FIP in 28 innings pitched with their AAA team. Last season with the big league team, he posted a 5.40 ERA and 5.65 FIP in 25 innings pitched, solid numbers. At only 25 years old, he is someone who still has a shot to pitch in the majors.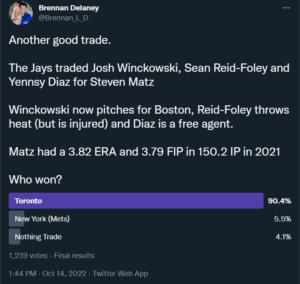 The Jays solidify their bullpen, (2021) edition:
The bullpen at the start of the 2021 season was great, but that unraveled quite quickly afterward. One reliever brought in to help the bleeding was Adam Cimber. Furthermore, the Jays also acquired left-handed batting outfielder Corey Dickerson. The cost? Joe Panik and prospect Andrew McInvale.
Last season with the Jays, Cimber had a 1.69 ERA and 2.282 FIP in 37.1 innings pitched. While it jumped by a full earned run, his 2.80 ERA and 3.47 FIP in 70.2 innings pitched was fantastic. In all sorts of roles, Cimber was more often than not, incredibly reliable. He also has another year of arbitration, a very good pickup.
Dickerson slashed .282/.329/.450 with four homers in 140 plate appearances with the Jays in 2021. He had a wRC+ of 107 and was a solid fourth outfielder who hit left-handed. He signed a two-year deal with the Cardinals after the 2021 season.
The prospect Andrew McInvale struggled in 2022. Between High A and Double A, the 25-year-old posted a 7.13 ERA and spent the majority of the season with the High A team. Before he was traded last season, McInvale had a 2.18 ERA in 20.2 innings pitched with the Double A New Hampshire Fisher Cats.
Prior to the trade, Panik had a .246/.293/.351 slash line with the Jays for a 73 wRC+ and -0.2 fWA in 123 plate appearances. With the Marlins, he slashed .172/.241/.221 with a 30 wRC+ and a -1.0 fWAR in 134 plate appearances. He retired after the 2021 season.
The Jose Berrios trade (2021):
Somehow, I actually forgot about this trade, and remembered minutes before posting.
The Jays traded Austin Martin, a former 5th overall pick and Simeon Woods Richardson (acquired in the Marcus Stroman deal two years prior).
Yes, Berrios didn't have a good season in 2022, but between 2017 and 2021, he was one of the most consistent starters in baseball. He had a 3.74 ERA and 3.79 FIP in 793.1 innings pitched.
His contract may be worrisome for the season he put together, but I am not worried about it unless he struggles next season.
Simeon Woods Richardson bounced back in 2022, posting a 2.77 ERA between Double A and Triple A, quite impressive for a guy who was 21-years-old. In fact, in the last week of the season, SWR made his MLB debut with the Twins, pitching 5 innings allowing two earned runs as a recently turned 22-year-old.
Martin on the hand, continues to struggle with the adjustment to the pro game. With Minnesota's Double A team, he slashed .241/.367/.315 with two homers for a wRC+ of 406 at the level. Not just that, but it was the second year in AA, and he actually regressed.
I still count this win as a trade, but it depends what Berrios does during his contract, and how well Simeon Woods Richardson performs.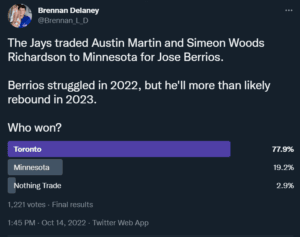 The Jays get Matt Chapman (2022):
We're now moving into 2022, which means that these trades could go either way in the future.
As for now, the Matt Chapman deal has to be a win. The Jays traded Gunnar Hoglund, Kevin Smith, Zach Logue, and Kirby Snead for the great defensive third baseman.
I went into more detail in the End of Season comparison article, but the only way this deal could end up being a loss is if Gunnar Hoglund reaches his ceiling, potentially even breaking through it. Kevin Smith bounced back in the second half of the season, and could be a slightly above-average starter. Logue is a good pitcher, but I don't think he'll be more than a back-end of the rotation starter.
As it stands, Chapman's 2022 where he slashed .229/.324/.433 with 27 homers in 621 plate appearances and plus defense wins the Jays that trade at the moment.
The Grichuk trade, part 2 (2022):
Another trade that was covered in the End of Season comparison article. The Jays traded long-time Jay Randal Grichuk for Raimel Tapia (a left-handed batting outfielder) and prospect Adrian Pinto.
With the Rockies, Grichuk posted a .259/.299/.425 slash line with 19 homers in 538 plate appearances. He had a -0.2 fWAR and an 88 wRC+ while adding plus defense.
In my opinion, the Jays got the better of the outfielders, despite Tapia's lack of homers. He slashed .265/.292/.380 with seven homers in 433 plate appearances. Tapia had a 0.2 fWAR and a 90 wRC+ with the Jays while offering below-average defense as a fourth outfielder.
In terms of who won in the battle of the fourth outfielders, I think Toronto got the better of the two players, but let's also talk about Adrian Pinto.
The 20-year-old second baseman/centre fielder won the Dominican Summer League MVP in 2021. He followed up that with a big jump to Low A Dunedin, where he slashed .242/.375/.363 with two homers in 194 plate appearances. He had a 12.4 BB% and a 16.5 K% for a wRC+ of 119.
Despite only standing in at 5'6, he generates high exit velocities and has shown a keen eye at the plate while being an absolute menace on the base paths.
If the Jays decide to non-tender Tapia, who's estimated to make $5.2 million in arbitration, they will save $5,000,000 by trading Randal Grichuk as well.
Just an absolute dub of a trade.
The Jays solidify their bullpen, (2022) edition:
The alternative title for the header was "the Jays have won another trade with the Marlins", but I needed the consistency.
At the deadline, the Jays traded former 12th rounder Jordan Groshans for Zach Pop, Anthony Bass, and Edward Duran.
Groshans slashed .262/.308/.311 in 65 plate appearances with the Marlins. He had a homer, and an 80 wRC+ in his brief stint with the fish. Even though Groshans was a Top 30 prospect for the Jays (according to Pipeline), he was blocked and hadn't shown power in the high minors.
Anthony Bass had a 1.75 ERA and 4.63 FIP in 25.2 innings pitched with the Jays. He had a 27.5 K% and 9.8 BB%, and while he struggled in that one game of the playoffs, he alone wins this trade in my opinion. The 35-year-old has a team option for the 2023 season for only $3,000,000, which the Jays will surely take.
With the Jays, Pop posted a 1.89 ERA and 3.11 FIP in 19 innings pitched. He doesn't strike out a ton of batters with a 14.9 K%, but his 2.7 BB% is fantastic. What's more is that he's a ground ball pitcher, which is arguably just as important as a strikeout. Pop sits in the high 90s, and throws a nasty sweeping slider, which he has manipulated in the past for more of a downward trajectory.
Edward Duran is the prospect they received in the trade. With the Marlins' Dominican Summer League team, he slashed .224/.325/.306 in 169 plate appearances. He's a catcher and a first baseman, but he's
many
years away, and I don't look too much into the rookie league stats.
Overall, this is definitely already a win, even if Groshans isn't in his prime.
The Whit Merrifield trade (2022):
Remember the first month of Whit Merrifield's Blue Jay tenure? "Why did the Jays trade for him, he's bad" verbiage was often found on social media. Well, that tune was quickly hushed after a fantastic September.
With the Jays, Merrifield slashed .281/.323/.446 with five homers and a wRC+ of 119, which is his best career total over a full season. Not just that, but Merrifield offers the Jays versatility, playing all over the outfield, as well as his natural second base and some first base. Next season Merrifield will only make $6,750,000, and if he could return to his 2018-2019 form, the Jays may have easily won this trade.
The Jays traded Samad Taylor (who has been featured on Blue Jays Nation multiple times) and Max Castillo.
Taylor has yet to appear in an affiliated game with the Royals, but is currently involved in the Arizona Fall League. This season with the Triple A Bisons, Taylor slashed .258/.337/.426 with nine homers in 280 plate appearances. Not just that, but he's versatile and just an absolute menace on the basepaths. Royals fans will love him when he inevitably makes his MLB debut.
With the Jays in 2022, Castillo posted a 3.05 ERA and 4.42 FIP in 20.2 innings pitched. He has a nasty changeup and average velocity, but he quickly made the jump from Double A, to being an optionable starter. He's hit a roadblock with the Royals though, posting a 9.16 ERA and 6.01 FIP in 18.2 innings pitched.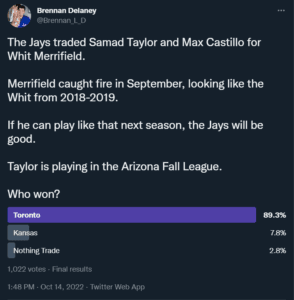 What's next:
Assuming you read all 3,000+ words, you may be wondering about the losses and the toss -ups. Well, dear viewer, instead of writing one article with like 7,500 words, this series will be split into three different articles, with this one being the first.
With that being said, are there any trades here that I missed? Or do you disagree with the general consensus? Let me know in the comments, or…
You can follow me on Twitter @Brennan_L_D, as always. Thanks for reading the huge article, and I hope you enjoyed it!
---