Examining the Shapiro Era Trades, Part two: The Losses
Photo credit:Dan Hamilton-USA TODAY Sports
As a team, you will have your losses here and there.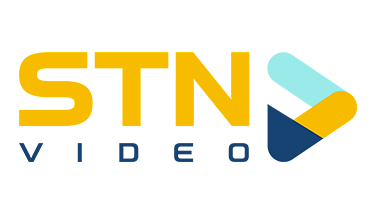 Just a few notes before we begin:
Yes, Shapiro doesn't make the trades, but they likely run through him. Not just that, but when Mark Shapiro was brought in, so too was Ross Atkins. Hence why I call it the "Shapiro era".
Secondly, I don't think most of these were actual losses. So I'll give my reasoning and context as to why I thought otherwise. Let's start with the first ever trade of the Shapkins era.
The Liam Hendriks trade:
Fun fact, this is the only trade in any of these articles for which Ross Atkins wasn't the General Manager.
The Jays traded reliever Liam Hendriks for Jesse Chavez. In 2015, Hendrik had a 2.92 ERA and 2.14 FIP in 64.2 innings pitched. With the Jays in 2016, Chavez had a 4.57 ERA and 4.82 FIP in 41.1 innings pitched. He was later traded to the Dodgers in exchange for Mike Boslinger. On paper, it definitely looks like the Jays lost this trade, but let's look at the context.
Context:

When we think of Liam Hendriks, we think of one of the best closers in the MLB to this day (and a standup guy). This wasn't always the case, however. While his ERA and FIP sparkled in 2015, it was by far his best up to that point. Between 2011-2018, Hendriks had a 4.72 ERA and 3.91 FIP in 406.1 innings pitched.
In his first three seasons in Oakland, he had a 4.01 ERA and 3.24 FIP. Fun fact: out of the relievers that made the postseason roster for the Jays in 2022, only Yusei Kikuchi (as a reliever) and Trevor Richards had a worse ERA and FIP than Hendriks had in this stretch.
While it'd be awesome to have this version of Hendriks, there's no guarantee that he'd develop into the reliever he is today.
So yeah, I don't count this as a loss.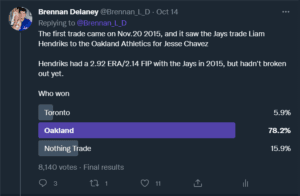 The J.A Happ trade:
This is one of only a few outright losses that I agree with.
The then 34-year-old was in his second stint with the Jays and had posted a 3.33 ERA and 3.87 FIP in 340.1 innings pitched in the two seasons prior to 2018.
At the 2018 deadline, Happ's contract was expiring, and it was evident that the Jays had no shot at contending, so they traded Happ to the Yankees for  Brandon Drury and Billy McKinney.
Drury showed some promise with the Jays, hitting 15 homers in 447 plate appearances in 2019. He had a 25.3 K% but didn't walk a lot with a 5.6 BB%. He also only slashed .218/.262/.380 in 2019 and had an even worse slash line in 2020. After the 2020 season, Drury elected free agency.
McKinney finished his 2018 season with the Jays and actually put up decent numbers. He slashed .252/.320/.470 with six homers in just 128 plate appearances for a 113 wRC+.The same cannot be said for his 2019, where he slashed .215/.274/.422 with 12 homers in 276 for an 80 wRC+. He has bounced around from team to team and has only had 360 big league plate appearances since 2019.
Context:
While I think the Jays lost this trade, there are a few factors that make me think it isn't as bad as some believe it to be. First and foremost, Happ was a 35-year-old with a 4.18 ERA and 3.85 FIP in the last year of his contract. He was obviously a good pitcher when looking at his past two seasons, but he was a rental.
Yes, he pitched well for the Yankees (2.69 ERA, 4.21 FIP in 63.2 innings), and yes he did re-sign, but I think we put more value than he actually had.
The other interesting note is that while it didn't work out for Drury in Toronto, he's actually turned out to be a good ball player. This season with the Cincinnati Reds and San Diego Padres, he has a .263/.320/.492 slash line. He obliterated his career home run total with 28 on the season, and he has a 123 wRC+. At the very least, he has a good season.
Has he turned a corner and reached his ceiling? It's too soon to say. Like with Hendriks, sometimes it takes a change of scenery to unlock a player's full potential. Either way, the Jays got good value in the trade, it just didn't work out for them, hence the loss.
The Aaron Loup trade:
I'll be honest, I have no idea how voters thought this was a loss. The Jays traded the left-handed reliever for prospect starter Jacob Waguespack at the 2018 deadline.
Loup had a great start to his MLB career, posting a 2.77 ERA and 3.27 FIP in 168.2 innings pitched between 2012-2014. He struggled in his next three seasons, posting a 4.17 ERA and 3.77 FIP in 114.1 innings pitched, which also saw the lefty optioned to Buffalo.
Even leading up to the trade, Loup struggled. He had a 4.54 ERA and 3.61 FIP in 35.2 innings pitched with the Jays before the trade, meaning he spent four seasons being a not-so-great reliever. Even with the Phillies, he posted a 4.50 ERA and 3.66 FIP in 4 innings pitched (appeared in nine games, this was before the three-batter minimum).
In 2019, Waguespack had a 4.38 ERA and 4.91 FIP in 78 innings pitched with the Jays. After struggling as a reliever with the team in 2020, he spent the 2021 season solely with the Bisons. There he posted a 2.86 ERA and 2.87 FIP in 69.1 innings pitched, being used as an innings eater. He elected free agency and pitched in Japan with Orix. There, he had a 2.97 ERA and a 26.21 K%
Loup went on to have a fantastic season with the Mets in 2021, posting a 0.95 ERA and 2.45 FIP in 72.2 innings pitched. I don't think it's the last we've seen of Waguespack, and he could very well reemerge as a backend of the rotation starter in a few seasons.
Context:
The context was essentially in the body above, but Loup clearly had little to no value. Yes, he showed the ability to be good, but he just hadn't been for three and a half seasons. It took him four franchises to have his first good season since 2014, and then his fifth franchise to actually become a reliever a team could use in high leverage. Even then, he regressed hard after getting paid by the Angels in 2022.
While Waguespack wasn't a front-of-the-line starter by any means, he was a serviceable back end of the rotation pitcher in 2019. His past two seasons were also pretty good, granted, not at the major league level. It wouldn't surprise me to see him come back and be a solid pitcher in a few years.
This trade may not have been a win, but trading a mediocre reliever in the final year of his deal and getting an innings eater is at the very worst, a toss-up. 
The Gio Urshela trade:
For me, this kind of sits in the same category as both the Happ trade and the Loup trade. With Cleveland, he slashed .225/.273/.314 with seven homers in 453 plate appearances with a wRC+ of around 50.
The Jays traded cash for him, and he slashed .233/.283/.326 in 46 plate appearances with a 66 wRC+ in 2018. He was then purchased by the Yankees in 2019, where he blossomed.
With the Yankees, he slashed .292/.335/.480 with 41 homers in 1092 plate appearances, with a wRC+ of 132 in 2019 and 134 in 2020.
He was later traded to Minnesota for Josh Donaldson, who is coincidentally next.
Context:
Like Loup, Drury, and even Hendriks, Urshela was a below-average player for the Jays. Even if you read replies to articles about the trade, it bordered between "who cares" and "the Yankees dumpster dive as well?!". Hell, even Yankee fans didn't care much for the trade.
This is to say Urshela's trade value was practically nothing, and even if they kept him, who knows how he would have developed.
What's interesting is that this is similar to Drury. They were able to notice talent, but they weren't able to unlock their full potential. I assume this happens with every MLB team though.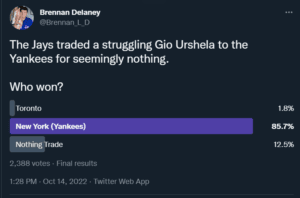 The Josh Donaldson trade:
One of only a few outright losses in my opinion. In 2018, the Jays sucked and the former MVP was in the last year of his deal. One of the best players available at the deadline, the Jays only received Julian Merryweather. This alone is a loss of a trade, but what hurts more is that apparently, the St. Louis Cardinals offered Jack Flaherty for Donaldson at the end of the 2017 season.
Let's add some context, though:
Context:
On August 17th, 2017, the Jays were just three games out of the final wildcard position, with seven teams to jump. It seemed unlikely that they'd make it, but there was still a minuscule chance. Obviously, a sweep by the hands of the Cubs all but eliminated them from contention, but all around, it was a good season that saw the starting rotation devastated by injury.
Trading your former MVP and the best player on your team would've caused an uproar, even if it was clear it was time to rebuild.
This is an assumption, but my belief is that the Jays planned to hold on to Donaldson and attempt to compete. If it went sideways, they could just move him at the deadline for a little less value than what could've come in at the end of the 2017 season.
The Jays actually started the 2018 season off well, going 20-17 in their first 37 games. On May 9th, they were only 2.5 games back of the final wildcard spot and had a run differential of +14. May 18th was when the Jays dropped below .500, and they never recovered. What's more, is that Donaldson played his last game as a Blue Jay on May 28th.
His health hurt his trade value, but so did his numbers in 2018. He slashed .234/.333/.423 in 159 plate appearances for a wRC+ of 104. His numbers for Cleveland in the 2018 postseason weren't any better, slashing .091/.167/.091 in 12 plate appearances.
In return, the Jays got a pitcher that averages high-90s on his fastball and has touched 100 mph throughout his career. Merryweather certainly had injury concerns, but with context, this trade isn't as bad as it appears, at least at the time.
Obviously, except for 4.1 innings at the start of the 2021 season, Merryweather hasn't had a great MLB career, but Donaldson's trade value would've been higher if not for injuries.
The Aledmys Diaz trade, part 2:
Remember how the Jays gave up on Liam Hendriks way too early, despite having promising stuff but not great results? Well, the Jays could very well do the same with Trent Thornton this off-season if they don't tender him.
In the last article, we went over Diaz and how he was a solid player for the Jays. Diaz has been a utility player with the Astros for the past four seasons. Since moving to the Big H, Diaz is slashing .255/.313/.425 with 32 homers in 952 plate appearances. His OPS+ (essentially wRC+, but on Baseball Reference) sits at 100, overall an average player who is useful.
If I were to poll Twitter asking "Do you like Trent Thornton, and is he good", I don't imagine there'd be a lot of yeses.
With the Jays, he has a 4.84 ERA and 4.72 FIP in 255 innings pitched. His best season came as a starter in 2019, where he posted a 4.84 ERA and 4.59 FIP in 154.1 innings. He has a career 21.9 K% and an 8.7 BB% in that stretch, so not great. But like with all of these trades, let's add some context.
Context:
Although the results aren't there yet, his stuff certainly is.
While doing some research for Jays' prospect Lazaro Estrada, I looked at average spin rates on sliders since stat cast tracked it. In 2019, Thornton's 3092 RPM on his slider was the 13th highest between 2016-2022. In 2022, he dropped to 2918 RPM, which was the 49th highest in the same span.
Sounds "meh", right? Well, since 2016, there have been 3699 pitchers in the MLB that have thrown a slider. So movement on the slider (and fastball for that matter) is certainly there. What about his velocity?
Thornton sits in the mid-90s but has touched as high as 97 mph, perhaps even higher. While that's not flamethrower velocity, his velocity along with his movement is quite deadly. Factor in that he has a solid 8.7 BB%, and Thornton has all the tools to be an effective reliever in the majors.
At this point, it's just about unlocking it, which I don't know if the Jays will be able to do. Either way, if all goes right in a few seasons, this trade may be considered a win, even if Thornton breaks out on another team. This already happened to Hendriks, who we've already covered.
The Russell Martin trade:
This one was
slightly
a loss by literally .1%, but I wish to discuss it for other reasons.
Before the start of the 2019 season, the Jays traded Canadian Russell Martin to the Dodgers in exchange for Andrew Sopko and Ronny Brito. In terms of value, yeah, those two prospects never amounted to much, and Martin was an MLB catcher. However, here's why it's a win in my opinion.
Context:
One of the biggest reasons was due to payroll. To be blunt, the Jays sucked ass in 2019. All I remember from that season is Vlad and Bo's debut, and a pretty sick game I went to in August. Coincidentally, Trent Thornton had a no-hitter going into the fifth. The Jays moved Martin's $20,000,000 contract (while retaining like $16.4 million of it), saving the team $3.6 million, which isn't a lot, but there's no reason to spend when your team sucks ass.
Why did the Jays feel comfortable moving Martin's contract? Well, the Jays had the 65th ranked prospect in all of baseball upcoming, and his name is Danny Jansen. Add on Reese McGuire, who was also once a top 100 prospect (98th in 2016), and the team thought Martin was expendable.
Lastly, and which I think is the most important: The Jays wanted to good by Russell Martin. At this point, Martin had been in the league since 2006 and at his peak, he was one of the best catchers in the game. One thing Martin didn't have on his mantel was a championship ring.
At 36 years old and in the final year of his deal the Jays traded him to perennial contenders, the Los Angeles Dodgers. While they fell short, this is the type of good player management that others in the league take notice of.
So by value, they probably lost this trade, but it made complete sense for multiple different reasons.
The Kevin Pillar trade:
Probably the most "meh" trade in the article, the Jays sent Kevin Pillar to the San Francisco Giants in exchange for Alen Hanson, Derek Law, and Juan De Paula.
I'm not too sure how 63.2% of people believed this to be a loss of trade, to me, it's just a nothing trade to me.
Context:
In 2015, Pillar broke onto the scene with a 3.7 fWAR, making insane catches left, right, and centre (literally). He finished the season with a 16 DRS and also had one of his best offensive seasons, with 12 homers and a wRC+ of 94 in 628 plate appearances. His offensive production dipped in 2016, but his defense only got better, finishing 2016 with 22 DRS and 12 OAA.
In 2017 we found out that he is a below average hitter, and likely would always be, with plus defense. However, even his defense started to decline, as he had 14 DRS and -2 OAA in 2017. The next season, he had a -3 DRS and 0 OAA, before being traded to the Giants.
With the Jays didn't get much in return, Pillar didn't have a lot of value. What gave him a 3.7 fWAR in 2015 (his defense in centre field) was now gone. Plus he was still a below-average hitter.
Derek Law has pitched in the big leagues, but he's nothing special, and neither is Pillar.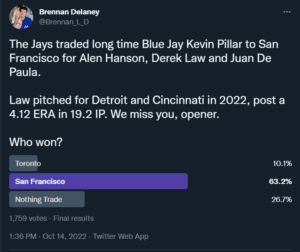 The Marcus Stroman trade:
If you look at this trade straight up, it's a loss for sure. The Jays traded homegrown Marcus Stroman in exchange for Anthony Kay and Simeon Woods Richardson.
Stroman has a career 3.62 ERA and 3.63 FIP in 1167 innings pitched, a model of consistency. While he doesn't strikeout batters, he has a career 56.7 ground ball percentage, a pretty fantastic number when you're a starter. He's a damn good pitcher who was traded in the final year of his contract.
Both Kay and Simeon Woods Richardson have made their MLB debut. Kay, who is 27, has a career 5.48 ERA and 4.67 FIP in 70.2 innings pitched. Although he could still be something, I don't think he ever matches Stroman's production as a Jay.
The other pitcher in the trade is more interesting…
Context:
Simeon Woods Richardson is good. He may have struggled in 2021, but there was a reason he was a 20-year-old in Double A. He rebounded big time in 2022, and quickly passed the Double A test, before putting up good numbers in Triple A.
In fact, he actually broke into the MLB at the end of the 2022 season, days after turning 22 years old. So why must context be applied to this scenario? Well, Woods Richardson was one of the prospects that the Jays traded to Minnesota for Jose Berrios, a win of a trade. 
Overall, the Stroman trade itself isn't great on paper, but if you look at the trade tree as a whole, there is an argument that getting Berrios is a win, especially if he bounces back in 2023.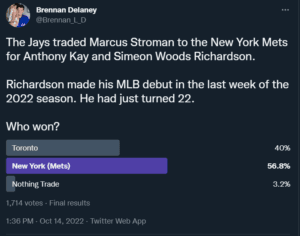 The Daniel Hudson trade:
The Jays traded a reliever with an expiring contract for pitching prospect Kyle Johnston. Very rarely do you win a trade when you trade a reliever, especially if that reliever gets the final out to clinch the World Series, but I don't really think the Jays lost this trade either.
Context:
The 26-year-old Johnston struggled in 2022, posting a 5.46 ERA and 5.12 FIP with the Triple A Bisons. However, he showed promise in 2021, posting a 1.57 ERA in 69 (nice) innings pitched. He pitched much better after converting to a reliever mid-season, and he sits in the mid 90s with his fastball
Like with all relievers, they come from many different paths, and who knows what the 26-year-old Johnston develops into. To me, this is a "meh" trade that has the slight possibility of being a good one.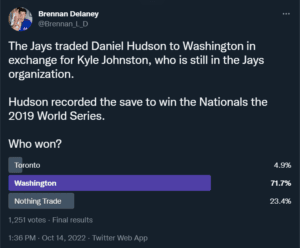 The Rowdy Tellez trade:
I've seen a lot of people think this trade was bad for the Jays, but I disagree with that as well. The Jays traded Rowdy Tellez to the Brewers for Trevor Richards and Bowden Francis.
Tellez hit 35 homers in Milwaukee and had a .219/.306/.461 slash line for a wRC+ of 110. He also had a pretty low 20.2 K% and a good BB% of 10.4%. Solid numbers, but other than homers (which can be inflated due to Milwaukee's stadium), Tellez actually wasn't super impressive in 2022.
Neither was Trevor Richards, who had a 5.34 ERA and 4.07 FIP in 64 innings with the Jays this season. Richards' numbers did improve after the "neck strain" injury, posting a 4.33 ERA and 2.69 FIP in 35.1 innings pitched. This also saw him have a 32.2 K%, which is quite nice for a team that doesn't have a lot of swing-and-miss.
From just looking at Fangraphs, it may not seem like Francis has much of a future in the MLB, but he is actually quite the solid reliever. The 6.59 ERA and 6.02 FIP in 98.1 innings isn't great, but when you dig deeper, a different story emerges.  From July 6th to the end of the season, Francis had a 4.47 ERA and a 3.42 FIP, along with a 29.8 K% and 8.3 BB% in 46.1 innings pitched.
Context:
Let's also add some context. What Trevor Richards provided in 2021 makes this trade a win on its own. Remember the beginning of the 2021 season when Rafael Dolis was coming in during high leverage? Yeah. Ross Atkins put a stop to that right quick by trading for Adam Cimber (who was covered yesterday) and Trevor Richards.
Richards didn't have fantastic numbers, owning a 3.31 ERA and 4.61 FIP in 32.2 games for the Jays, but he helped stabilize a bullpen, which allowed the team to barely miss the playoffs.
Not to mention, where the heck would you play Tellez? First base is locked up by Vladimir Guerrero Jr, and the Jays have made it clear that the designated hitter role is to be used to give players a rest.
Do you have Tellez play once a week and for pinch-hit opportunities? Does that provide more value than what Richards did in 2021? Absolutely not.
The Brad Hand trade:
This was a good trade… in theory. Although it technically didn't lose (see at the end of the section), the general consensus is that the Jays got ripped off. Not even in terms of the trade, but by Brad Hand himself.
Context:
Despite having a 2.89 ERA and 3.28 FIP in 429.2 innings pitched since 2016, Hand decided to be terrible for the Jays. He had an incredibly awful 7.27 ERA and 7.55 FIP in 8.2 innings pitched. Yikes.
After he was DFA'ed, he joined the Mets and posted a 2.70 ERA and 3.40 FIP in 13.1 innings pitched, because why not.
Even in 2022 for the Phillies, he had a 2.80 ERA and 3.94 FIP in 45 innings pitched because he decided to be a competent pitcher once again. He did give up a homer to Jackie Bradley Jr. in a blowout game though, so that's funny.
As for the prospect they gave up, that would be Riley Adams. Although he has great raw power, Adams has struggled in the MLB, slashing .195/.295/.340 with a 77 wRC+ in 275 plate appearances. Adams is also a below-average defender.
This was a good trade in theory, as the Jays had five catchers on the 40-man roster and needed to move one. They took a shot on Brad Hand, who has been and still is a good reliever, but decided to crap the bed and leave the Jays no choice but the DFA him.
Because of that, neither the Jays nor the Nats won this trade, but the Jays did the second they DFA'ed Brad Hand. Now watch him close out game 7 of the World Series.
The Bradley Zimmer trade:
I won't lie, I don't really know why fans don't like Bradley Zimmer.
Is he not great with the bat, despite having tons of raw power? Absolutely. However, the Jays brought Zimmer in as their defensive replacement centre fielder and a pitch runner. He had a 6 DRS and a 3 OAA at the position in just 354.2 innings. He excelled defensively and was in the 93rd percentile of sprint speed, so he's also very fast.
Context:
I don't think Zimmer's offense is as bad as it shows. The poor guy only had 100 plate appearances, and pretty much only played in A) a blowout B) if they needed a pinch runner C) needed a defensive replacement or D) Injury concerns at the start of the season.
Once again, he was also brought in as a fifth outfielder and wasn't expected to produce with the bat. The guy did his job, and he actually did it really well. 
Above is a video of him DJ'ing.
As for who they gave up, Anthony Castro. They traded the reliever to Cleveland. Castro posted a 7.43 ERA and 8.44 FIP in 13.1 innings pitched. He was recently released from his
Baltimore
contract. So yeah, in my opinion, the Jays won this trade. At worst, I think this was a draw.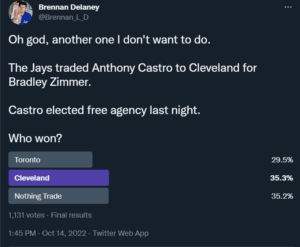 The Mitch White trade:
The last trade in this article, we have one of the more recent trades. It's hated by pretty much everyone, even though it's
way
too soon to declare winners and losers.
The Jays traded prospect pitcher Nick Frasso for Mitch White and Alex De Jesus.
Mitch White, the only MLB player in the trade so far, posted a 7.74 ERA and 3.76 FIP in 43 innings pitched with the Jays. He had a 15.3 K% and a 7.9 BB%, and wasn't the answer to the fifth spot in the rotation, I'll give you that.
However, White has had some success at the major league level. In 2021, he posted a 3.66 ERA and 3.83 FIP in 46.2 innings pitched with a 24.9 K% and 8.6 BB%. Even with the Dodgers this season, he had a 3.70 ERA and 3.95 FIP in 56 innings pitched, used in a swingman role.
The reason why most hate this trade is due to the trading of Nick Frasso. The 23-year-old had a 0.70 ERA and 1.30 FIP in 25.2 innings pitched with Low A Dunedin. He followed up that success with a 0.82 ERA and 2.66 FIP in High A Vancouver before the trade took place. He was one of the biggest risers in the Jays organization, but let's apply some context here.
Context:
If you read the article from Saturday, I discussed how trading former a 52nd overall and 11th ranked Jays prospect, Kendall Williams, to the Dodgers for Ross Stripling was loathed at the beginning.
Hindsight is 2020, but that turned out to be an absolute win of a season, as the Jays sold low on Stripling. In return, Stripling provided them a playoff birth because of how well he was able to replace Ryu.
White has shown to be a good pitcher in the past, but he also has five more seasons, including two making the league minimum, before he hits free agency. The guy has the stuff, all he needs is a put-away pitch, which could easily develop in the next few seasons. 
Not just that, but as impressive as Frasso's season was, he's still only a prospect. The bulk of the season he spent with Dunedin (25.2 innings of 54 innings), where he was a year older than the average pitcher. This season, Frasso had a 35.8 K%, but in his final 24.1 innings  (of 54 innings) which excluded just one High A game where he struck out 10, his K% dropped to 23.8%.
This isn't to say that he won't be good, or isn't already. Frasso is incredibly athletic and has hit 100 mph in the past. I think it's just important to add context to the situation and look at it in a different way. Towards the end of the season, he didn't look invincible and his impressive K% dropped to about average.
It'll be interesting to see how he performs next season, as then I believe we can call this trade a win or a loss.
However, one part of the trade I think we all forget about is Alex De Jesus. The 20-year-old slashed .263/.370/.433 with 14 homers and a 14.20 BB% across three (basically two) different levels. While he had a K% of 29.38% as well, that's because he took a lot of borderline pitches, and prefers to work the count.
Not just that, but his lowest line drive percentage at any level was 23.3% of batted balls, which is incredibly high. Line drives result in a batting average of around .400 higher than fly balls and ground balls. His highest was 25.6% this season, so yeah, there's something there.
The last prospect, Mosies Brito, put up great numbers as a 19-year-old in the Dominican Summer League. The 6'5 lefty had a 1.79 ERA, with his FIP reaching 2.67. However, there's very little information about him, and rookie league stats can be flawed. It would be hilarious if he ends up being the best player in this trade, though.
To me. This trade could either be good, or really bad. If Mitch White can do what Stripling did, and Alex De Jesus hits his ceiling, this would be a good trade, barring what Frasso does. If Frasso develops to his ceiling, and potentially better and White continues to struggle, yeah, this deal could go sideways pretty quickly.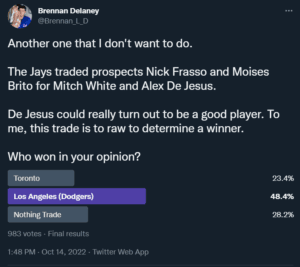 What's next:
If you've read this entire article, thanks so much. Google Docs word count noted it's about 5,000 words, which yeah, sorry.
Next up will be the toss-up trades, some of which the Jays won, while others are notable enough to warrant being named.
Let me know if you differ from any of the opinions in the comments, or…
On Twitter @Brennan_L_D. Thanks again for reading.
---