First Look at Potential Blue Jays Farm Rosters: Low-A Dunedin Blue Jays
Have I mentioned anything before about crowded rosters? Because my dude, this one is packed.
The official roster has no less than 27 pitchers listed. One (that we know about) is out after having Tommy John, I've speculated that as many as ten are decent candidates to break with Vancouver, BUT there are at least four or five guys who played in the complexes last year who will get a look, plus three 2021 draftees who haven't thrown a pro pitch in a counting game yet and a significant return from injury.
Let's dive in with the pitchers…
Candidates to start are deep enough that you could piggyback the entire rotation but a lot of these guys don't need to do that so, where to begin? let's mention the recent draftees since two of them are getting big-time buzz in the run-up to opening day.
Left-hander Ricky Tiedemann, taken in the third round last summer, might have been considered something of a project on draft day but he showed up in instructs with significant added velocity and wowed observers. So much so that of the six major publications I track for the consensus top 20 prospect list, 4 of them (the new Pipeline update isn't out yet) have the 19-year-old in the Top 10 prospects and that was before the trade this week. other than health, nothing keeps him out of this rotation, I don't think.
Alongside him is likely to be fifth-rounder Irv Carter. He was considered great value at that slot in the draft and he, also, has turned heads this spring. The other draftee in this group is a guy I've heard absolutely nothing about: ninth-rounder Conor Larkin. But he's 22 and if he's healthy he won't be in the complex. I can't guess whether he'll be used as a starter though. Also, it's worth noting, that all the pitchers drafted last year who got their feet wet in relief last year might be seen by the team as potential starters. Connor Cooke is a name I've heard some discussion of having been impressive.
The other high-profile name is one-time Top-10 prospect Eric Pardinho. Coming off a year lost to injury, he's looking to still show the stuff he once had. I've seen reports that he looks a lot better than he did a year ago. The new blood coming up from the complex is led by highly regard Dahian Santos, 19, who's a Top 15 ranked prospect for Fangraphs and TSN's Scott Mitchell. He got two starts for the D-Jays at the tail-end of last season but it's fair to think of him as a promotion. He struck out 53 and walked 12 in 35 1/3 IP last year in the Complex League. If he doesn't make the Vancouver Roster, Naswell Paulino, whom I touched on last week, will definitely be involved in this rotation until an opening arises up north.
By the numbers, that's a rotation right there without the maybe guys I spoke of, but there's definitely more. But the distinctions get fuzzier.
One guy I like is Lazaro Estrada. He was a beast in the DSL in 2018, struggled some in Bluefield the next year, and was off to a strong start in a small sample in 2021 before his season ended with injury on June 11. I'd have positive expectations for him if I didn't have some fear he was out because he needed and got Tommy John. If so he won't really be a factor this year.  2019 5th round choice Michael Dominguez was done above-average work but only has 20 pro appearances. Winder Garcia, Rafael Ohashi, and Nathanial Perez are other guys on the roster with starter history.
Kendry Rojas is one of those "certain to be promoted" guys I mentioned. The 19-year-old lefty threw 23 2/3 innings for the Florida Complex team, striking out 39 and walking a tidy five batters. He landed in the Top 30 for both BA and TSN. You have to be pretty advanced to vault from the DSL directly to Dunedin and with this crowd, it almost certainly won't happen, but Sergio Caruchi and Eliander Alcalde will get a bit longer look than others if we can base any guess on the results.
I won't be too meticulous about this bullpen given that telling you something about sixteen marginal contenders on the roster, plus all the guys who could make a case for promotion is time-consuming and tedious. But I'll repeat what I said last week that six guys among them drafter last year are good candidates to land in High-A unless Cooke (or one of the others?) is going to be starting in which case that might launch here. Additionally, five of them are at least 24 which means the clock is ticking loud if they find themselves back in Low-A in April. Out of the other five on my spreadsheet, four ended last year on the IL.
Obviously, some of the bodies in this 'pen will be starters who got squeezed out of the initial rotation. There's one notable statistical performance on the Florida Complex squad worth predicting a promotion on, a 20-year-old lefty named Soenni Martinez who had a 2.21 ERA with nice, but not eye-popping, ratios. As a guess, health permitting, the rotation will be Tiedemann, Carter, Pardinho, Santos, and Rojas with Paulino if he's not promoted, everyone else is competing for a bullpen spot. Which is a pretty promising group.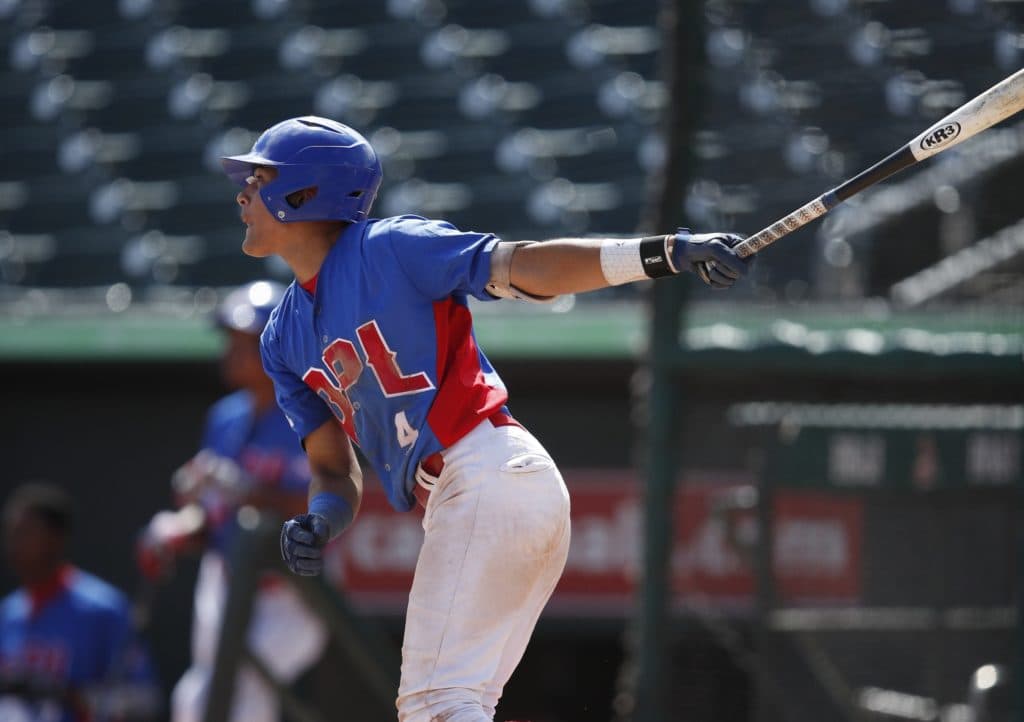 Manuel Beltre
While there are fewer candidates, there's still uncertainty on offence…
Nowhere is this more noticeable than behind the plate. One of the unfortunate limitations of my long-distance observations is that it leans heavily on statistical results which can be an imperfect window into what the organization is thinking. Looking in from the outside, there's no absolute answer to who the primary catcher on this team will be. So let's go with the one candidate who's been seen on top prospect lists. Victor Mesia, 19, was 18th on pipeline's mid-season list, 27th on Mitchell's list, and an also-ran on Kieth Laws' recent top 20. He got a $300k bonus in 2019, and his OPS was .846 in 21 games but then struggled in an eight-game sample at the end of the year for the D-Jays. There's no real reason to assume he won't be the primary based on what I can observe. This is more true given the dearth of high-quality alternatives. The other guy on the roster is 24-year-old Andres Sosa. He only played 14 games last year, but 24 is very old to still be in Low-A ball. Possibly they like his glove and leadership or something but he's a reserve at very best. The one candidate that might move up from the Florida Complex team is a 21-year-old named Leonel Callez. He had 50 games in the DSL in 2019 and was ordinary with the bat, and got into only 10 games in Florida last year wherein that tiny sample he did well. Again, no way I can know how the team views him.
First base on the other hand is crystal clear. The one guy on the roster, or reasonably likely to make the roster, with a 1B history is Rainer Nunez. He took a significant step forward offensively last year, almost entirely for the Florida Complex league Jays, he walked almost as much as he struck out and amassed a .849 OPS overall. Ranked prospect Miguel Hiraldo stands to be the full-time 2B, and he'll be looking to regain his momentum with the bat having had a thoroughly ordinary 2021.
At short, look for highly regarded Leonardo Jimenez (Law had him 6th overall and that was before two of the guys ahead of him were traded in the Chapman deal) to try and have a full season after injuries cost him some reps last year. He walked 51 times in 54 games for the D-Jays last year and would normally be a lock for a promotion to Vancouver but Orelvis will start the year there and my guess is they will want to maximize reps at SS in the early going. If he moves up to AA, or over to 3B, Jimenez will be more than ready.  At third, it looks like three main guys are in the mix.
Last year's 12th rounder, Riley Tirotta, got into 30 games for the D-Jays and registered an .818 OPS. It's not entirely out of the question that the 23-year-old might make the Vancouver roster. Upon reflection, I probably should have spoken of him last week. Also on the roster listed as an infielder is Adriel Sotolongo. But let me put a pin in him for reasons I'll explain in a moment.  The other possibility, particularly if Tirotta moves up, is 2021 14th round selection Damiano Palmegiani, 22, who got 46 plate appearances for the FCL team. But he also came up with a .996 OPS so the D-Jays are more likely than not. He's said to have big-time power. Finally, while he may not have a clear path to the starting lineup given the presence of Hiraldo and Jimenez, it's unfair to not mention Jose Rivas. Most of his professional reps have been at 2B with a smattering of other spots. He had an equal number of at-bats (53 each) in the complex and for the D-Jays last year, in the former he had a .991 OPS and in the latter just .472 so…shrug?
Turning to the outfield, let me start by noticing that Sotolongo had three more innings in RF last year than at 3B so if all three of the above make this team, he might repeat that pattern of splitting time between the positions in the coming year. Laying aside the three-game sip-of-coffee at Dunedin last year, the 23-year-old (old for the level) Cuban was an absolute beast for the FCL Jays – in a small sample as most samples are down at this level. over 95 plate appearances, he slashed .386/.464/.687/1.151 and I can only assume that it's the "old for his level" thing that has kept his name out of at least some prospect discussions. Scott Mitchell goes 50 names deep and Sotolongo didn't make the cut.
The main competition for him in right would be another guy who did well in the Complex League (and it's fair at this point to simply suspect that the FCL was hitter-friendly), 20-year-old Amell Brazoban. In 101 at-bats in the FCL he put up a .952 OPS.  CF will certainly be primarily the job of 20-year-old Ontario native Dasan Brown. The 2019 3rd rounder has been said to have 80-grade speed and the potential for plus defense but he's still raw when it comes to making contact. Rounding out the regular starters will surely be 19 year old Gabriel Martinez who's beginning to generate prospect buzz. He still needs to develop more power but walking as much as you strike out in the lower levels catches the eye. Most of his defensive work also came in RF so there will be some question about who among these guys (not including Brown) will seem best suited to shift over to LF when there's a conflict. On the bench, you may find Garrett Spain and Mac Mueller, or not since neither has hit at all. The latter, if he brings valuable defense, might end up on Vancouver's bench simply because you can't be hanging around not hitting (especially if not a catcher) in Low A at 24.
One other name I'll mention is Canadian and 2019 26th round choice JC Masson. Drafted as an outfielder, he got into 15 games as a DH in the FCL and performed well. Presumably, he was delayed by injury since he didn't start a game until August. It's hard to speculate what his role might be but if he's healthy he should probably be on the D-Jays.
A final note: it's fair to wonder "what about de Castro?" Rikelbin De Castro was the top signing in the 2019 IFA class and after a very slow first month, he hit .400 in August in the FCL (and faded in September). In a more shallow season a ranked prospect probably breaks camp in Dunedin, but being in line behind Martinez and Jimenez might block him a bit to start the year. All of them should advance around mid-season, particularly in that the jays will be anxious to get Estivan Machado, another talented guy found mostly in the teens on top prospect lists, into some games after he missed essentially all of last year with hamstring issues.  And I haven't even mentioned Manuel Beltre who will also be in line for the FCL squad before the season is too old, at the latest. And yes, I DID just mention no less than FIVE Top 20 ranked SS prospects in this one paragraph. Good times.
Previously…