George Springer's clutch RBI double in the 10th backs Toronto's 3-2 win over Boston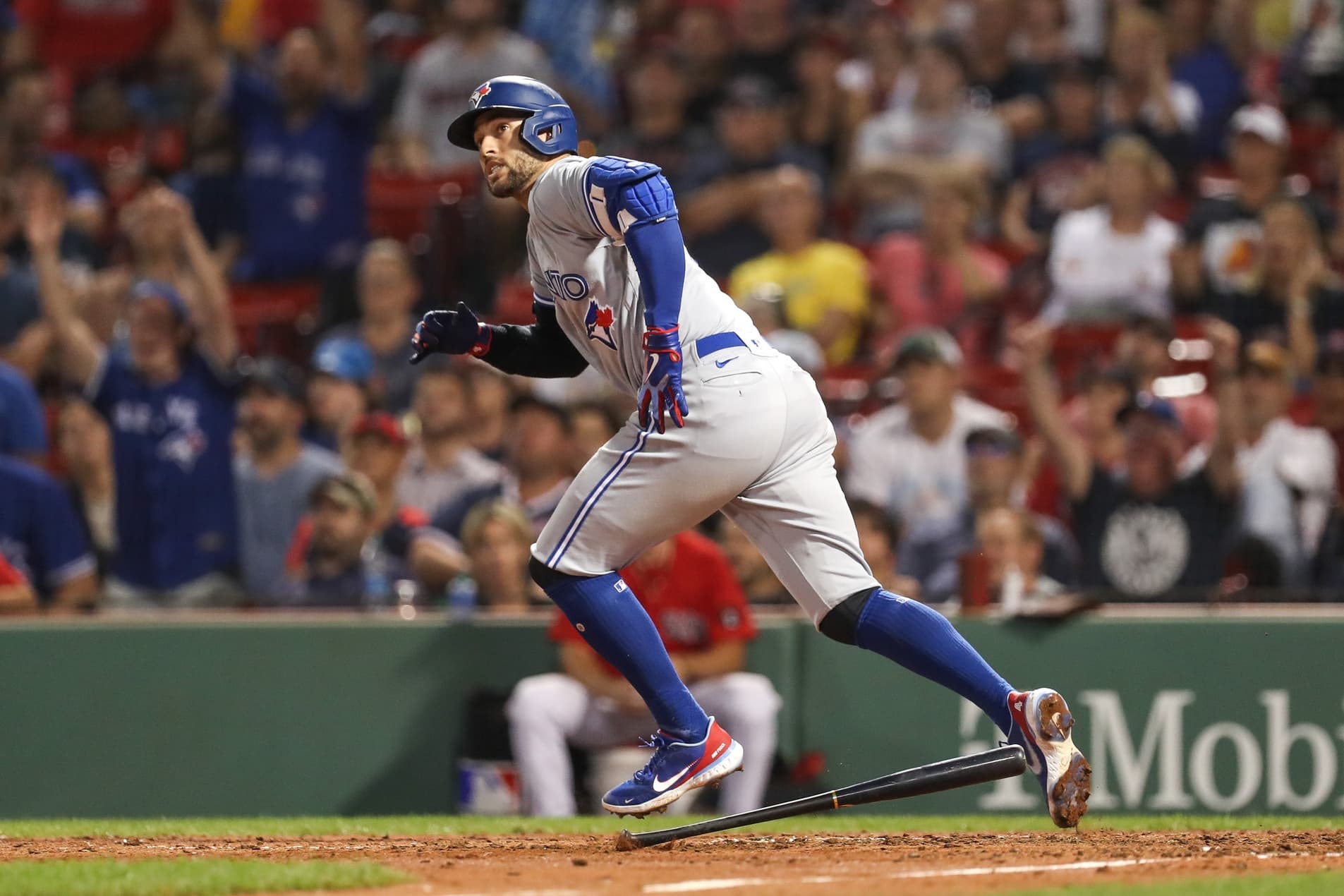 Photo credit:© Paul Rutherford-USA TODAY Sports
George Springer has again and again proved to be Toronto's most clutch hitter each of the last two seasons. He added another one of those clutch hits to the deep collection with a RBI double in the 10th inning tonight, giving Toronto its sixth win in their last seven with a 3-2 win over the Red Sox. Springer is now 15-for-25 since coming off of the IL last week. Absolutely lovely.
Jose Berrios started the game for Toronto, looking to capitalize off of a great performance in the Bronx last Thursday. Berrios surrendered a 2-run home run from Franchy Cordero in the 2nd inning, giving Boston a 2-0 lead early. Berrios missed his spot significantly, as Alejandro Kirk had set up high and inside, but Berrios left it over the outer half of the zone, and Cordero snuck it over the Green Monster in left.
Outside of the home run, Berrios was solid. He closed out his outing retiring the last seven batters he faced, going six innings, allowing five hits, two runs, one walk, and striking out six. Since his home blunder against Cleveland, Berrios has pieced together two quality starts to bring his ERA from 5.61 to 5.28. It's obviously not where we wanted Berrios' ERA to be, but he's on the right trajectory to putting this team in position to win.
Berrios was good, but he was also backed by some stellar defense from his third baseman, Matt Chapman. Chapman started two double plays for Berrios, including a SportsCenter Top 10-worthy one in the 3rd. Chapman backhanded a tough hop on a ground ball from Rafael Devers, flipped it to Bo Bichette, who completed the double play on a throw to Vlad Guerrero Jr. at first. The flip to Bichette was made almost like a behind-the-back pass in basketball, as Chapman was facing the outfield on his turn to Bichette.
On the offensive side, Toronto had a tough time getting going against Boston's young righty Bryan Bello. The Blue Jays faced Bello on July 24th, tagging him for 5 runs on 9 hits. Bello showed tremendous improvement tonight, as he kept the Blue Jays relatively quiet, only allowing two runs over five innings of work.
The Blue Jays would utilize the "pass the baton" strategy by stringing together base hits and walks, good at-bat after good at-bat in order to drive in runs. They got on the board in the 4th inning, as Alejandro Kirk's RBI single drove in George Springer. Springer led off the inning with a single, and was pushed to second on a walk to Guerrero Jr. Lourdes Gurriel Jr. grounded into a fielder's choice, moving Springer to second, and Kirk cashed him in.
Similar actions contributed to another run in the 5th as two singles from Whit Merrifield and Springer set up a two-out RBI single from Vladdy to tie the game at 2.
After Berrios, there were some clutch (albeit stressful) performances from the bullpen. Yimi Garcia stranded the bases loaded in the 7th, with the final out coming by way of a fly out to CF Jackie Bradley Jr. It's worth mentioning that his knowledge of playing the outfield in Boston for so long has paid dividends this series. After Tim Mayza left the 8th inning with runners on second and third with one out, Anthony Bass cleaned up the mess with back-to-back strikeouts to end the inning. Bass retired Kike Hernandez and Bobby Dalbec with his signature slider, making for Bass' best outing as a Blue Jay.
Adam Cimber handled the 9th, and Jordan Romano earned the save after Springer's big hit to seal the win. Toronto will look to sweep the series tomorrow evening with Red Sox owner Kevin Gausman getting the ball against Kutter Crawford. This serves as a favorable match-up for Toronto, as Gausman has been stellar against Boston this season, and the Blue Jays defeated Crawford on July 23rd.
A couple historical notes…
With Alejandro Kirk's two infield hits tonight, he breaks the Blue Jays record by a catcher for infield hits in a single season with 13. He passed Russell Martin, who led with 12 coming into this game.
Adam Cimber earned his 10th win of the season tonight, nearing the Blue Jays record of wins for a reliever with 14, owned by Mark Eichhorn in 1986. Pitcher wins may be a meaningless stat to some, but given that Cimber is second on the team in wins is very telling.
---