Good Ross Stripling Has Arrived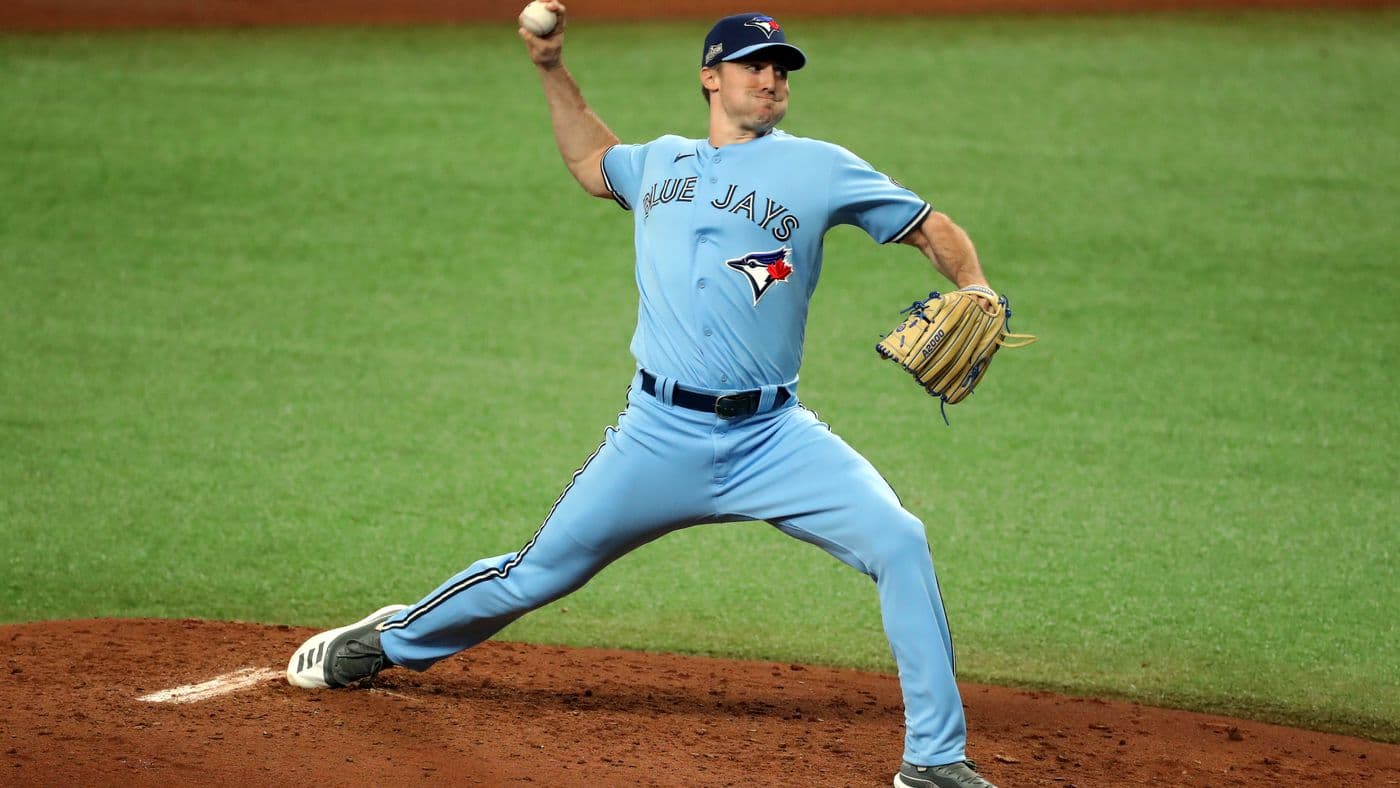 Photo credit:Mike Carlson/MLB Photos via Getty Images
Ross Stripling's Blue Jays career did not start as expected after he was acquired from the Los Angeles Dodgers at the 2020 Trade Deadline.
In 15.2 innings in 2020, Stripling had a 6.32 ERA. The underlying numbers were better, a 3.70 FIP and 4.10 xFIP, but, given the cost of acquisition, this left a sour taste in people's mouths. It didn't help when to start 2021 Stripling was even worse with a 7.20 ERA in six starts, which had many believing the Blue Jays would be better off just cutting him loose.
Things change! After getting lit up by Boston on May 19, Stripling made some changes to his delivery, trying to hide the ball more, as you can see in this great video from Chris Black…
To say the changes had worked would be an understatement…
| | | | | | | |
| --- | --- | --- | --- | --- | --- | --- |
| | Innings | ERA | FIP | xFIP | BABIP | HR/FB |
| Before May 19 | 25.0 | 7.20 | 5.44 | 4.34 | .392 | 19.4 |
| After May 19 | 35.1 | 2.29 | 3.53 | 3.95 | .202 | 10.5 |
Stripling has made six starts since making those mechanical changes (technically five but one game he pitched seven innings after an opener) and he's been incredible. He shaved five runs off his ERA, he's going deeper in starts, and is doing a much better job at keeping the ball in the ballpark.
It helps of course that Stripling went from one of the most
unlucky
pitchers in baseball to one of the
luckiest
. But batting average on balls in play is not purely a luck metric. Stripling has helped himself out by hiding the ball more, making it difficult for hitters to pick up. Bo Bichette's play at shortstop has improved and that has benefited Stripling as well, as Stripling's groundball rate has ticked up from 31.6% his first six starts to 42.5% in his last six. He won't be able to sustain this low BABIP for much longer but he should settle in around his season average of .291.
During his last start on Tuesday against the Miami Marlins, the broadcast mentioned Stripling's pitch mix change, going to a more fastball orientated approach…
| | | | | |
| --- | --- | --- | --- | --- |
| | Fastball | Curveball | Slider | Changeup |
| Before May 19 | 45.3% | 22.9% | 19.8% | 12.0% |
| After May 19 | 56.1% | 14.4% | 13.2% | 16.3% |
For Stripling, this is simply a matter of throwing your best pitches more. His fastball has a run value of -1 as batters have hit just .228 on the pitch, per
Baseball Savant
, while batters have hit even worse against the change-up hitting .143 giving that pitch a run value of -3. Stripling's slider has a run value of +6 making it one of the worst pitches in baseball. Batters have hit .349 with a .535 slugging against the slider. His curve has been better but hitters are still teeing off on it with a .303 average and .485 slugging.
Nothing has changed as far as the pitches themselves. Velocity and spin rate remains the same for all his pitches. Per
FanGraphs
, the only notable change as far as the shape of his pitches is his change-up has an inch more of horizontal movement, and even that is a negligible difference. The big change for Stripling has been the location of his pitches.
Fastball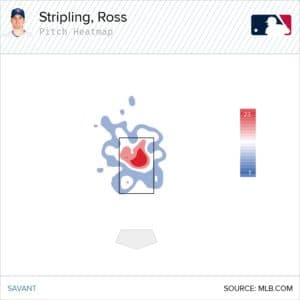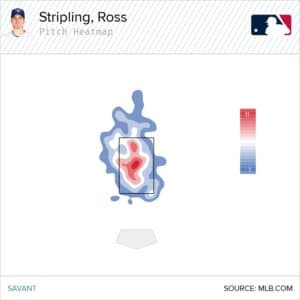 Curve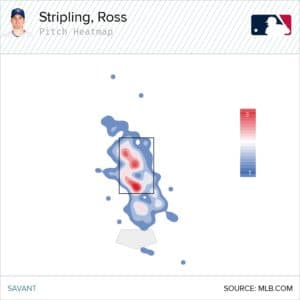 Change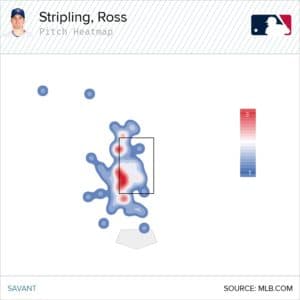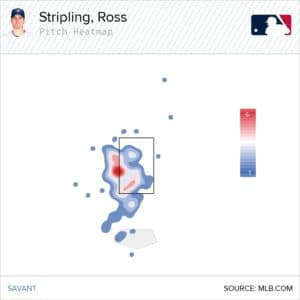 Slider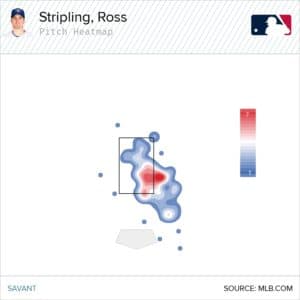 With most pitchers when they are having issues, the remedy is typically to throw more strikes. For Stripling, it's the opposite.
He doesn't have elite velocity or movement on his pitches. He can't just fill up the strike zone like Robbie Ray and have success. Stripling relies on location and pitching on the edges. On the left are his pitch locations before making the mechanical adjustments and you can see he was throwing far too many pitches in the middle of the strike zone. The fastball and curveball in particular were in sub optional spots.
On the right, you can see the changes he has made. The fastball is now all over the strike zone and up much more. The curve is down below the strike zone, the change-up is isolated right on the edge inside to righties. The slider is still catching too much of the middle of the plate, but more of them are down and away than before.
What this has done has caused batters to chase more out of the strike zone. Before the changes batters were chasing just 24.8% of the time, per
FanGraphs
. After the changes, it's been 32.0%. Batters have been chasing more and making less contact which is helping to drive that lowered BABIP. This hasn't led to more strikeouts for Stripling but it has increased his swinging strike rate and helped him induce more weak contact. Batters were making soft contact just 8.6% of the time against Stripling to start the season. In his last six outings that has risen to 19.3%. That's a significant increase and turns many of those hits into outs.
The Blue Jays rotation had a ton of question marks early this season. Calling up Alek Manoah was one answer and getting Ross Stripling on track was another. This version of Stripling is who the Blue Jays thought they were acquiring from the Dodgers. The price was high and many thought this trade might turn out badly for the Blue Jays. It took some time but now you can see what the Blue Jays saw in Stripling and why they had to pay the price they did. Stripling prior to 2020 has never had an ERA over four in a season before.
Stripling is on a hot streak right now due in part to an extremely low BABIP that isn't going to last forever, but with improved location and new mechanics, he should continue to be a dependable arm for the Blue Jays this season.