How good is Teoscar Hernandez?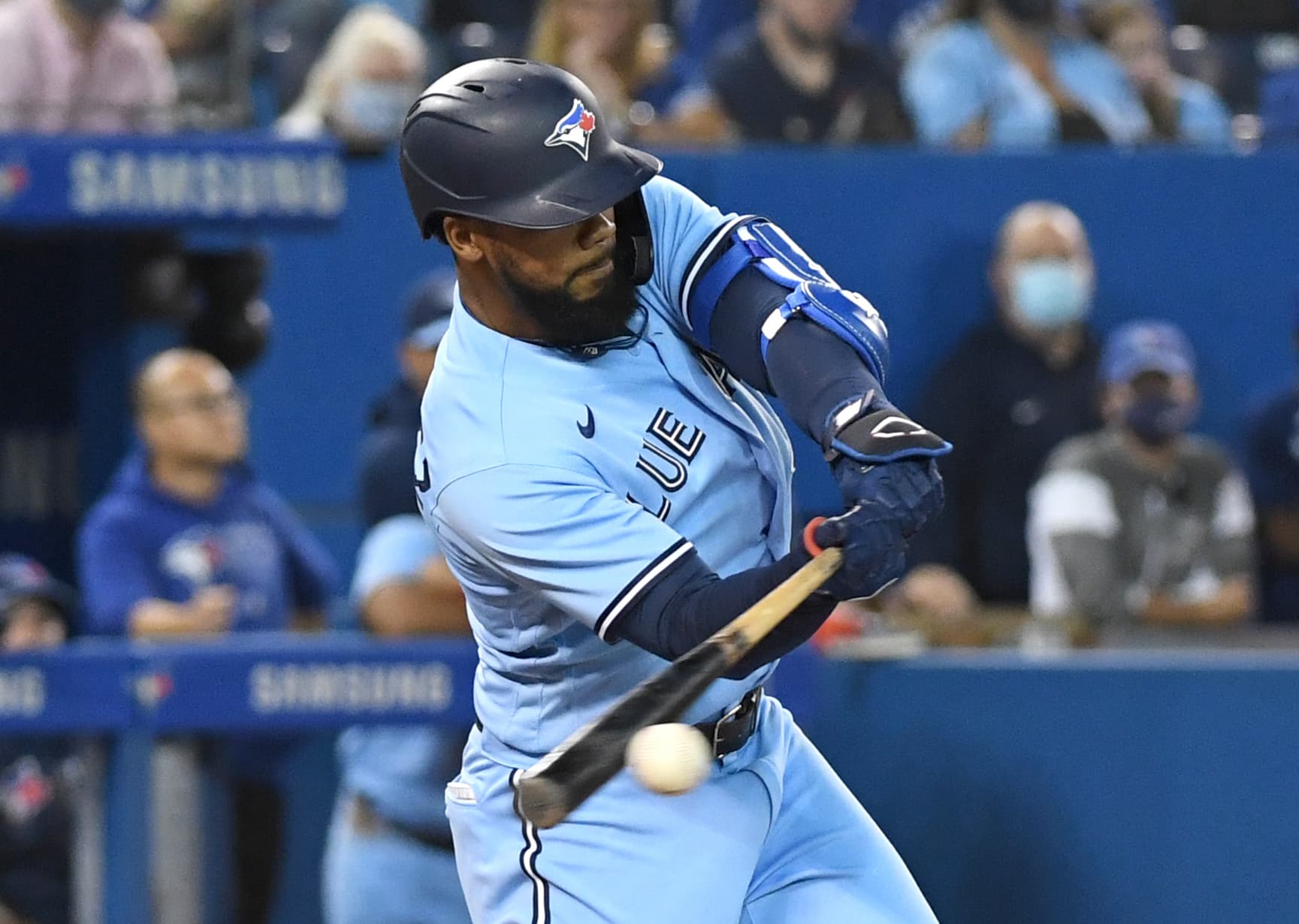 Photo credit:Dan Hamilton-USA TODAY Sports
Teoscar Hernandez has developed into a very, very good player for the Toronto Blue Jays.
How good? Well, for the sake of comparison, let's stack him up against a New York Yankee who earned a $325 million contract. 
I will argue with every fiber of my being that Teoscar Hernandez is better than Giancarlo Stanton. There are quite a few reasons for this.
Statistics:
We'll start with offensive statistics from each of the past three seasons. While there are two other reasons as to why Teoscar is the better player, the argument can be made that the Blue Jay is better solely for his offensive statistics.
2019:
The season of 2019 wasn't a great one from Teoscar, as he had a slash line of .230/.306/.779 with 26 homers in 126 games. While that's not an awful slash line for slugger, his K% of 33% was pretty awful.  In fact, the then 26-year-old had such a rough start to his 2019 season that he was sent to Triple A in mid May. Prior to the demotion, he slashed .196/.266/.587 in 124 plate appearances with a wRC+ of 52.
He spent 20 days in Buffalo before being called up. Upon his return, he slashed .248/.325/.873 with a 126 wRC+. Furthermore, he hit 23 of his 26 home runs upon being recalled. He finished the season with a fWAR of 1.2 and a bWAR of 1.4.
It's impossible to compare with 2019 Stanton, as he missed all but 18 games. It's inarguable that in the season prior Stanton was much better, in fact, he won the AL MVP, but 2019 is the season we saw a shift in who is the better player. Partially due to Stanton's injuries, partially due to Teoscar becoming the most underrated hitter in the league.
2020:
Teoscar Hernandez absolutely broke out in 2020. It was a shortened season, but in 50 games Teoscar slashed .289/.340/.919 with 16 home runs, which is 11.9 ABs per homer, 4th best in the league. This was good enough for the then 27-year-old to win the silver slugger. He finished the 2020 season with an fWAR of 1.5 and bWAR of 1.4
Stanton, who only played 23 games, slashed .250/.387/.887 with four home runs. He finished with an fWAR of 0.4 and bWAR of 0.6. For the second season in a row, it's rather difficult to compare them due to the lack of playing time from Stanton. One thing for certain is that this was by far Teoscar's best season.
However, here were some question marks. For example, he had an incredibly high Batting Average on Balls In Play (BABIP) of .348. This  was taken as a sign of Hernandez getting lucky by certain members of Blue Jays Twitter. Another concern is whether or not he could keep this up over a full season.
2021:
Welcome back to 2021, where the pandemic is still raging on. Thankfully, baseball had a full season and man, what a season it was. It's recently ingrained in our memory, but Hernandez proved he was not lucky in 2020. In 143 games, he slashed .296/.346/.870 with an additional 32 home runs and a wRC+ of 132. 
More impressively was the fact that his K% dropped to 24.9% in that timeframe, down from 33% in 2019 and 30.4% in 2020. His .296 batting average ranked seventh best in the American League and Hernandez became a first time all-star. He also won the silver slugger for a second season in a row. He finished 2021 with an fWAR of 3.9 and a bWAR of 3.9.
In contrast, Stanton finally had a healthy season, slashing .273/.354/.870 with 35 home runs in 139 games. Stanton finished the season with an fWAR of 2.6 and a bWAR of 3.1. They had incredibly similar seasons. It's quite frankly a toss up to who had a better season.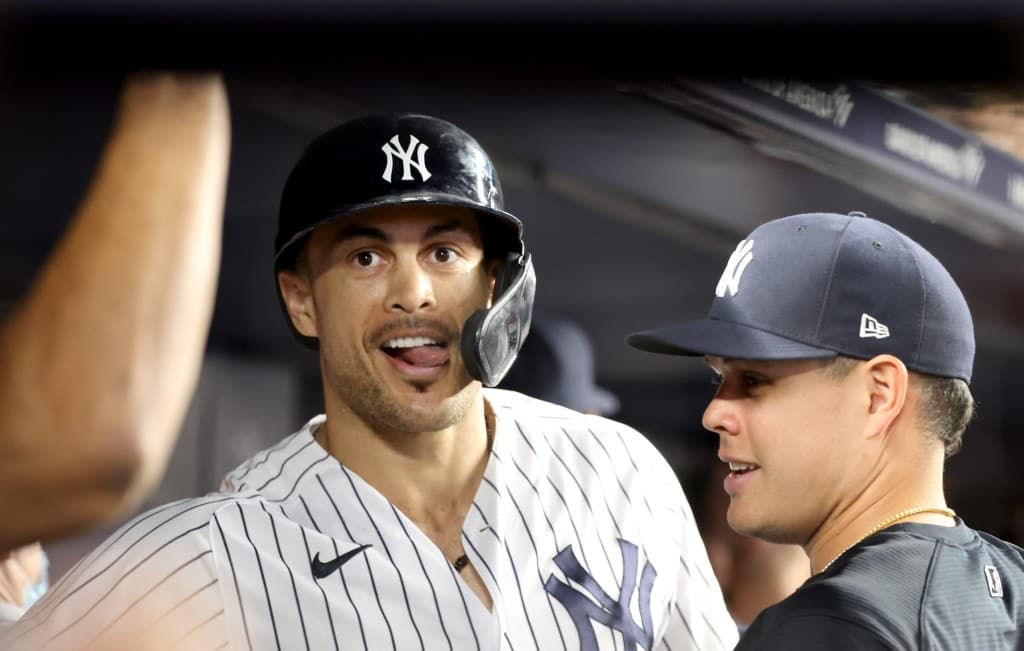 Defense:
Well, that is until you factor in defense. It's hard to believe, but defenders tend to impact the game more than when they have the bat. A middle-of-the-order bat like Giancarlo Stanton or Teoscar Hernandez will bat around 4 times a game, but as a defender, they may make 5 or 6 putouts. In this section, I will be using the statistic Defensive Runs Saved, or DRS.
Teoscar's defense:
Let me state that Teoscar is by no means a gold glove winner, but he has improved drastically over the past two seasons. In 2018, Hernandez had a DRS of -8 in left field (which he played 703.2 innings) and a DRS of -4 in right field. In 2019, Teoscar had a DRS of -7 in centre field, granted, he is not a centre fielder. Between 2018 and 2019, Teoscar had a DRS of -19.
In 2020, he played 325.2 innings in right field and posted a DRS of -3. He also played 55 innings in centre field with a DRS of 1, finishing 2020 with a DRS of -2, slightly below average, but showing improvements. In 20201, he played 881 innings in right and posted a DRS of -2 and a total of -2 for all outfield positions.
It's fair to say that Teoscar Hernandez has improved as an outfielder to the point where he can be trusted. He's slightly below average, but he won't ruin your chances of winning a game out there. In fact, his .987 fielding percentage was the third highest amongst AL right fielders.
Giancarlo's defense:
Hernandez has played 2,510.2 innings on the field since 2019, Stanton has played 294.2 innings on the field. It's important to keep in mind that Stanton had injury problems in 2019 and 2020, so this is a big reason why he had a lack of playing time. However, he also only played 199.2 innings in the outfield in 2021, which is a sign that he's being moved to the full time designated hitter for the Yankees.
Here's the thing though, in Stanton's last two seasons playing in the outfield (2017 and 2018), he posted a DRS of 16 in his 1,960 innings played. This included a DRS of 11 when playing with the National League's Miami Marlins. In fact, he has a career DRS of 49 in his 9202.2 innings fielded.
While being a full time DH isn't necessarily bad, especially with Stanton's potent bat, there is one big issue with Stanton that Hernandez doesn't have, yet.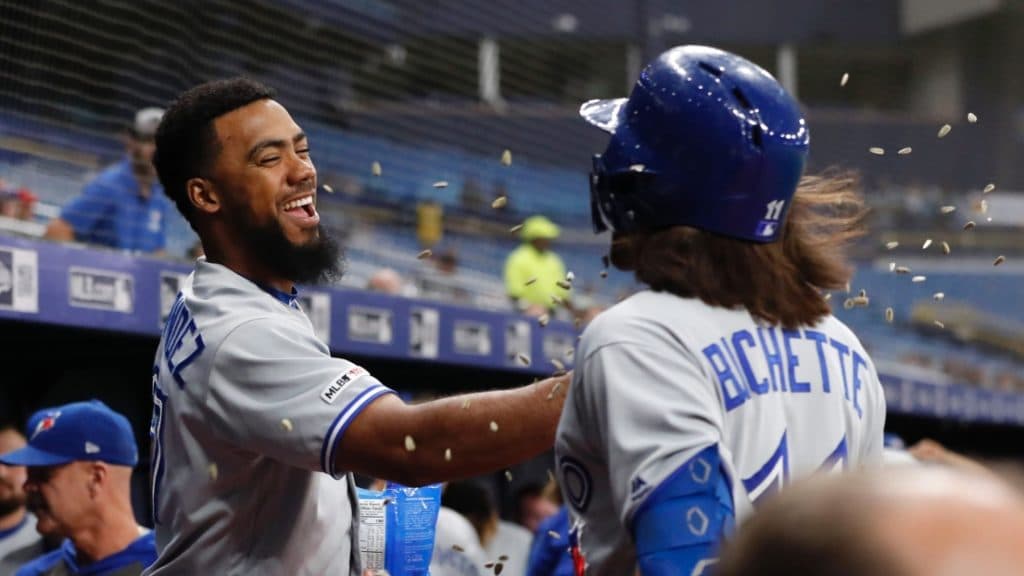 Contracts:
My valuation of players doesn't just end with their on field performance. I believe what a player makes per annum plays a role in how valuable they are. Should Stanton have declined his 13 year, 325,000,000 contract for the purposes of team building? Absolutely not. In fact, if we disregard contracts, I believe there is a fair argument that says that Stanton is the better player.
However, over the next seven seasons, the Yankees have 140 million tied up in a 32-year-old who has barely played defense in the past three seasons. They are one of a few teams that can afford this contract, meaning that trading partners will be difficult to find as he continues to regress.
Even now, that contract still hurts. For example, Hernandez had an arguably better season making only 4,325,000 in 2021. While Stanton still had a productive 2021, he made 29 million, just under 25 million more than Hernandez made. While you can't criticize Stanton for accepting that contract, imagine if the Yankees, the biggest team in all of baseball, had an extra 25 million to disperse on a more well-rounded team.
Conclusion:
If we disregard contracts and situations regarding the teams, it's a coin flip. Despite not playing in the outfield often in the past three seasons, Stanton had shown to be an excellent fielder in years prior.  Offensively, they provided similar numbers, but what gives Hernandez the edge is the fact he is an everyday outfielder.
When you add in the fact that Teoscar did this making nearly 25 million less, it's hard to say that at the very least, Hernandez is more valuable. Perhaps, he's even better.
As always, you can follow me on Twitter @Brennan_L_D. While the lockout has continued to drag on, I've been writing about soccer (mainly the Canadian Men's National Team) and hockey. If that interests you, my Twitter would be a good follow.