Hyun Jin Ryu tosses a gem, Vlad stretches and flashes leather, Rowdy finally smashes a dinger, and the Blue Jays down the Yanks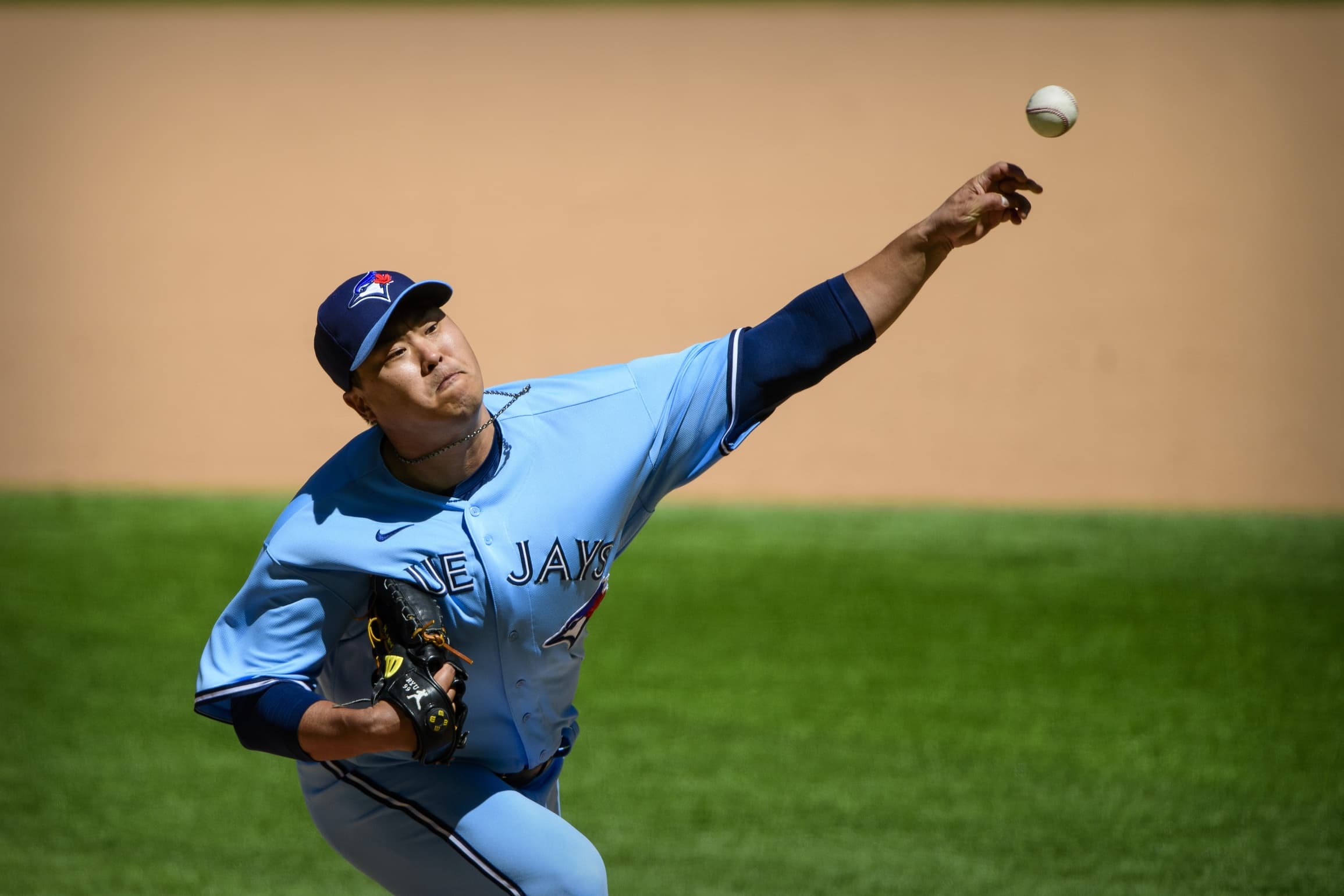 Photo credit:© Jerome Miron-USA TODAY Sports
After a frustrating loss on Monday, the Blue Jays were facing what low-key felt like a must-win game with ace Hyun Jin Ryu taking the mound. And, oh boy, he delivered.
Things worth mentioning…
For the third time this season, Ryu put together a very nice start. The bats actually showed up this time around so he was also able to earn his first win of the season. Ryu went six-and-two-thirds innings, allowing one run (unearned) on four hits and one walk while striking out seven. He's allowed just four earned runs over 19 innings so far this season. It was impressive to see Ryu just carve up New York's righty-heavy lineup, especially given the fact they saw him just a couple of weeks ago. The Yanks only managed to put 17 balls in play, and only about half of those balls were hit particularly hard. All told, it was a gem for Ryu, who had New York just totally confused and off-balance all night.
Things got sort of weird pitching-wise after Ryu left the game. David Phelps came in to finish off the seventh inning and then came out for the eighth but got drilled in the back by a 106 mile-per-hour liner and that forced him out of the game. That certainly looked painful. Let's hope Phelps won't require a trip to the Injured List.
With Phelps out, Jordan Romano had to quickly come into the game and things didn't go all too well for him. Romano struggled with command and ended up allowing two runs (one of which was Phelps' inherited runner) on two hits and a walk. Julian Merryweather came into the game with two outs in the eighth, threw a wild pitch, and Gary Sanchez ran into an out to end the frame. Weird, weird stuff.
The Blue Jays scored a run in the bottom of the eighth so Charlie Montoyo opted not to bring Merryweather back with a four-run lead. The worry here, of course, is that Merryweather is hurt, but I would imagine that this more has to do with the fact there's a game tomorrow afternoon and there isn't much sense in wasting your closer in that type of situation. I hope that's what's happening, at least. UPDATE: WELL FUCK! Apparently, Merryweather is dealing with "hip irritation." Let's hope that isn't a problem!
Anyway, Tim Mayza closed the game thanks largely to this gem of a defensive play from Bo and Vlad. What an absolute weenie move by the ump to call this out right off the hop. Ugh, it ruined such a good highlight.
Anyways! There was plenty to like about this game. Vlad, as I mentioned, had some nice plays at first, and he went two-for-four with a walk, Marcus Semien hit a dinger, Rowdy Tellez smashed his first bomb of the season, and Josh Palacios came up with a clutch two-run hit early on. The Blue Jays will now have a chance to win the series tomorrow afternoon with Ross Stripling going up against Corey Kluber.