ICYMI: Blue Jays bid farewell to celebratory home run jacket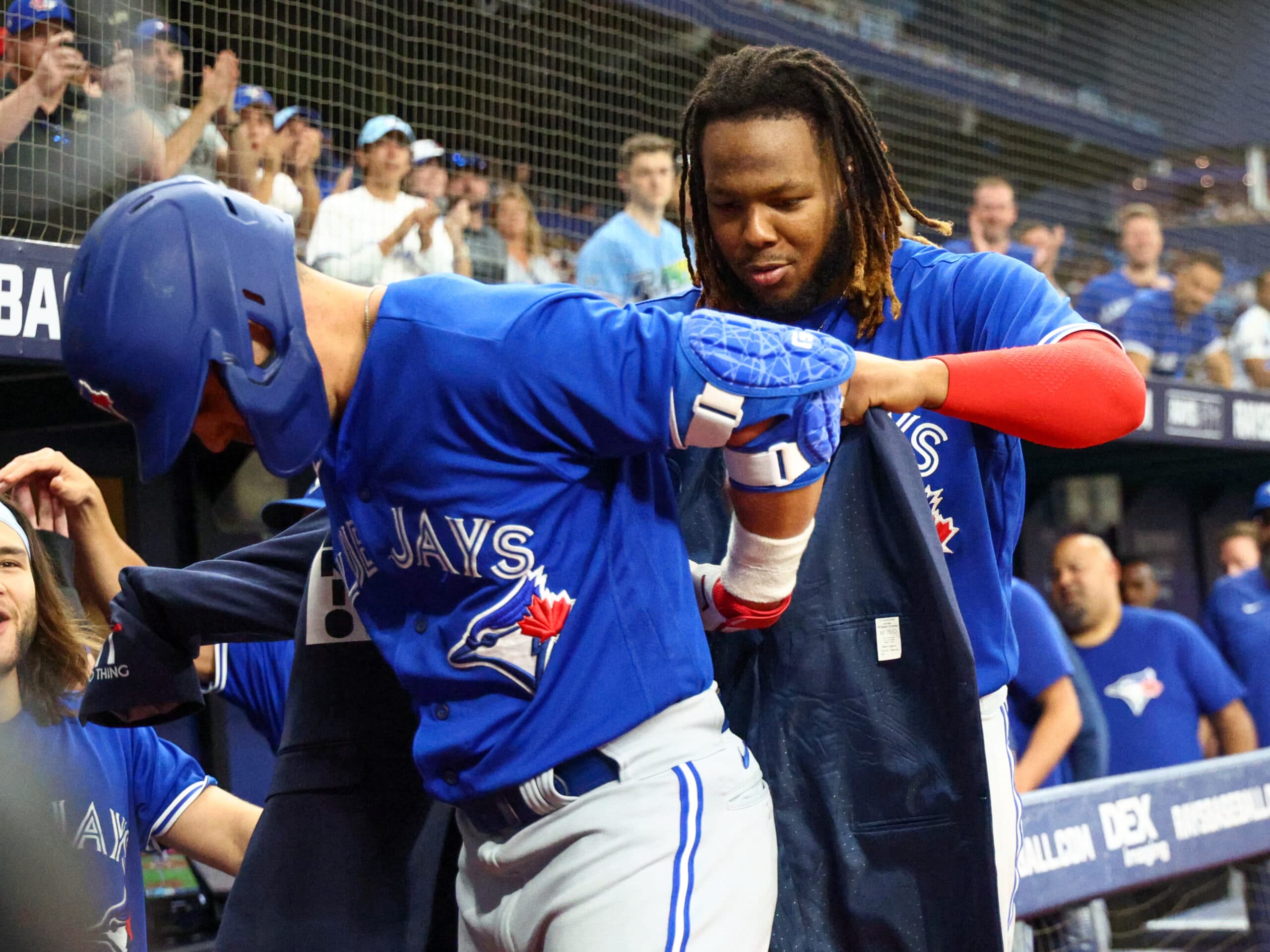 Photo credit:Nathan Ray Seebeck-USA TODAY Sports
The Toronto Blue Jays will be without a familiar item during the 2023 season: their celebratory home run jacket.
According to 
Toronto Sun's 
Rob Longley
, the team has decided to shelf its post-home run tradition, opting for a more mature approach inside the dugout. The move was ultimately made by the players, a group that welcomed veterans like Kevin Kiermaier and Brandon Belt over the off-season.
"It's time to go from a talented, fun team to a talented, fun team that's going to scrap and claw and find ways to win games," manager John Schneider told the Toronto Sun on Wednesday.
"It's a fine line between silly and fun. There's something to be said about acting like you've been there."
This type of announcement appeared to be on the horizon after Toronto's front office traded Teoscar Hernández and Lourdes Gurriel Jr. this past winter, drastically altering the club's in-house culture. But that doesn't mean this team isn't planning to have fun in 2023.
The key difference, however, will be toeing the line between acting silly and serious during critical moments.
"I love having fun," Schneider said. "You've got to have fun. It's a long season and it's a game. As long as you're prepared and attentive, then winning becomes fun. The most fun to have in baseball is winning."
The Blue Jays have one major focus this season: winning a World Series. They remember the feeling of being swept 2-0 by the Seattle Mariners in the playoffs last season, which stung for everyone. And with that, there is now an enhanced mindset of doing everything possible to avoid another disastrous outcome in 2023.
"You can't force it on young guys who are still figuring out their careers or figuring out what winning is," Schneider said. "I think we're at the point where it's easy to see what the next step is: These guys are talented, these guys are good. They've dealt with success, they've dealt with failure. Now let's deal with how we are going to win."
The home run jacket, which debuted during a 13-1 beatdown of the Boston Red Sox on Jul. 29, 2021, will be missed by most of Toronto's fan base, and understandably so. But while it was important for its time, now there will be an increased focus on acting like you've been there, done that before.
The Blue Jays will kick off Opening Day versus the St. Louis Cardinals on Mar. 30, beginning a three-game series at Busch Stadium.
---